50 Lively Recipes to Celebrate Day of the Dead
Explore the vibrant flavors and cultural richness of Día de los Muertos with this roundup of over 50 Day of the Dead recipes that pay homage to this beautiful Mexican celebration.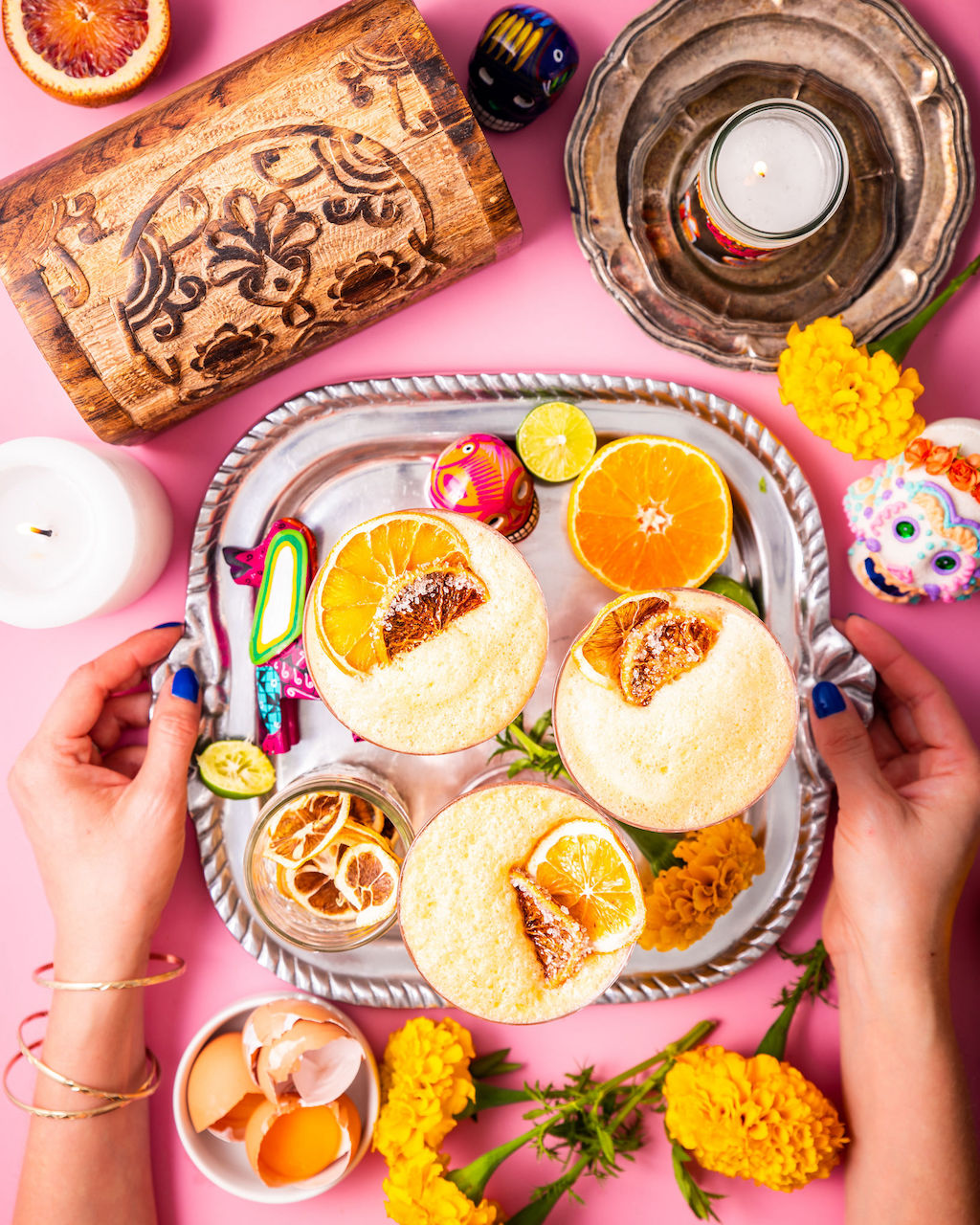 Día de los Muertos is a colorful celebration of life and like most Mexican holidays it includes a festive spread of food and drinks. To celebrate, I've put together a collection of recipes from a few of my favorite bloggers – some are time-honored and traditional while others are contemporary interpretations of classic recipes. Needless to say, there's a little something for everyone to join in on the fun! Check the table of contents below and be sure to pick out your favorite Day of the Dead recipe.
NON-ALCOHOLIC DRINK RECIPES FOR DAY OF THE DEAD
MEXICAN HOT CHOCOLATE, OAXACA STYLE
On Day of the Dead, drinks such as Mexican hot chocolate are placed on altars in order to lure the spirits of loved ones back to the living world. – Lola's Cocina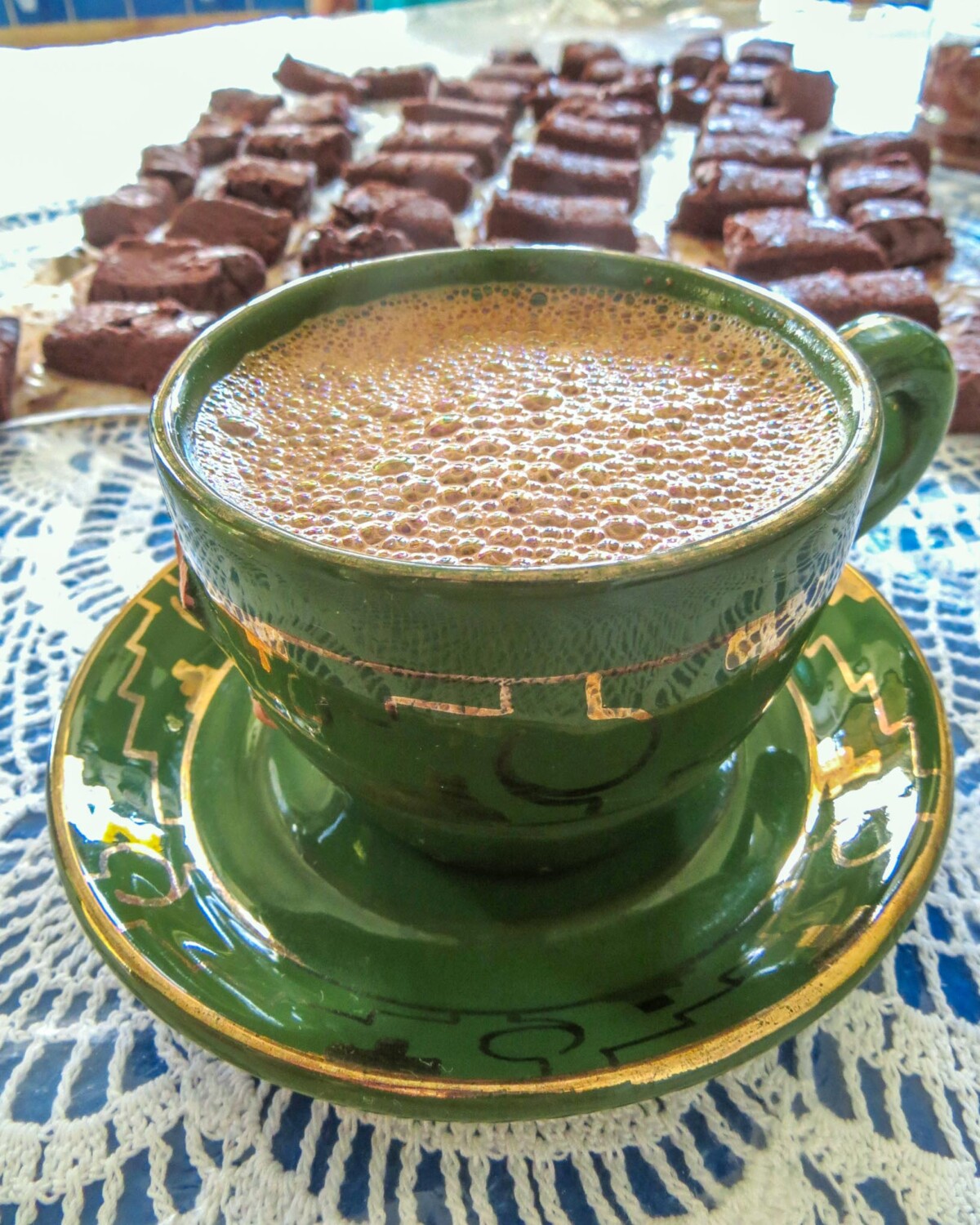 PUMPKIN SPICE HORCHATA
Pumpkin Spice Horchata is a seasonal twist on the classic Mexican agua de horchata. – Everyday Latina
ATOLE DE ARROZ
This is a dairy-free, less sweet version of a traditional atole recipe since it only calls for rice, water, coconut milk, cinnamon and sugar. – Bricia Lopez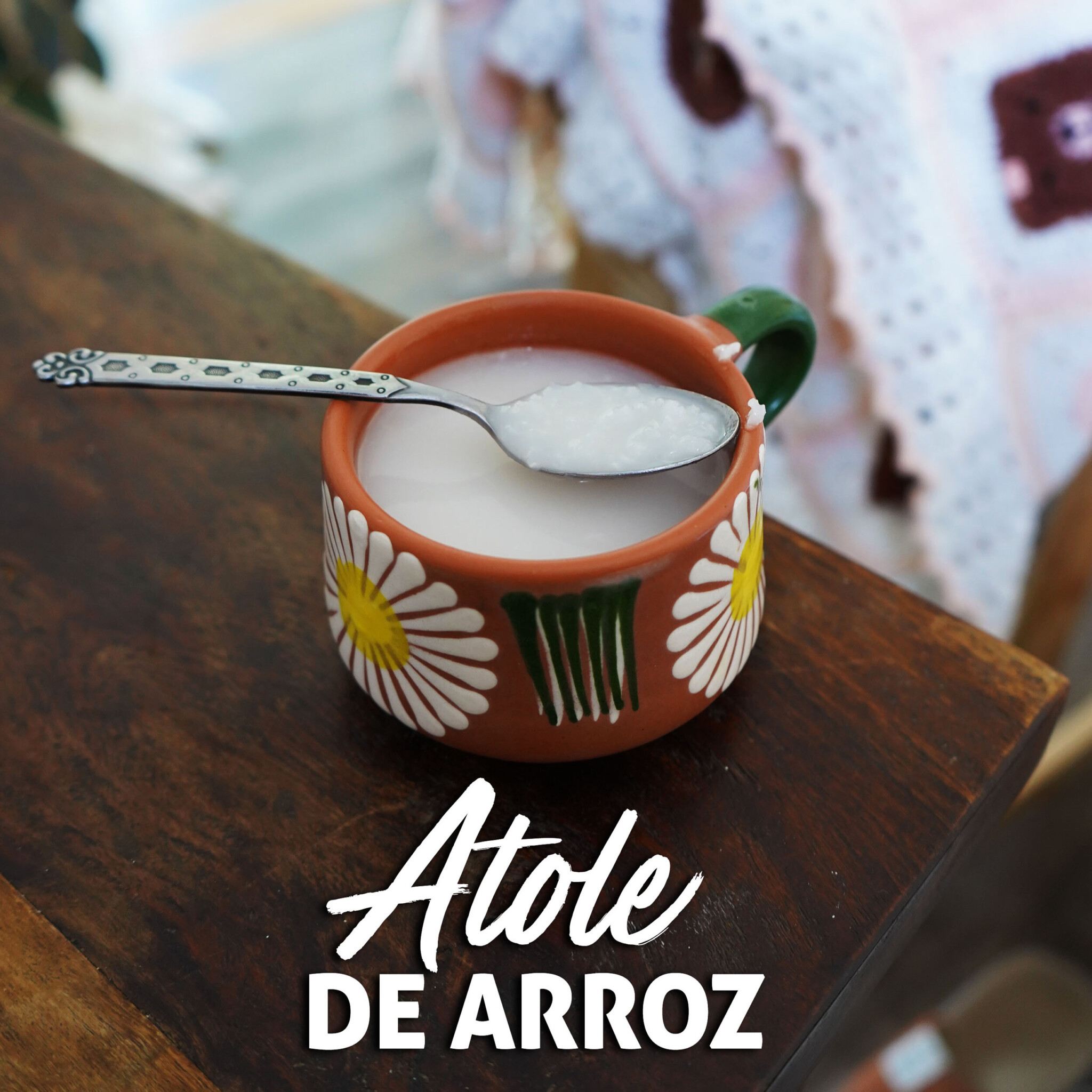 ATOLE DE VAINILLA
Atole de vainilla is a traditional masa-based beverage, often made with milk, and served hot. – The Other Side of the Tortilla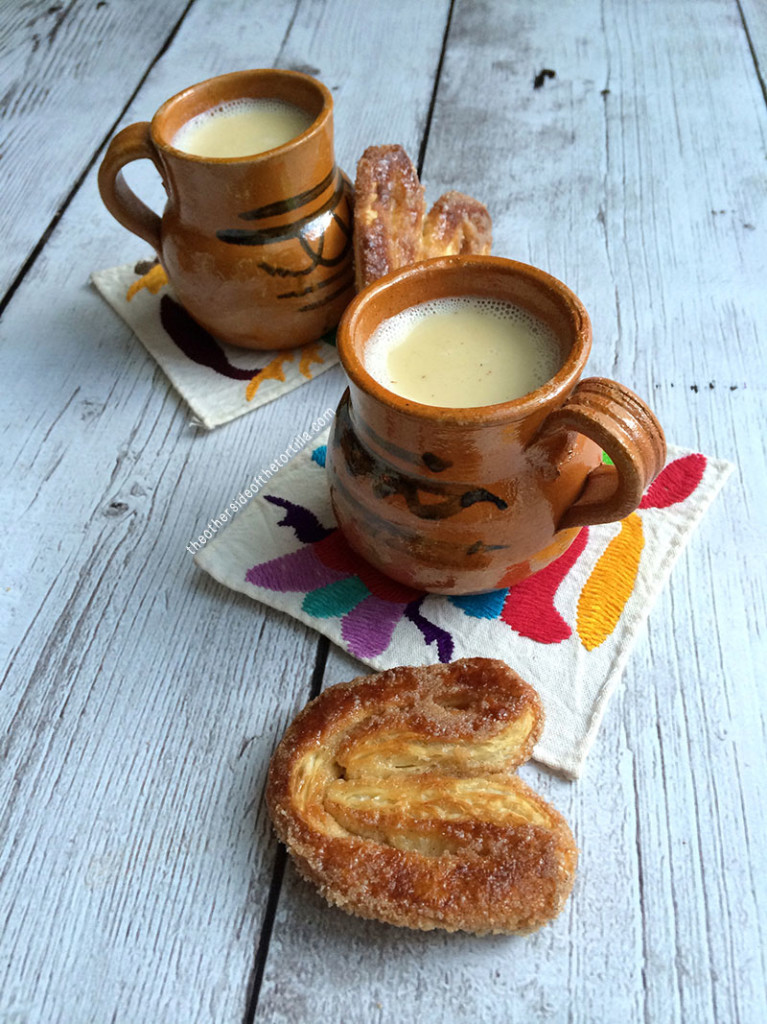 CAFE DE OLLA
Café de Olla is a delicious and aromatic traditional Mexican coffee beverage that has captivated coffee enthusiasts around the world. – Muy Delish
CHAMPURRADO
This champurrado recipe is made with Mexican chocolate, masa harina, milk, water, cinnamon, and vanilla. – Isabel Eats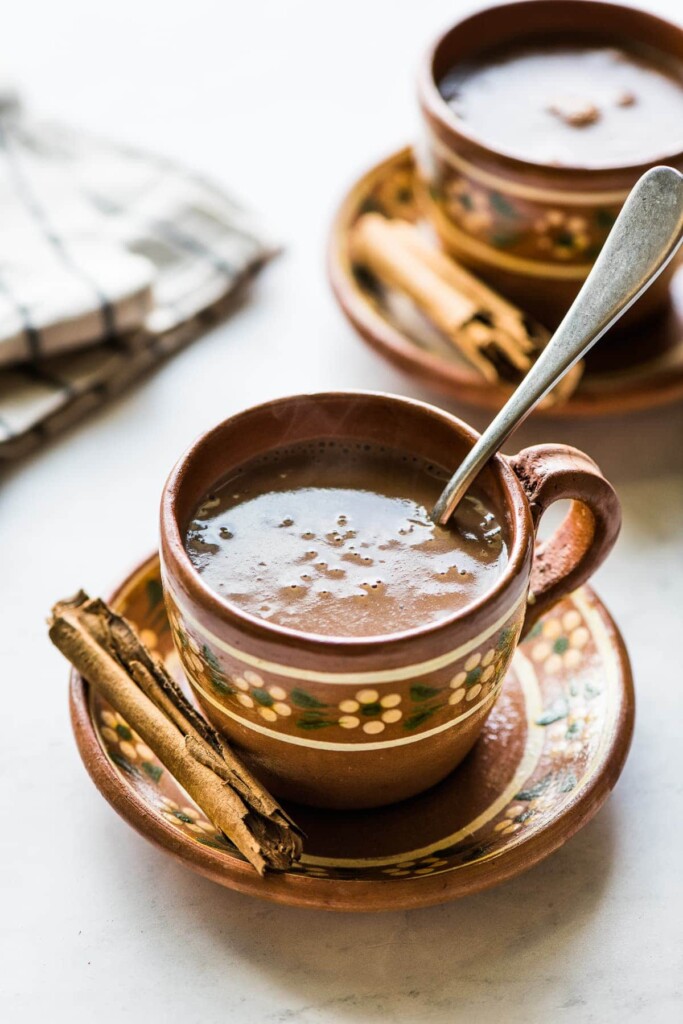 COLA MORADA
In Ecuador, this spiced purple corn and berry drink is prepared for the Day of the Deceased celebrations. This traditional recipe is made with a mix of fruits, spices, herbs, and purple corn flour. – Laylita's Recipes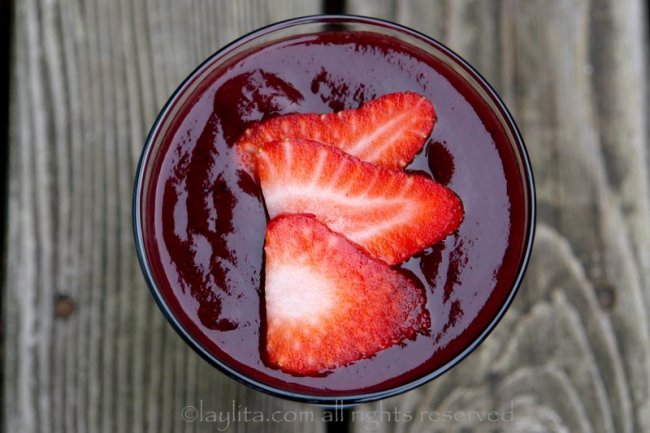 SPICY MEXICAN HOT CHOCOLATE
This spicy Mexican hot chocolate recipe is a spicy twist on the classic plain chocolate caliente. – The Other Side of the Tortilla
MEXICAN COCKTAIL RECIPES FOR DAY OF THE DEAD
ORANGE BLOSSOM MEZCAL SOUR COCKTAIL
Inspired by ingredients in Day of the Dead bread, I've created a cocktail to celebrate my favorite holiday.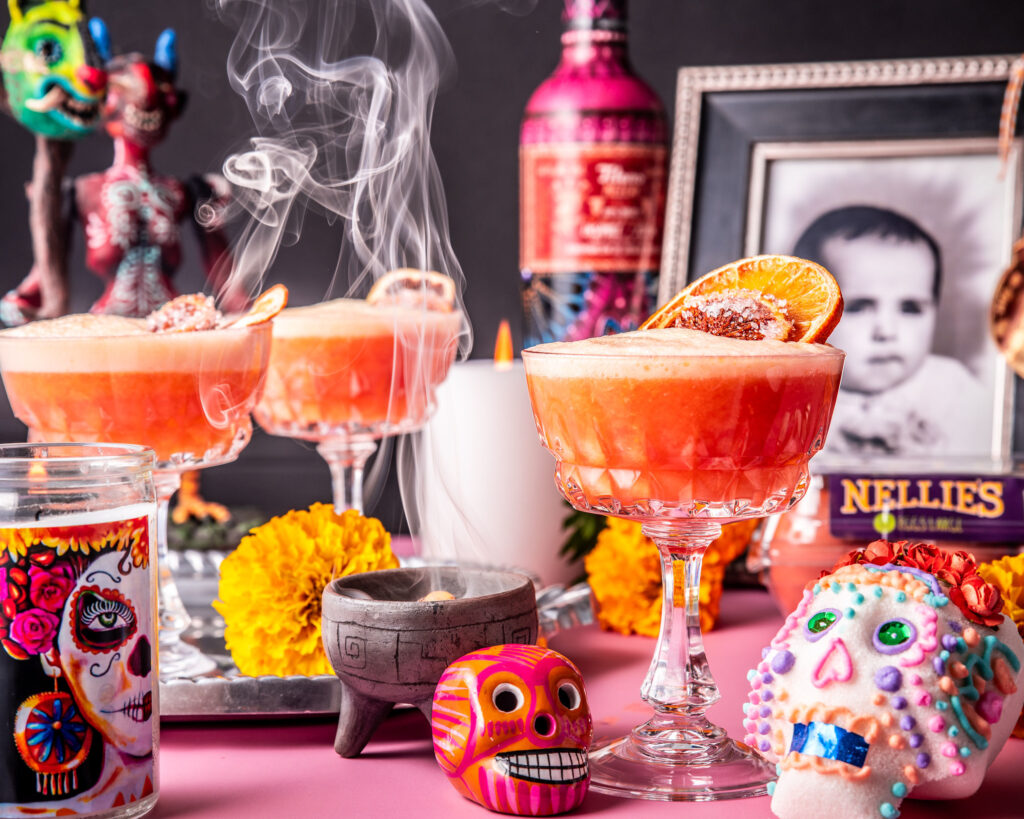 CAZUELA DRINK
A cazuela voladora is a traditional Mexican cocktail that is typically made with tequila, grapefruit soda, citrus juice, and a sprinkle of salt.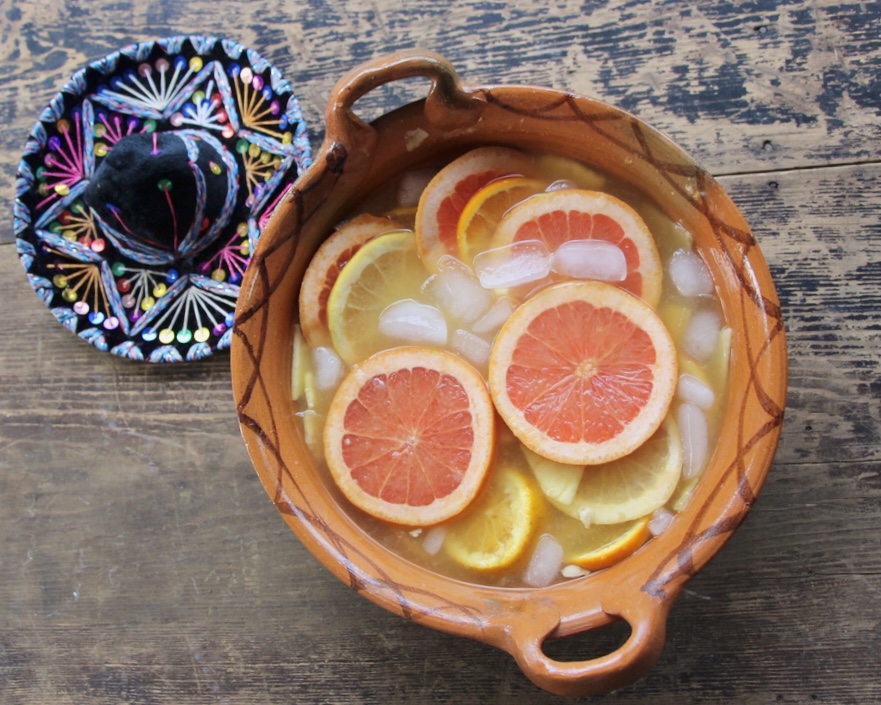 STRAWBERRY BEET MEZCAL MARGARITA
The strawberry-beet combination in this mezcal margarita is perfect – slightly sweet and tart from the fresas, with a hint of earthiness from the beet.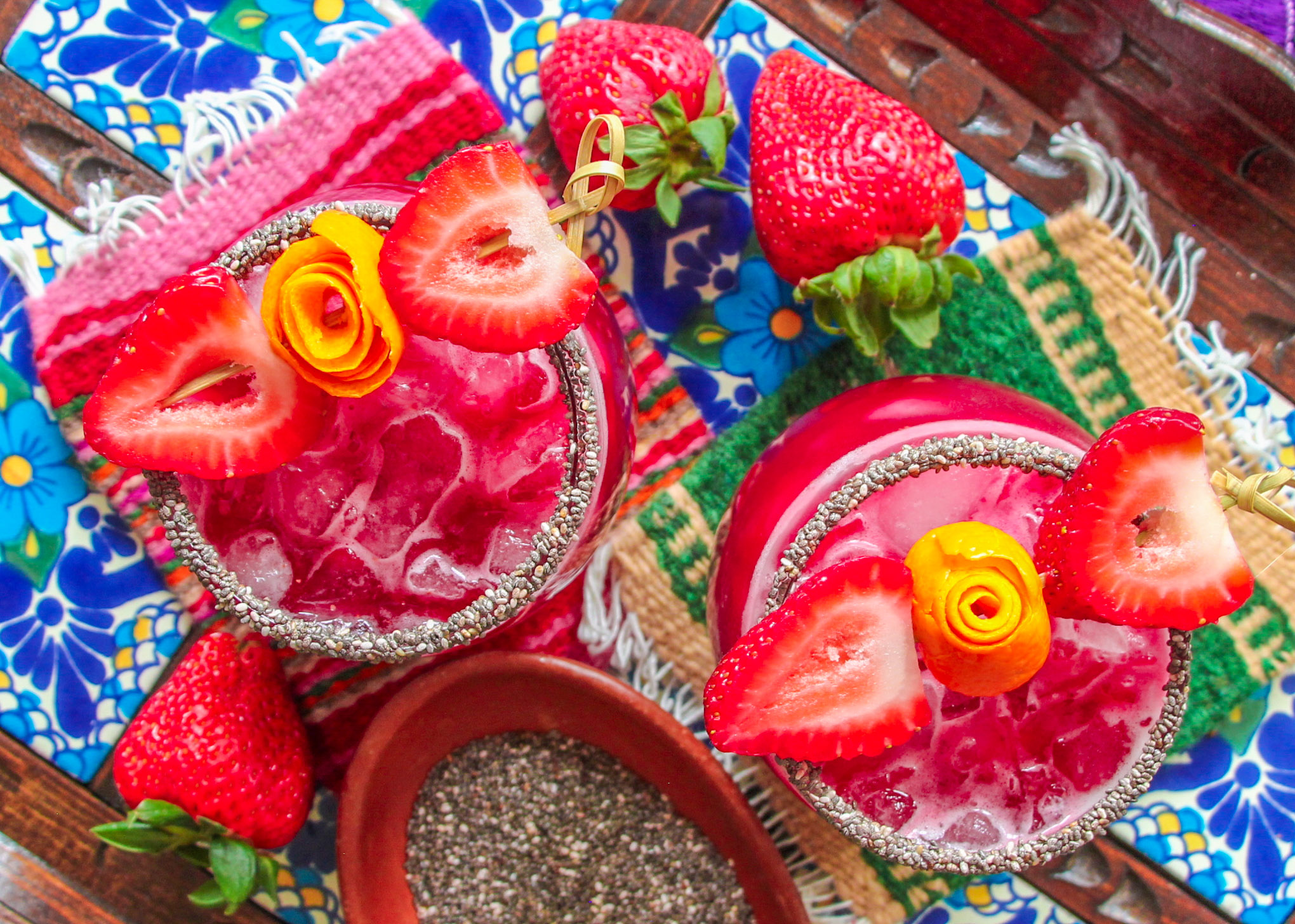 PALOMA, LAKE PÁTZCUARO STYLE
What makes Patzcuaro's Palomas unique is that they are served in large clay mugs called jarritos that are rimmed with chile salt and filled with fresh citrus juices and chunks of freshly cut orange.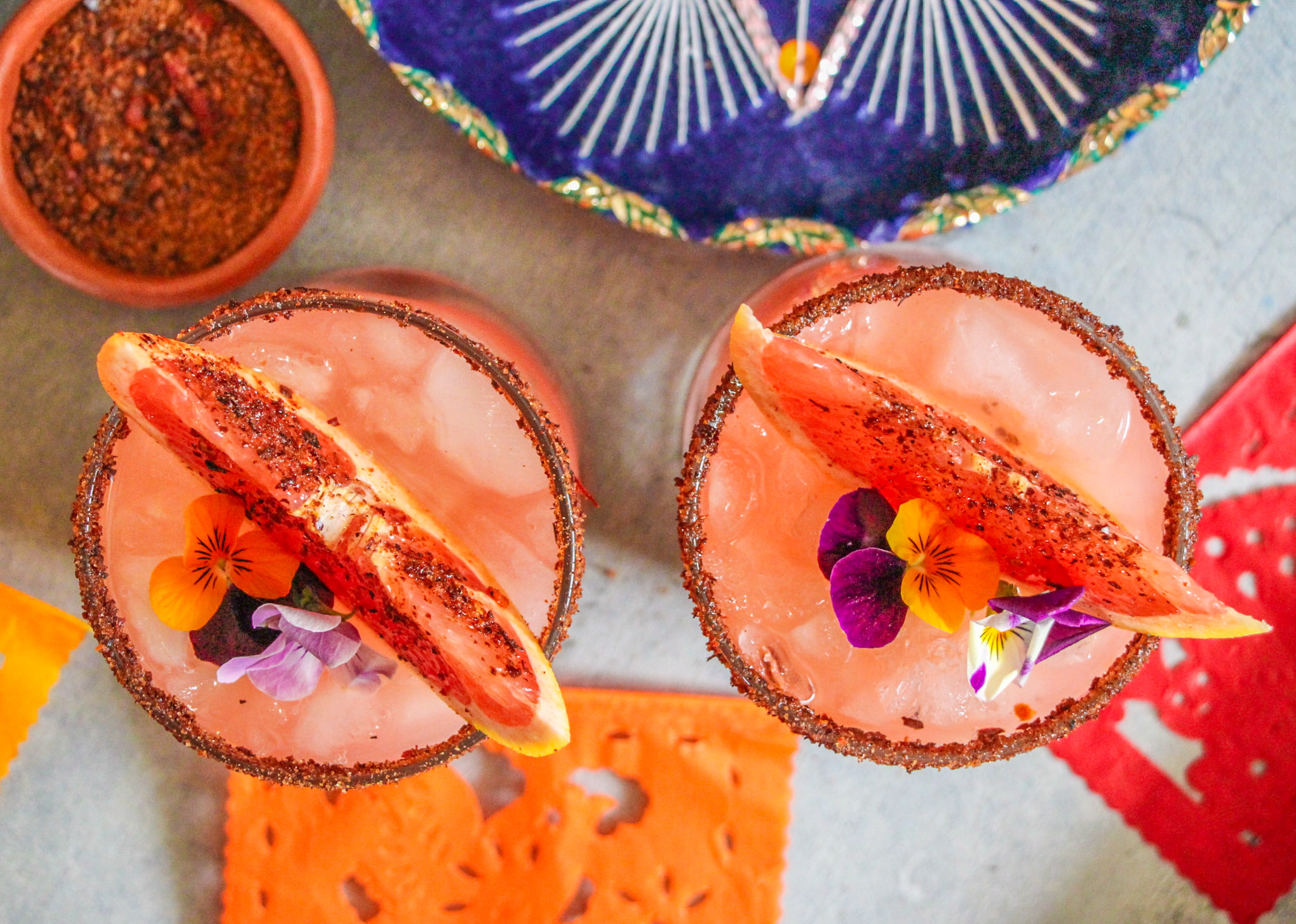 LEMON DROP MARGARITA
A perfect blend of two ingredients creates my mouth-puckering Lemon Drop Margarita.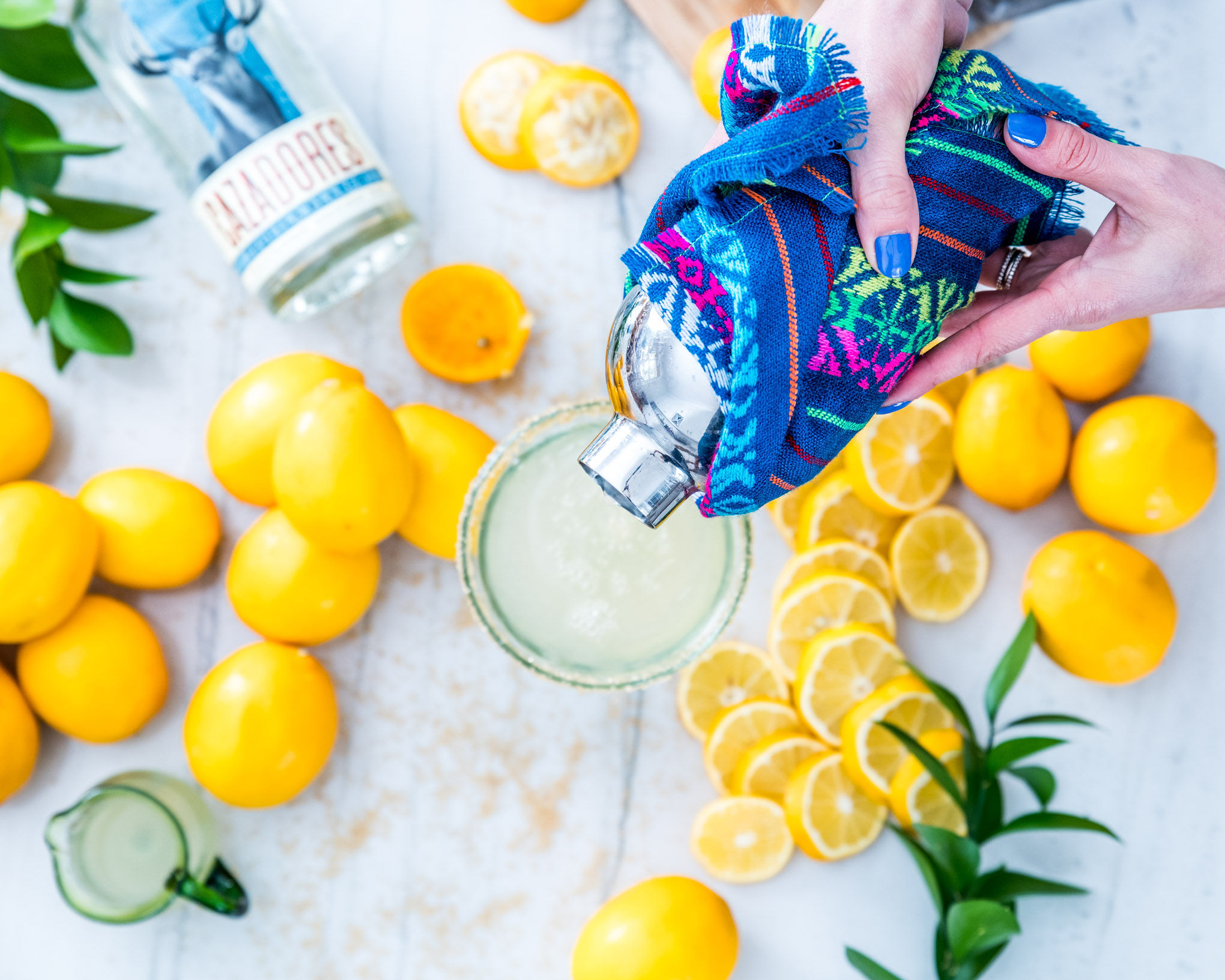 BLOODY FIZZY-RITA
This brightly colored brew is made with persimmon juice, blood orange soda, and combined with tequila to create a potent potion. – Muy Bueno Blog
MARIGOLD INFUSED TEQUILA
This marigold-tequila infusion takes seven days, but after the second day the tequila takes on a beautifully golden color. Cinnamon sticks add a depth of warmth and sweetness. – Sweet Life Bake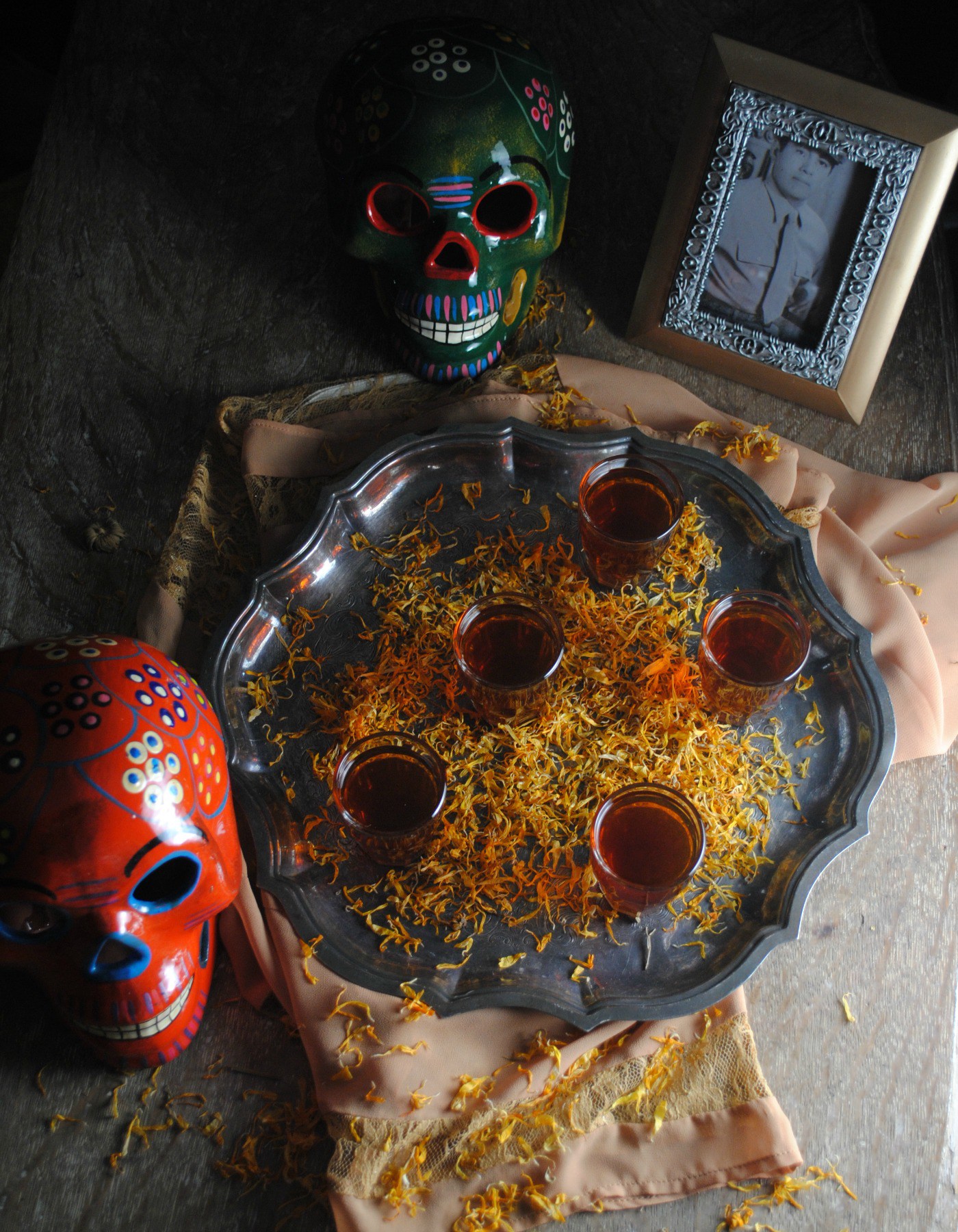 MARIGOLD INFUSED WINE
Infuse wine with beautiful dried marigold to create a floral fragrant wine. – Sweet Life Bake
APPETIZERS FOR DAY OF THE DEAD
BEEF EMPANADAS
This beef empanada recipe combines both sweet and savory ingredients. – Lola's Cocina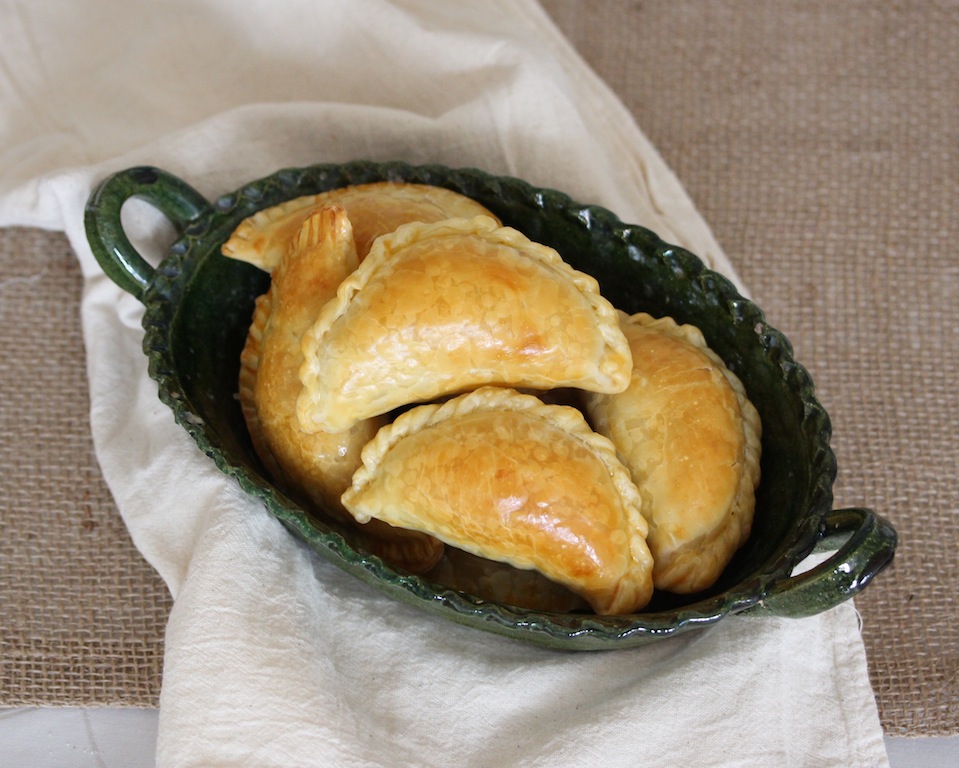 CALACA SANDWICHITOS
With just a few simple tools, colorful vegetables and cookie cutters, your kid's meal will turn into a festive feast. – Nibbles & Feasts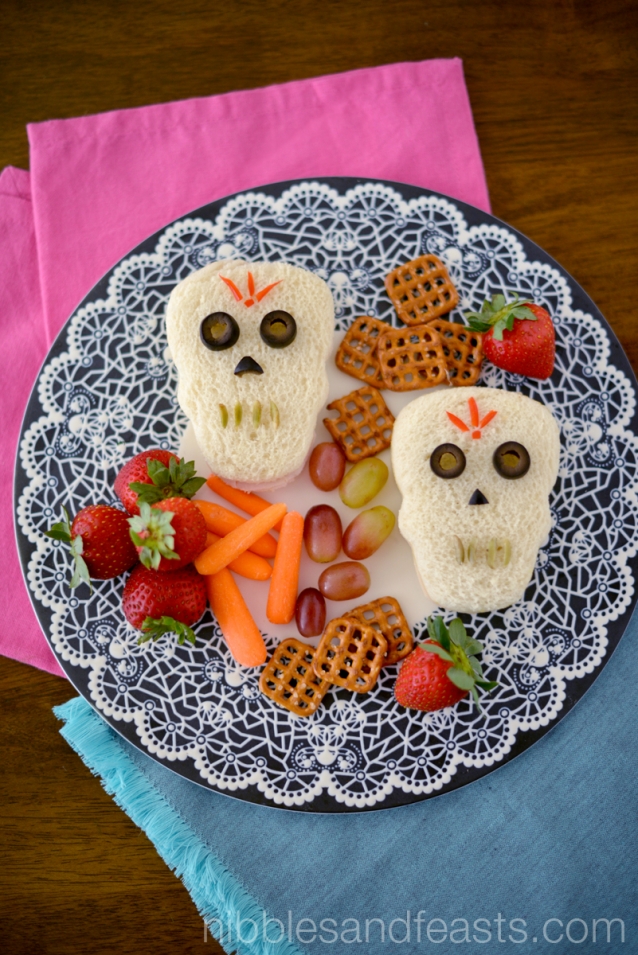 DIA DE MUERTOS EMPANADAS
These Día de Los Muertos Empanadas Calaveras (skull) are stuffed with a creamy tomatillo chicken filling and Mexican cheeses. – Sweet Life Bake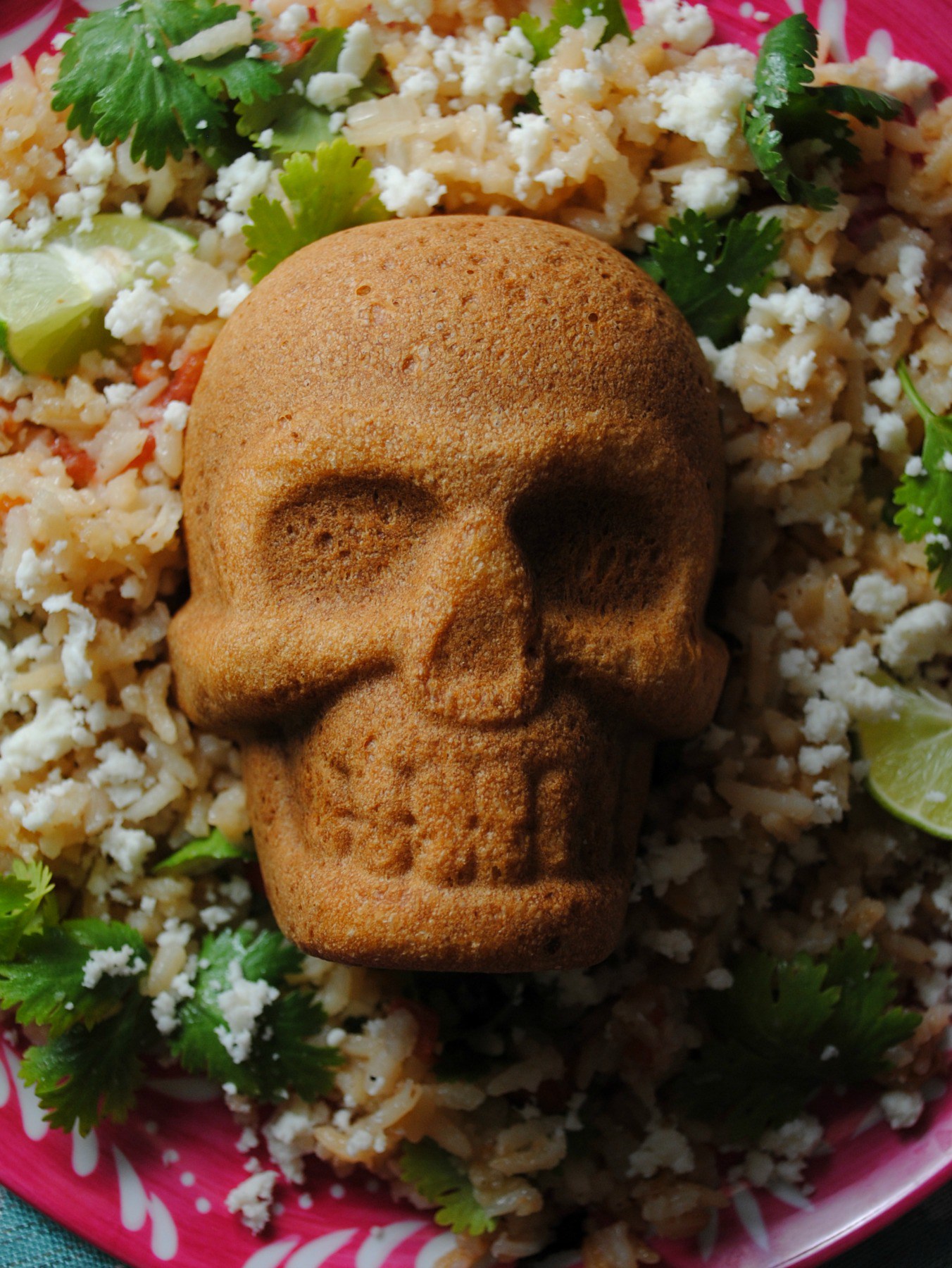 TORTILLAS DE CEMPAZUCHITL (MARIGOLD FLOWER-PRESSED TORTILLAS)
Marigold tortillas are the perfect accompaniment to the festivity's mole, cochinita pibil or a simple queso fundido appetizer. – Spanglish Baby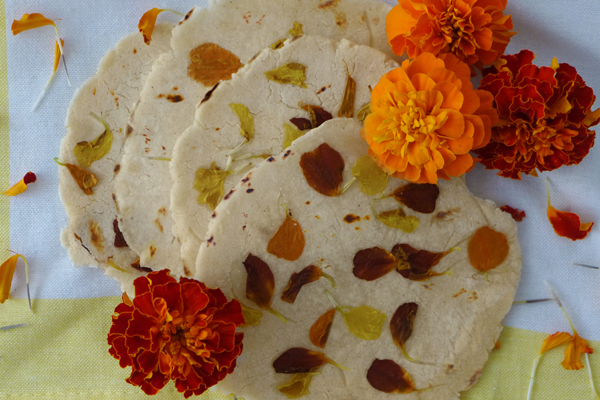 EASY BAKED PUMPKIN EMPANADAS
This recipe for sweet baked Pumpkin Empanadas should definitely be on your fall and winter dessert radar. – Muy Bueno Blog
MOLLETES WITH PAPAS Y CHORIZO
Molletes are typically served for breakfast and in their most basic form, they are made with Mexican bread, refried beans, cheese and pico de gallo. – Lola's Cocina
BREAD RECIPES FOR DAY OF THE DEAD
TRADITIONAL PAN DE MUERTO
Serve this pan de muerto warm and be sure to dust it with plenty of sugar to welcome the spirits.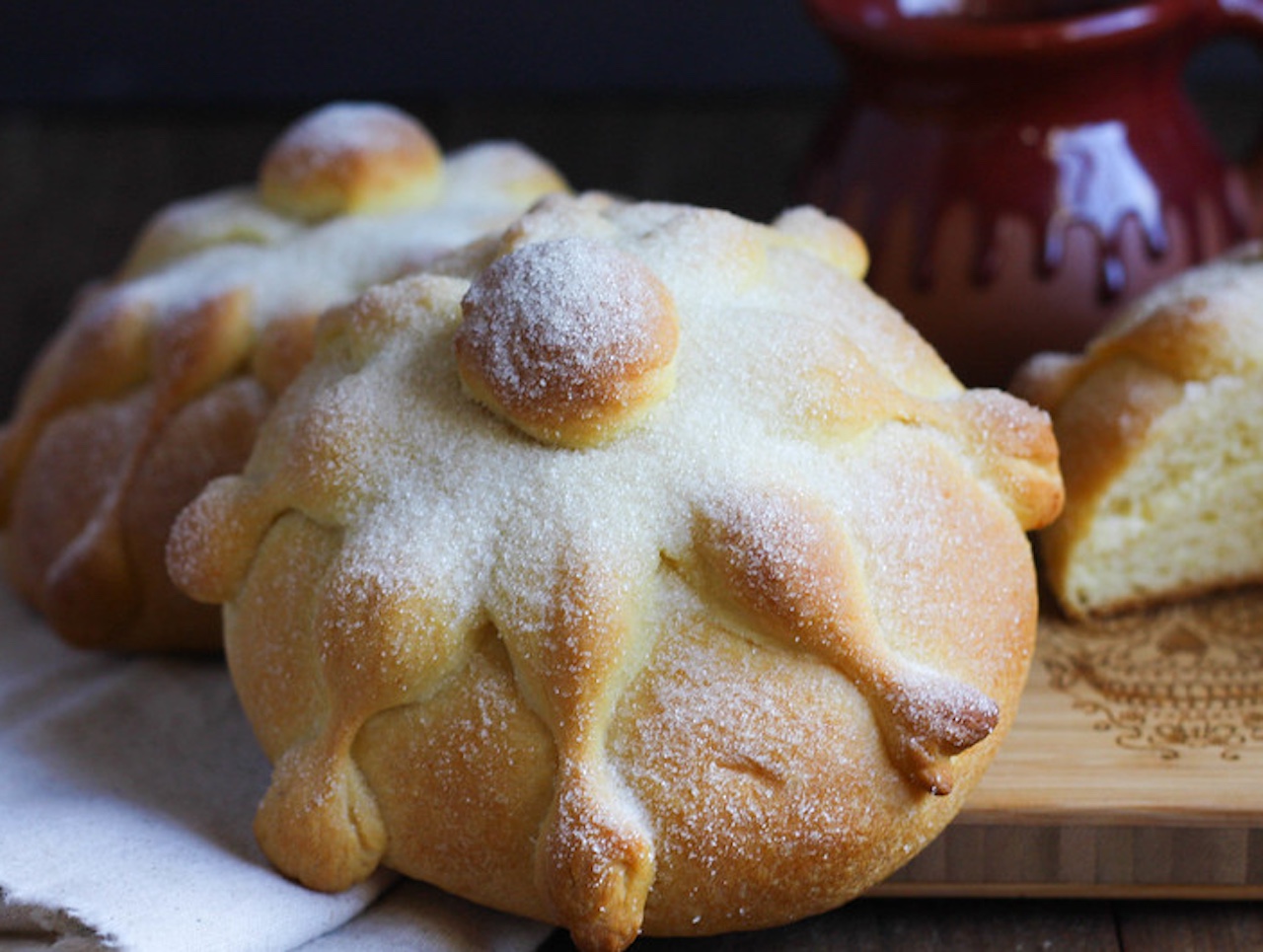 PERSIMMON BREAD
Fresh persimmons are reminiscent of pears, dates and brown sugar and pair beautifully with the cinnamon, clove, and vanilla in this recipe, making this persimmon bread perfect for fall!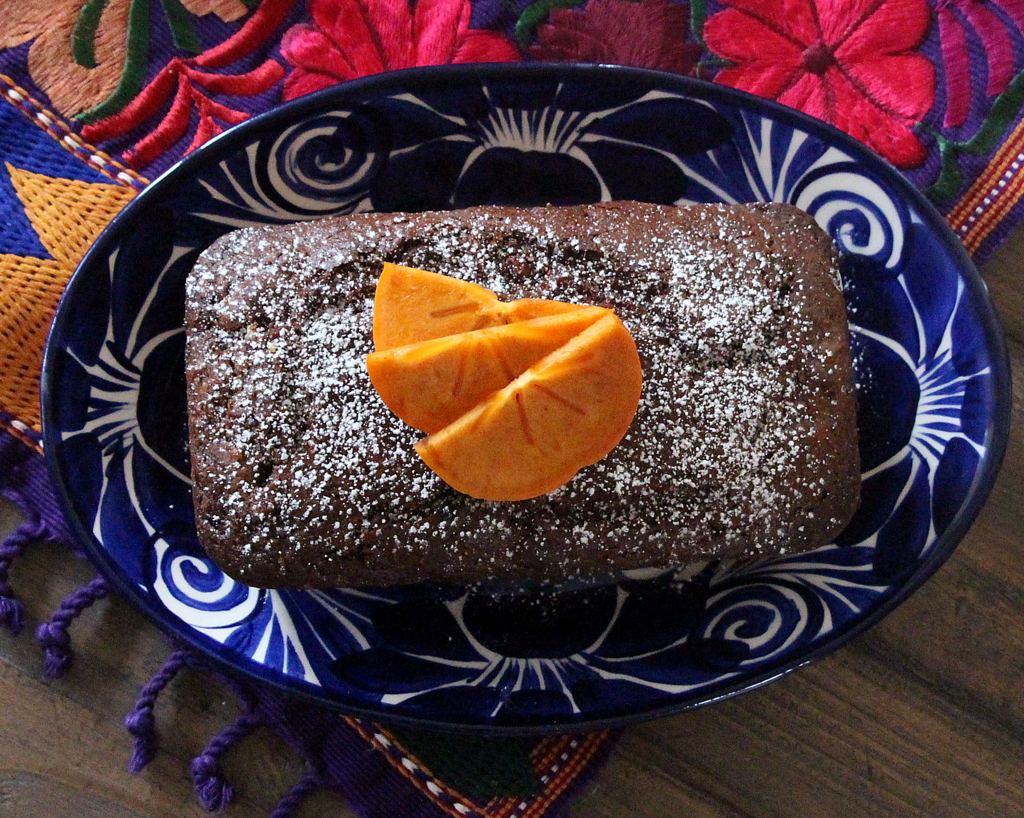 GUAGUAS DE PAN (ECUADORIAN BREAD BABIES)
It is a traditional Ecuadorian custom to have these breads, along with a purple corn & fruit drink called colada morada, on November 2nd for the Day of the Deceased (Dia de los Difuntos). – Laylita's Recipes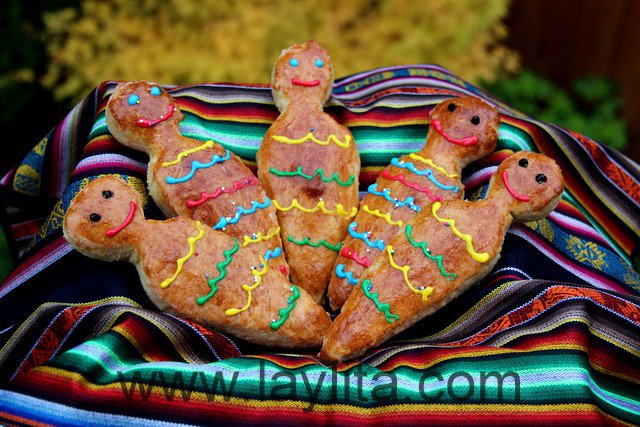 MARIGOLD BREAD
A quick and easy marigold bread is a delicious treat to bake with your children for Dia de Muertos featuring dried or fresh marigolds. – Sweet Life Bake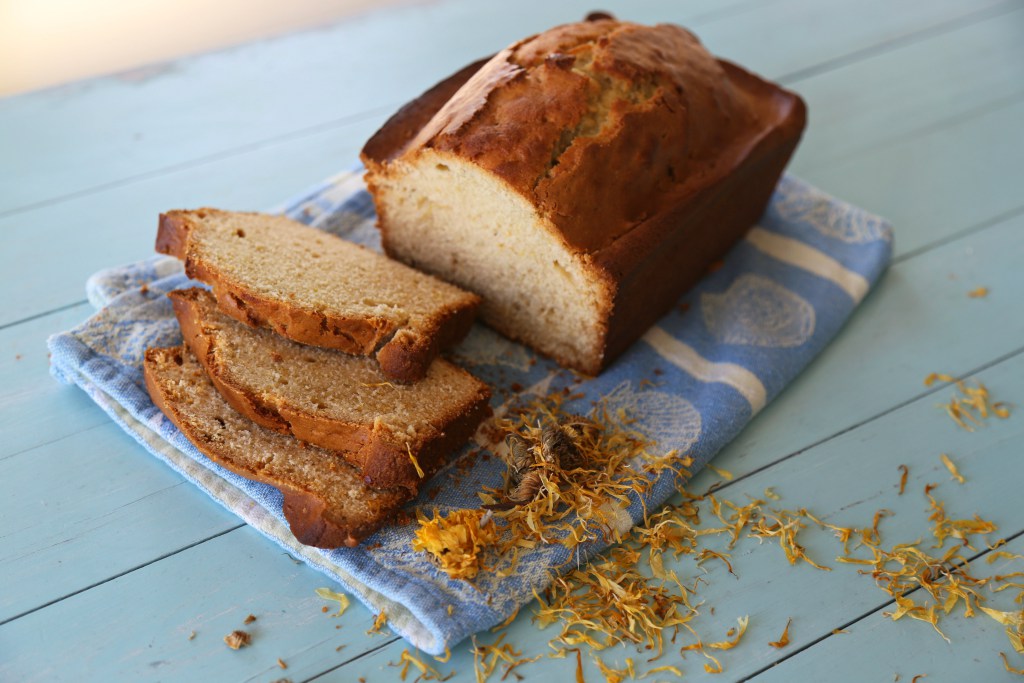 PAN DE MUERTO WITH PINK SUGAR
This pan de muerto is made extra festive with pink sugar.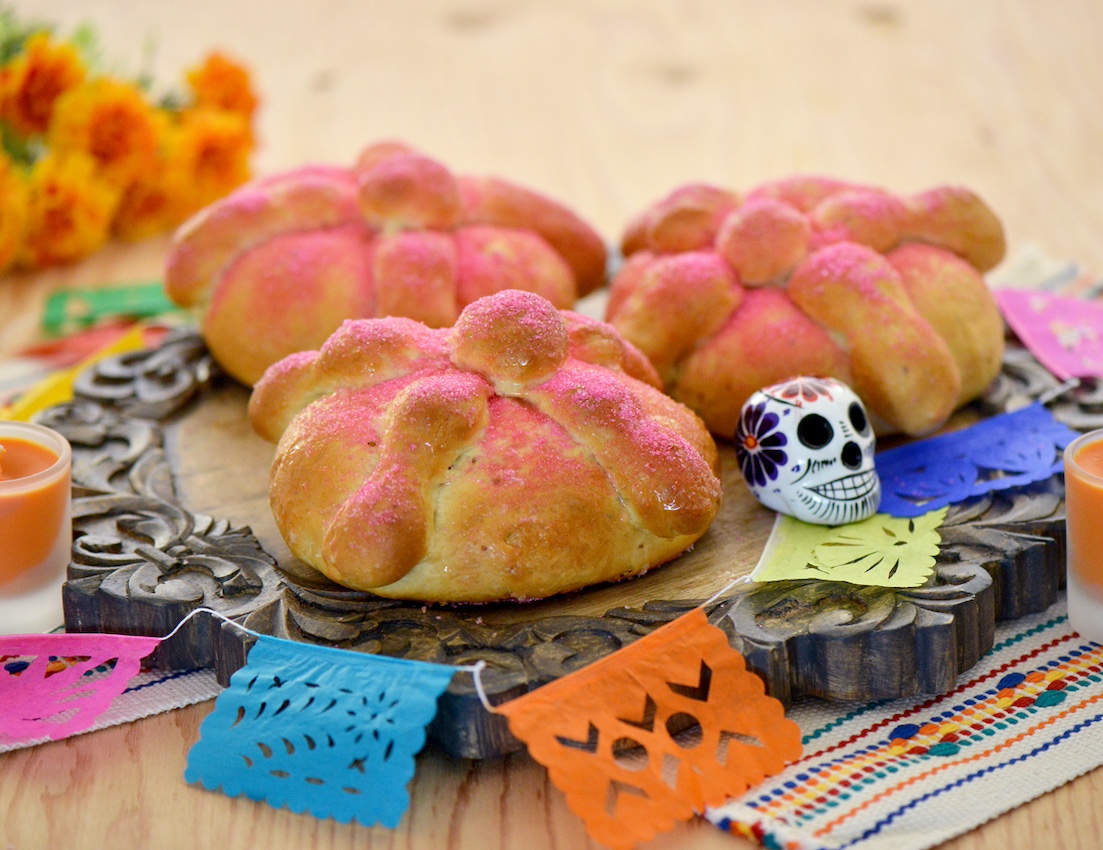 SPICED VEGAN PUMPKIN BREAD
This delicious treat bursts with warm, aromatic spices and the natural sweetness of pumpkin, providing the perfect balance of comfort and healthiness. – Ale Cooks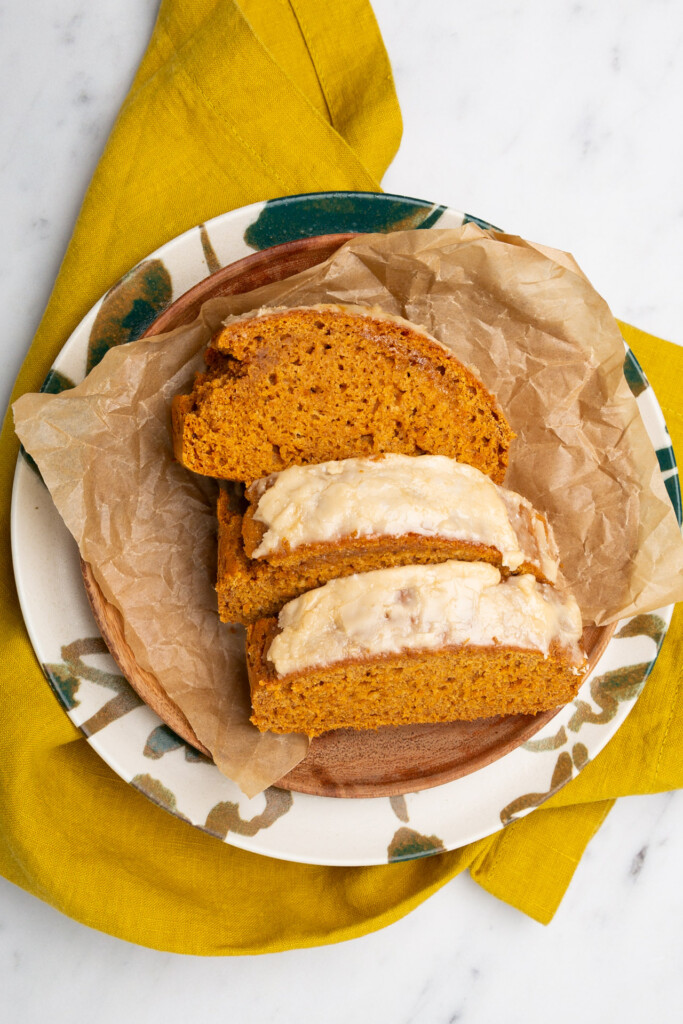 PAN DULCE: MEXICAN CONCHAS
While this recipe does take some time, the results are celebratory, and there is nothing like enjoying a sweet concha with a cup of Mexican hot chocolate. – Flan and Apple Pie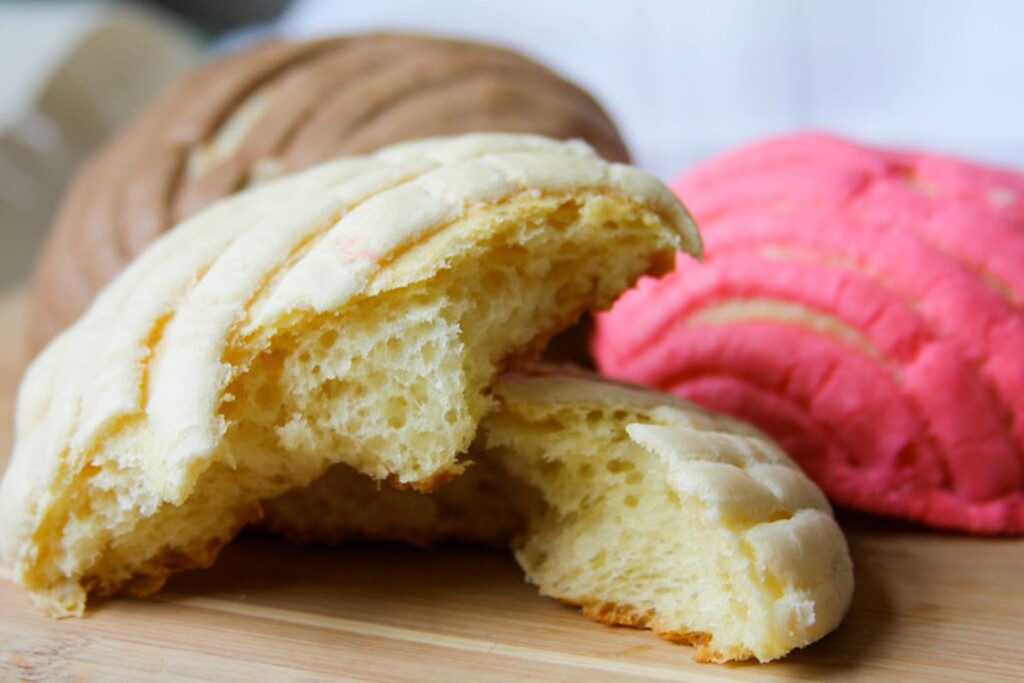 PUMPKIN SPICE PAN DE MUERTO
Pumpkin Spice Pan de Muerto is the traditional Day of the Dead bread flavored with sweet pumpkin, cozy spices, and a sprinkling of sugar. – Hola Jalapeño
MAIN DISHES FOR DAY OF THE DEAD
MOLE NEGRO (BLACK MOLE SAUCE WITH CHICKEN)
An authentic mole negro or black mole sauce made with dried chiles, sesame seeds, garlic, raisins, chocolate, and warm spices. This sultry, complex sauce is traditionally served over chicken but would also make delicious enchiladas.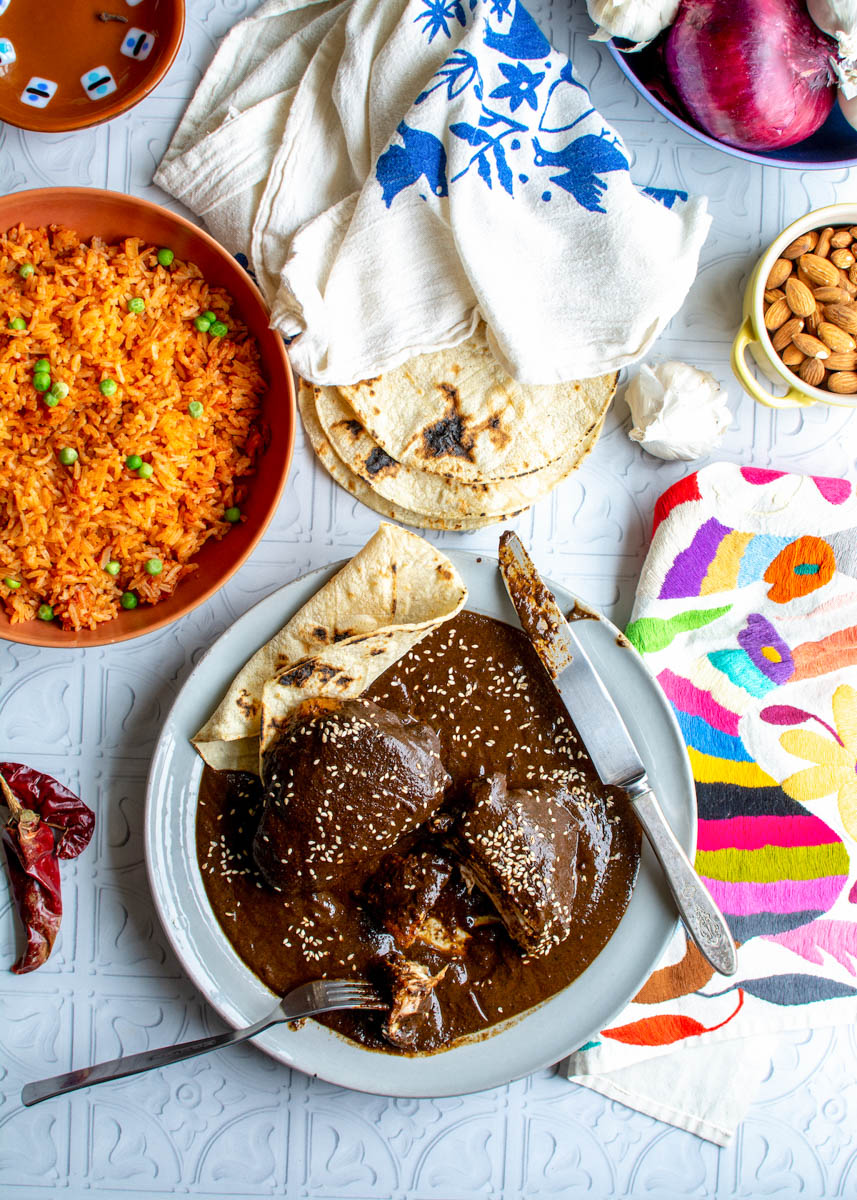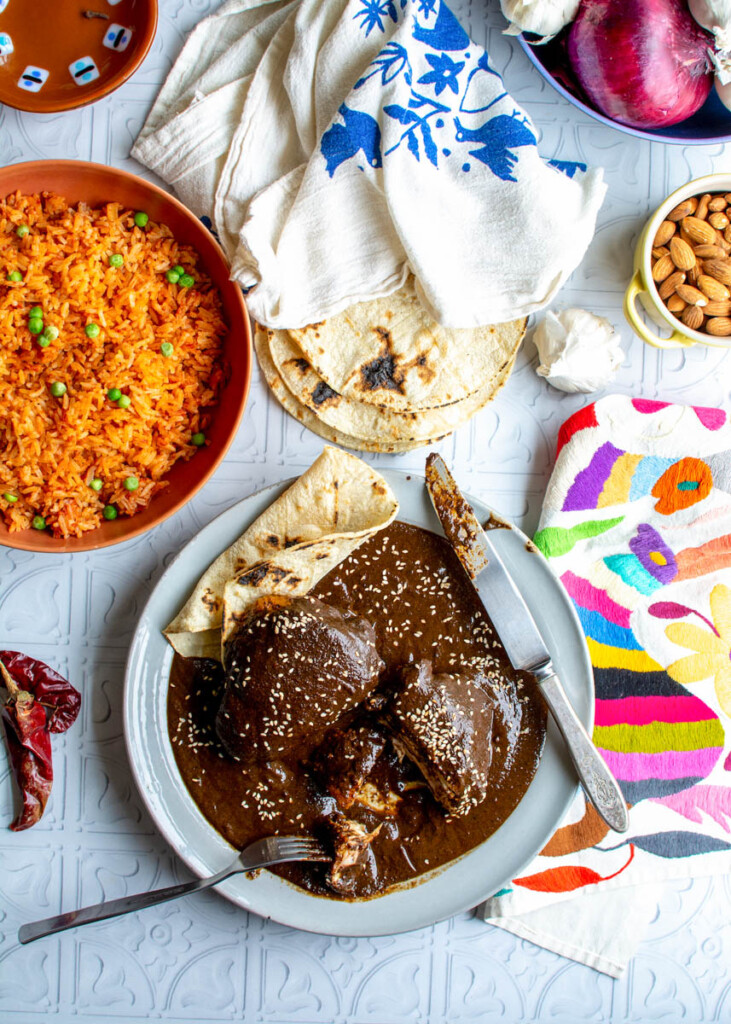 MOLE ENMOLADAS CON PAPA
Enmoladas combine two traditional dishes — enchiladas and mole – and a new one emerges (mole enchiladas)!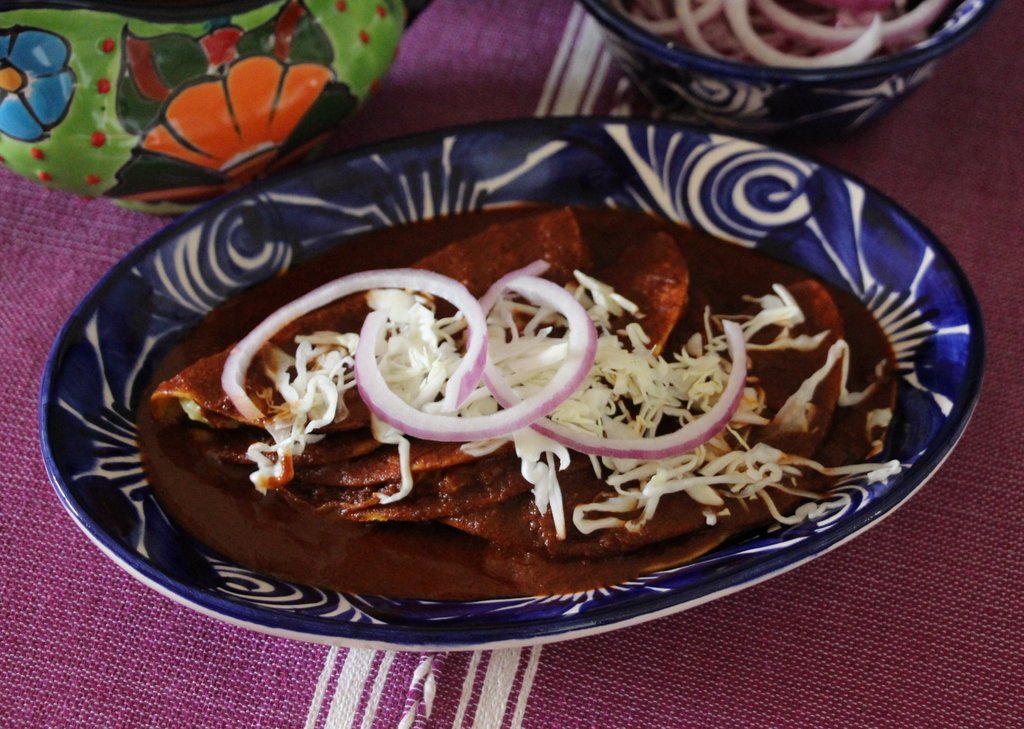 HUEVOS ENMOLADOS (FRIED EGGS WITH MOLE SAUCE)
A saucy spin on traditional huevos rancheros, these huevos enmolados pair mole with eggs over lightly fried corn tortillas.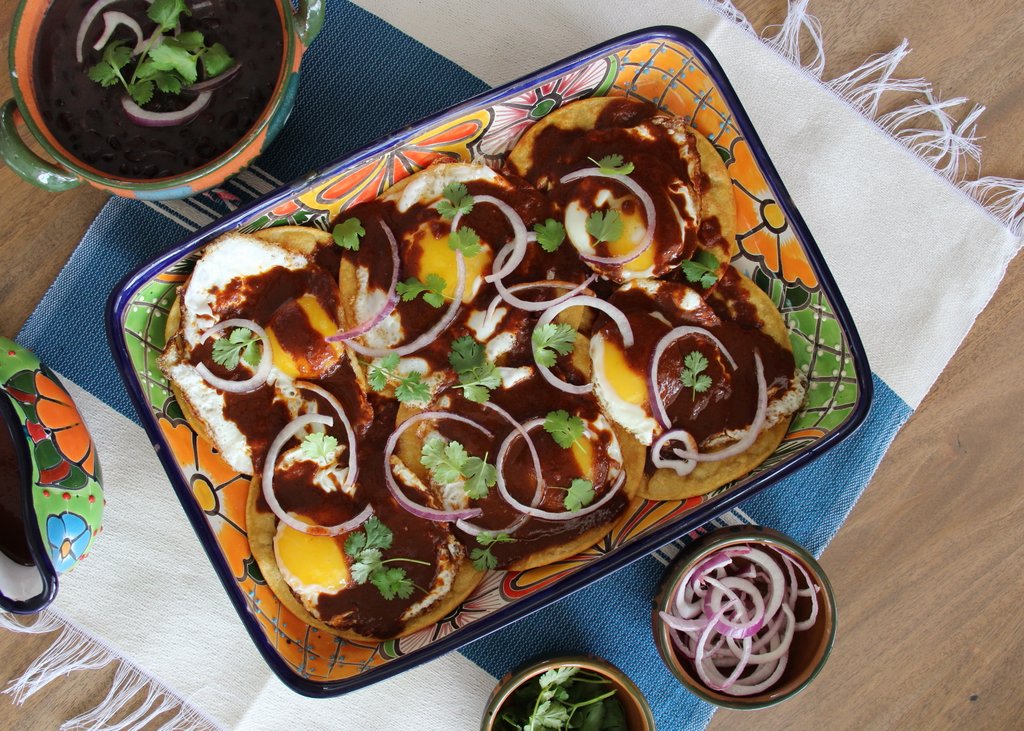 POZOLE VERDE (GREEN POZOLE WITH CHICKEN)
Pozole verde, or green pozole, is a traditional Mexican soup made with hominy, green chilies, tomatillos, and meat (typically pork or chicken), resulting in a vibrant green broth, often garnished with fresh vegetables and herbs.
TAMALES COLORADITOS
The tamal coloradito, which translates to "infused with color," takes its name from the filling of meat cooked in a mole sauce by the same name, coloradito.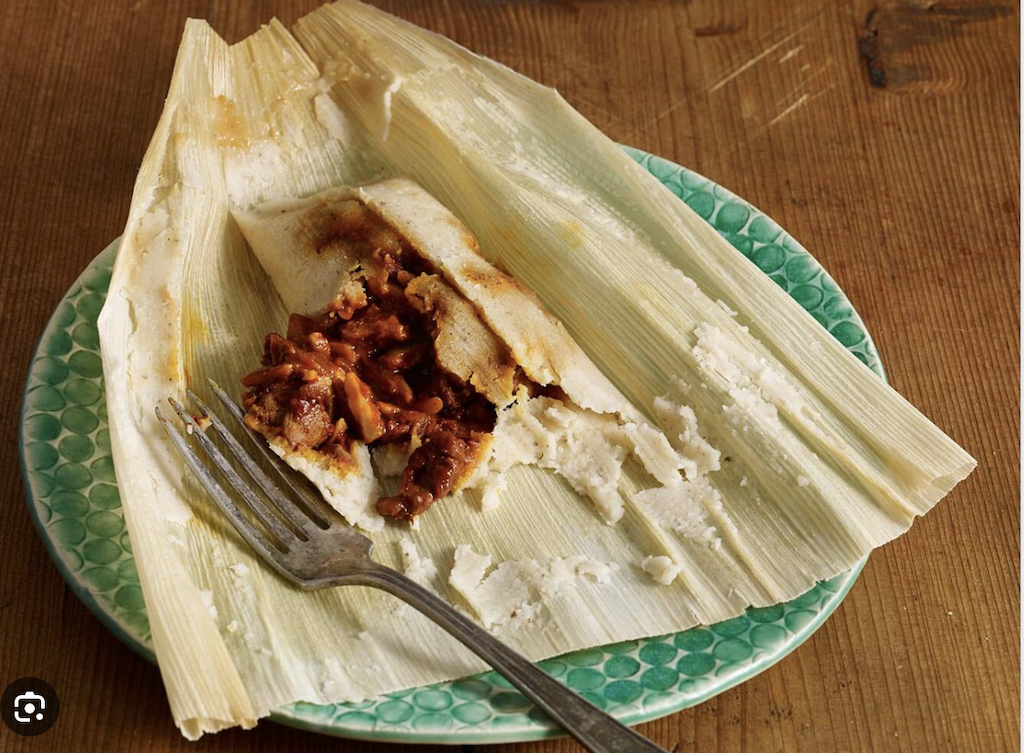 JALAPEÑO AND CACTUS TAMALES
Rather than stuffing each tamal individually, the pickled jalapeños and cooked cactus bits were added to the masa and mixed thoroughly. – Nibbles & Feasts
DESSERTS FOR DAY OF THE DEAD
MINI CREAM CHEESE AND COFFEE FLAN
Flavored with instant espresso, this homemade coffee flan has a light cheesecake-like texture that is both creamy and firm, without the "eggy" flavor that can turn people off.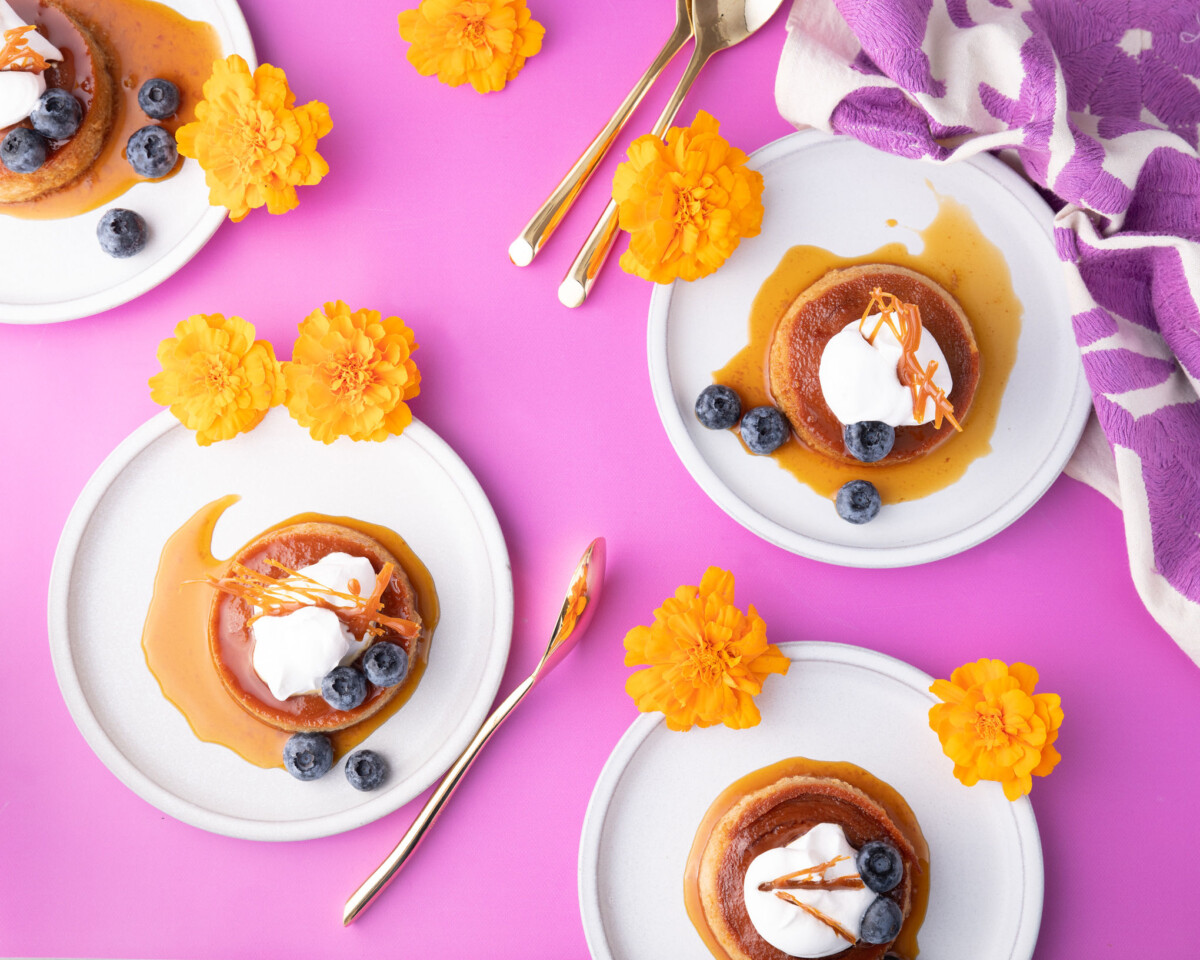 PUMPKIN FLAN
This pumpkin cheese flan combines the flavors and textures of three delicious desserts: pumpkin pie, cheesecake, and flan.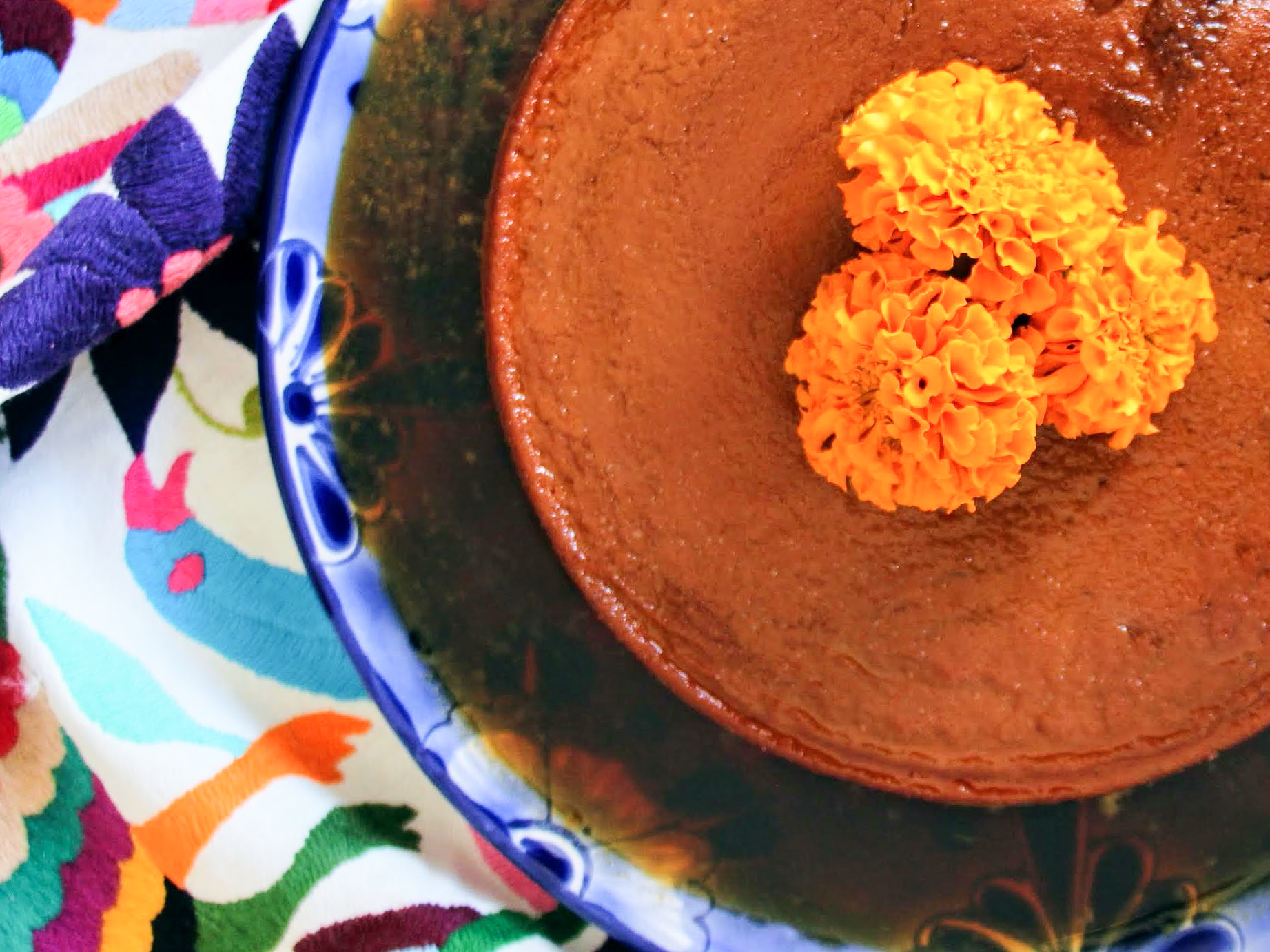 CALAVERAS DE AZUCAR BUÑUELOS
These edible calaveras de azucar are an easy spin on buñuelos.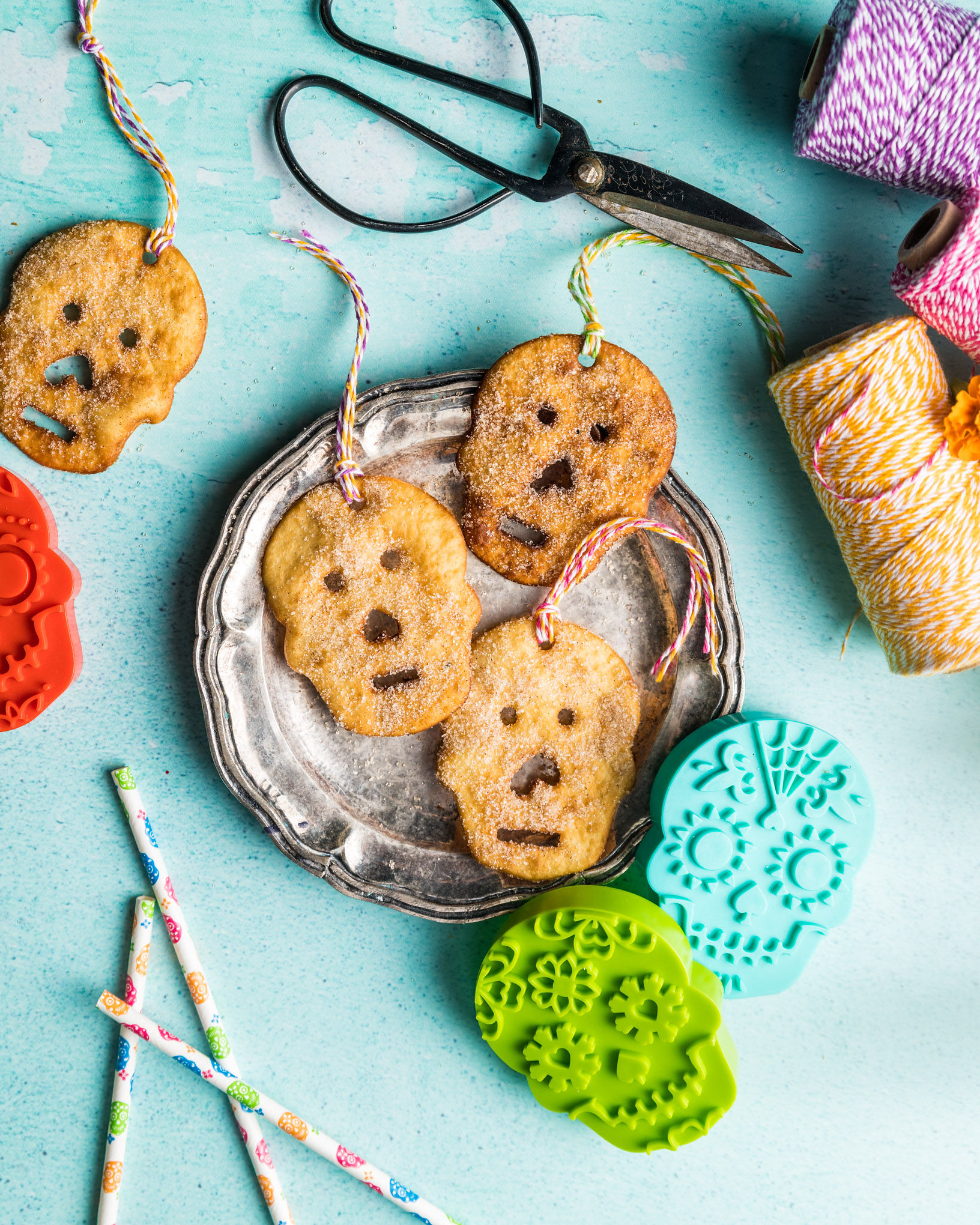 MARIGOLD AND ORANGE BLOSSOM SUGAR COOKIES
This sugar cookie recipe includes flavors you'd find in pan de muerto, which is a semi-sweet bread that is baked in the shape of bones and dusted with sugar or sprinkled with sesame seeds.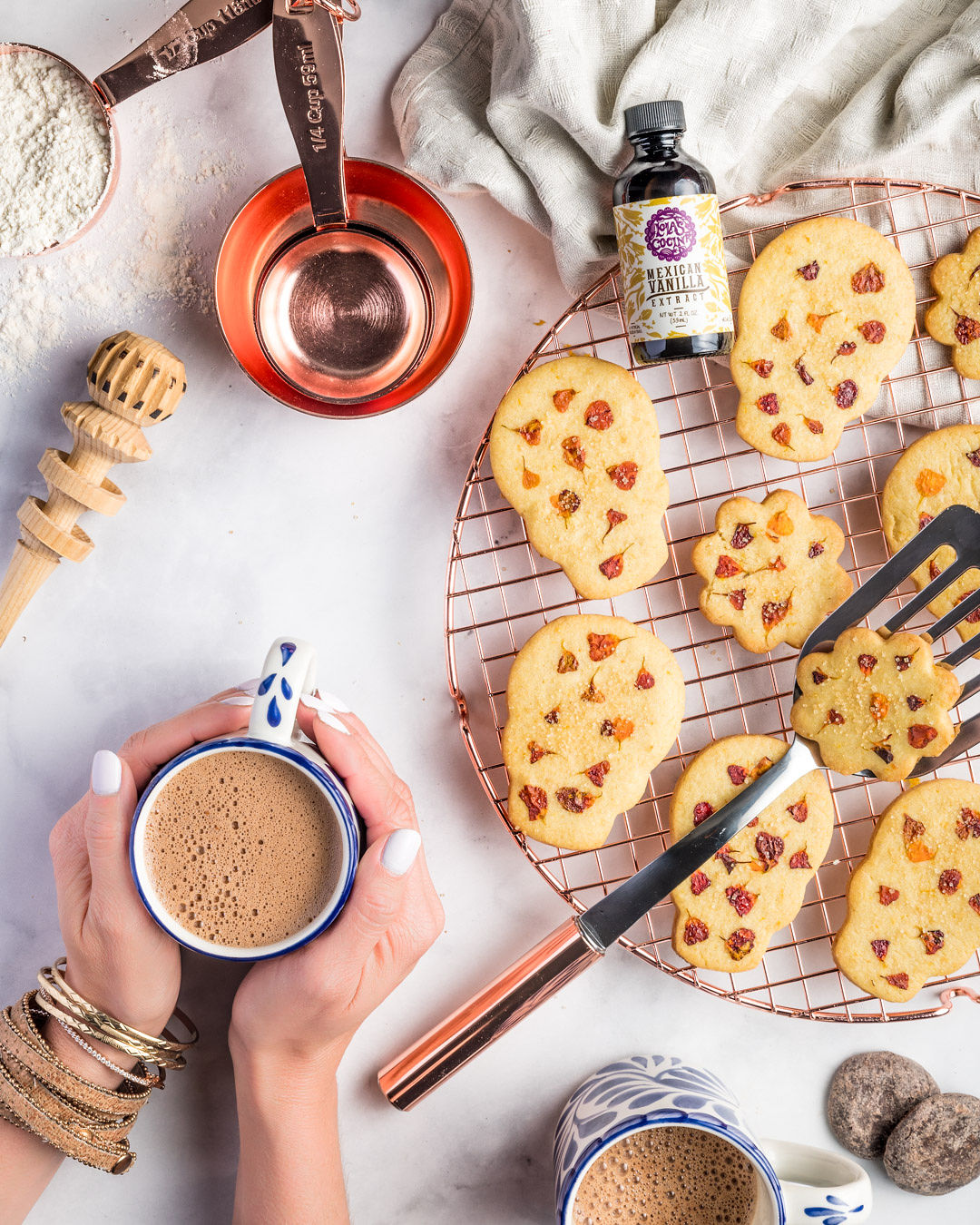 MEXICAN CHOCOLATE PALETAS
There's definitely no mistaking these Mexican chocolate paletas for ordinary fudge popsicles.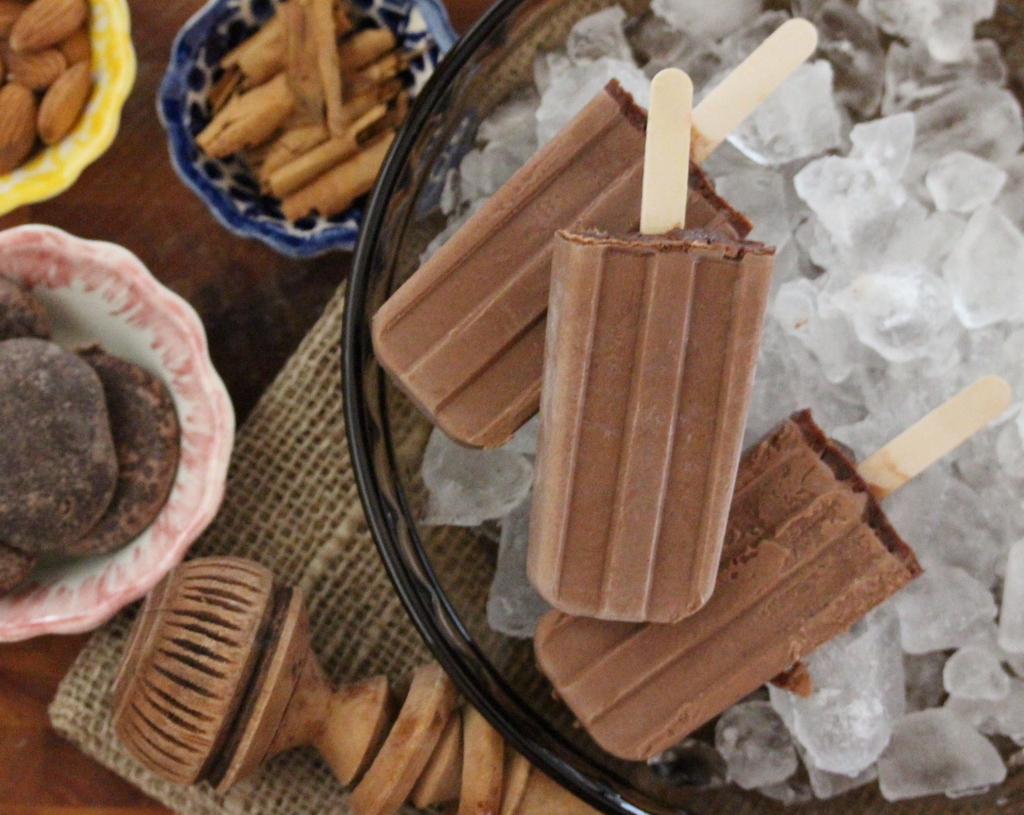 DAY OF THE DEAD COOKIES
This crumbly, decadent, Mexican shortbread cookies are inspired by pan de muerto or Day of the Dead bread. – Mexican Made Meatless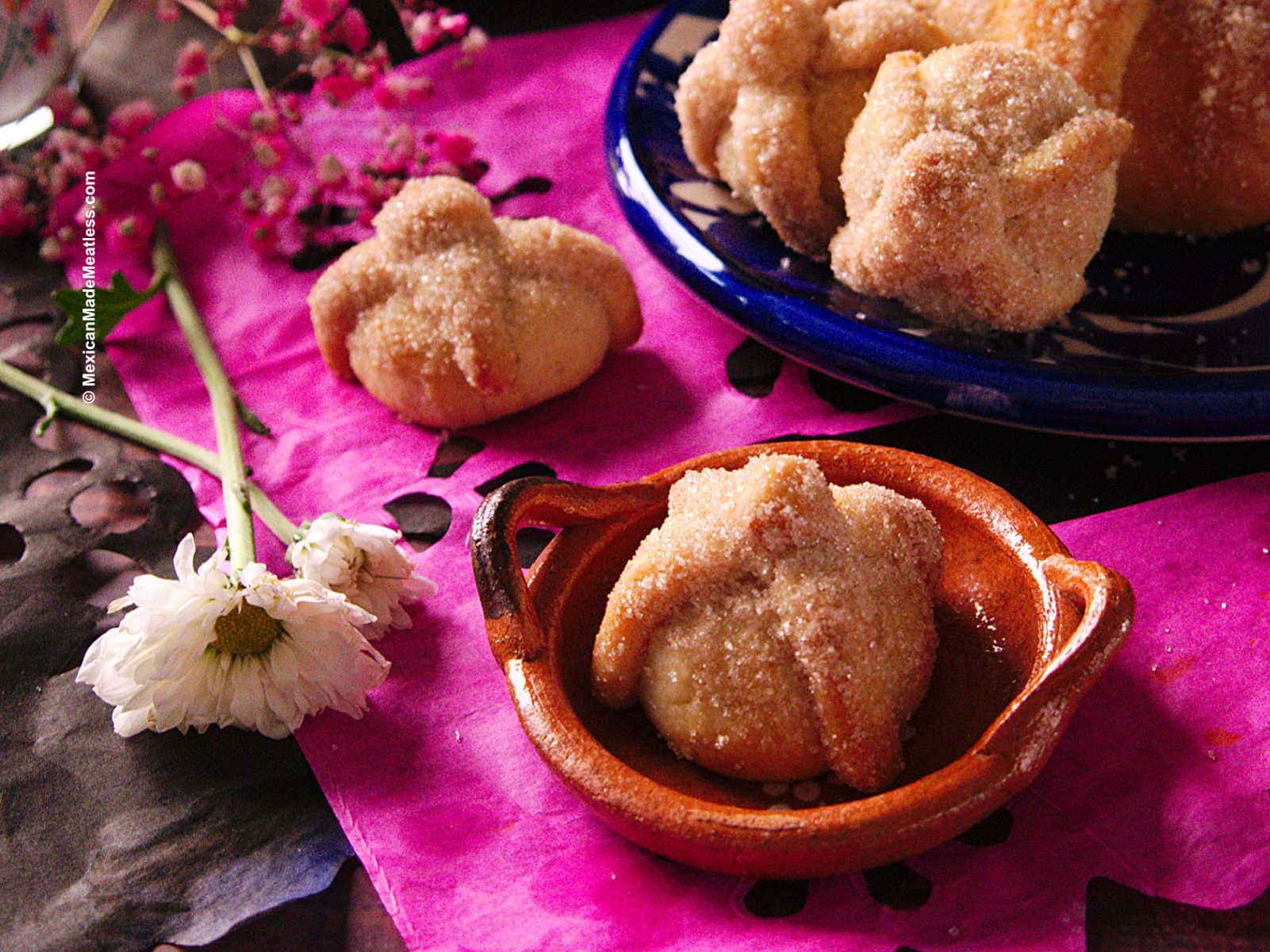 CALABAZAS EN DULCE (CANDIED PUMPKIN DESSERT)
A classic Mexican dessert for Day of the Dead, pumpkin is slowly cooked in a piloncillo infused with spices to make calabazas en tacha.
VEGAN CHOCOLATE AND AMARANTH SKULLS
The use of sugar or amaranth skulls can be traced back to pre-hispanic times! – Dora's Table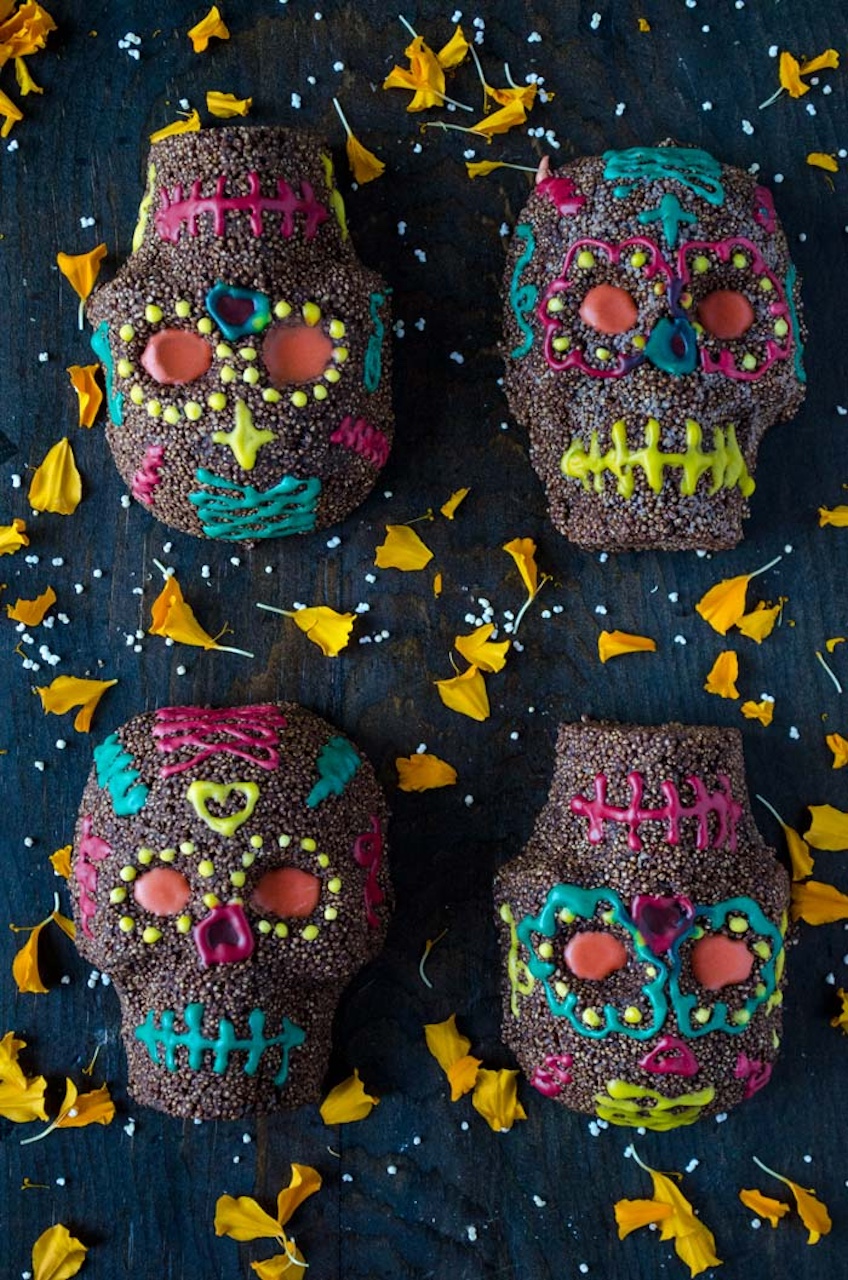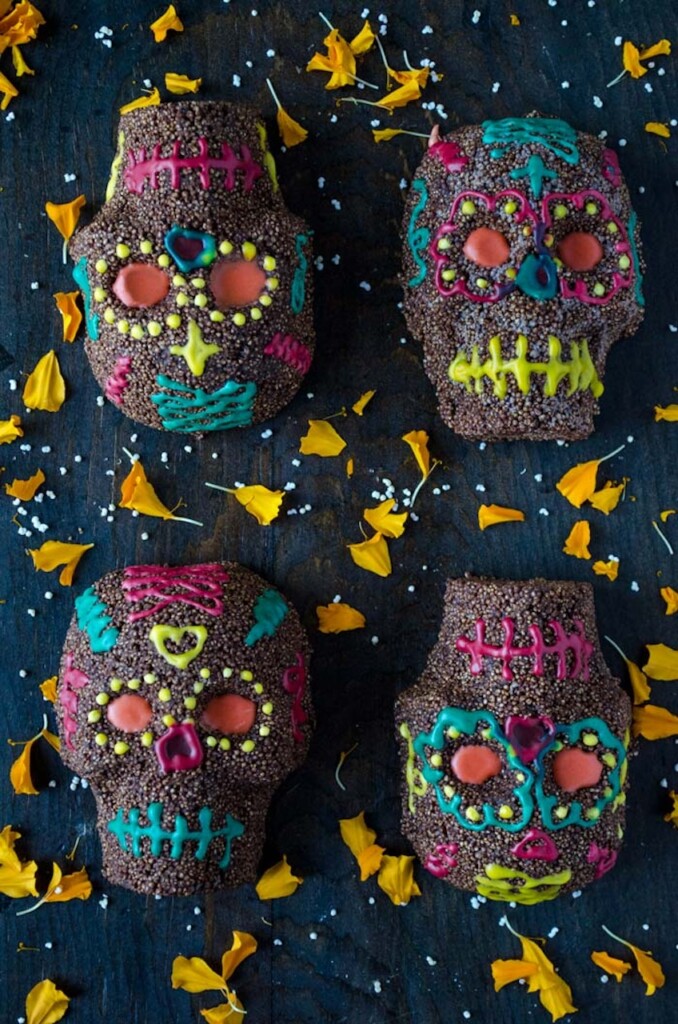 DIA DE LOS MUERTOS CARAMEL ALMOND RICE KRISPIE TREAT
Bedazzle your rice crispy treats for Day of the Dead. This sugar skull Rice Krispie treat is the perfect edible craft to make with kids.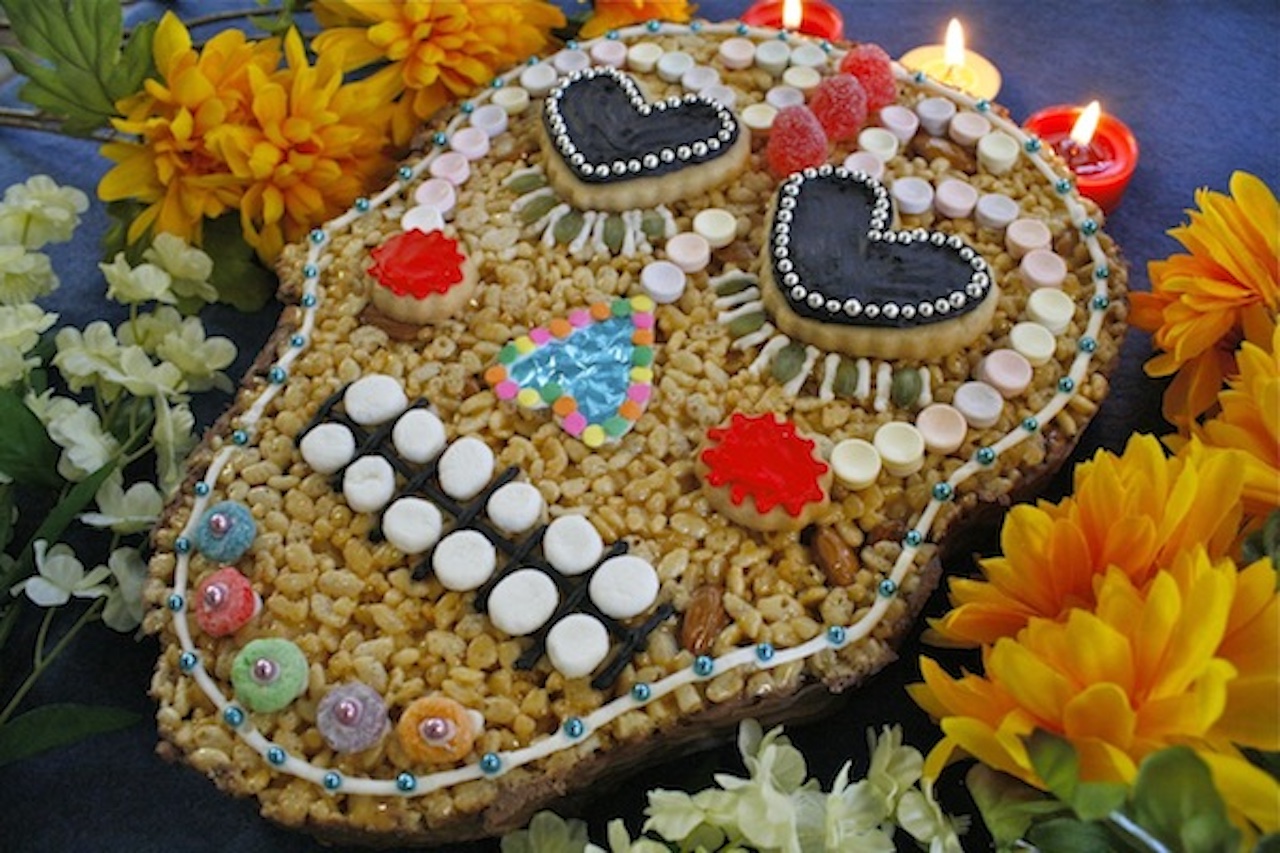 MEXICAN CHOCOLATE ICE CREAM
Mexican chocolate ice cream is a colder spin on the traditional hot chocolate that's used for Day of the Dead.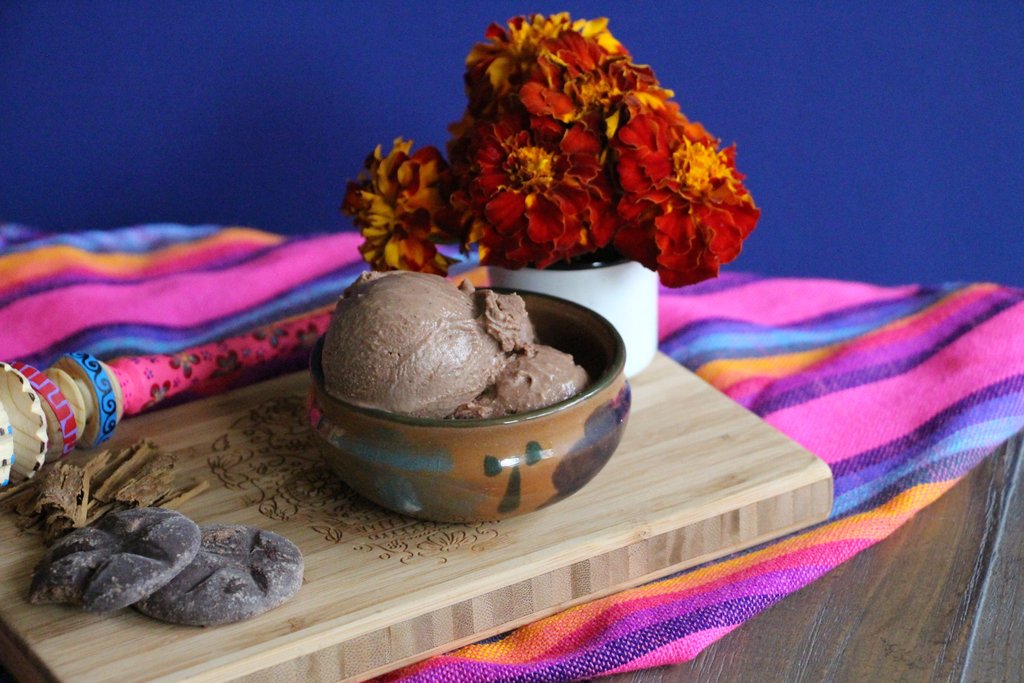 PASTEL DE MEMBRILLO (QUINCE AND CREAM CHEESE PASTRY)
Fall fruits such as quince and guavas are often seen on Day of the Dead altars in Mexico, which is why I've added this quince puff pastry dessert to my list of Dia de los Muertos recipes!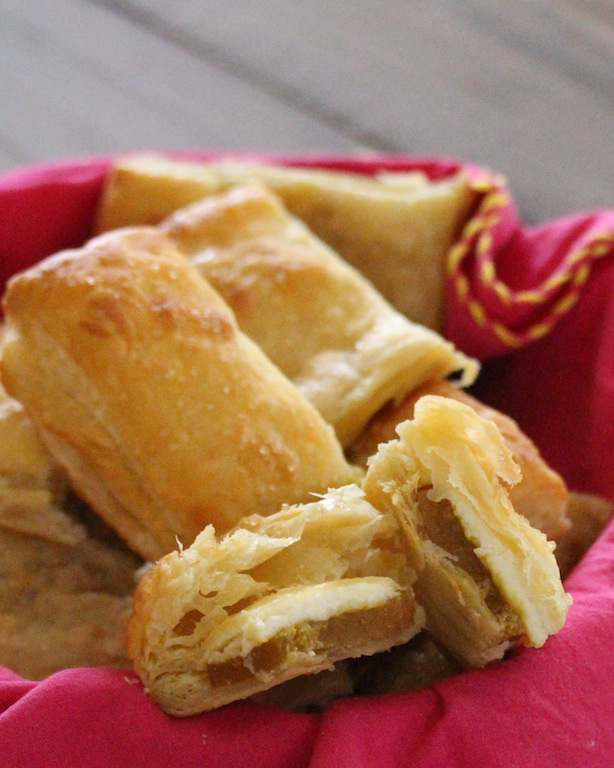 SUGAR SKULL BROWNIES
Turn a store-bought brownie mix into the coolest Day of the Dead dessert. – Hungry Happenings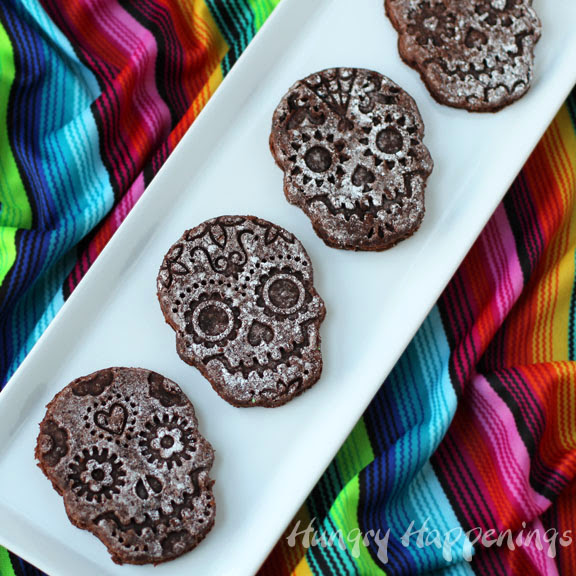 SUGAR SKULL COOKIE POPS
All you need is some cookie dough, frosting, your favorite candies to decorate these colorful sugar skulls and some popsicle sticks.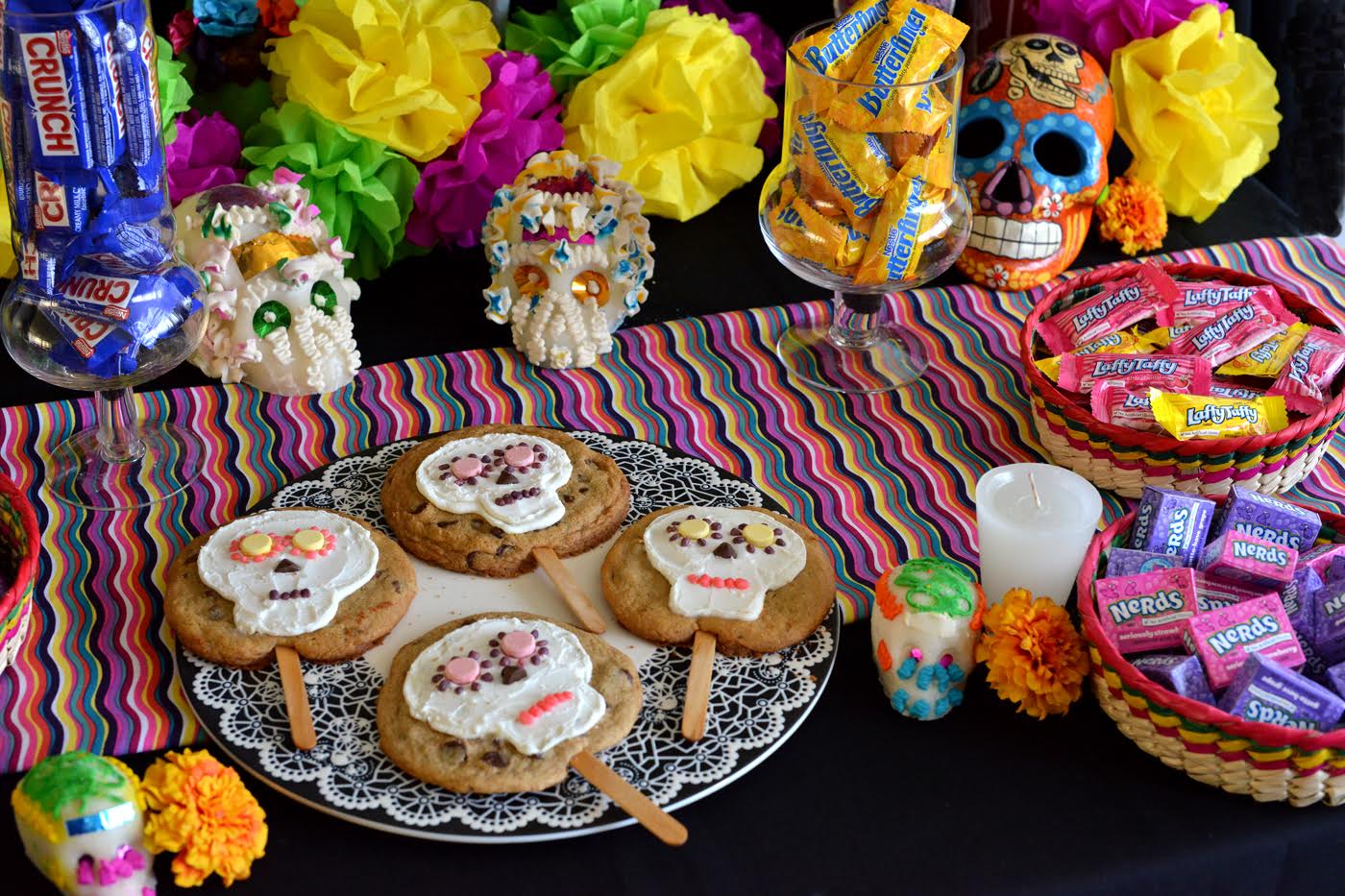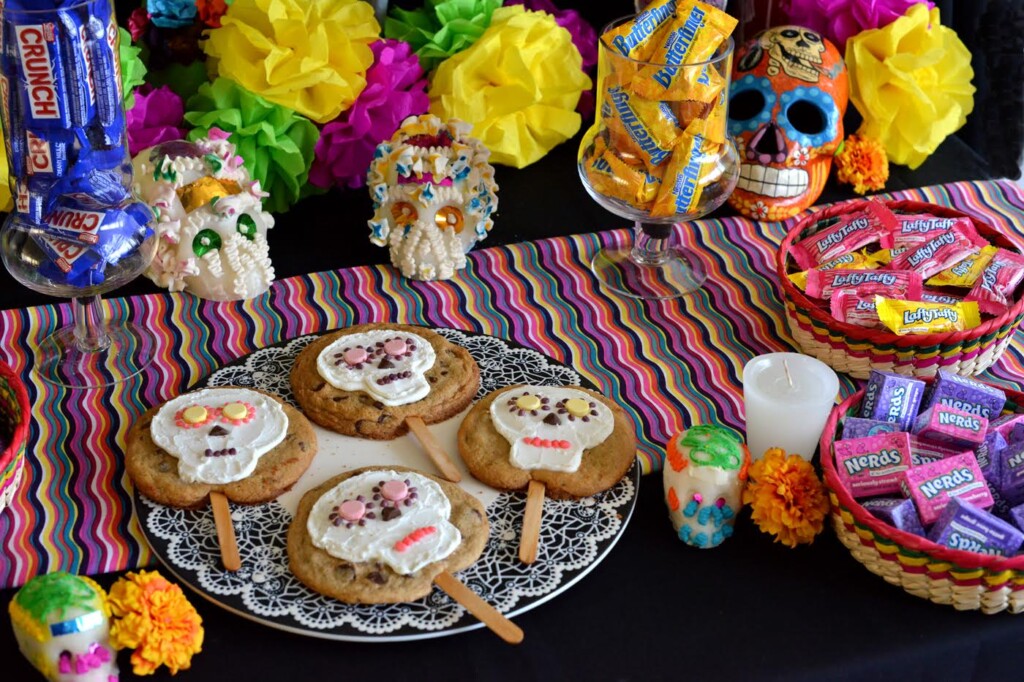 WHITE CHOCOLATE COVERED STRAWBERRY SUGAR SKULLS
Dip strawberries in white chocolate and decorated them to make white chocolate strawberry skulls . . . kids love them! – Growing Up Bilingual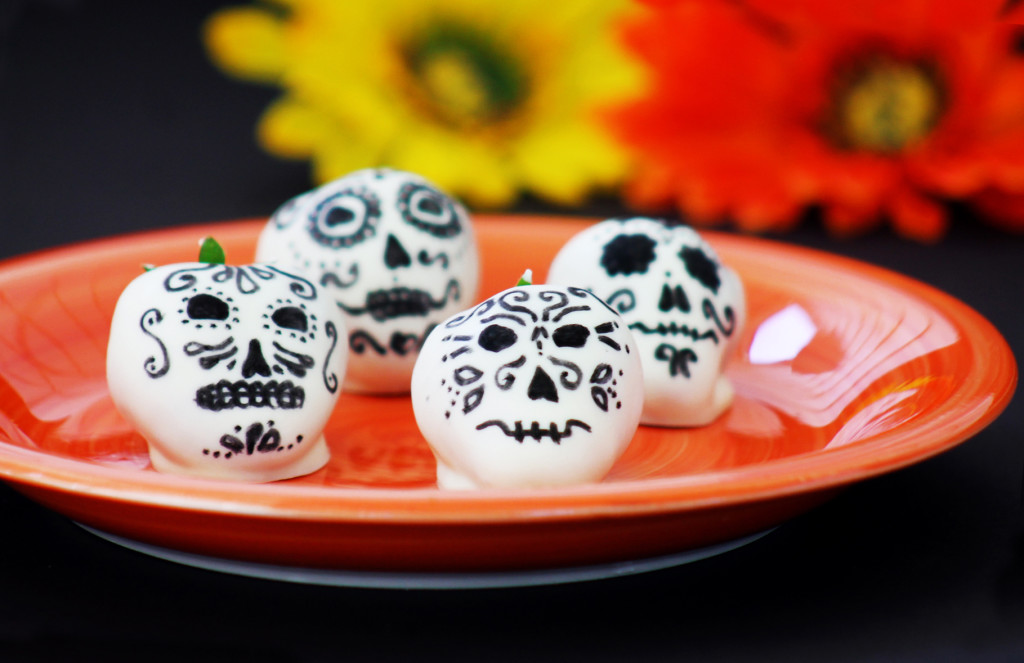 CALAVERAS DE AZUCAR (SUGAR SKULLS)
Calaveras de azúcar are sugar sculptures in the shape of skulls and are an essential part of an ofrenda. – Flan and Apple Pie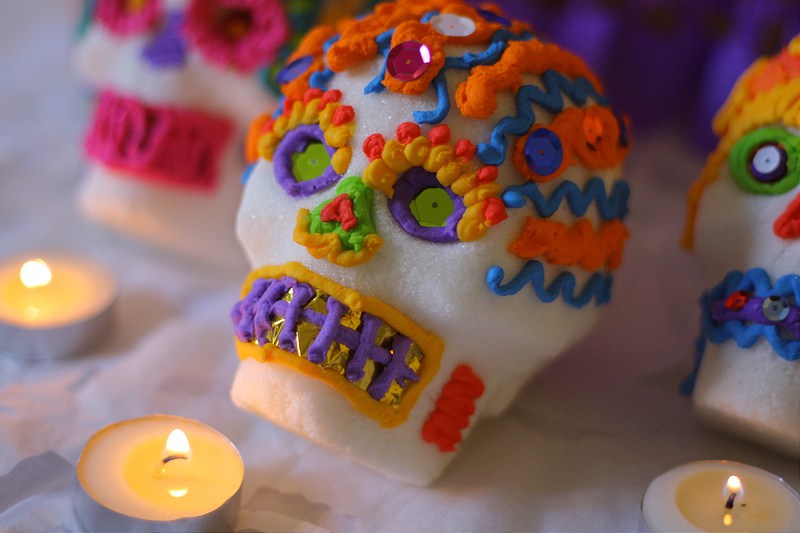 LOOKING FOR MORE DAY OF THE DEAD INSPIRATION?
Originally Published: October 31, 2016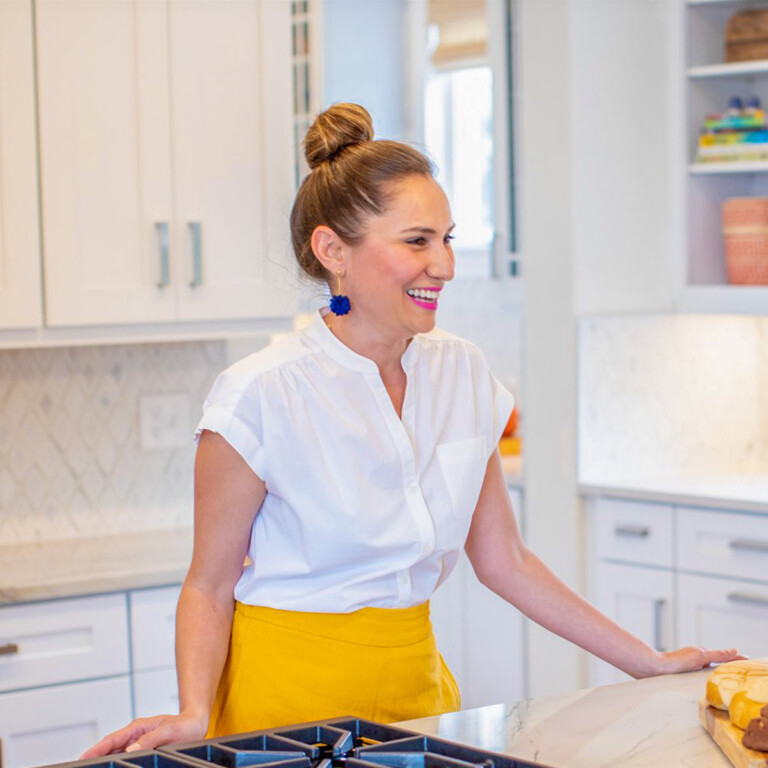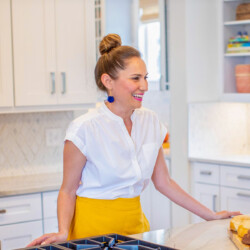 Lola Wiarco Dweck
Lola is a Mexican-American recipe developer, writer, and cooking instructor who loves sharing her culture with the world. Growing up in California and spending summers in Mexico, Lola celebrates her family's Mexican recipes and vibrant culture through Lola's Cocina.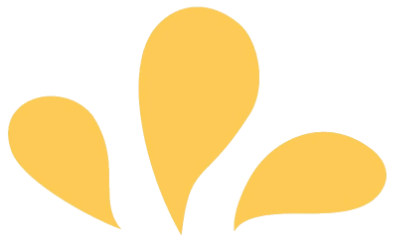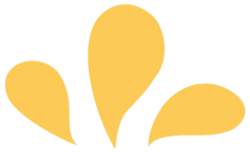 Sign up for ¡Hola de Lola!