Where to Stay in Oaxaca: Bed and Breakfasts, Hotels, and Apartments
Several times a month, people ask for recommendations on the best places to stay in Oaxaca. Since my first trip in 2006, I've booked everything from apartments and homes, to bed and breakfasts and hotels. I hope this guide inspires your next trip to central Oaxaca!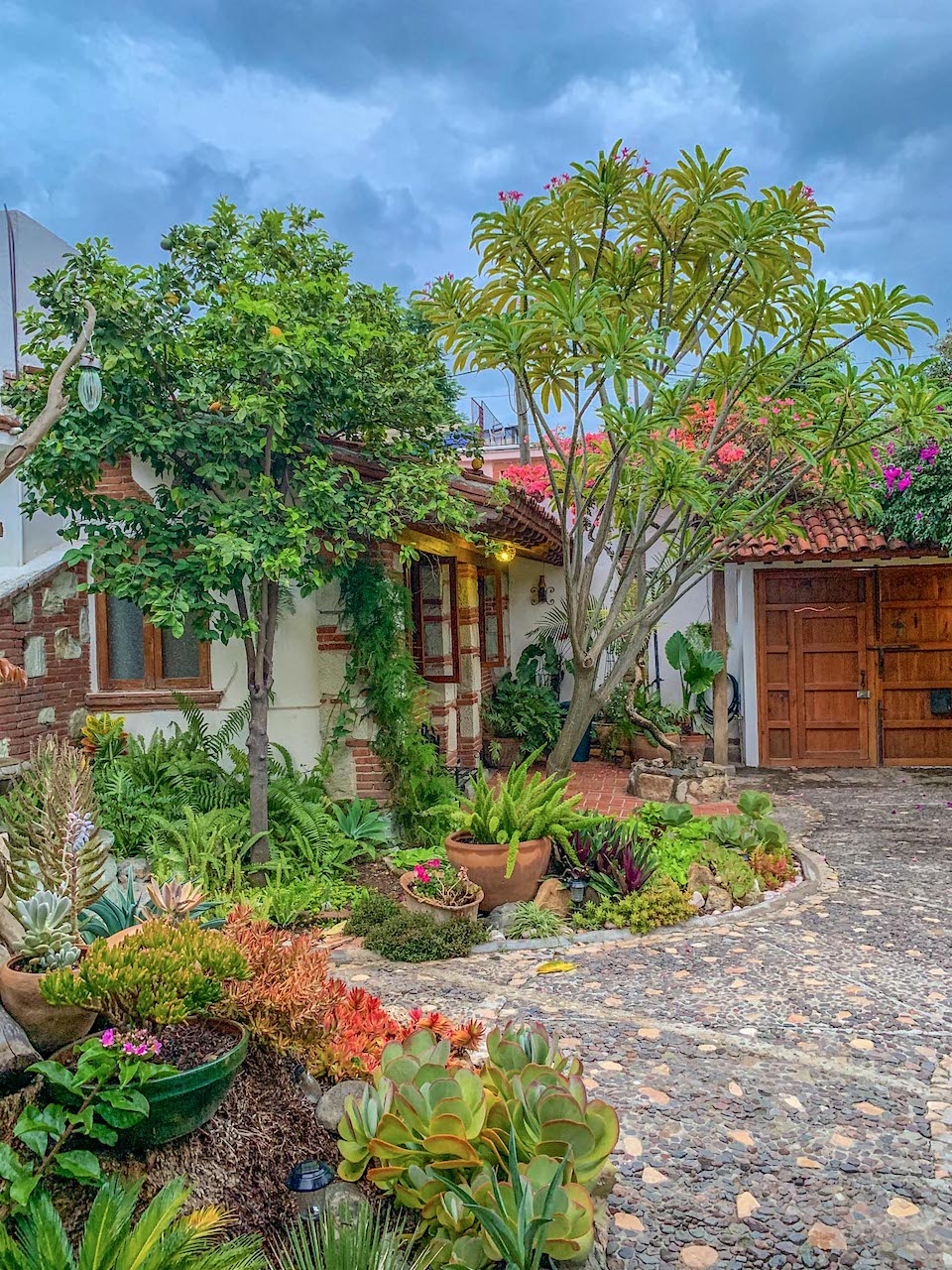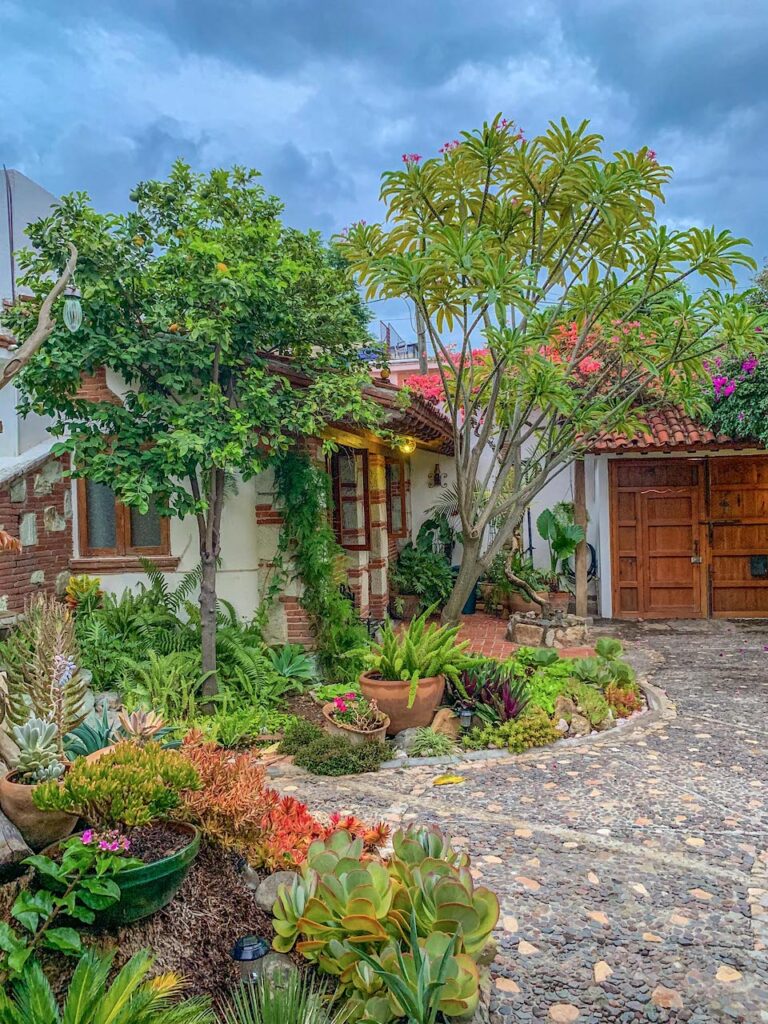 WHY YOU'LL LOVE OAXACA
Delicious Cuisine: this culinary gem is widely regarded as one of the best food destinations in Mexico.
Rich Cultural Heritage: it is a melting pot of indigenous groups, each with its unique customs, traditions, and cuisines.
Natural Beauty: home to the majestic Sierra Madre mountains, several national parks, ancient archeological sites, natural mineral springs, and so much more!
WHERE IS THE BEST PLACE TO STAY IN OAXACA?
This is one of the questions I get asked A LOT and while I enjoy hotel amenities, I love the cozy atmosphere of a bed and breakfast. Before you book anything, be sure to do your research to see what's a fit for your budget, criteria, and family's needs.
If you're looking for unique Oaxaca accommodations, the possibilities are endless. I've stayed at quite a few places throughout the nearly 20 years I've been visiting Oaxaca City and the bed and breakfasts offer a more intimate cultural experience than you'd get at any hotel. Although La Quinta Real hotel is absolutely beautiful. There are budget and luxury accommodations of all types, family-friendly hotels in Oaxaca, boutique hotels and Airbnb rentals for romantic getaways, relaxing escapes for girls' trips and retreats, and everything in between.
WHAT I LOOK FOR WHEN BOOKING ACCOMMODATIONS IN OAXACA
Since I typically travel with children, my criteria are every-changing, but I always look into places with:
Minimal stairs to climb and railing (many staircases in Mexico are floating with no railing)
Completely enclosed courtyards for kids to play
Portable crib for the baby
Refrigerator to store food and drinks
Central location, which changes based on where I need to be or what I need to see
Access to activities for kids, a pool is a plus especially in the hot summer months, but typically these options are limited
Parking if I am renting a car during my stay
Access to a mercado or grocery store, within walking distance
OAXACA BED AND BREAKFAST OPTIONS
Oaxaca's bed and breakfasts are absolutely lovely! In Oaxaca, most bed and breakfast stays actually include breakfast and access to a communal refrigerator to store drinks and small snacks.
Casa Lyobaa – $
Amado, Valentina, and I wanted to move here! After spending a few weeks in downtown Oaxaca over the summer, we decided to pack our bags and explore the small town of Mitla, which is where we discovered Casa Lyobaa. This hacienda-style retreat is walking distance from the Mercado de Artesanías and zona arqueológica. The kids and I loved our daily visits to the mercado in the mototaxi and preparing our meals in the fully-stocked kitchen. We also enjoyed touring the grounds – the flora and fauna is breathtaking, relaxing on the hammocks under the huge palapa, and taking a dip in the pool. This place is definitely kid-friendly and Sylvia and her husband went above and beyond to accommodate us. Each private guest room has two full beds, a twin bed, and if you're traveling with an infant, there are cribs available, too.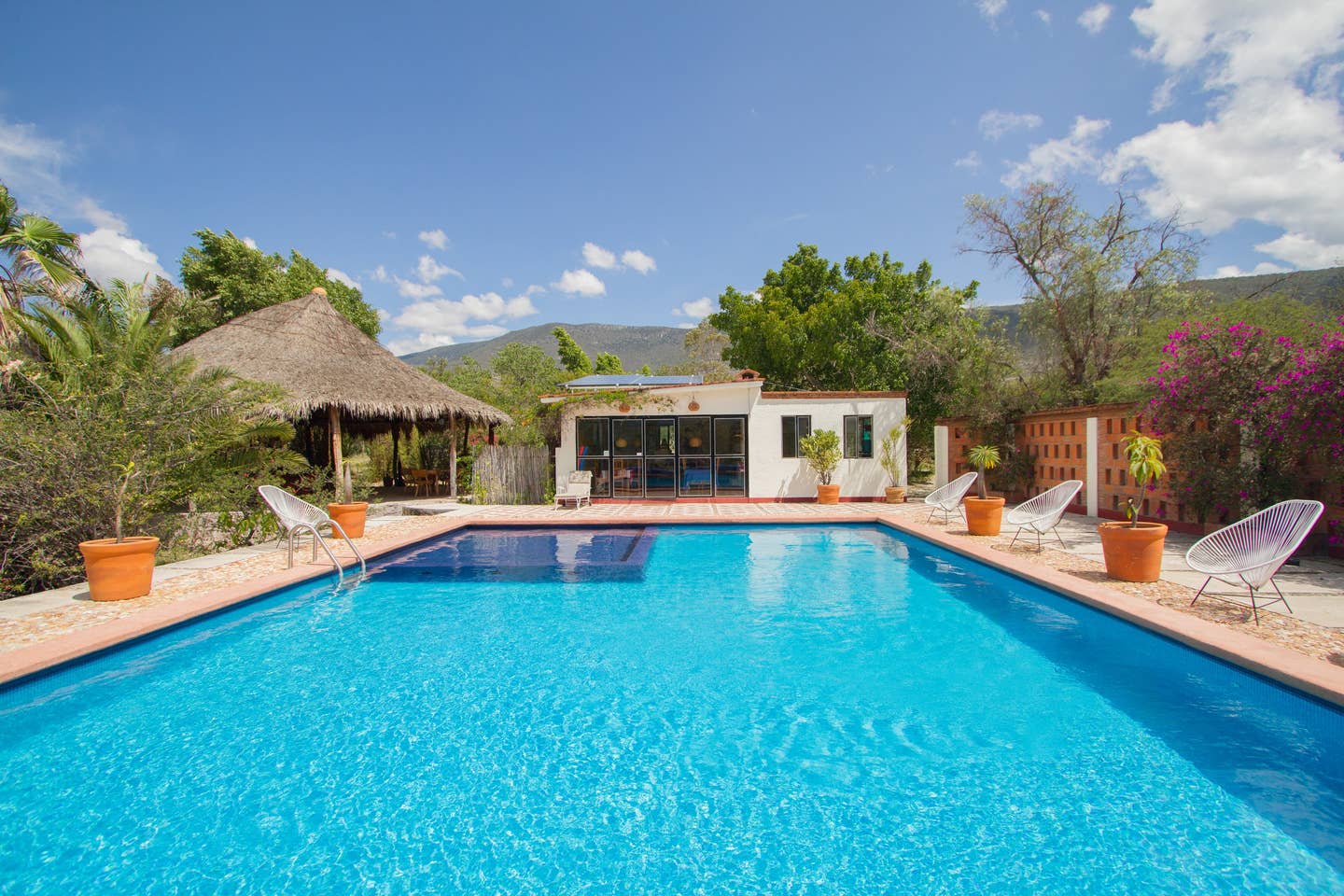 Encanto Jalatlaco – $
I haven't actually stayed here, but I did visit with my friend Conchita, owner of of La Casa de Mis Recuerdos. Encanto Jalatlaco is her daughter's bed and breakfast right in the heart of the hip Jalatlaco neighborhood and is absolutely charming. It's about a 10-minute walk from Santo Domingo and just like her mother's bed and breakfast, you'll be swept off your feet when you enter and take in all of the beautiful flowers, succulents, and outdoor garden space. Another perk is that the rooms are detached, so it's great if traveling with older children.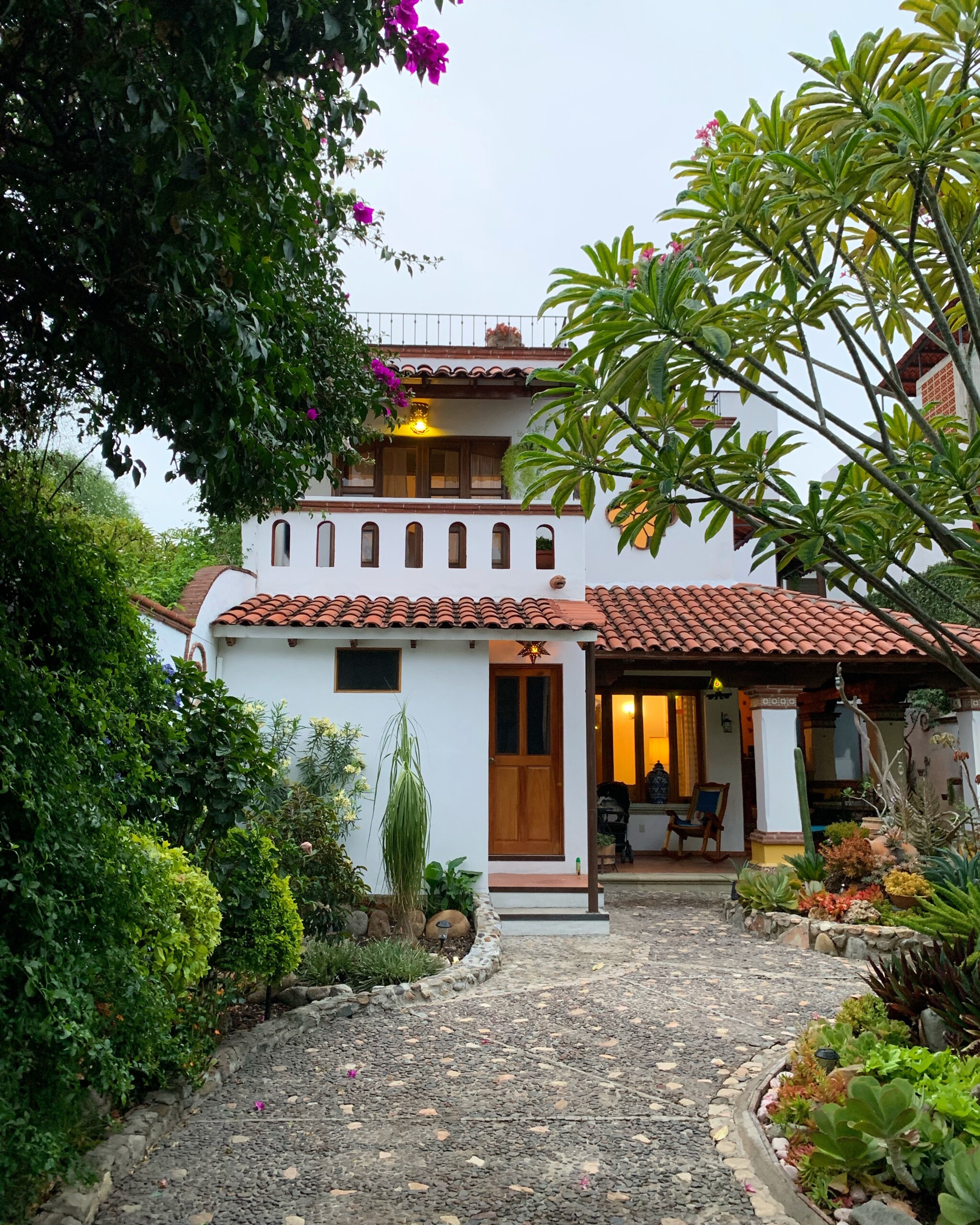 Estancia Valencia – $$
The rooms and décor at Estancia Valencia are absolutely stunning. I loved unwinding here after being out and about all day. The small patio area and fountain are so relaxing. It's also centrally located in Oaxaca's centro historico – only four blocks from Santo Domingo. I'm always nervous staying at bed and breakfasts with children, but it's one of the few that are family-friendly. I stayed here for a couple of days with my mom and Amado when he was four although I'd probably stay somewhere else if traveling with an infant because the rooms are all within the home, so I wouldn't want to take away from another guest's experience with a crying baby.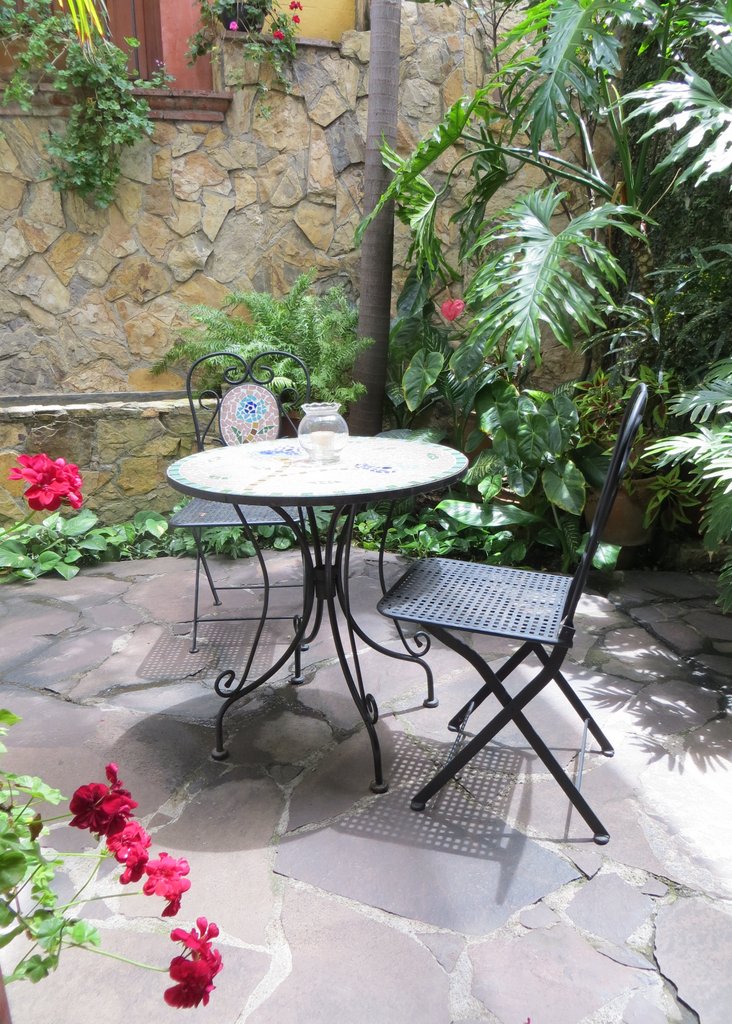 La Betulia – $$
La Betulia was one of Oaxaca's hot new bed and breakfasts when I visited in 2019. I stayed here with a group of food bloggers, chefs, and food aficionados during a week-long retreat. Guests at La Betulia convene daily for a delightful outdoor breakfast that features a yogurt bar with homemade yogurt, granola, jams, seasonal fruit, pan dulce, and fresh juices. Breakfast specialties include huevos rancheros, enfrijoladas, huevos en salsa, quesadillas, tamales, and other Mexican favorites. The décor at La Betulia combines Mexico's vibrant colors with a clean, contemporary twist. Let's just say, there are plenty of photo opps! The owners also rent apartments that are centrally located, if you prefer to cook for yourself.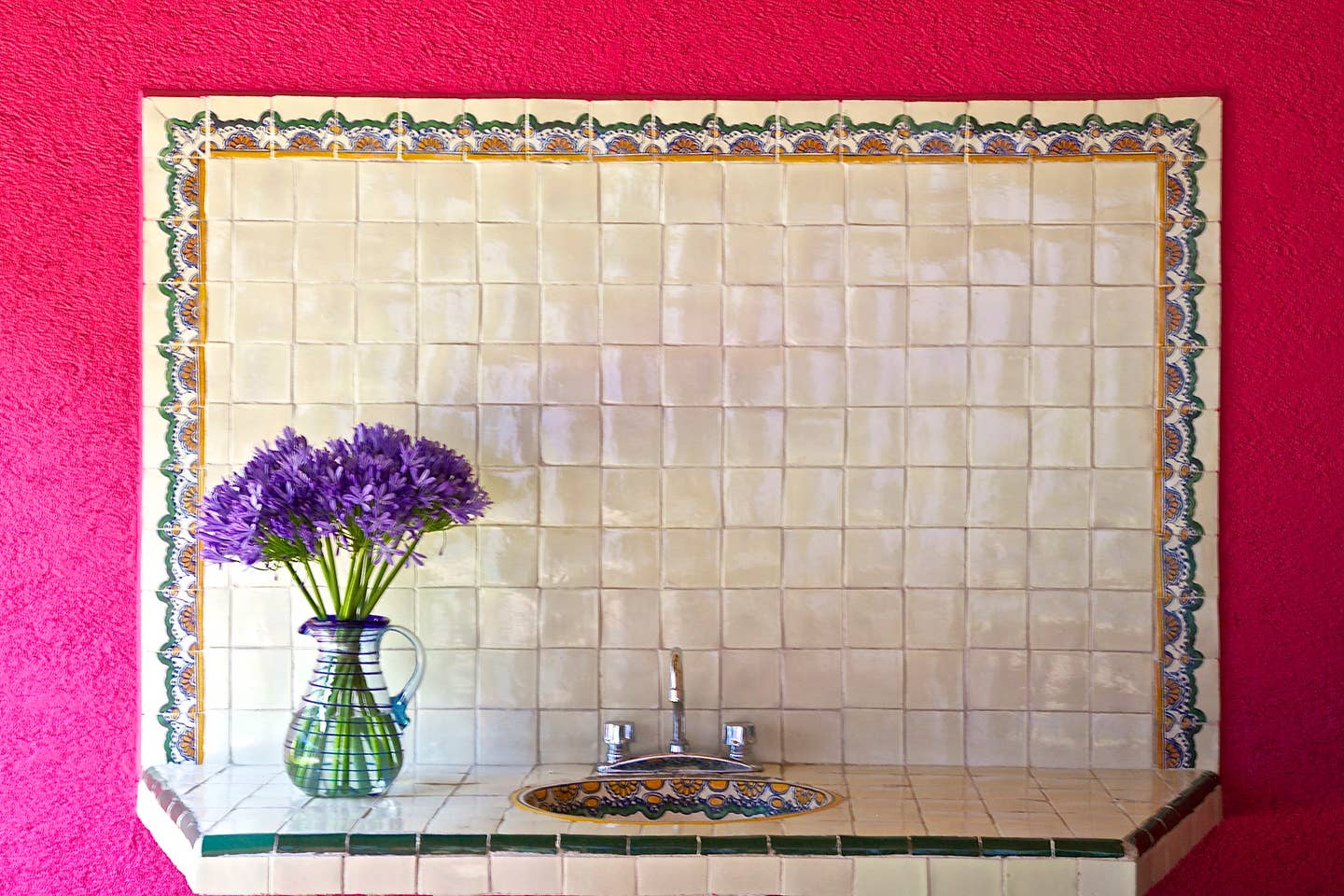 La Casa de Mis Recuerdos – $$
La Casa de Mis Recuerdos is one of the oldest and most beautiful bed and breakfasts in Oaxaca and proprietors Conchita Arroyo Cabrera and Moises Valencia have been receiving guests in their colonial style home for over 35 years. From the moment you enter the courtyard it's apparent where its name derives as you find yourself lost in a magical world of patios, terraces, and flower-covered walls. Also, you can't beat the location. It's a five-minute walk to Santo Domingo and a two minute walk to the famous esquites with sal de chapulín at El Llano.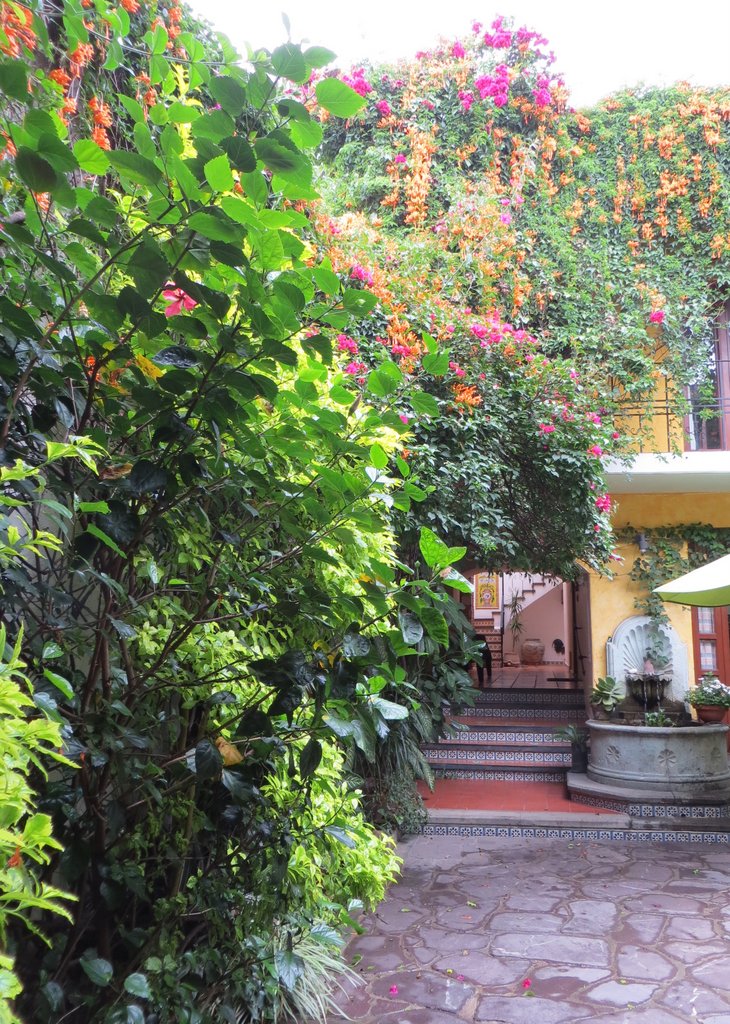 OAXACA HOTELS
I've only stayed at a hotel on my very first visit to Oaxaca and since then, have booked apartments, homes, and bed and breakfasts because my stays are typically anywhere between four to eight weeks and I find that there are better options for extended stays.
Quinta Real Oaxaca – $$
This is where I stayed on my first visit to Oaxaca in 2006. My sister enjoys the finer things in life, and of course looked into luxury hotels in Oaxaca. She picked this one because it is a designated UNESCO World Heritage Cultural Site and former convent (we like thinking that the nuns haunt the historic hotel). The grounds are breathtaking, guest rooms impeccably clean, rustic, and beautiful, and the architecture and gardens are perfect for instagrammable photo shoots. While it's larger than a bed and breakfast, it definitely doesn't feel like a chain and still offers an intimate experience with outdoor dining in the open courtyard. I'd say it's probably one of the most beautiful and historical boutique hotels in Oaxaca.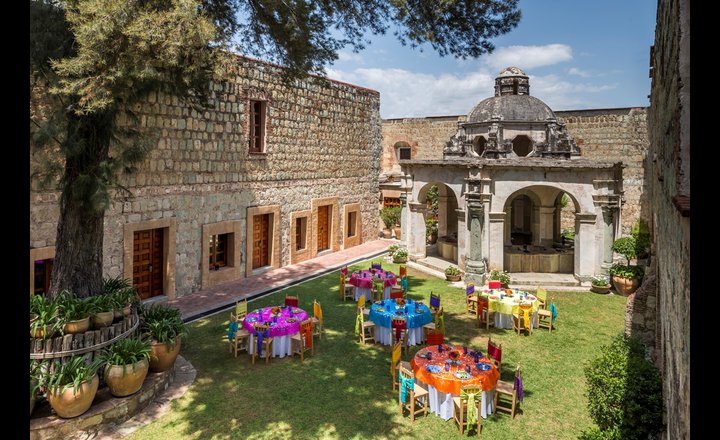 OAXACA VACATION RENTAL / APARTMENTS
There are a number of long-term home and apartment rental options nowadays and the first place I look for this is AirBnB. Most hosts offer discounts for extended stays, too. For longer trips (four to eight weeks), I look into Oaxaca vacation rentals such as apartments and private homes.
La Heredad (Private Home) – $$
Once I began traveling with more than one child, it was convenient to have separate rooms, our own kitchen, and space for the kids to sprawl out. I also like to be centrally located in Oaxaca's Centro Histórico so that we can walk to our favorite restaurants, markets, and activities. Since I usually stay for several weeks, a washer is also a useful amenity! La Herded is beautifully decorated and has plenty of space for our small family. The kitchen is perfect to prepare our family meals, and when we
Tierra del Sol Apartments – $
I stayed at Tierra del Sol while conducting my thesis research in Oaxaca. It was safe and centrally located — walking distance from all of the action, but far enough removed to avoid loud crowds during festivals and on weekends. The apartments are fully furnished and include wi-fi and weekly housekeeping. If you don't feel like going out to eat, pick up some prime ingredients from one of the local markets and make use of the kitchen! Barbara, the landlady and owner of the apartments, is an absolute gem to work with as well. This is a great place if you're on an extended trip (two or more months).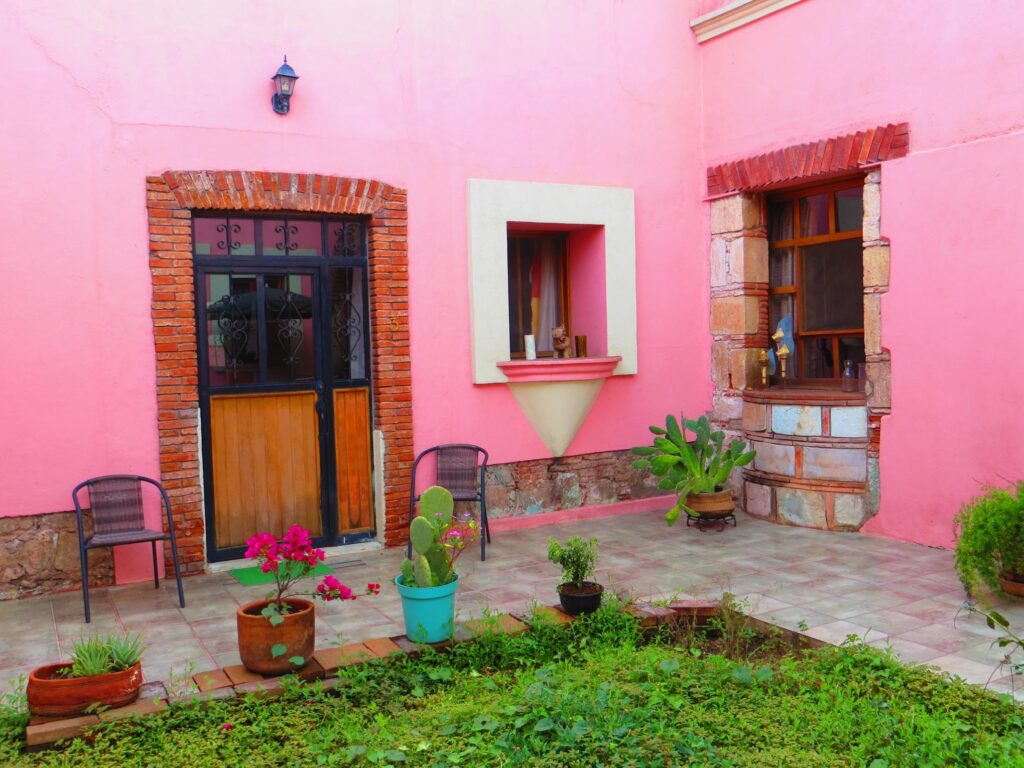 I do hope this guide helps narrow down your Oaxaca lodging options. If there are other places that you've absolutely loved, please let me know so I can check them out the next time I'm in town!
FAQS
Is Oaxaca safe for tourists? Oaxaca is generally considered safe for tourists, but as with any travel destination, visitors should exercise caution and take appropriate safety measures, such as staying in well-lit areas at night and avoiding carrying large amounts of cash or wearing expensive or flashy jewelry.
What is the best time to visit Oaxaca? It depends. If you base your travel on weather, the dry season, which runs from November to April has warm, sunny days and cooler nights, making it pleasant for outdoor activities and sightseeing. Although the city comes to life in November and July is when the city comes to life with its annual Day of the Dead and Guelaguetza cultural celebrations! Keep in mind: this is when there are A LOT of tourists and summer is Oaxaca's rainy season.
What are some popular attractions to see in Oaxaca? Some popular attractions in Oaxaca include the historic center of Oaxaca City, Monte Alban archaeological site, Hierve el Agua natural springs, and the Guelaguetza cultural festival. I always, ALWAYS recommend taking a cooking class while there.
What languages are spoken in Oaxaca? Spanish is the primary language spoken in Oaxaca, although there are many indigenous languages still spoken throughout the region.
What is the dress code in Oaxaca? The dress code in Oaxaca is generally casual and relaxed, although visitors should dress appropriately when visiting religious or cultural sites. Tourists stick out like sore thumbs when wearing: hats, backpacks, fanny packs, flip flops, and shorts.
LOOKING FOR MORE INSPIRATION?
Mollete Recipe + Oaxaca's Estancia de Valenica Bed and Breakfast
Interview with Ariadna Vásquez, Co-Founder of Oaxaca's Central de Diseño and Almacén Mexicano
Interview with Pia Aiko Tokiyama, Owner of Oaxaca's La Betulia Bed and Breakfast
A Food Lover's Guide to 3 Market Days in Oaxaca
Fideo Seco with Guajillo Chile, al Estilo Oaxaca
10 Common Questions I Get When Traveling to Mexico with My Kids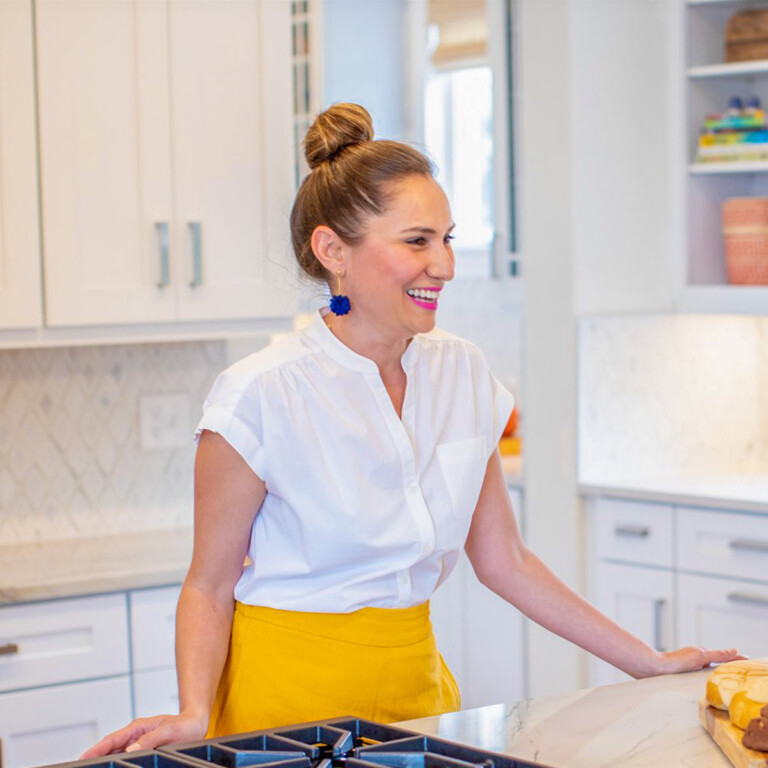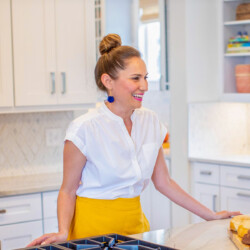 Lola Wiarco Dweck
Lola is a Mexican-American recipe developer, writer, and cooking instructor who loves sharing her culture with the world. Growing up in California and spending summers in Mexico, Lola celebrates her family's Mexican recipes and vibrant culture through Lola's Cocina.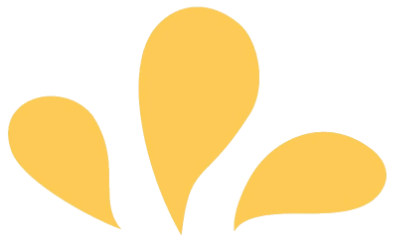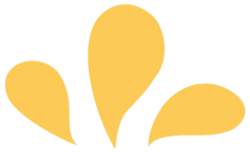 Sign up for ¡Hola de Lola!