A Food Lover's Guide to 3 Market Days in Oaxaca
This month, I am introducing the first in a series of guides to Mexico and will begin with three of my favorite market days in Oaxaca. Mercados, or open-air markets, offer insights into the region's pre-hispanic history, culinary traditions, and the everyday life of its people through their vibrant colors, vivid sounds, and exotic aromas. I have always enjoyed visiting them, even as a child. On a recent trip to Mexico, I fell in love with the mercados of Oaxaca – each just a short trip from the city center and unique in its own regard. Below is a guide to three of my personal favorites.
Wednesday Etla Market
If you want to taste the best quesillo (Oaxacan string cheese) and tamales in all of Oaxaca, you must visit this market! But be sure to leave room for other treats, like homemade ice cream, nicuatole – a pre-Hispanic dessert made of corn and sugar, and spicy chiles rellenos made with local chiles de agua. I also found beautifully embroidered dishtowels, ceramics, and other handmade items at reasonable prices.
Location: 30 minutes north of Oaxaca City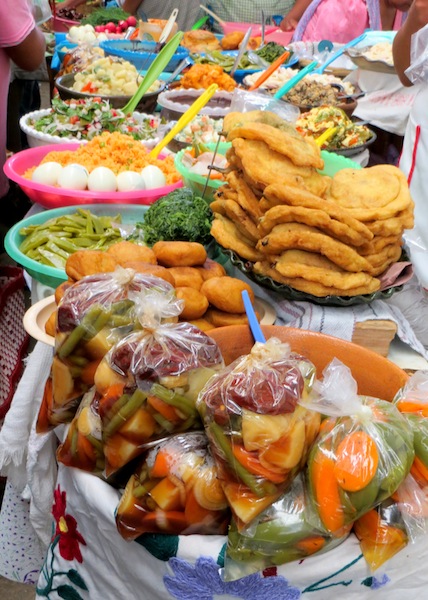 Delicious chicken and red chile tamal
Cheese and prickly pear ice cream
Thursday Zaachila Market
Foods to try at the Zaachila market include barbacoa, freshly-cut sugar cane (¡con limón y chile!), and tejate – a traditional chocolate-maize drink once reserved for royalty. I bought some of my favorite huipiles (ethnic blouses) for under $12 USD at this market.
Location: 20 minutes south of Oaxaca City
Tejate, a drink once reserved for the gods.
Common sight at Oaxaca's mercados
Freshly cut sugar cane and tunas (prickly pears) with lime and chile make a great snack in Zaachila
Sunday Tlacolula Market
This is one of the oldest markets in Mesoamerica and is a great place to experience something different from the typical mercados in Oaxaca. Here, you can find fresh produce, prepared food, and everything from adorable miniature food magnets and large stone metates to beautifully embroidered aprons and heavy-duty tortilla presses! My favorite part of this market was watching the indigenous women, many of whom come from the surrounding mountain areas, as they bargained in their native Zapotec language, wearing floral scarves or rebozos (shawls) wrapped messily around their heads. Be sure to try some traditional breads, an empanada, and a tlayuda before you return to the city.
Location: 30 minutes southeast of Oaxaca City
Local woman shopping at the Sunday Tlacolula market – many women wear aprons, bright ribbons in their hair, and shawls draped over their shoulders or wrapped around their heads
Black bean and chicken tlayuda with salsita – YUM
Metates are stone tools used to grind ingredients for chocolate, mole, salsa, and other Mexican dishes
Before you embark on a journey to Oaxaca's markets, here are a few tips to keep in mind:
Be polite and ask vendors for permission before you take pictures. One woman yelled at me for taking a picture of her stand without permission!

I recommend taking a colectivo (shared taxi) when traveling outside of downtown Oaxaca – this is one of the most inexpensive means of transportation. A trip to any of the mercados mentioned above should cost under $3 USD from the Abastos market. All taxis have their destination in large letters across the front windshield, so you'll know what to look out for. When in doubt, ask which taxis go to the particular market you want to visit!

$10 USD should be more than enough to fill your belly at any of these markets, but take plenty of pesos for shopping! I have found that prices in Oaxaca are usually fair, and although you can haggle a bit (it's in our blood!), don't risk offending a vendor by offering half of the asking price for an item.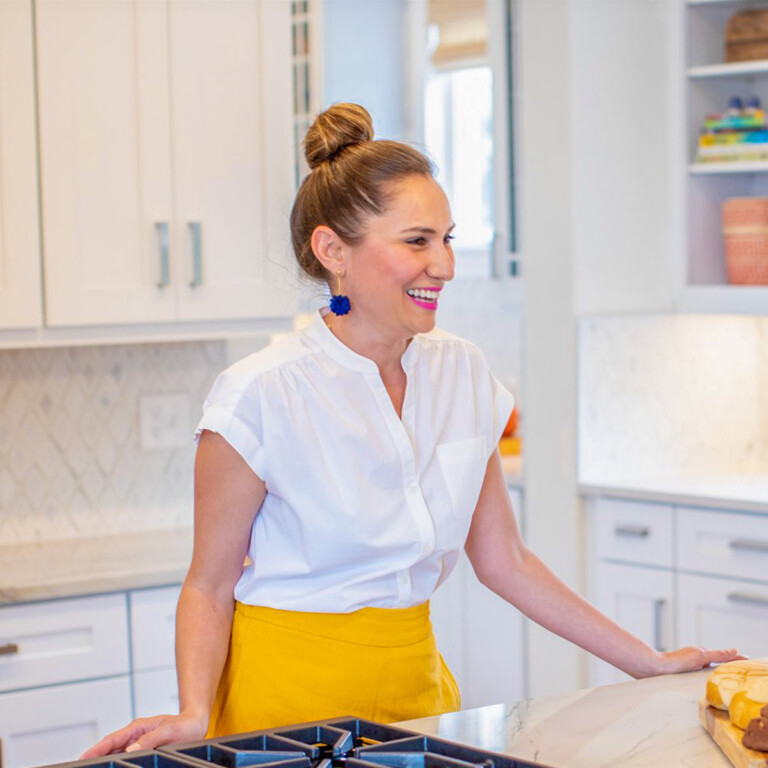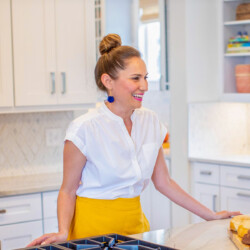 Lola Wiarco Dweck
Lola is a Mexican-American recipe developer, writer, and cooking instructor who loves sharing her culture with the world. Growing up in California and spending summers in Mexico, Lola celebrates her family's Mexican recipes and vibrant culture through Lola's Cocina.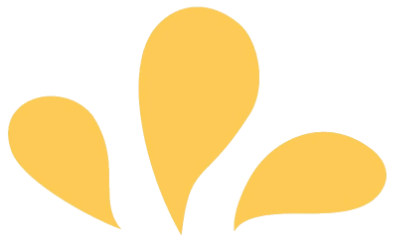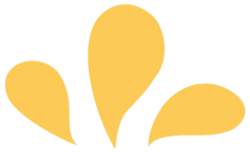 Sign up for ¡Hola de Lola!