Strawberry Beet Mezcal Margaritas
As we celebrate National Strawberry Month and my friend Kate's annual Margarita Week, I've been inspired to create this unconventional cocktail that incorporates some of my favorite ingredients.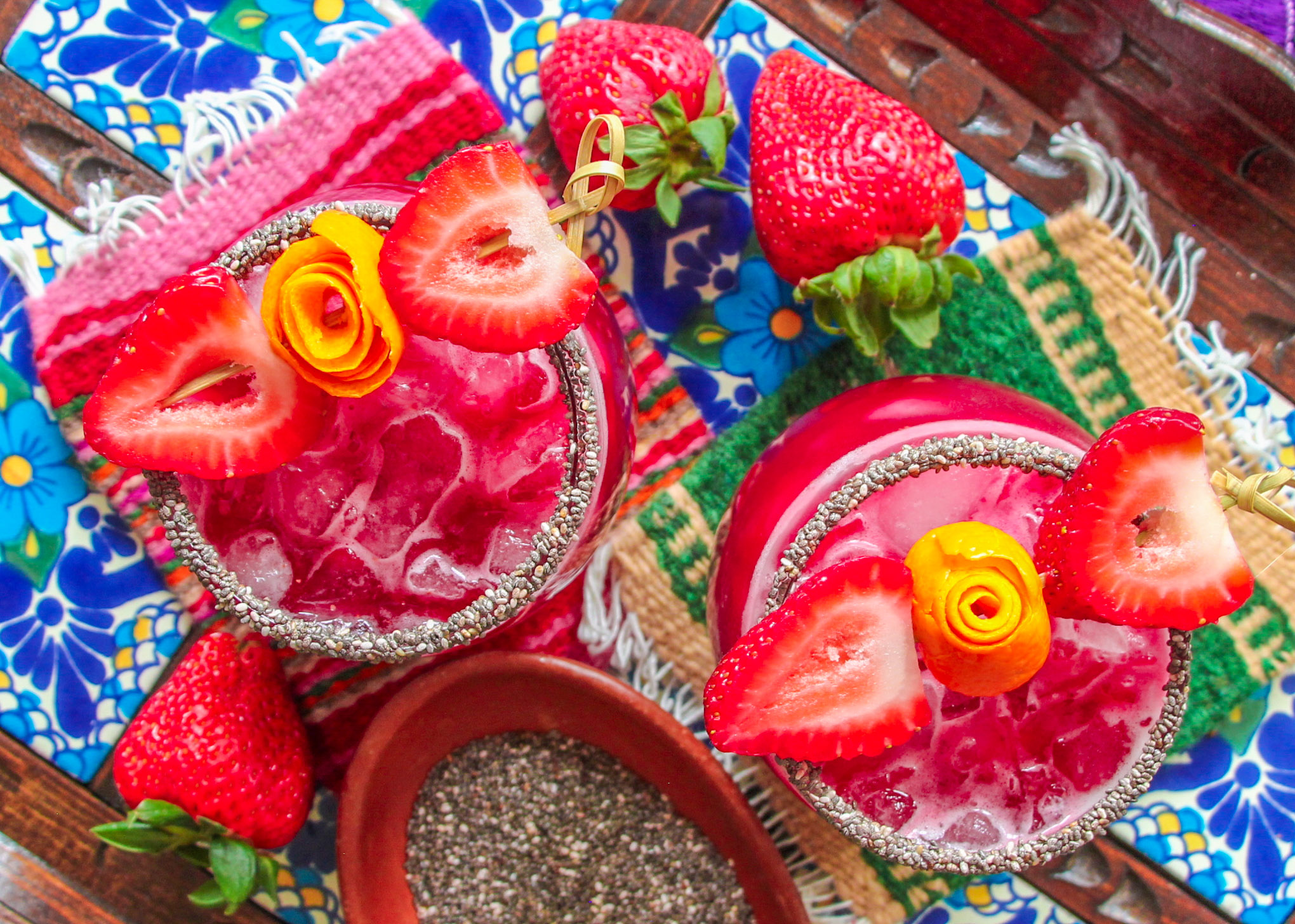 Necessity is the mother of invention and as I scanned my fruit drawer a couple of days ago I noticed a beet that was begging to be used (as in, it was about to go bad if I didn't use it). At once I thought of a delicious beet cocktail served at a local restaurant in Denver and decided to incorporate this underused and highly nutritious veggie into the strawberry margarita recipe that was marinating in my mind.
I proceeded to create the base for my margarita the way I make aguas frescas by combining fresh ingredients with water and a splash of agave. The strawberry-beet combination was perfect – slightly sweet and tart from the fresas, with a hint of earthiness from the beet. I immediately knew that the smokiness from mezcal was going to be my spirit of choice for this margarita and also decided to rim my glasses with agave and protein-packed chia seeds. As you get your beach bodies ready for summer, know that you can indulge in this guilt-free concoction of mine any time!
Ingredients
5 large strawberries, hulled, plus 2 more small strawberries for garnish
1 small raw beet, peeled
2 tablespoons agave nectar, plus more for garnish
4 ounces mezcal, divided (or to taste)
3 tablespoons chia seeds, for garnish
1 fresh orange peel sliver, for garnish
Preparation
Blend 2 cups of water with strawberries, beet, and agave nectar on high for about 60 seconds.
Strain through a fine-mesh sieve into a pitcher. You may need to agitate the mixture to let the juice through, but avoid pushing through the pulp to keep juice light in consistency. Discard or compost the pulp. Refrigerate juice mixture until ready to serve.
When ready to serve, add mezcal to strawberry-beet juice and mix well. Rim glasses with agave syrup and then with chia seeds. Divide mixture between two glasses filled with plenty of ice. Garnish with fresh strawberries and an orange peel on a skewer.
For more #MargaritaWeek recipes, check out Hola Jalapeño's lineup here.