Marigold and Orange Blossom Sugar Cookies to Celebrate Day of the Dead
It's that time of year again, when the leaves begin to change from vibrant greens to bold oranges, reds, and yellows and there's a crisp chill in the air each morning. The holidays are just around the corner and baking season has officially begun. While I've never been much of a baker, I have definitely channeled my inner panadera over the past year and am excited to share that this Día de los Muertos I've partnered with Crate and Barrel to create the sweetest of treats inspired by my favorite holiday.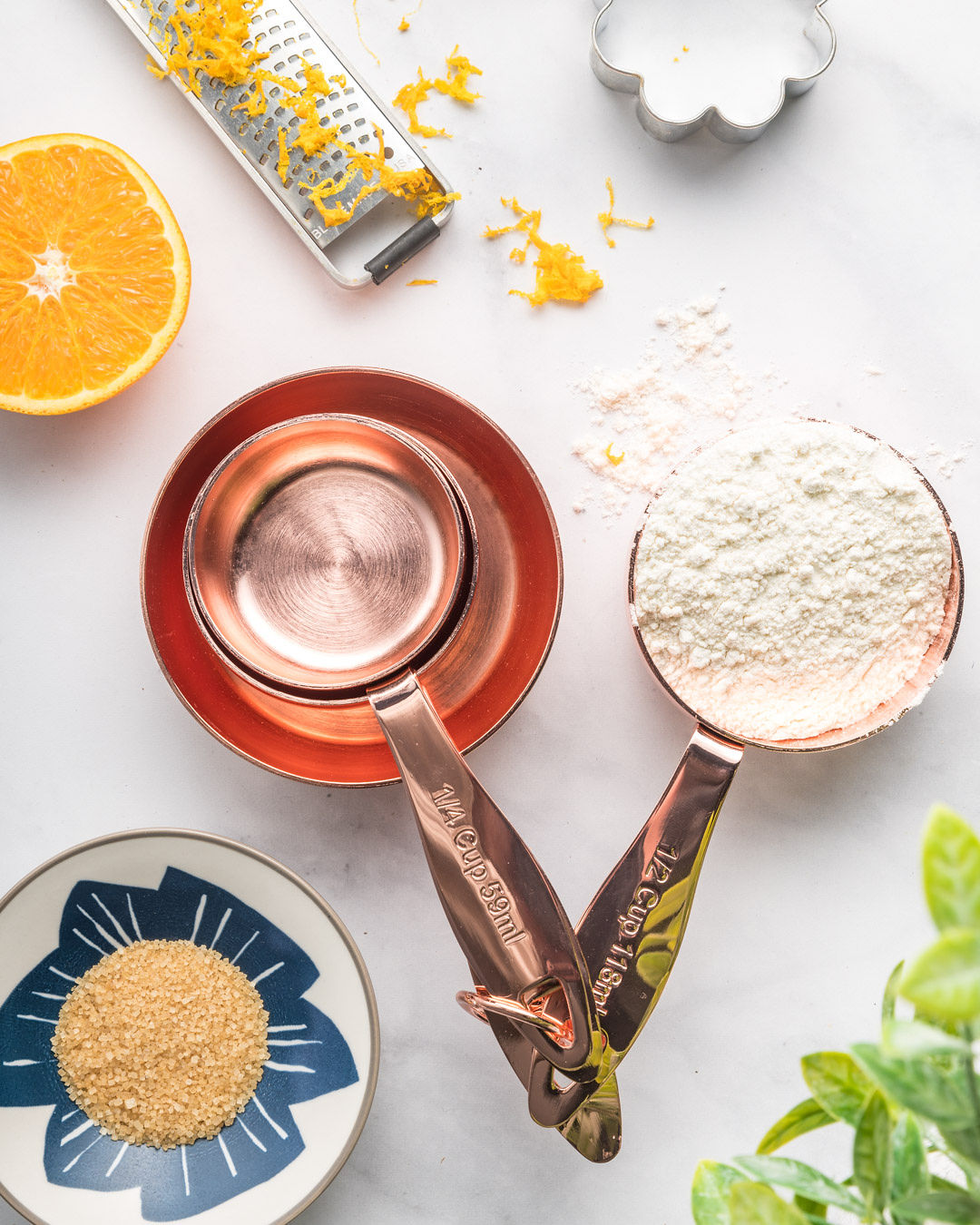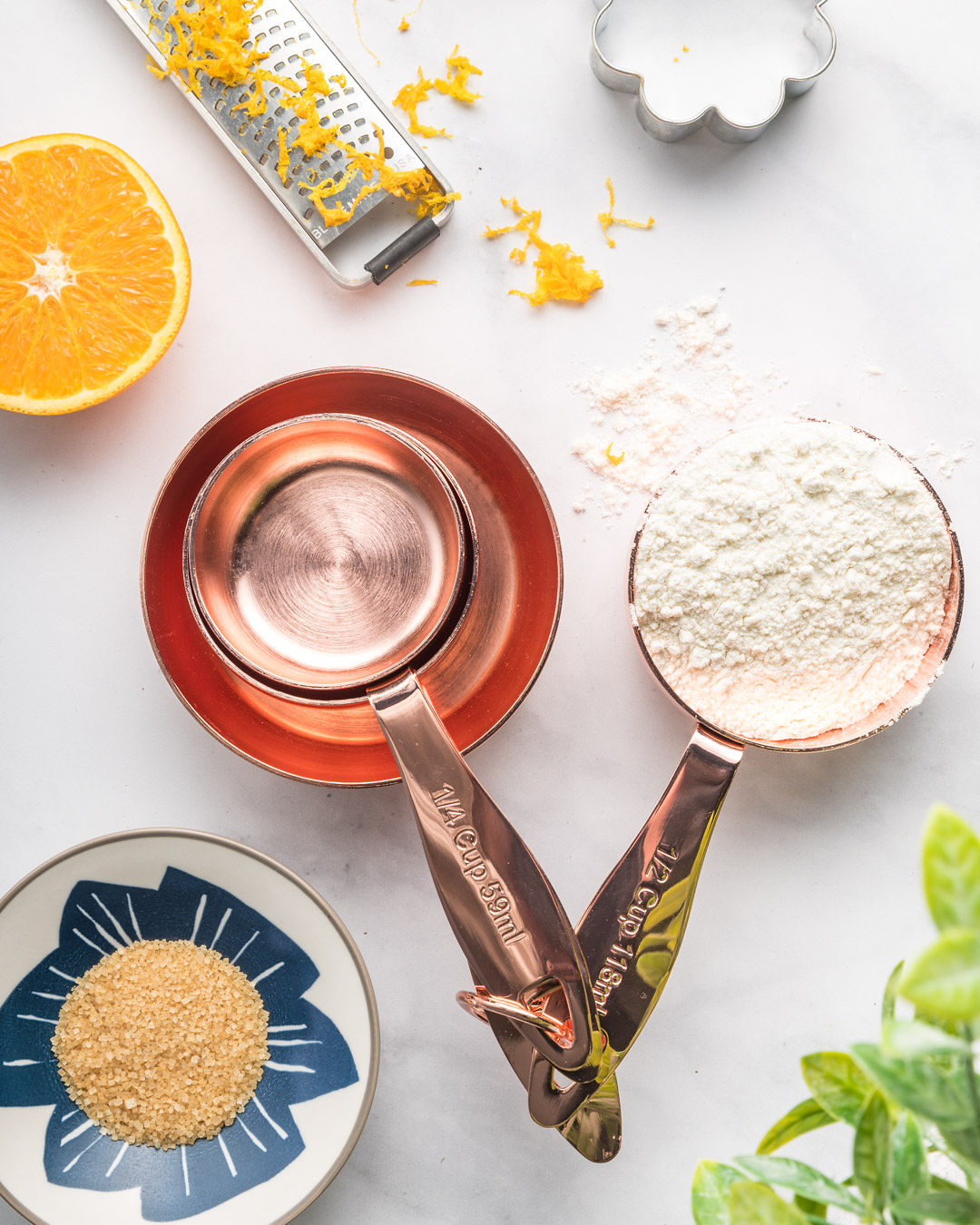 Over the past year, I've baked everything from conchas and polvorones, to rosca de reyes, puerquitos, and pan de muerto. This sugar cookie recipe includes flavors you'd find in pan de muerto, which is a semi-sweet bread that is baked in the shape of bones and dusted with sugar or sprinkled with sesame seeds. It can be found at local Mexican grocery stores and bakeries in the weeks leading up to Day of the Dead and is a common offering on altars used to entice visits from loved ones during this time.
The shape of the bread has special significance and according to Maura Hernandez, of The Other Side of the Tortilla, "the round base represents a grave mound covering the coffin, the dough shaped like bones represents the arms and legs, and the ball of dough on top represents the skull." Depending on the region where you taste this unique bread, it can be infused with different flavors and spices such as anise or orange blossom.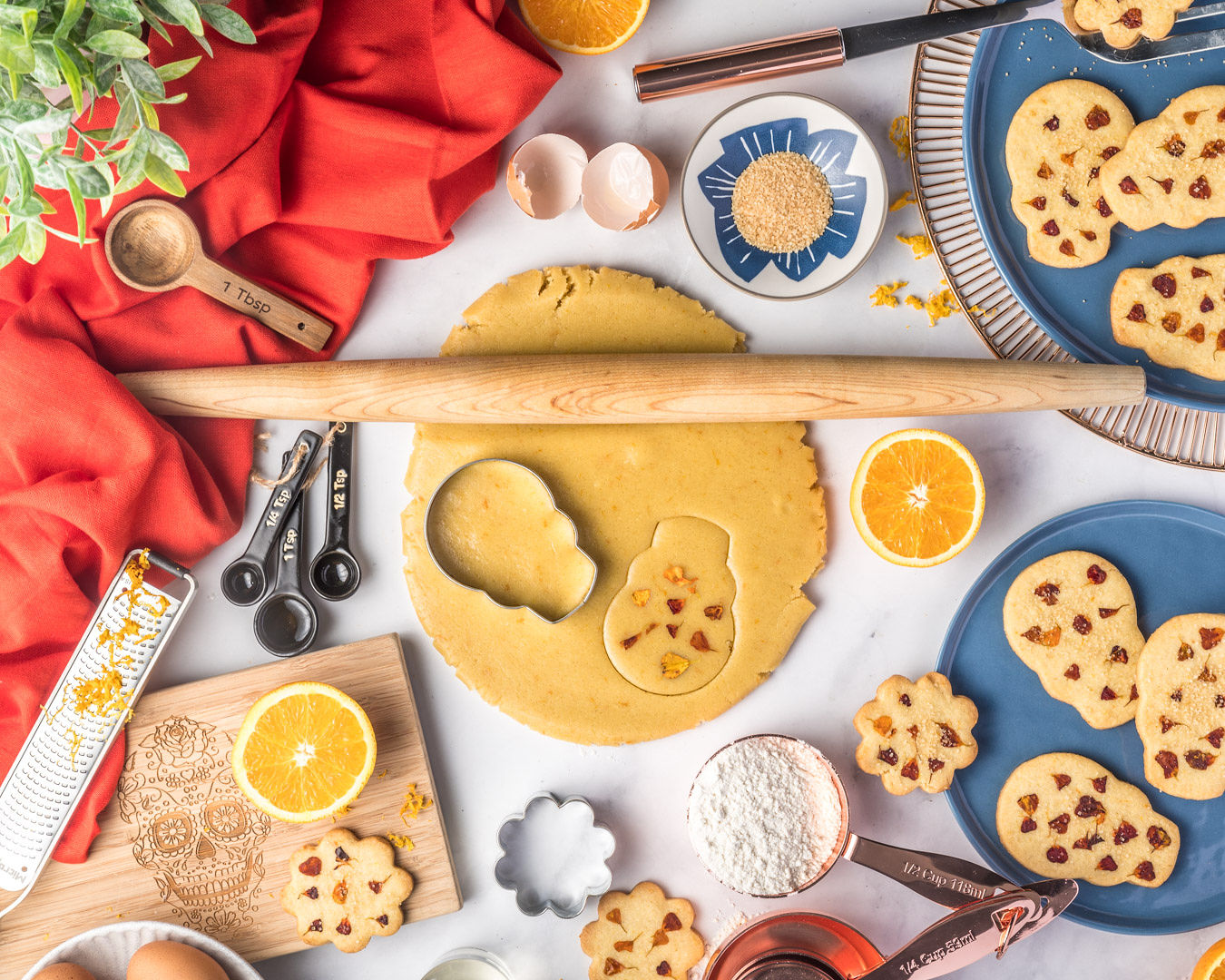 My sugar cookies are cut in the shape of sugar skulls and marigolds, both of which also have special significance on altars. In Mexico, calaveras de azúcar are made from pure sugar and are given to friends as gifts. They are elaborately decorated, and their colorful designs represent the vitality of life and individual personality of the person being honored. Different variations are made out of sugar, chocolate, wood, ceramic, or any other material. In pre-columbian times, Aztecs used amaranth seeds instead of sugar to make the skulls. Running with this idea, I've created an edible treat that can be prepared in advance and baked when you're ready to gift or enjoy.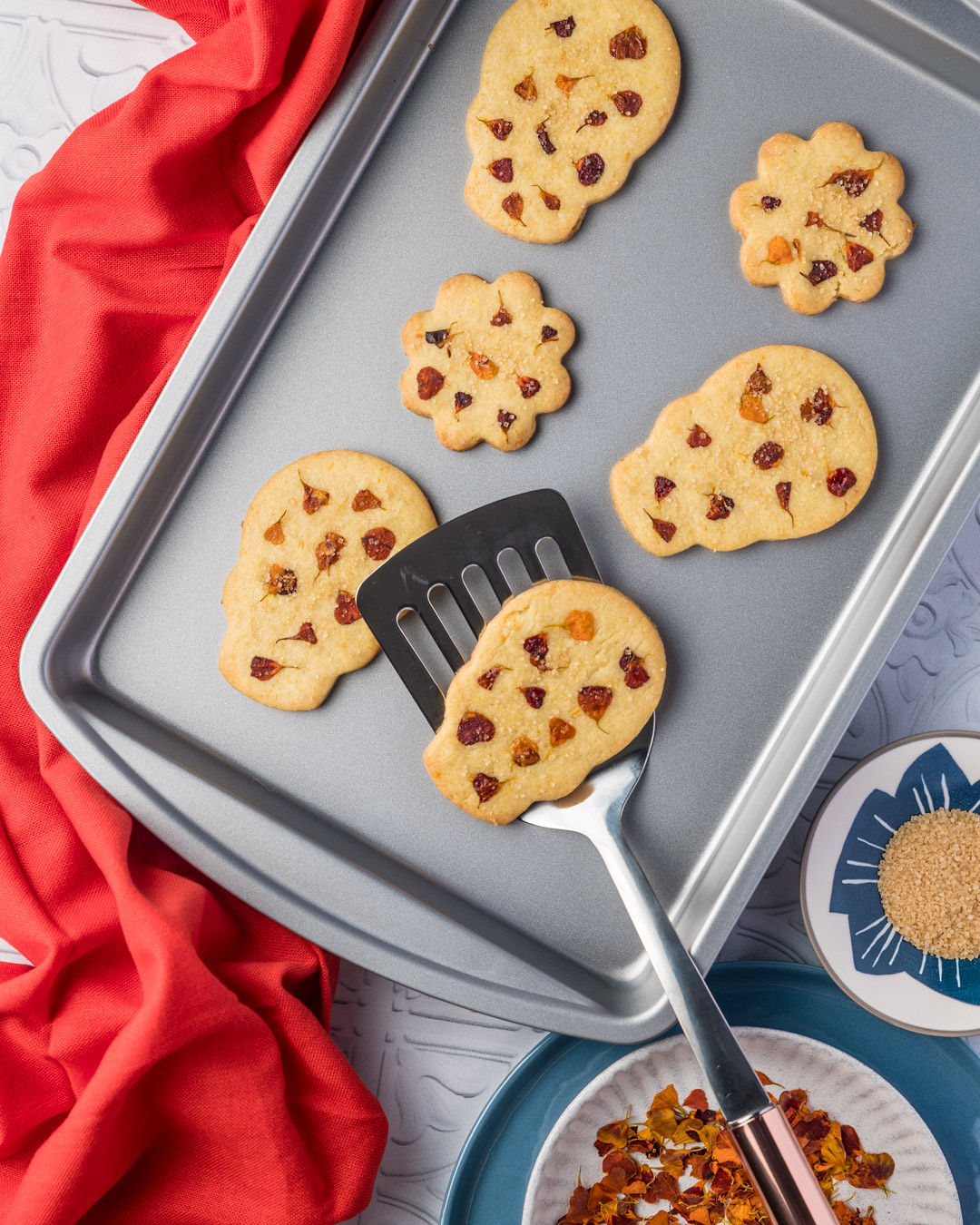 To make these cookies extra special, I took a cue from Chef Marcela and bedazzled them with edible flowers – in this case, cempazuchitl (marigolds). It is believed that marigolds help guide loved ones' souls back to the world of the living with their bright orange color and fragrance. The Aztecs believed that the smell of marigolds could wake the souls of the dead and bring them back for the festival that celebrated the goddess of the underworld and death, Mictecacihuatl.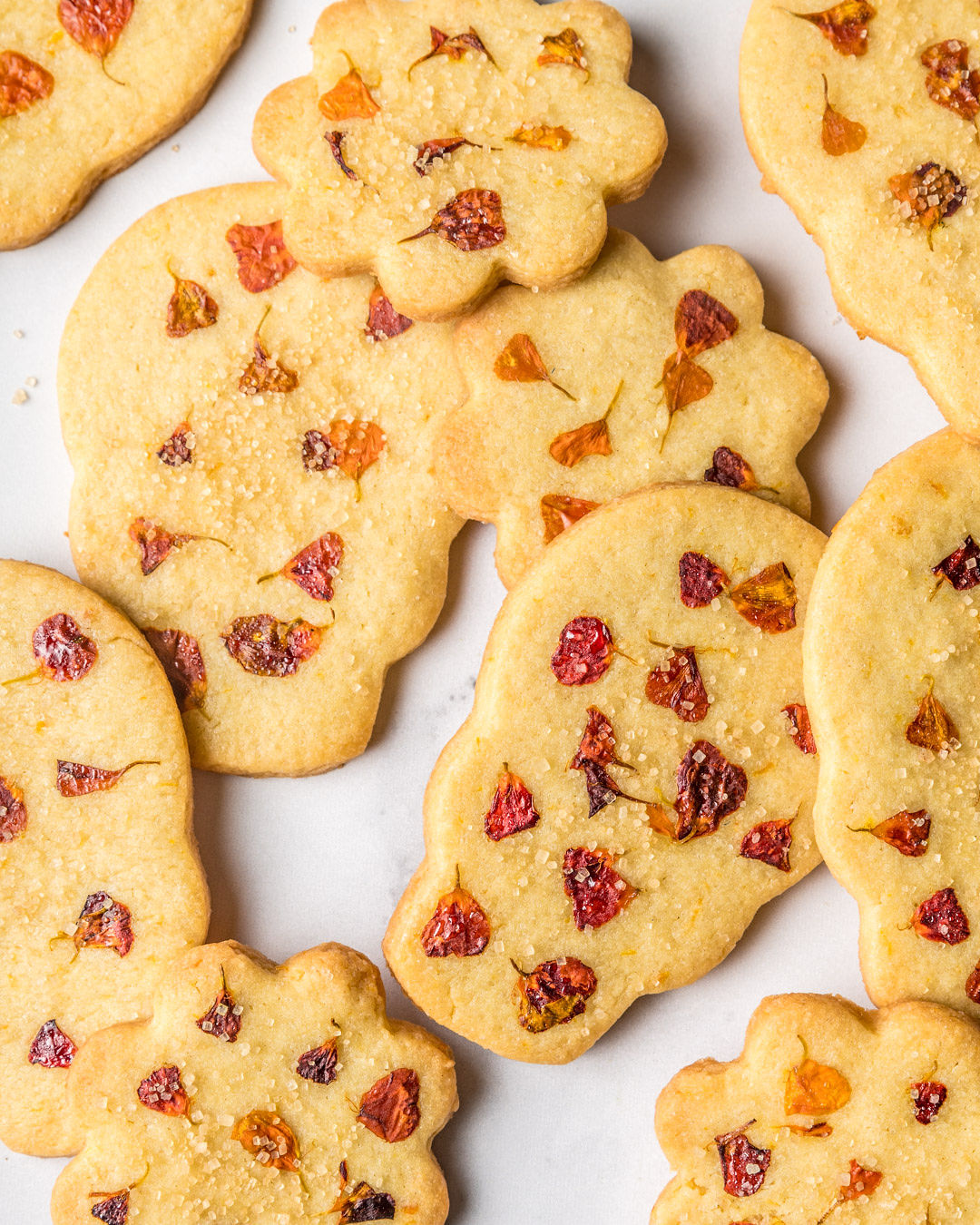 By combining different elements and flavors from Day of the Dead, we are left with a delicious treat that is sure to lure loved ones back for a visit this November 1 and 2. And if that doesn't work, it will definitely please the palates of those who are still here with us. ¡Provecho!
INGREDIENTS
1 ½ cups granulated sugar
2 sticks unsalted butter, room temperature
1 teaspoon salt
2 eggs
2 egg yolks
2 teaspoons Mexican vanilla extract
2 teaspoons orange blossom water (also referred to as orange flower water)
2 oranges, zest only
4 cups all-purpose flour, sifted + more for counter
Marigold petals, pressed
Turbinado sugar for dusting, optional
KITCHEN SUPPLIES, TOOLS, & EQUIPMENT
Stand mixer with paddle attachment or hand mixer
Measuring spoons
Measuring cups
Microplane zester
Rolling pin
Nonstick baking sheets
Sugar skull and marigold cookie cutters
Silicone baking mats or parchment paper
Spatula
PREP TIME: 20 minutes to prepare, roll, cut, and decorate cookies
COOK TIME: 8-15 minutes
YIELD: 20-24 3½-inch cookies
PREPARATION
If using a stand mixer, use paddle attachment; if using a hand mixer, use beater attachment to mix sugar, butter, and salt on medium speed until light and fluffy and ingredients are well incorporated. Reduce speed to lowest setting and add eggs and yolks, one at a time. Next add vanilla extract, orange blossom water, and orange zest and mix until just incorporated, for about 15-30 seconds.
If using a hand mixer, this entire step can be done by hand, otherwise continue using paddle attachment. Working in batches, add 4 cups of flour and mix just until incorporated – no need to over-mix. Turn the dough onto a floured work surface and knead by hand to ensure that flour is fully incorporated. Roll into two equal sized balls, then flatten slightly by hand. Cover well in an airtight container and refrigerate until completely firm, for at least 45 minutes or overnight if time permits.
Once dough is ready, roll out one ball on a lightly floured surface until it is about ¼-inch thick. Using a cookie cutter, cut as many cookies as you can, as close as possible to one another, to avoid wasting dough. Re-roll excess dough and continue this process until you use it all, then move onto the second batch of dough.
Place cookies onto a lined baking sheet and press several flower petals onto each one. If they're not sticking, you can lightly brush water onto the area where you will be placing each petal with a small paintbrush or with your fingertip.
Next, put cookies in the freezer for at least 45 minutes. At this point, you can store cookies in an air-tight container until you're ready to bake them, with wax paper in between each layer.
When ready to bake, heat oven to 350 degrees and sprinkle each cookie lightly with turbinado sugar and bake until very lightly golden edges begin to form, for about 8-15 minutes, time varies by oven. Enjoy warm or gift to your loved ones!
JUST A TIP
If you've never pressed edible flowers before, you can remove the petals from about five marigolds and lay them spaced out on a sheet of paper, then place another sheet of paper on top and enclose the two sheets between the pages of a large, heavy book. Since the petals are small, the entire drying process should take about 2-3 days. Your other option is to dry them quickly in the microwave using this method.
---
Crate and Barrel products featured in this post include:
Mercer Denim Dinner Plate
Mercer Denim Salad Plate
Round Copper Placemat
Microplane ® Master Series Zester
Wood and Black Ceramic Measuring Spoons
Lilou Matte White Spoon Rest
Copper Measuring Cups
Mai Blue Floral Sauce Dish
J.K. Adams Co. French Rolling Pin
Slotted Turner with Copper Handle
Non-Stick Baking Sheets, Set of 3
---
Many thanks to Crate and Barrel for sponsoring this post. As always, the recipe and opinions shared are my own.
Photography + Styling: Cacey McReavy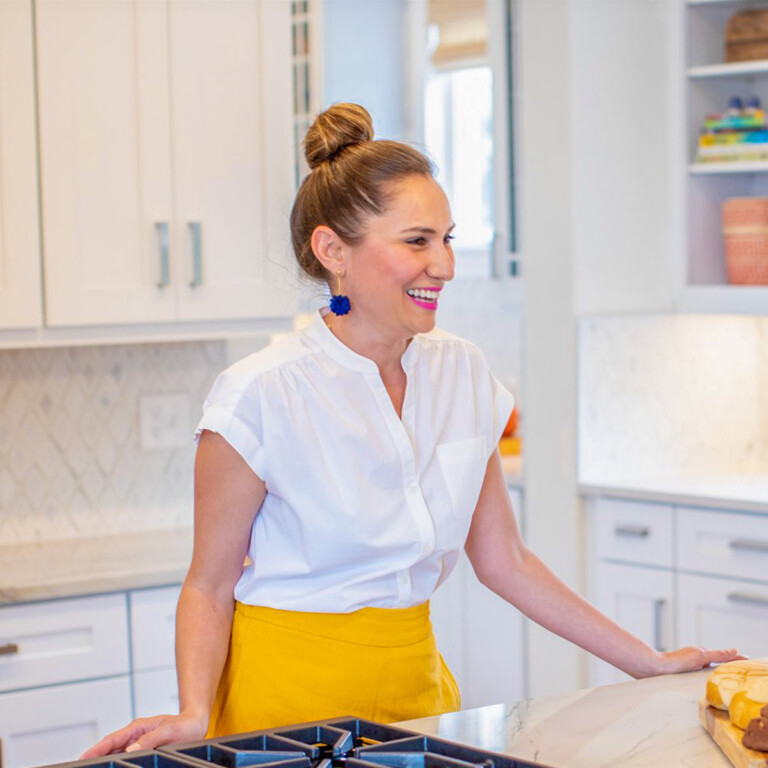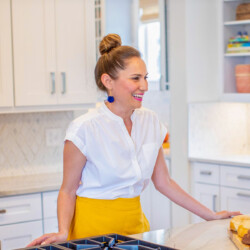 Lola Wiarco Dweck
Lola is a Mexican-American recipe developer, writer, and cooking instructor who loves sharing her culture with the world. Growing up in California and spending summers in Mexico, Lola celebrates her family's Mexican recipes and vibrant culture through Lola's Cocina.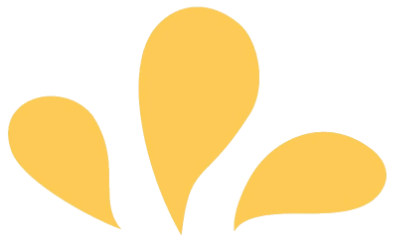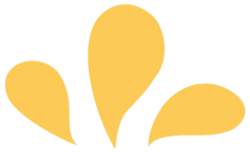 Sign up for ¡Hola de Lola!