Potato Tacos | Tacos de Papa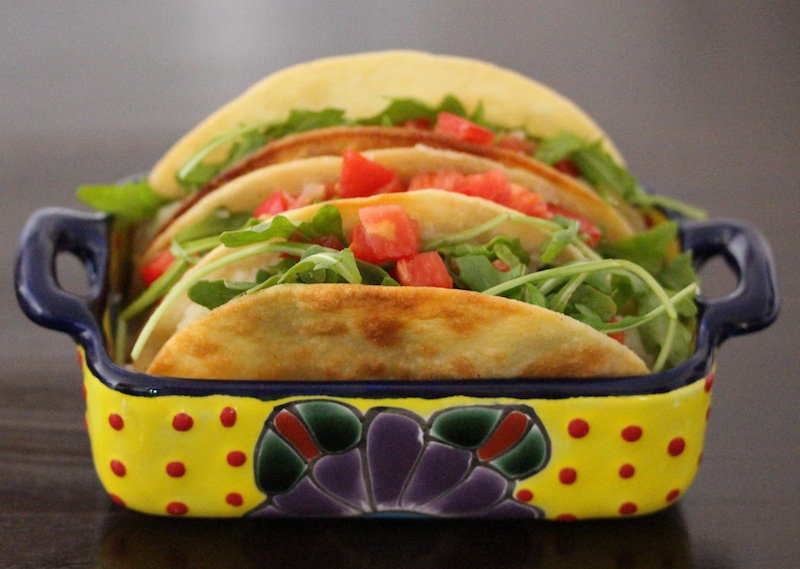 The potato, which was first cultivated by the Incas thousands of years ago, is now one of the world's largest food crops. Aside from their culinary uses, potatoes also have healing properties and promote a healthy digestive system.
While many of us are familiar with the popular methods of preparing and eating a potato, my dear Aunt Stella introduced me to a new way to enjoy this humble vegetable, al estilo Mexicano! These delicious and filling tacos de papa explode with flavor and are sure to become one of your new favorite meatless Mexican dishes.  
Ingredients:
4 medium potatoes peeled, rinsed, and cut into fourths
1 quart water (or enough to cover potatoes)
2 tablespoons butter
Salt (to taste)
Pepper (to taste)
½ cup oil
8 corn tortillas
Ingredients for garnish:
½ head lettuce shredded
1 large tomato diced
Spicy Red Salsa with Chile Japonés
Preparation:
Bring water to a boil over medium-high heat. Add potatoes, cover, and cook for 15 minutes or until soft. Strain out water.

Over low heat, mash and mix potatoes with butter, salt, and pepper. Set aside.

Next, prepare a shallow frying pan with oil over medium-high heat. In the meantime, warm tortillas over a comal (flat griddle) or wrapped in a dish towel in the microwave for approximately 20 seconds or until they become soft and malleable.

Working in batches, add potato mixture to tortillas, fold in half, and carefully place tacos in frying pan. Oil should be very hot and tortilla should sizzle when it touches the oil. You may need to hold the top side of the taco down with tongs for a a few seconds so that it does not unfold. In about 1 to 2 minutes, check underside of taco. If golden brown, turn and fry the other side until golden brown.

Once the taco is cooked well on both sides, remove from heat and place on a plate with a paper towel to drain. Continue process until all tacos have been fried.

Garnish with lettuce or other leafy green, tomato, and salsa.
Note: I did not have lettuce when preparing this recipe and discovered that arugula works as a great substitute in these tacos – remember to improvise when necessary!
Save