Tacos de Papa (Crispy Potato Tacos)
Tacos de papa, also known as potato tacos, are a popular Mexican dish made with crispy tortillas that are filled with mashed potatoes and topped with fresh garnishes and spicy salsa. These delicious and filling crispy potato tacos explode with flavor and are sure to become one of your new favorite meatless Mexican dishes.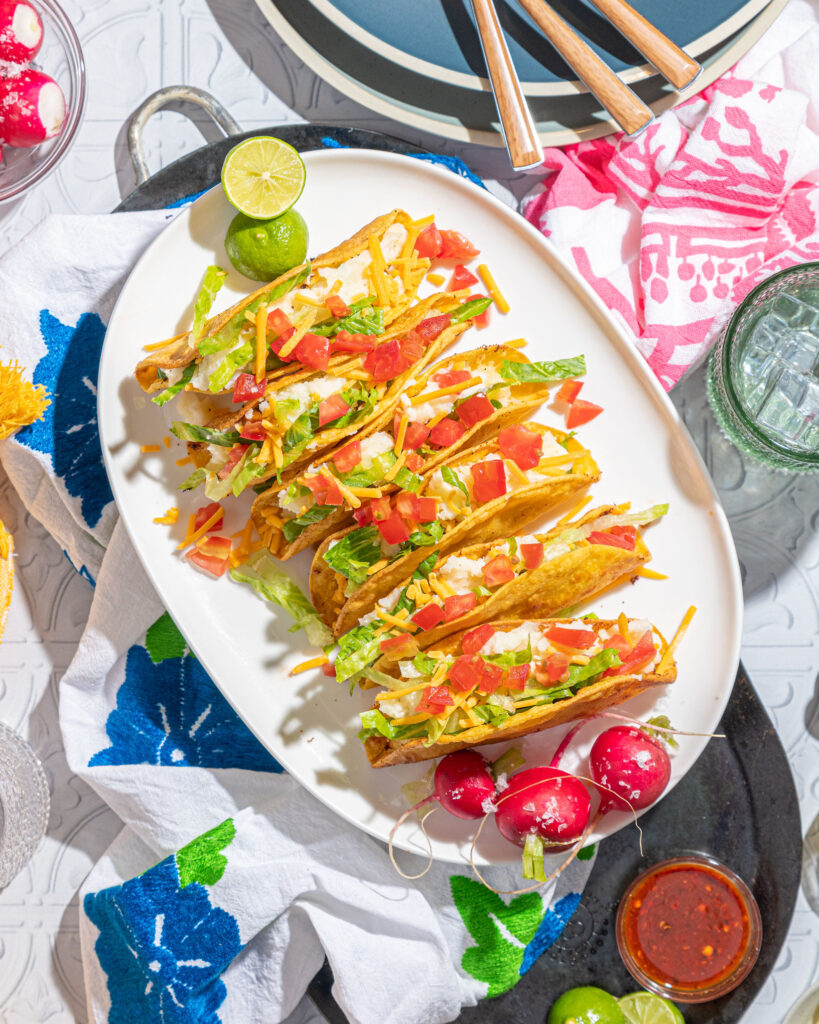 WHAT ARE TACOS DORADOS DE PAPA?
Tacos de papas dorados are a popular vegetarian Mexican dish, especially during lent. Made by filling corn tortillas with flavorful mashed potatoes, and then frying them, they're great topped with fresh garnishes and salsa.
WHY I LOVE THIS RECIPE
Budget-friendly: Tacos de papa are often considered a "poor man's food" due to their simple and inexpensive ingredients. The main ingredients are potatoes and corn tortillas!
Delicious vegetarian option: For those who prefer a meatless meal, tacos dorados de papa offer a tasty alternative full of Mexican flavor.
Versatile: Tacos can be customized to suit everyone's taste buds, with a variety of toppings and salsas to choose from.
Transform leftover mashed potatoes: If you have leftover mashed potatoes from Thanksgiving or any other meal, transform them into these tacos de papa!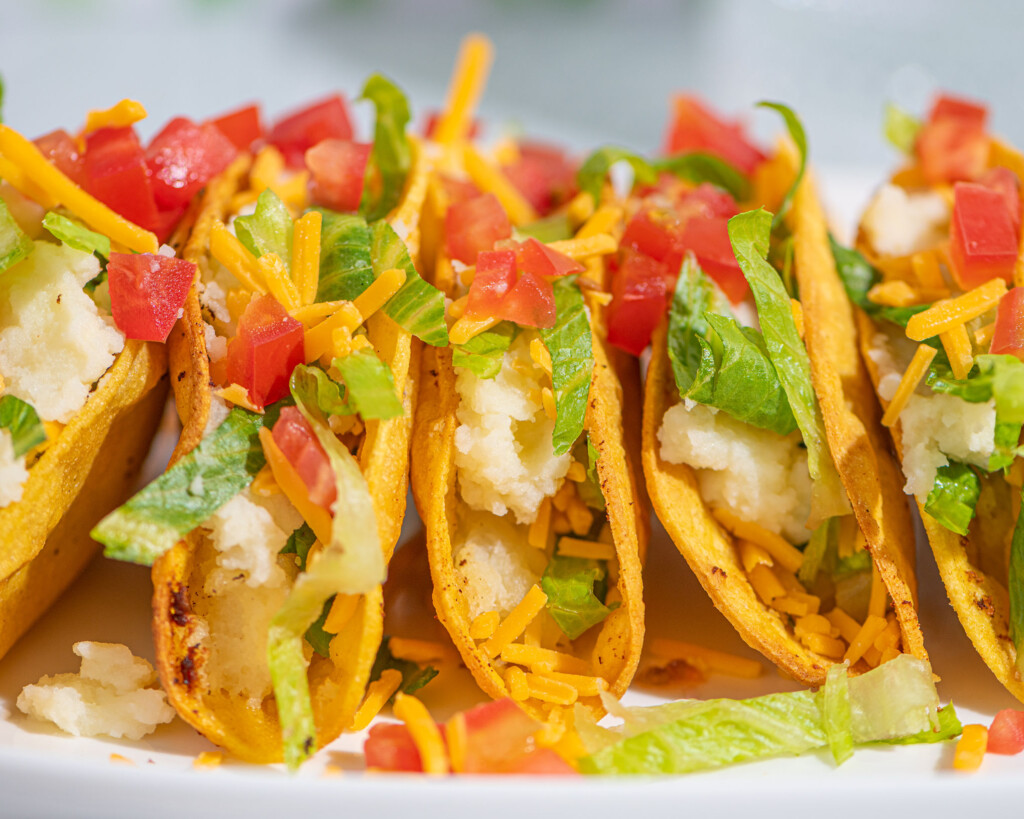 INGREDIENTS
Russet potatoes: Any potatoes work for this recipe, but when making mashed potatoes, I like the consistency of Russet.
Unsalted butter: If you use salted butter, be sure to reduce the salt in this recipe.
Milk and heavy cream: milk and cream give these mashed potatoes the perfect texture.
Salt & pepper: I prefer to use Diamond Kosher Salt, so be sure to taste as you go and add a little at a time to avoid oversalting, especially if using a different type of salt.
Corn tortillas: Either yellow or white corn tortillas work in this recipe.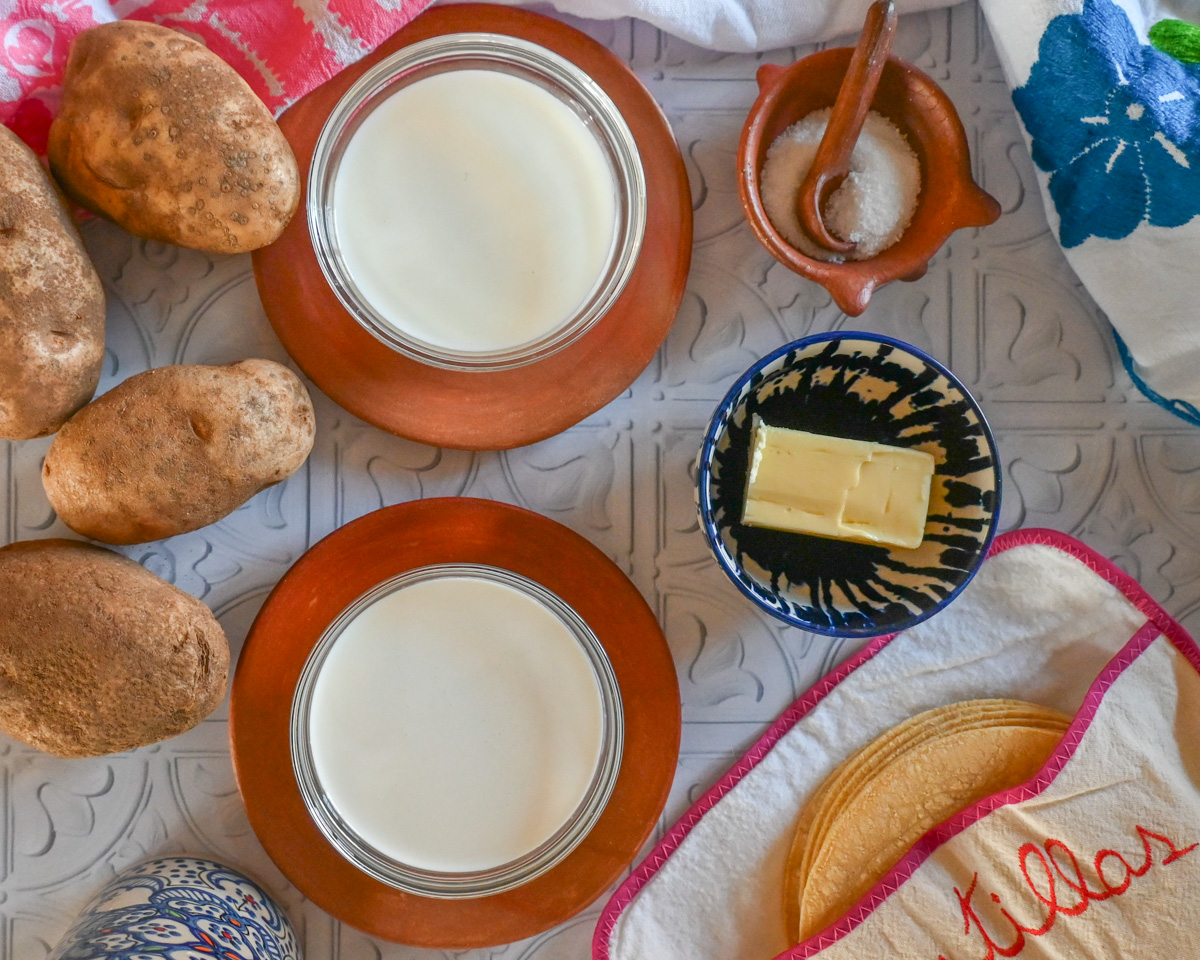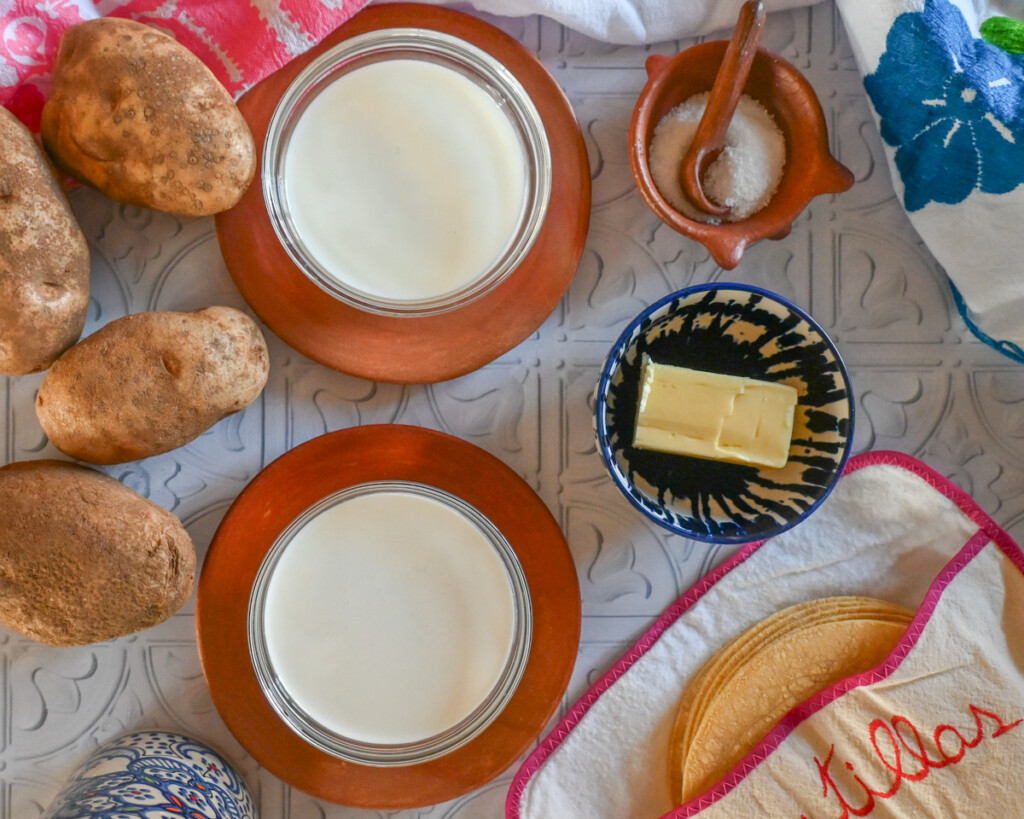 Garnishes: Shredded lettuce, tomatoes, and cheese (I use cheddar, but cotija cheese or queso fresco also work) add lovely flavor and texture to this recipe. A spicy salsa is also key, while Mexican crema our sour cream are optional garnishes.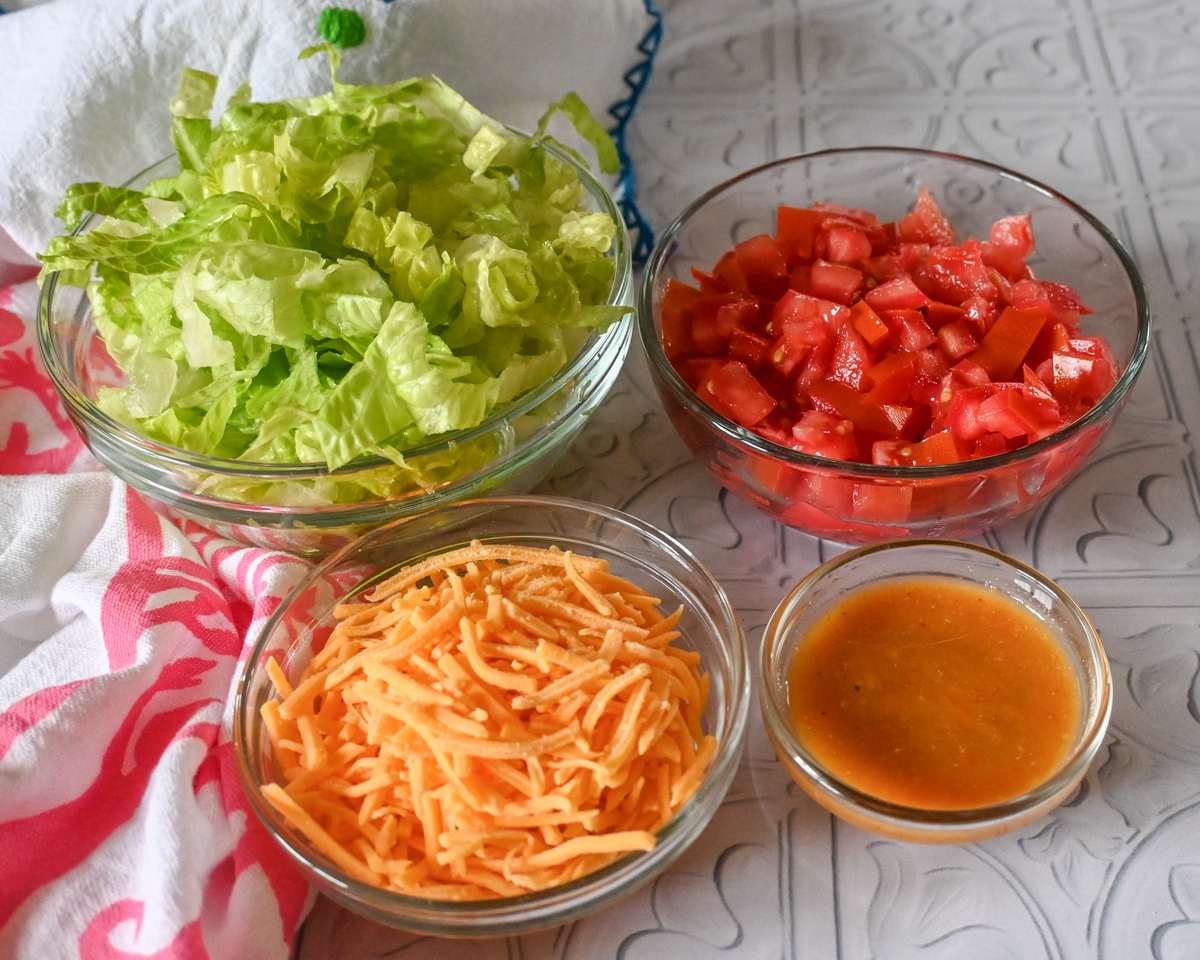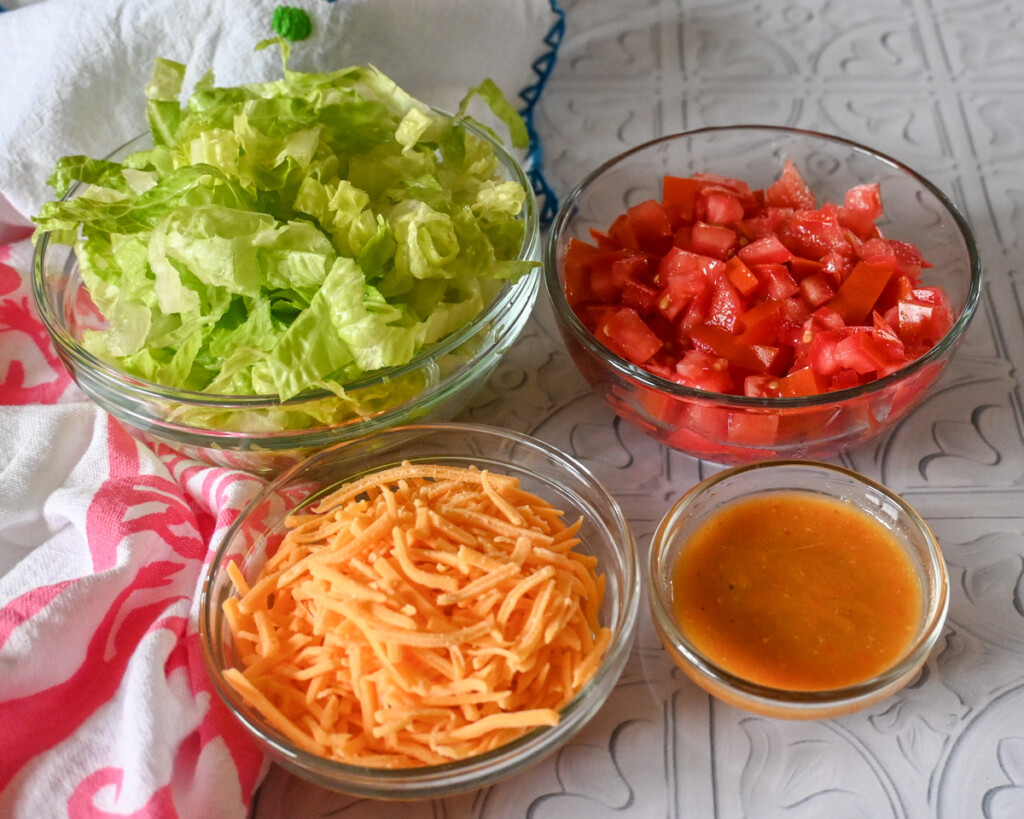 After you've made this recipe, try my Crispy Beef Tacos!
HOW TO MAKE THIS RECIPE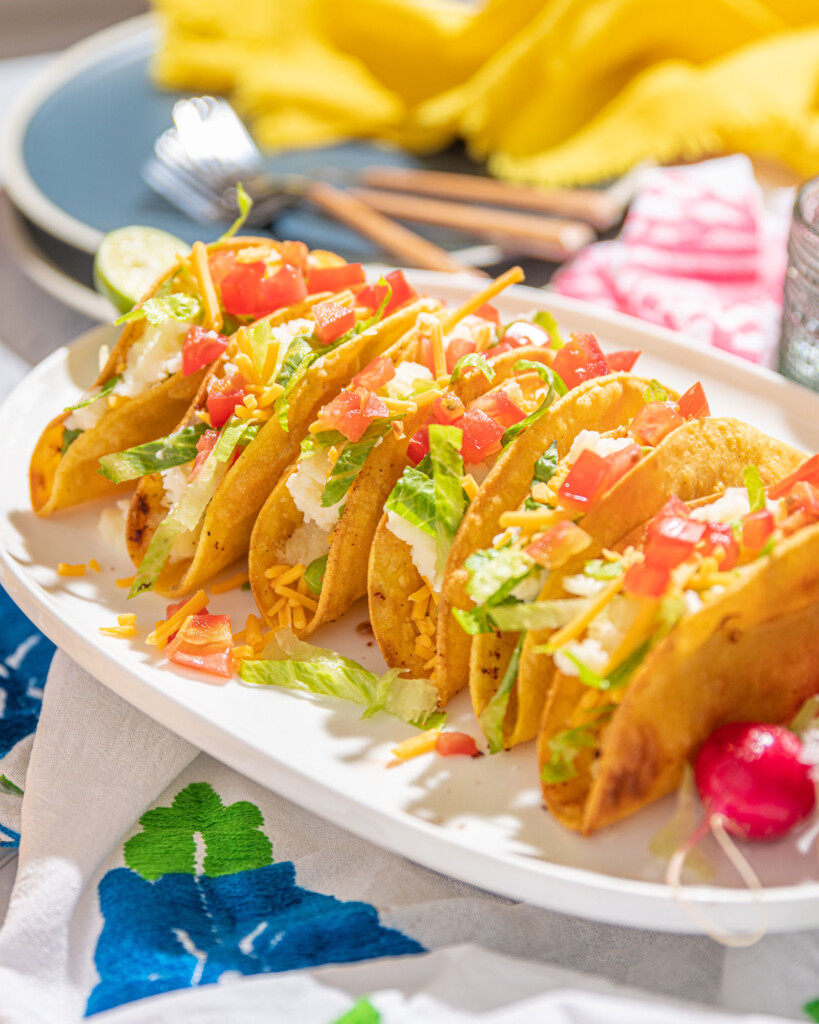 Step 1
Prepare potatoes: boil potatoes in water until fork tender, drain, and then strain.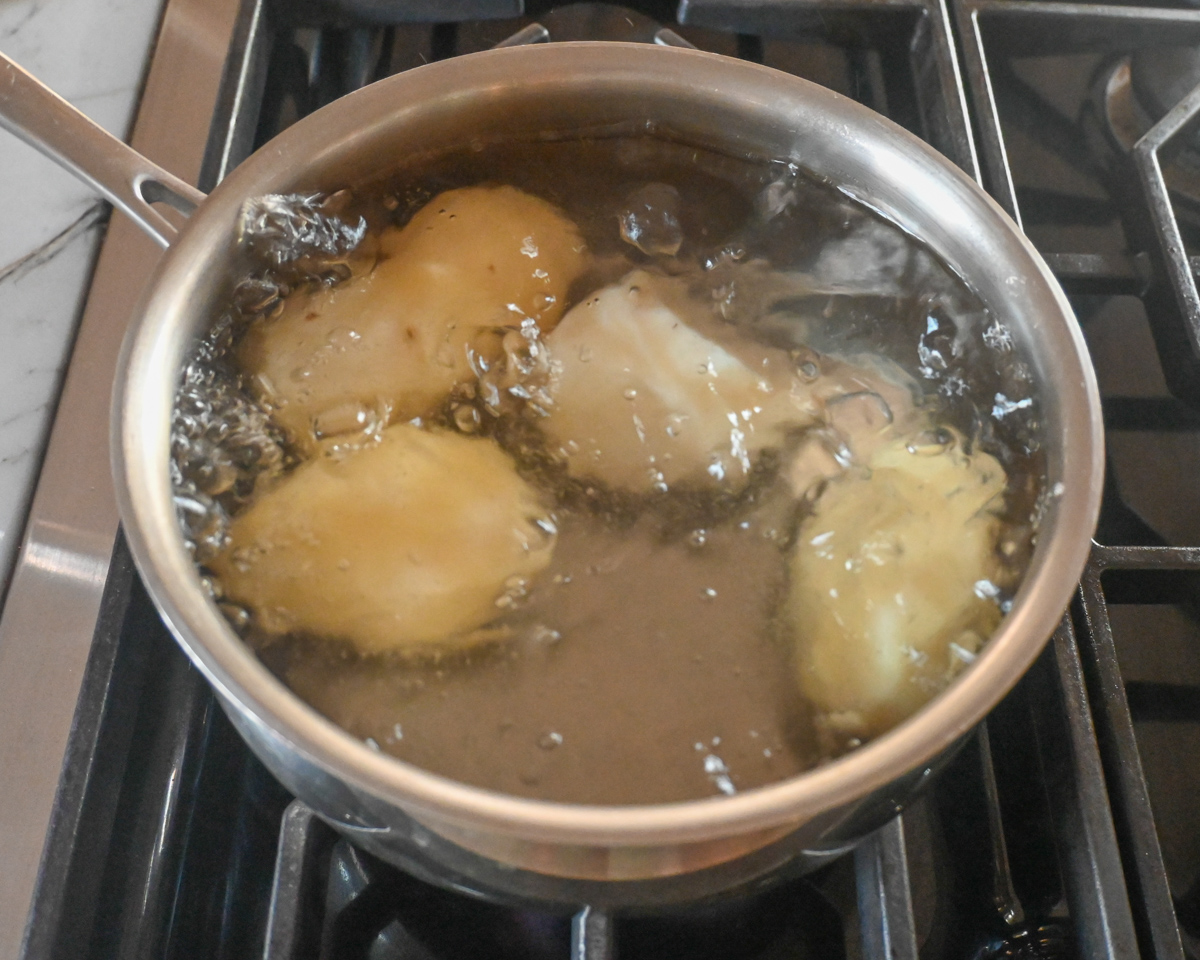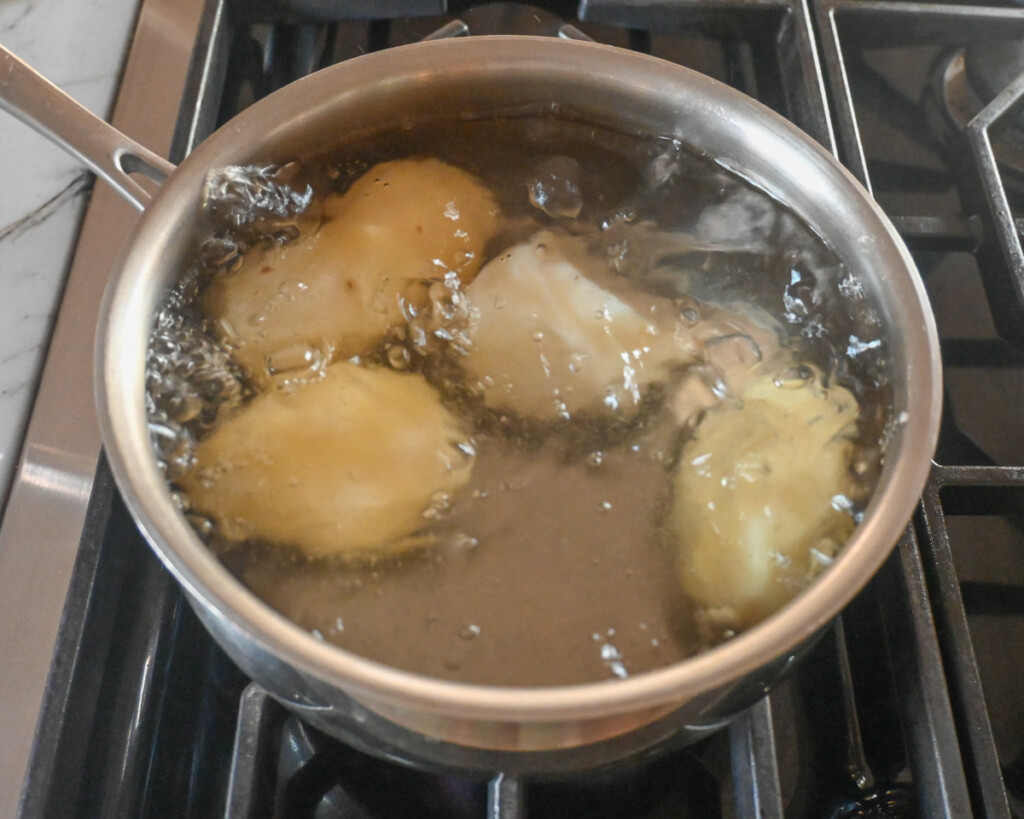 Step 2
Next, season and mash potatoes. This step can be done up to two days in advance and the mixture can be refrigerated until ready to assemble and fry tacos de papa. Be sure to taste for salt! Mixture should be flavorful and slightly salty.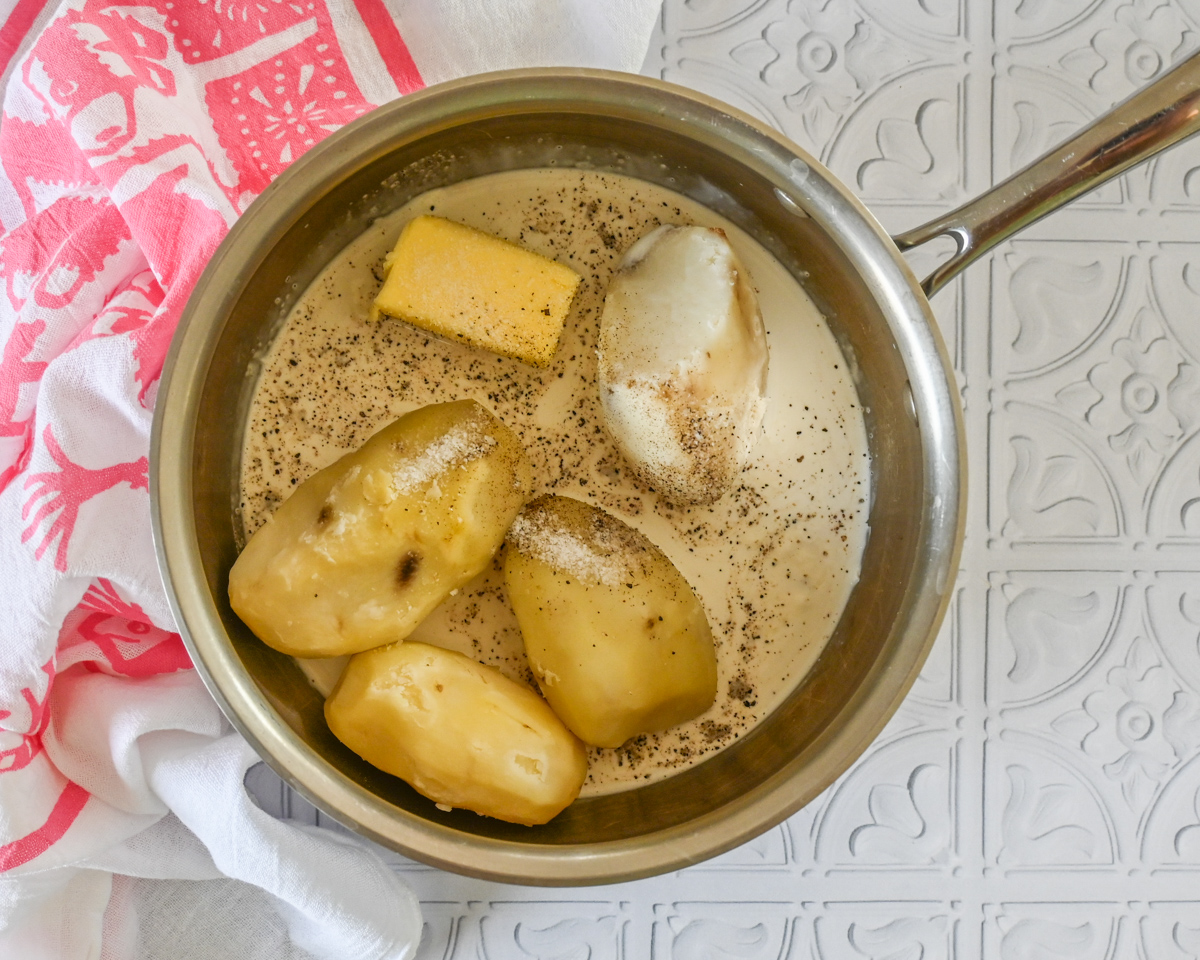 It may look like you've added too much liquid to your potatoes at first, but keep mashing and the heavy cream, milk, and butter will be absorbed into the potatoes and they'll look like this: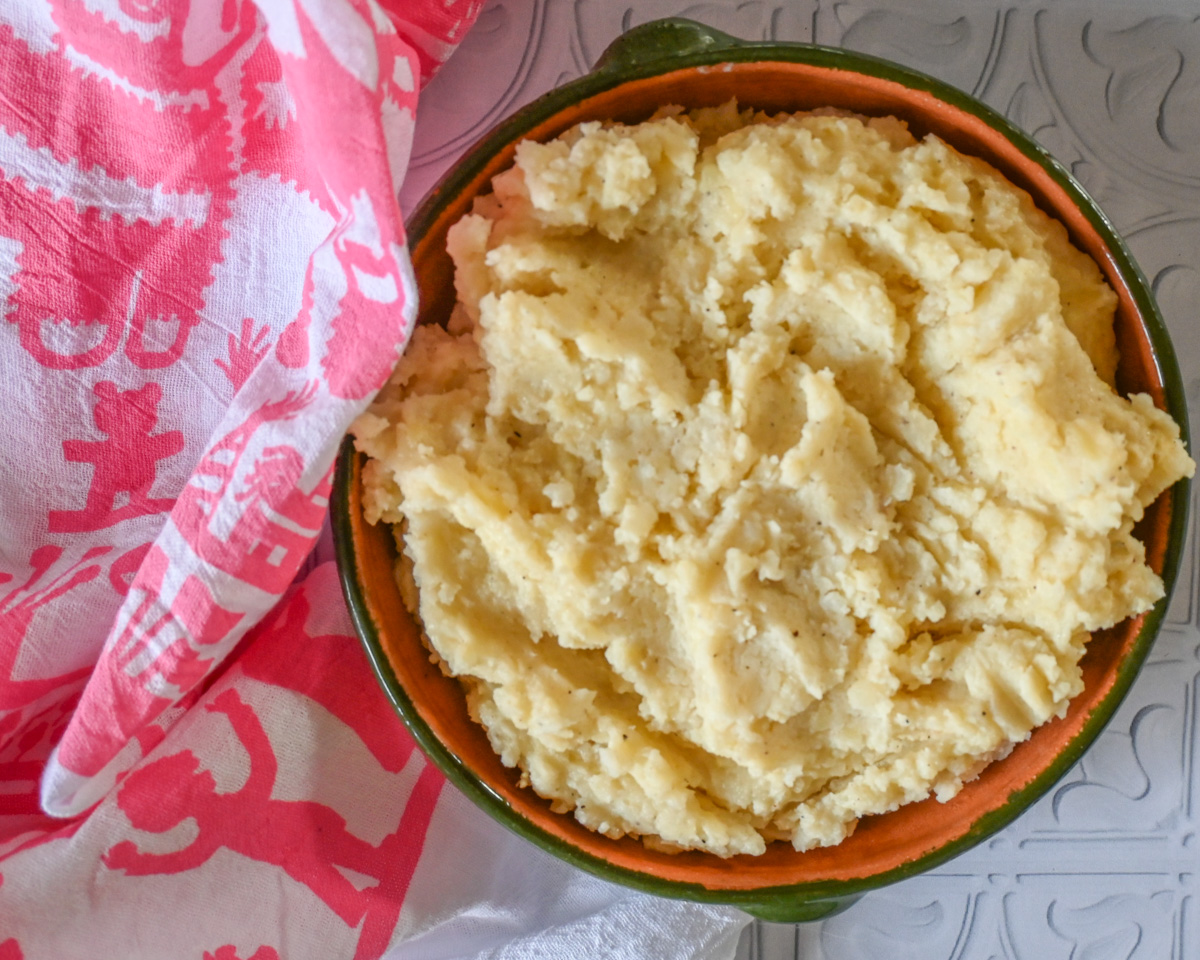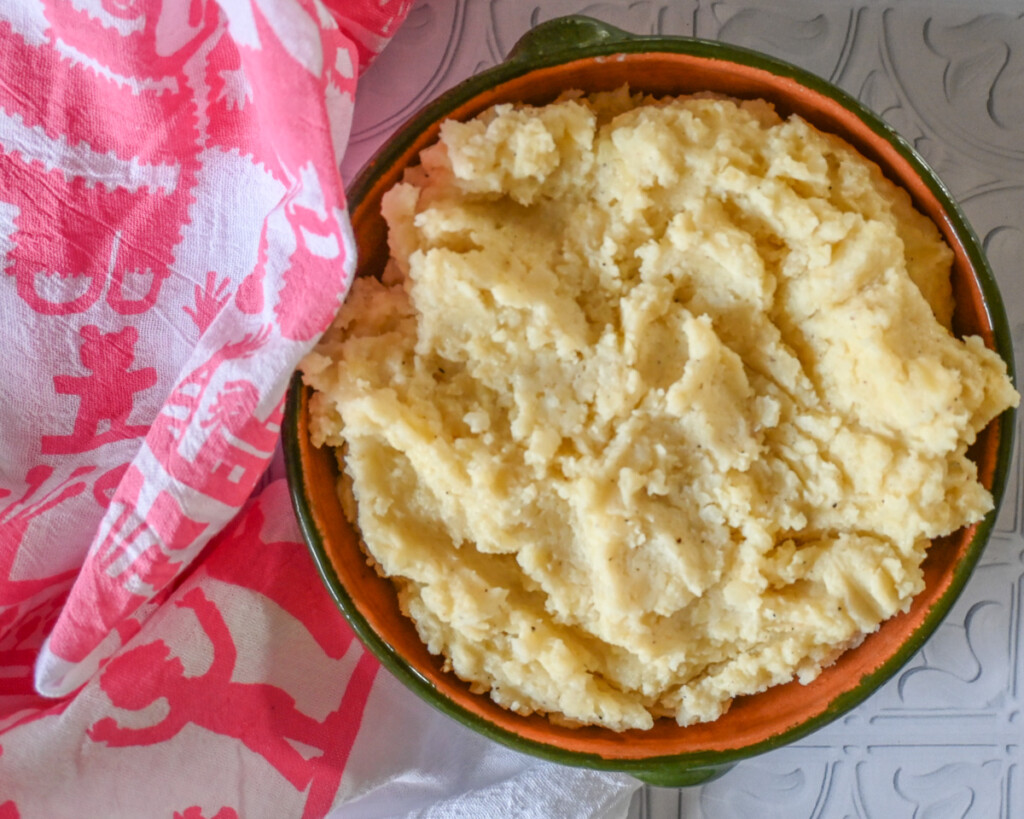 Step 3
Warm and fill tortillas: warm corn tortillas, add potato filling, and fold in half before frying.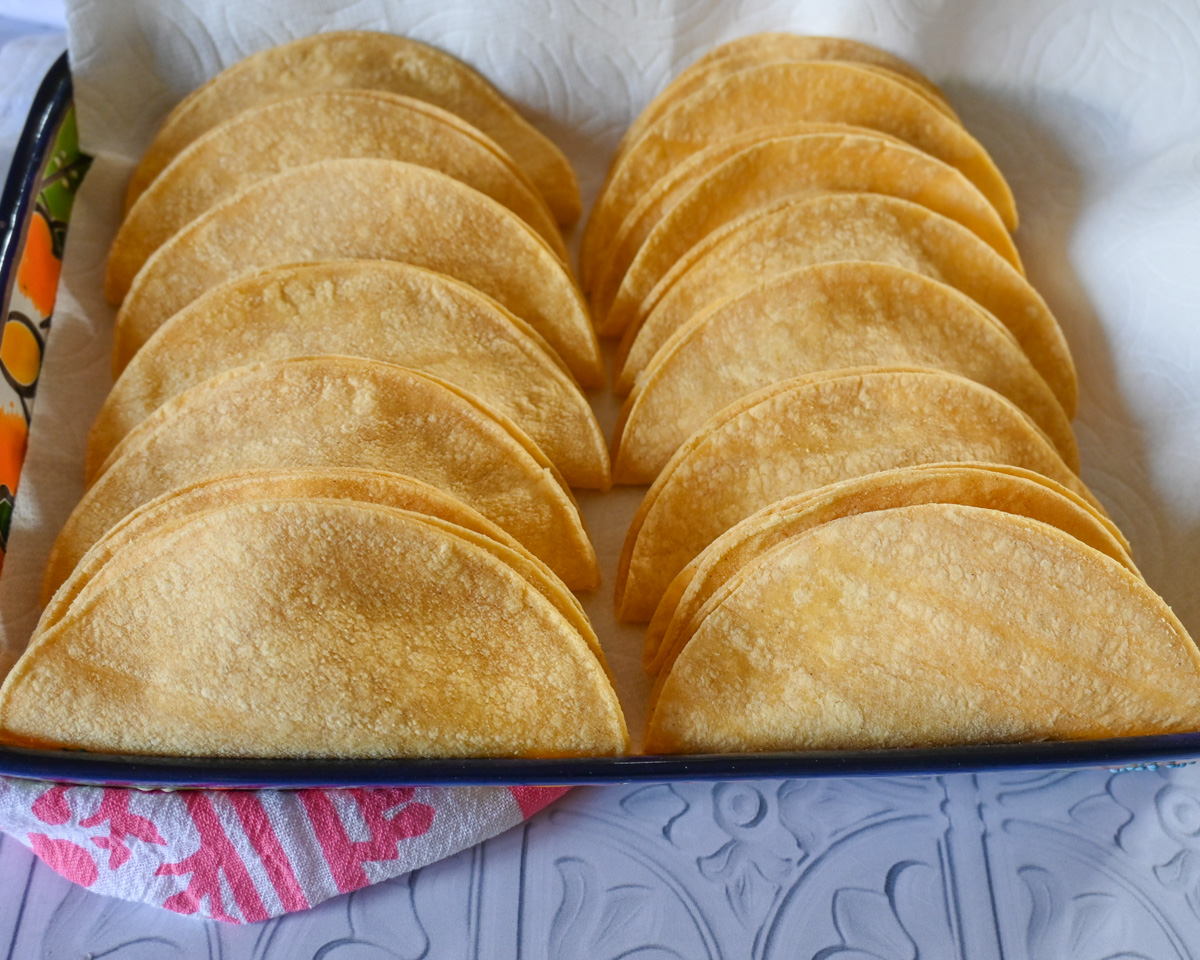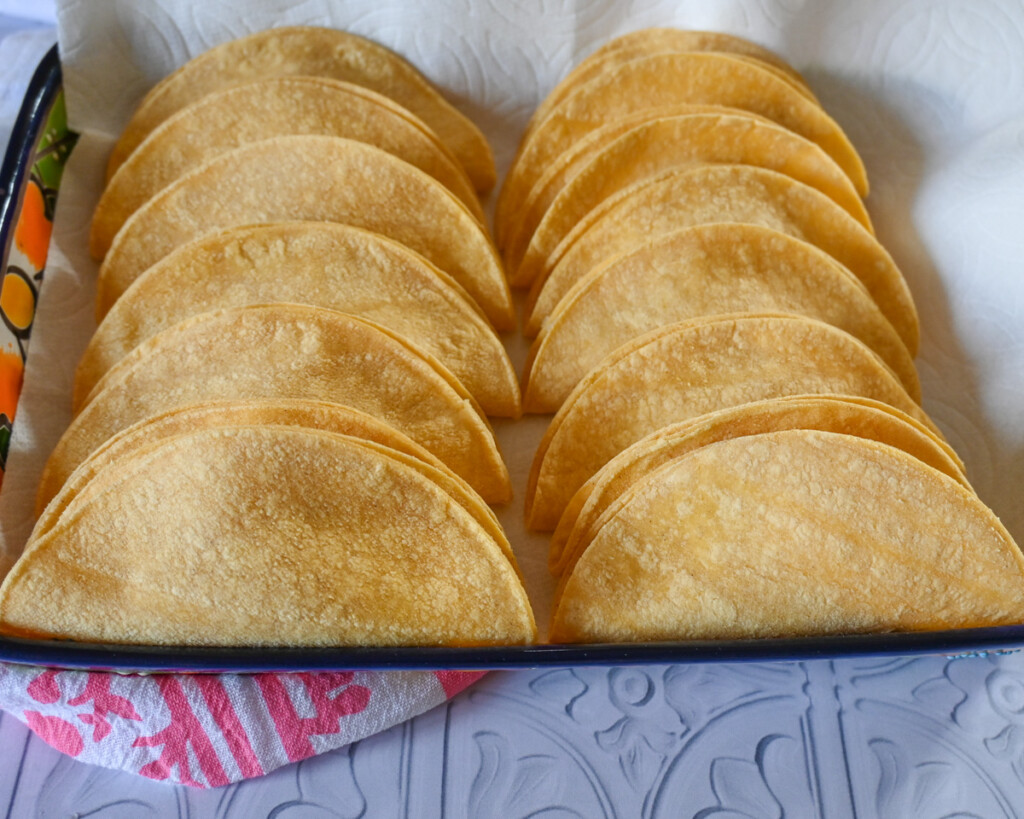 Step 4
Fry tacos: once oil is hot, fry until golden and crispy on both sides. This process should take about 2-3 minutes for each taco.
Step 5
Drain: once tacos are golden and crispy on both sides, remove from pan and drain excess oil on a paper towel-lined plate or platter.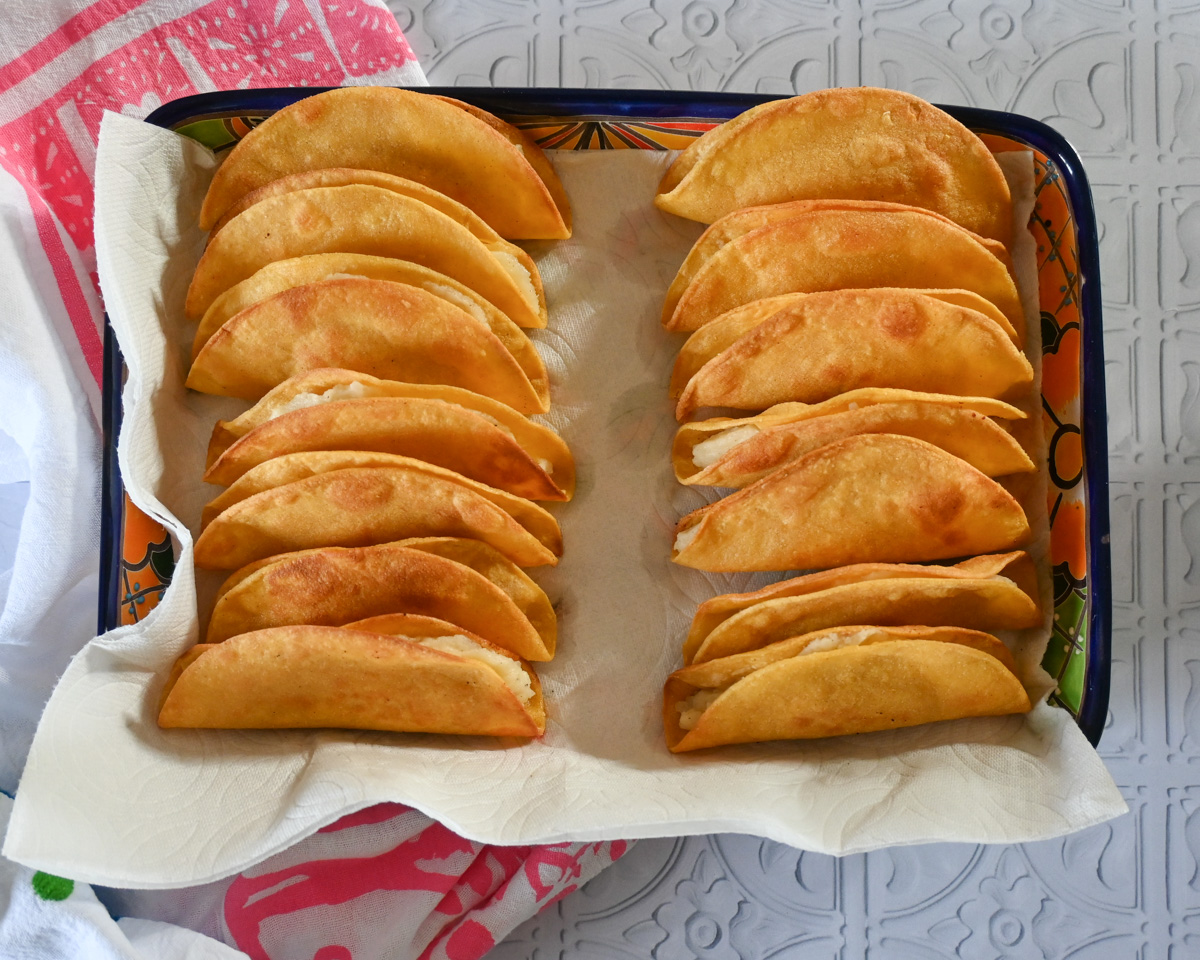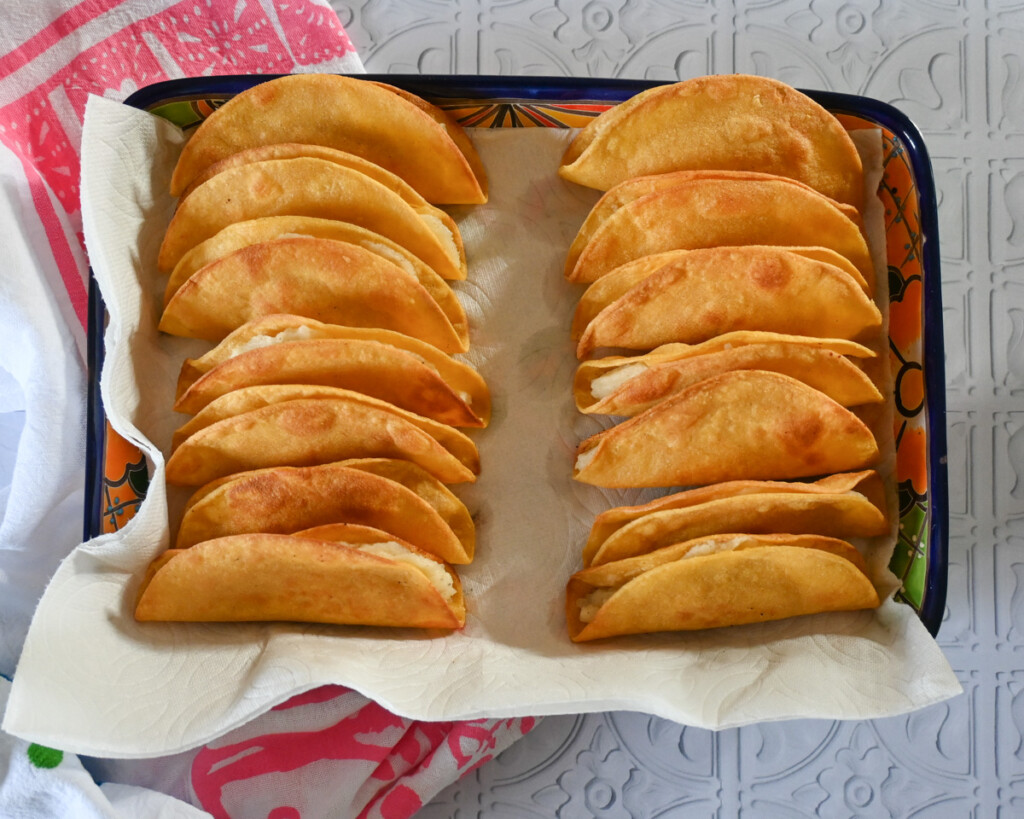 Step 6
Enjoy: garnish with fresh toppings, serve, and enjoy.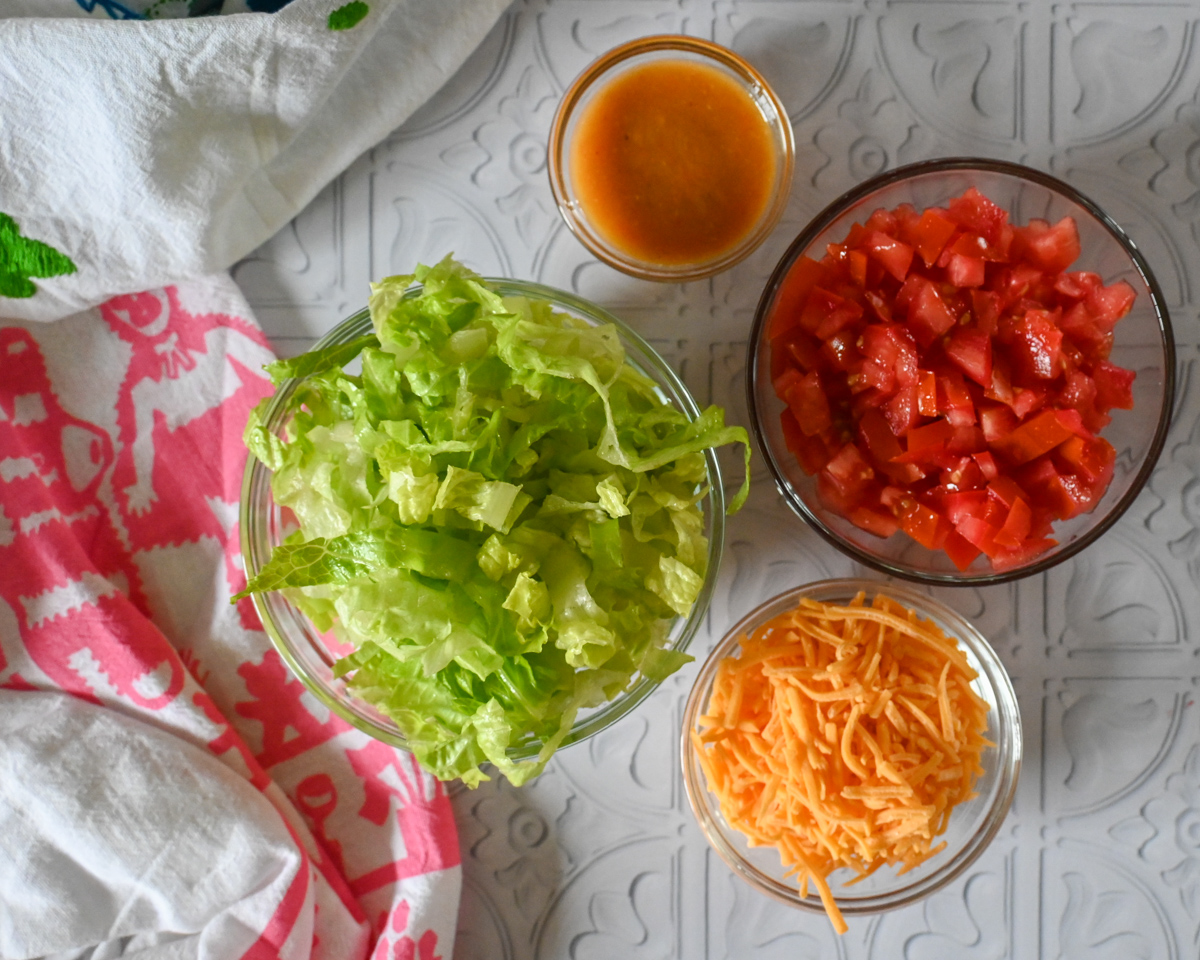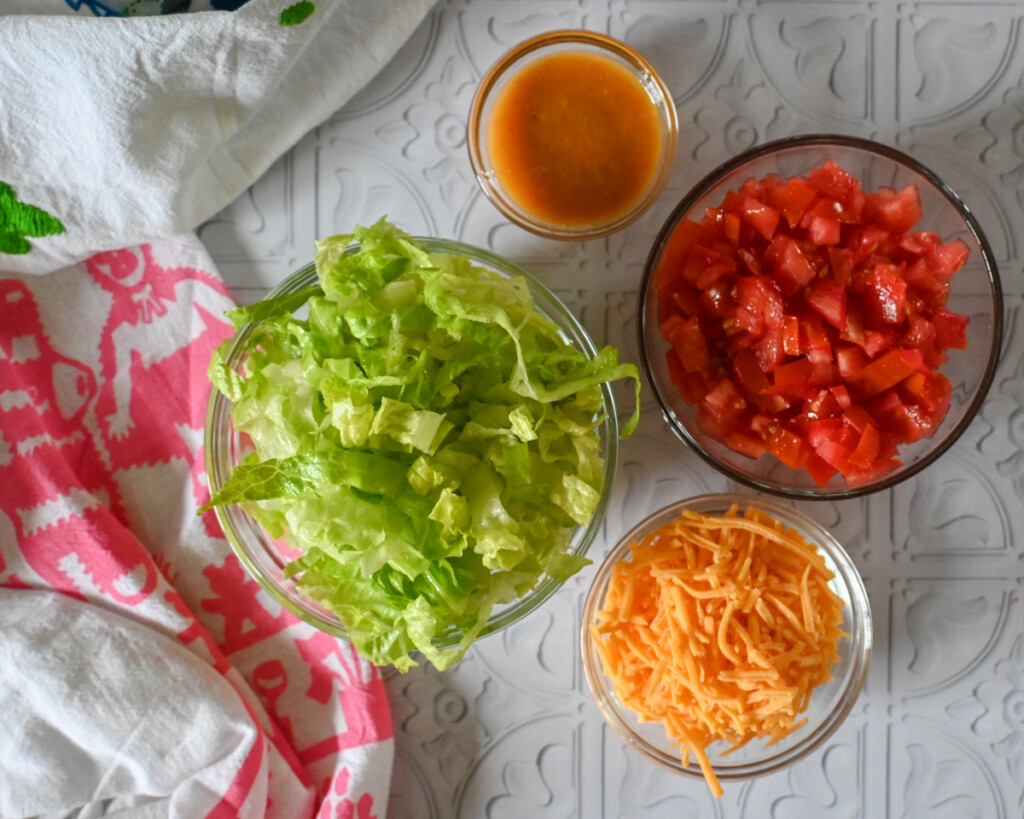 Only garnish tacos that will be eaten immediately so that leftovers can be stored and reheated (see full recipe card below for reheating instructions).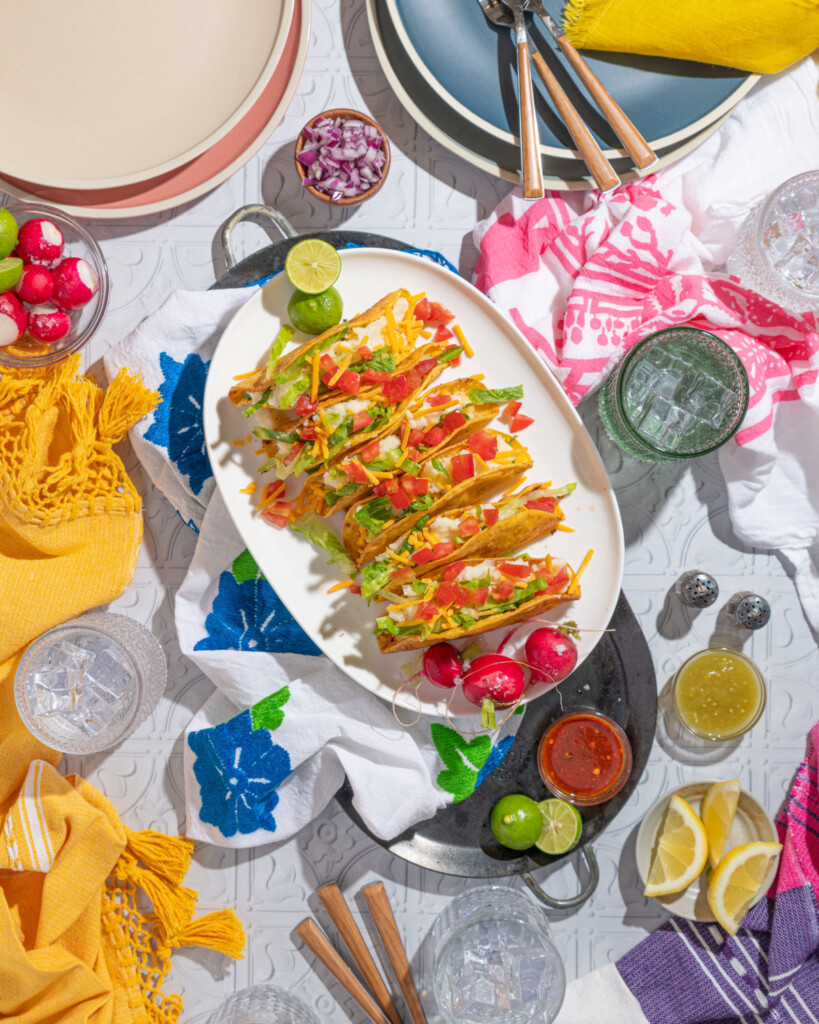 TIPS, TRICKS, AND VARIATIONS
If you don't have Russet potatoes, use whatever potatoes you have on hand. Just keep in mind that cook times may vary by potato. Russet potatoes usually take longer to cook than other smaller varieties.
If you don't have heavy cream, just use additional milk and if you don't have milk, use additional heavy cream.
Sweet potatoes can also be used in place of Russet potatoes as they have similar texture and can be used in most potato recipes. Keep in mind that they have a much sweeter flavor. Mashed cauliflower or mashed parsnips are also popular low-carb substitutes for mashed potatoes.
Substitute lettuce with arugula, cilantro, shredded cabbage, or other fresh greens. My uncle also liked chopped onions on his tacos.
Add spice to your potatoes by blending a chopped chipotle pepper in adobo sauce or roasted poblano pepper with milk before adding it to potatoes. Alternatively, add a couple teaspoons of garlic powder for an additional layer of flavor.
Warm tortillas on a comal or in a clean kitchen towel in the microwave before frying to prevent them from breaking.
FREQUENTLY ASKED QUESTIONS
Are tacos de papa vegetarian?
Yes, crispy potato tacos are typically vegetarian, as they are made with mashed potatoes as the filling. However, some recipes may include meat.
What toppings are typically served with tacos de papa?
Tacos de papa can be served with a variety of toppings, such as salsa, guacamole, Mexican crema, sour cream, cheese, lettuce, and tomato.
Are tacos de papa gluten-free?
Yes, the filling for tacos de papa is typically gluten-free and so are corn tortillas.
Can I freeze tacos de papa?
It's not recommended to freeze tacos de papa, as the texture of the mashed potatoes may become watery and unpleasant after thawing.
WHAT PAIRS WELL WITH TACOS DE PAPA?
Tacos always pair well with my favorite beans, rice, salsa, and refreshing Mexican drinks. Here are a few other ideas:
Salsas: Tacos de papa are typically served with salsa, and there are many different types to choose from, including tomato-based, tomatillo-based, and fruit-based salsas. Pico de Gallo can also add a fresh touch and balance the fried tacos.
Guacamole: The creamy, rich flavor of guacamole or guacamole salsa pairs well with the mild, starchy flavor of the mashed potatoes in tacos de papa.
Mexican rice: A side of Mexican rice can help balance out the flavors and provide a filling and satisfying meal.
Refried beans: Refried beans are a classic Mexican side dish that can add protein and flavor to your meal.
Mexican drinks: You can pair tacos de papa with a cold beer or a glass of agua fresca.
LOOKING FOR MORE INSPIRATION?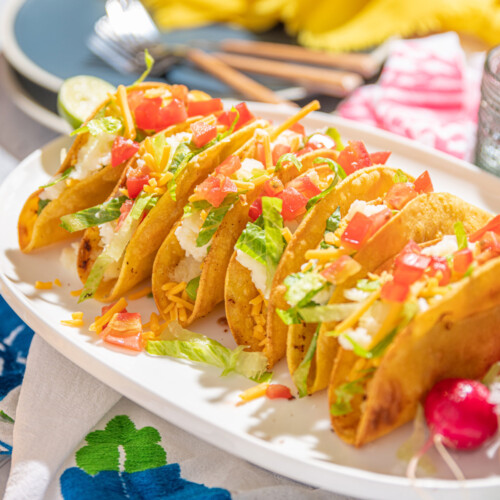 Tacos de Papa
Tacos de papa, also known as potato tacos, are made with crispy tortillas that are filled with mashed potatoes and topped with fresh garnishes.
Equipment
Large pot

Large plate for draining tacos

Paper towels
Ingredients
INGREDIENTS
4

Russet potatoes

a little under 2 pounds, peeled and rinsed

1

quart

water

or enough to cover potatoes

4

tablespoons

butter

unsalted

1/2

cup

heavy cream

1/2

cup

milk

1

tablespoon

Diamond Crystal Kosher Salt

plus more, to taste

1

teaspoon

black pepper

or to taste

½

cup

oil

more if necessary; I prefer safflower oil for frying

16

corn tortillas
INGREDIENTS FOR GARNISHES
½

head lettuce

shredded

2

large tomatoes

diced
Instructions
Bring water to a boil over medium-high heat. Add potatoes and cook for 15-25 minutes or until soft enough to pierce all the way through with a fork. Do not overcook. Potatoes shouldn't fall apart when pierced.

Strain out water.

Over low heat, mash and mix potatoes with butter, milk, cream, salt, and pepper. Set aside. Taste for salt and adjust if necessary. Mixture should be flavorful and slightly salty.

Next, prepare a frying pan with oil over medium-high heat. In the meantime, warm tortillas 4 at a time, over a comal (flat griddle) or wrap them in a clean dish towel, and heat in the microwave for approximately 30-45 seconds or until they become soft and malleable.

Working in batches, add potato mixture to tortillas, fold in half, and carefully place tacos in the hot oil in the frying pan. Oil should be very hot and tortilla should sizzle when it touches the oil. You may need to hold the top side of the taco down with tongs for a a few seconds so that it does not unfold. In about 1 to 2 minutes, check underside of taco. If golden brown, turn and fry the other side until golden brown.

Once the taco is cooked well on both sides, remove from heat and place on a plate with a paper towel to drain. Continue process until all tacos have been fried.

Garnish with lettuce or other leafy green, tomato, and salsa or hot sauce.
A Note from Lola
PREVENT POTATOES FROM TURNING BROWN: by soaking them in cold water immediately after peeling them. Keep them in water until ready to use. TO SAVE TIME: potato mixture can be prepared a day (up to two days) in advance. Reheat them before frying to make potatoes easier to work with. TO REHEAT TACOS: reheat in oven or air fryer for 10-15 minutes at 300 degrees. VARIATIONS: this same recipe can be used for potato taquitos; just roll and fry, then enjoy with fresh garnishes and salsa!
Nutrition
Serving:
2
g
Calories:
219
kcal
Carbohydrates:
23
g
Protein:
3
g
Fat:
14
g
Saturated Fat:
4
g
Polyunsaturated Fat:
3
g
Monounsaturated Fat:
6
g
Trans Fat:
0.1
g
Cholesterol:
17
mg
Sodium:
409
mg
Potassium:
338
mg
Fiber:
3
g
Sugar:
2
g
Vitamin A:
507
IU
Vitamin C:
5
mg
Calcium:
48
mg
Iron:
1
mg
219
LOVE THIS RECIPE?
Leave a comment below or tag me on social media @lolascoina
Originally Published: June 8, 2014 // Photography + Styling: Cacey McReavy // Process shots by Lola
Lola's Cocina is a small business that earns various revenue streams. This includes sponsored posts and affiliate commissions from linked products, which I use and love. This commission is an agreement between Lola's Cocina and retailers, with no extra cost to readers. This income helps sustains the site.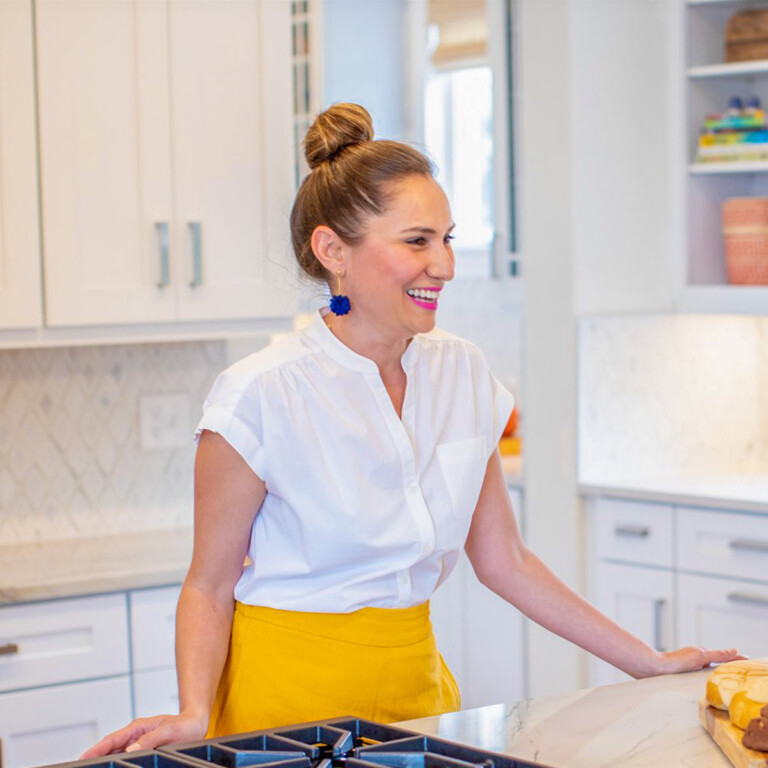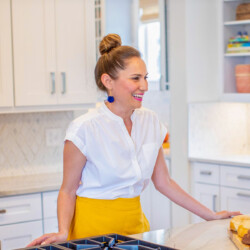 Lola Wiarco Dweck
Lola is a Mexican-American recipe developer, writer, and cooking instructor who loves sharing her culture with the world. Growing up in California and spending summers in Mexico, Lola celebrates her family's Mexican recipes and vibrant culture through Lola's Cocina.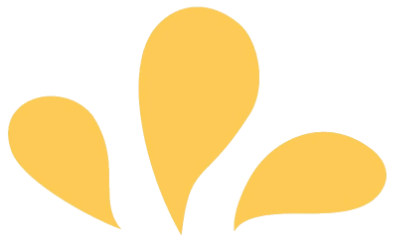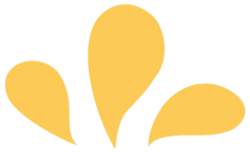 Sign up for ¡Hola de Lola!