Papel Picado: 5 Fun Facts and Its Significance on Day of the Dead
Discover the fascinating history of papel picado, a form of traditional Mexican art dating back to pre-Columbian times. Learn about how these tissue paper banners are made, their cultural significance, and their use in celebrations and decorations today.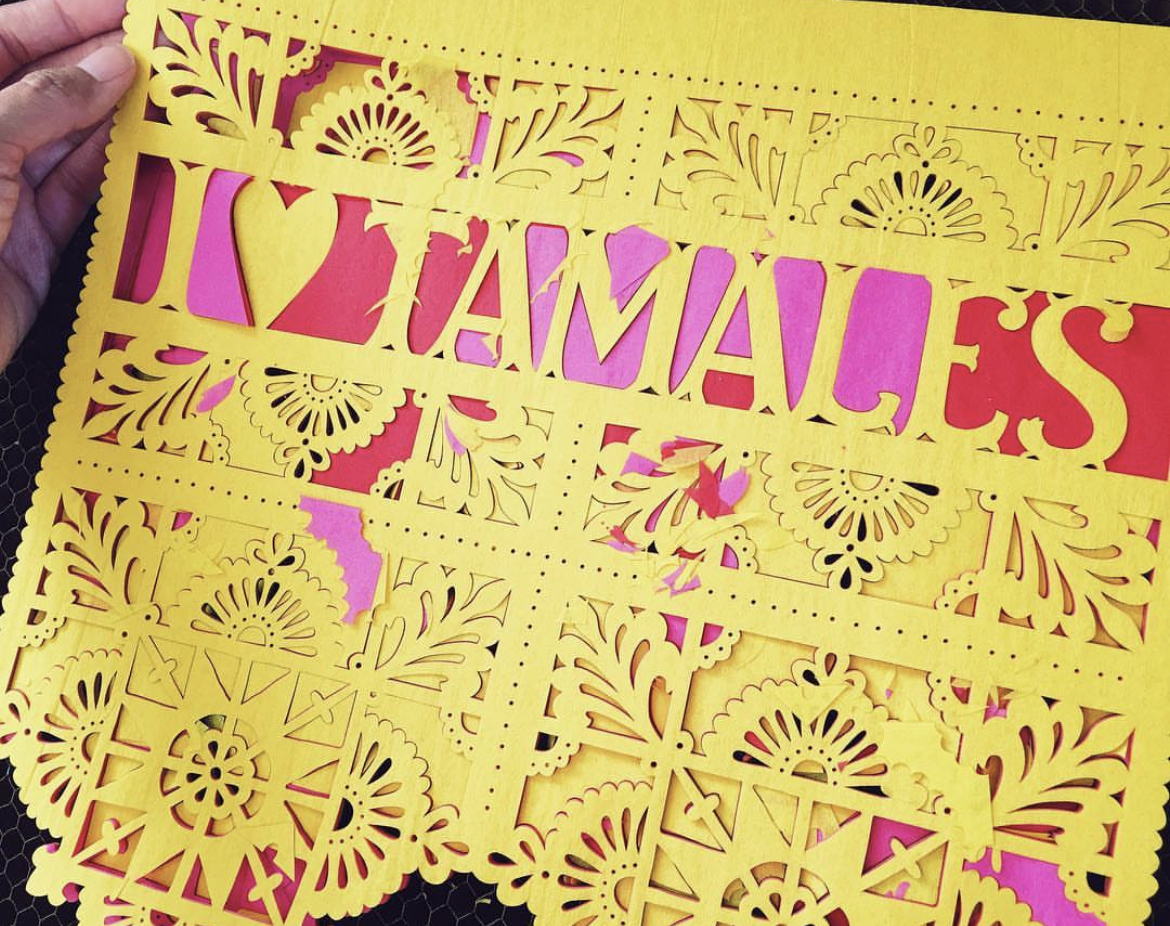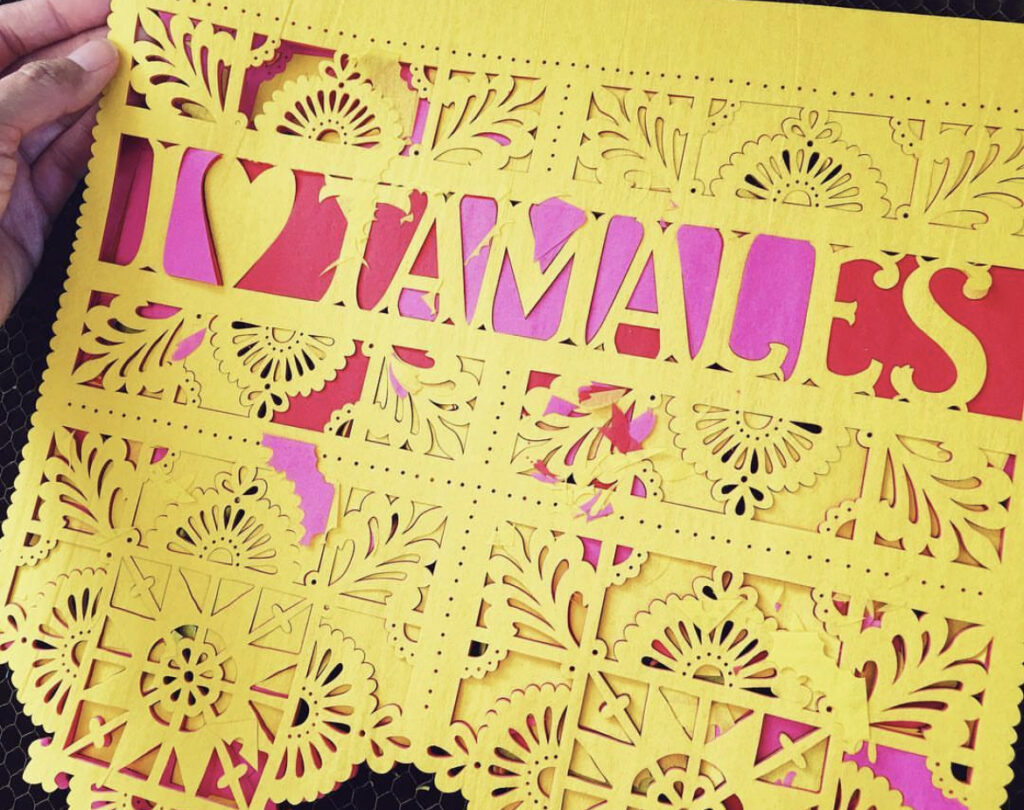 Recently, I collaborated with my friend Marisa Morrison, founder of The Neon Tea Party, for her papel picado crafting workshop. She asked if I could lead the educational segment on this beautiful and intricate art form and provide an explanation of how these handmade decorations relate to Día de los Muertos. Following my research, I learned why papel picado is important in Mexican culture, organized several papel picado fun facts, and explored this colorful decoration's significance as well as how it is used for a number of festive occasions.
WHAT IS PAPEL PICADO?
Papel picado translates to "perferated paper," which is used to create tissue paper banners with intricate designs. This traditional art consists of cutouts that are often strung together to create colorful banners used to decorate for celebrations and festivals.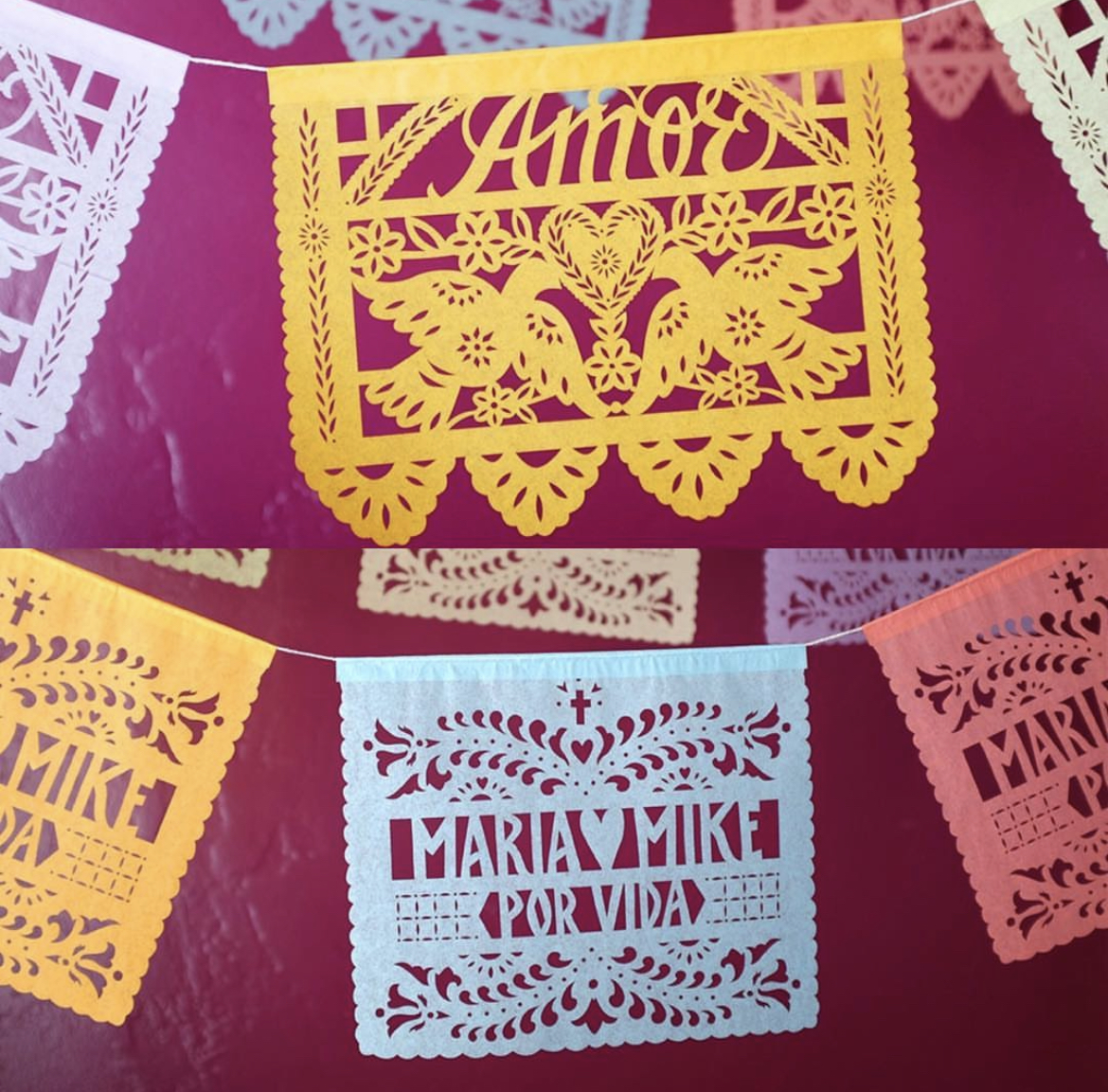 WHAT IS THE HISTORY AND CULTURAL SIGNIFICANCE OF PAPEL PICADO?
Aztec Roots: Papel picado, a pre-columbian craft, dates back to the Aztecs who used to use the bark of mulberry and wild fig trees to make and decorate a rough paper called amatl. They used this tree bark "paper" to make flags and banners, and used it to adorn homes, streets, fields, and temples.
That was when artisans began to apply this ancient art form to a new material, and thus, papel picado came to be the quintessential fiesta decoration we are familiar with today. The Spanish church would commission artisans to make thousands of strings of papel picado for religious festivals where they hung in church plazas and lined the streets.
Spanish Influence: This practice evolved in the 18th century when the Spaniards introduced many new foreign products to the region of Mexico, including tissue paper. Tissue paper is referred to as papel china in Mexico, which translates to "paper from China."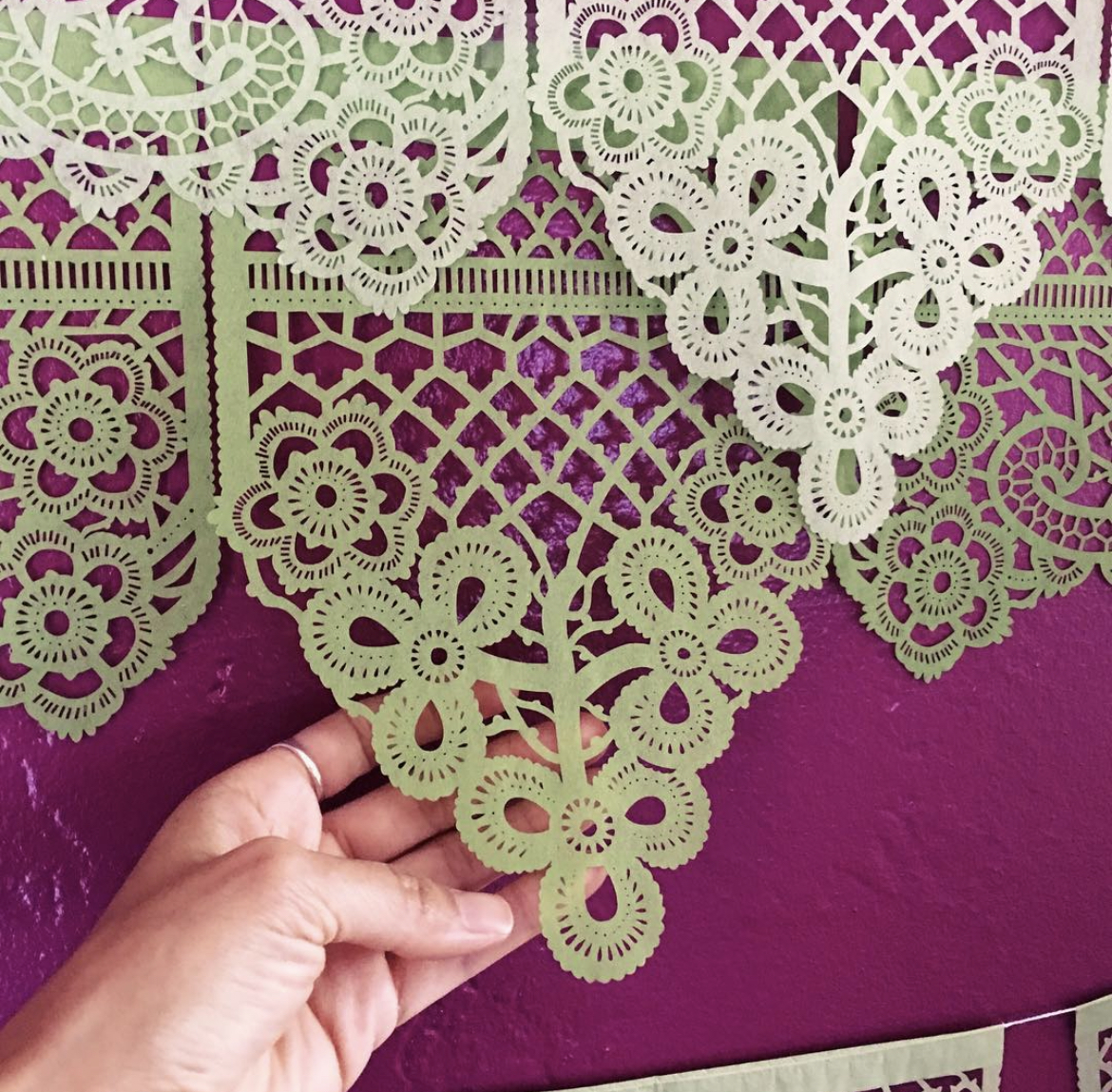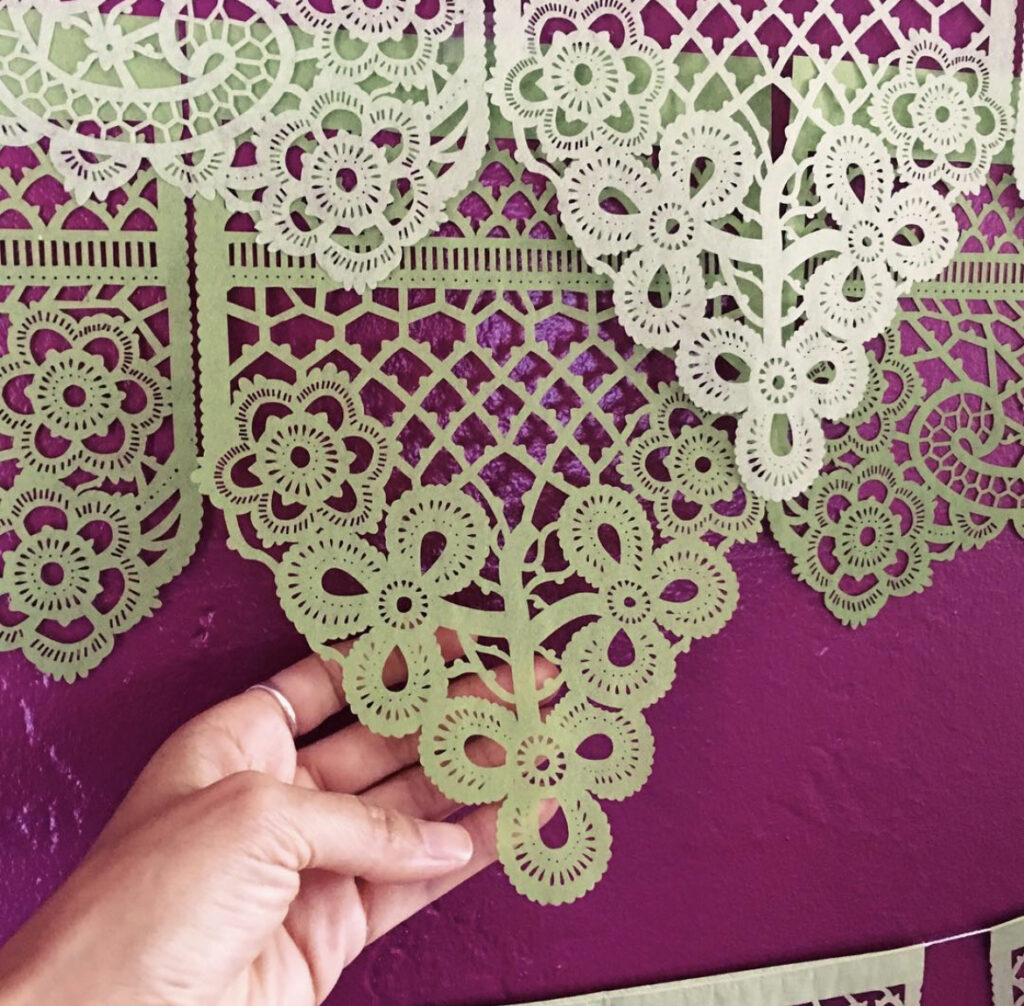 HOW IS PAPEL PICADO USED IN MEXICAN CULTURE?
Papel picado is used for a variety of celebrations and events in Mexican culture, including Day of the Dead, weddings, birthdays, baptisms, and religious festivals. These colorful decorations are often hung in homes, streets, and public places to add color and festivity to the occasion.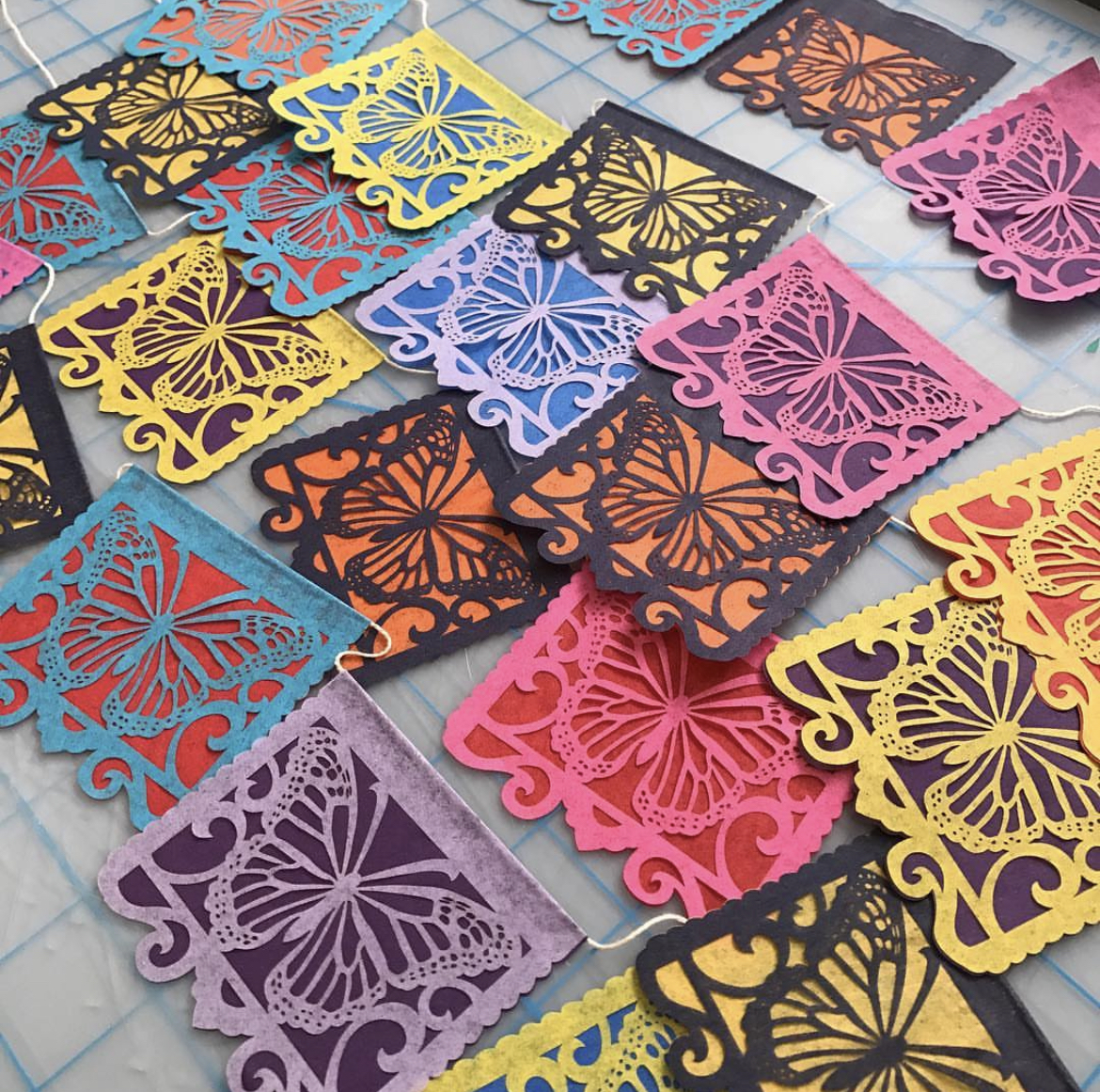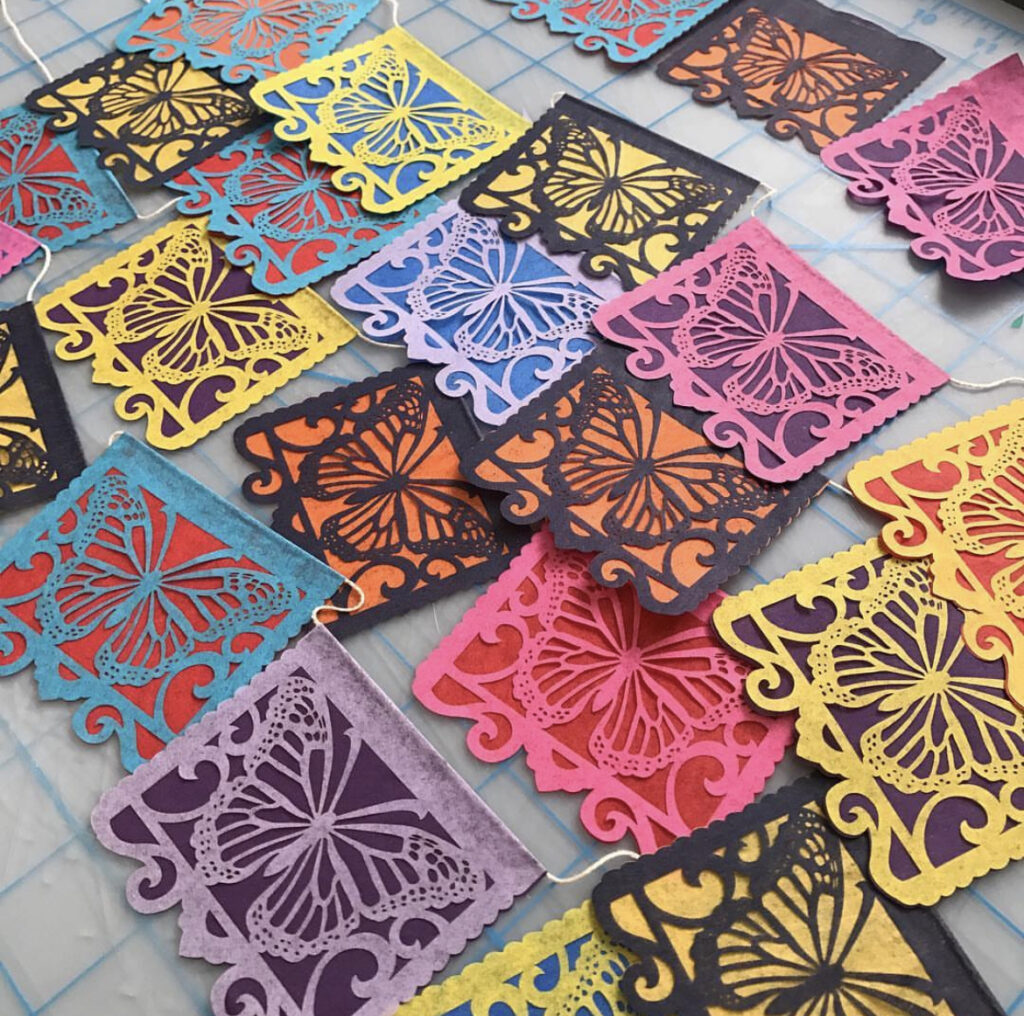 In Mexico, papel picado banners are commonly used for Día de Muertos, and for national holidays such as Mexican Independence Day on September the 16th, religious festivities, street parties, weddings, birthday parties . . . just about any Mexican fiesta! Today, even outside of Mexico, papel picado continues to be used for religious and civic festivals, weddings, baptisms, birthdays, and Day of the Dead. It is especially popular for Mexican-themed fiestas and Cinco de Mayo celebrations throughout the U.S.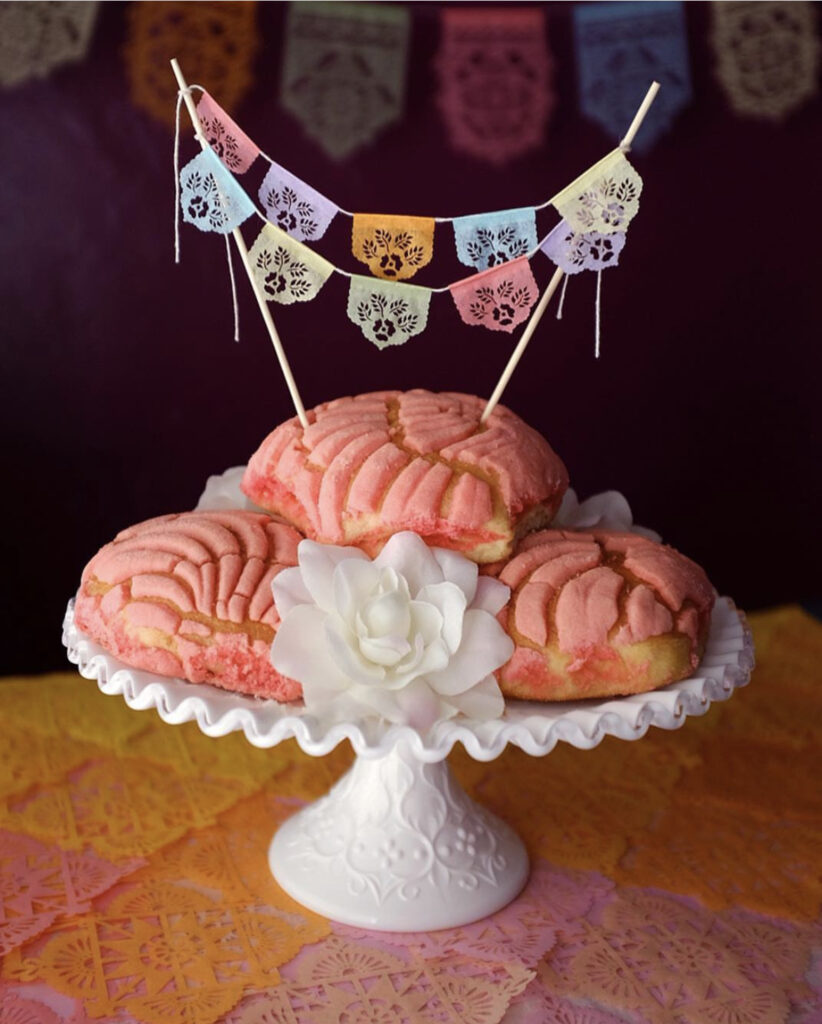 FUN FACT: In 2016, the largest papel picado banner ever made was created in Puebla, Mexico, the site of the historic battle of Cinco de Mayo. The banner was over a mile long and included over 45,000 individual papel picado flags, each one measuring 1.5 meters long and 1 meter wide.
PAPEL PICADO: FOLK ART VS ART
Skilled craftsmen use awls, chisels and special cutting blades to render intricate designs. Working over a basic pattern, they cut through as many as 50-100 sheets of tissue paper at a time.
Popular designs include figures such as flowers, foliage, birds, angels, crosses, calaveras or skeletons and historic figures, as well as words or phrases associated with specific holidays. Borders may be straight, scalloped, zig-zagged or fringed. Each design is a unique and complex work of art requiring a keen ability to envision the use of negative space. While many consider papel picado a form of Mexican "folk art," I'd argue that these finely designed and cut tissue papers are actually a form of fine art!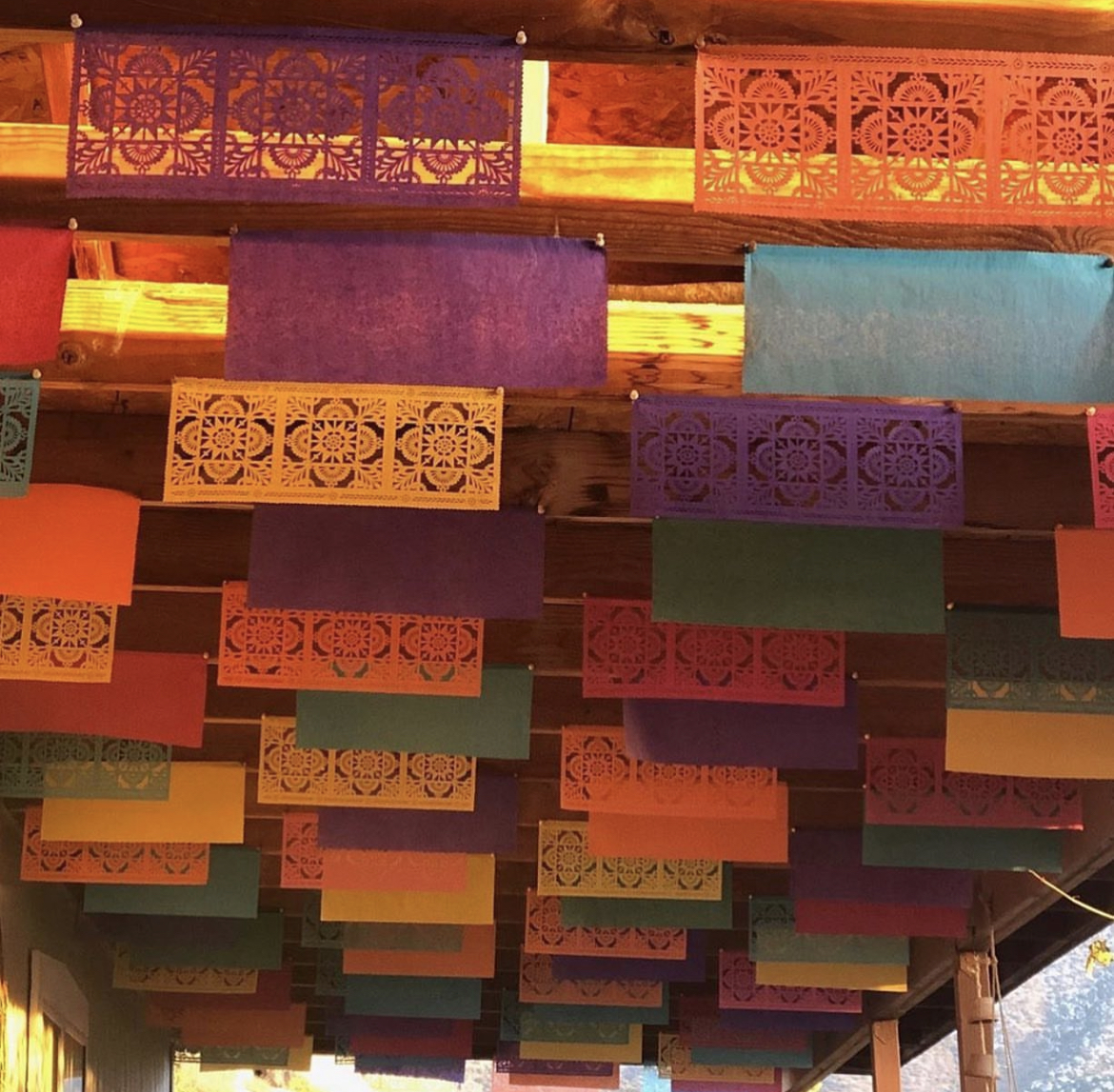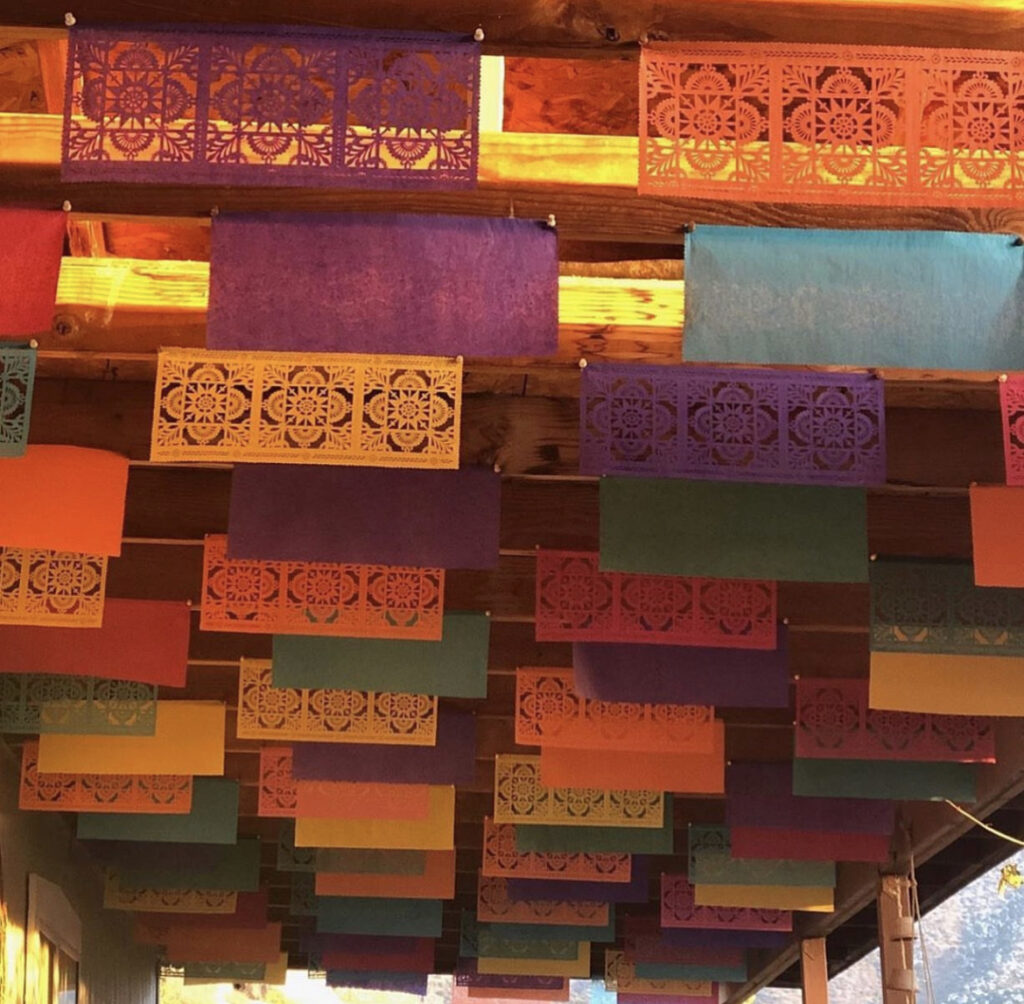 HOW IS PAPEL PICADO USED FOR DAY OF THE DEAD AND WHAT DOES IT REPRESENT?
Colorful papel picado is often displayed on Día de los Muertos altars and represents the union between life and death. This delicate tissue paper also signifies the fragility of life as it is ephemeral, as well as the element of wind. On Day of the Dead, because papel picado is so lightweight, when it moves, it lets families know that their loved ones have arrived.

FREQUENTLY ASKED QUESTIONS
How is papel picado made?
Papel picado is traditionally made by layering several sheets of tissue paper on top of each other and then folding them accordion-style. The artist then uses chisels, scissors, or other cutting tools to cut intricate designs into the paper. Once the design is complete, the tissue paper is carefully unfolded, revealing the cutouts.
What are some common papel picado designs?
Common papel picado designs include flowers, birds, animals, skeletons, crosses, and other geometric patterns. The designs can be simple or complex, depending on the skill level of the artist and the intended use of the banner.
Where can I buy papel picado?
Papel picado can be found in many Mexican markets, craft stores, and online retailers. You can also purchase handmade papel picado directly from artisans in Mexico or attend a workshop to learn how to make it yourself. My favorite shop for handmade papel picado is Aye Mujer!
LOOKING FOR MORE INSPIRATION?
Lola's Mercadito: Minis and Day of the Dead
How to Host a Memorable Mexican Fiesta
¡Ay Mujer! Papel Picado for Life's Ceremonies
Day of the Dead: Passing on Cultural Traditions from One Generation to the Next
Lola's Mercadito: Mexican Fiesta Decor
Sugar Skulls and Spirits: Decoding the Symbolism of Altar Items
Free Printable: Mini Papel Picado
5 Fun Day of the Dead Crafts and Treats for Kids
7 Day of the Dead Traditions to Start as a Family This Year
3 Bilingual Books to Teach Children about Day of the Dead
10 Creative Crafts for Day of the Dead
All images are from the talented papel picado artist, Yreina Flores, founder of Ay Mujer! She is based in Indio, CA and you can purchase her work online at aymujershop.com.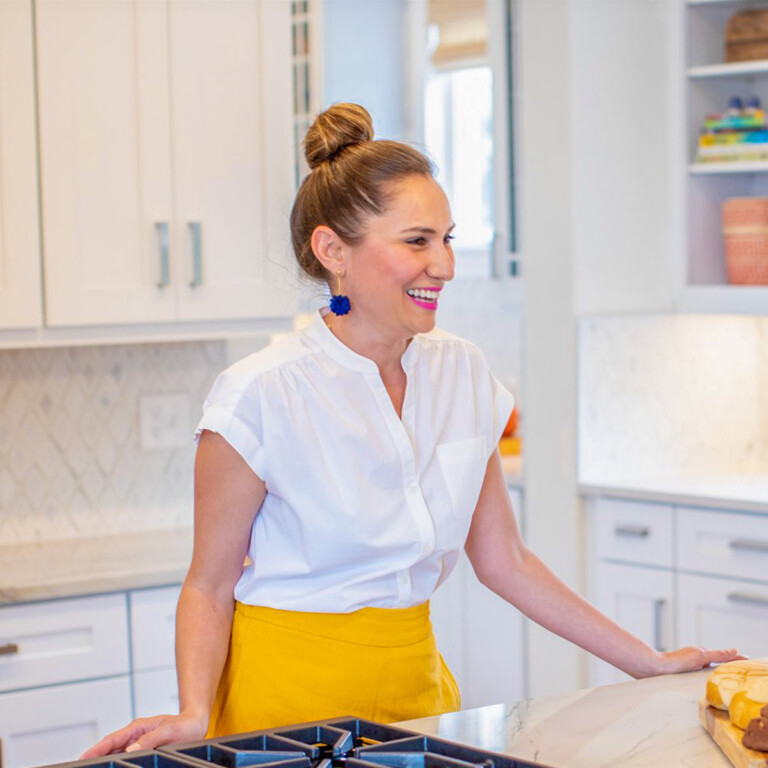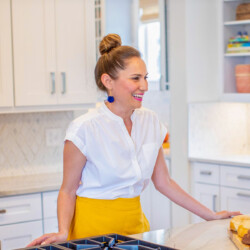 Lola Wiarco Dweck
Lola is a Mexican-American recipe developer, writer, and cooking instructor who loves sharing her culture with the world. Growing up in California and spending summers in Mexico, Lola celebrates her family's Mexican recipes and vibrant culture through Lola's Cocina.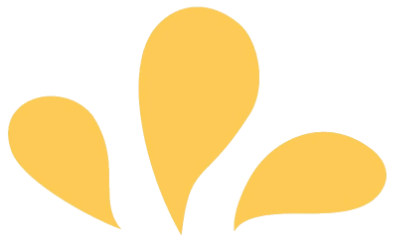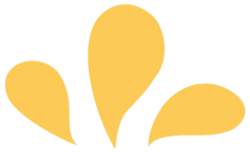 Sign up for ¡Hola de Lola!