If you're looking for the best Fideo Seco recipe, look no further. Fideo Seco is a comforting Mexican pasta dish inspired by my travels to Oaxaca. In this recipe, fideo noodles are toasted in oil to enhance their rich, nutty flavor, then slowly simmered in a luscious tomato broth infused with guajillo peppers.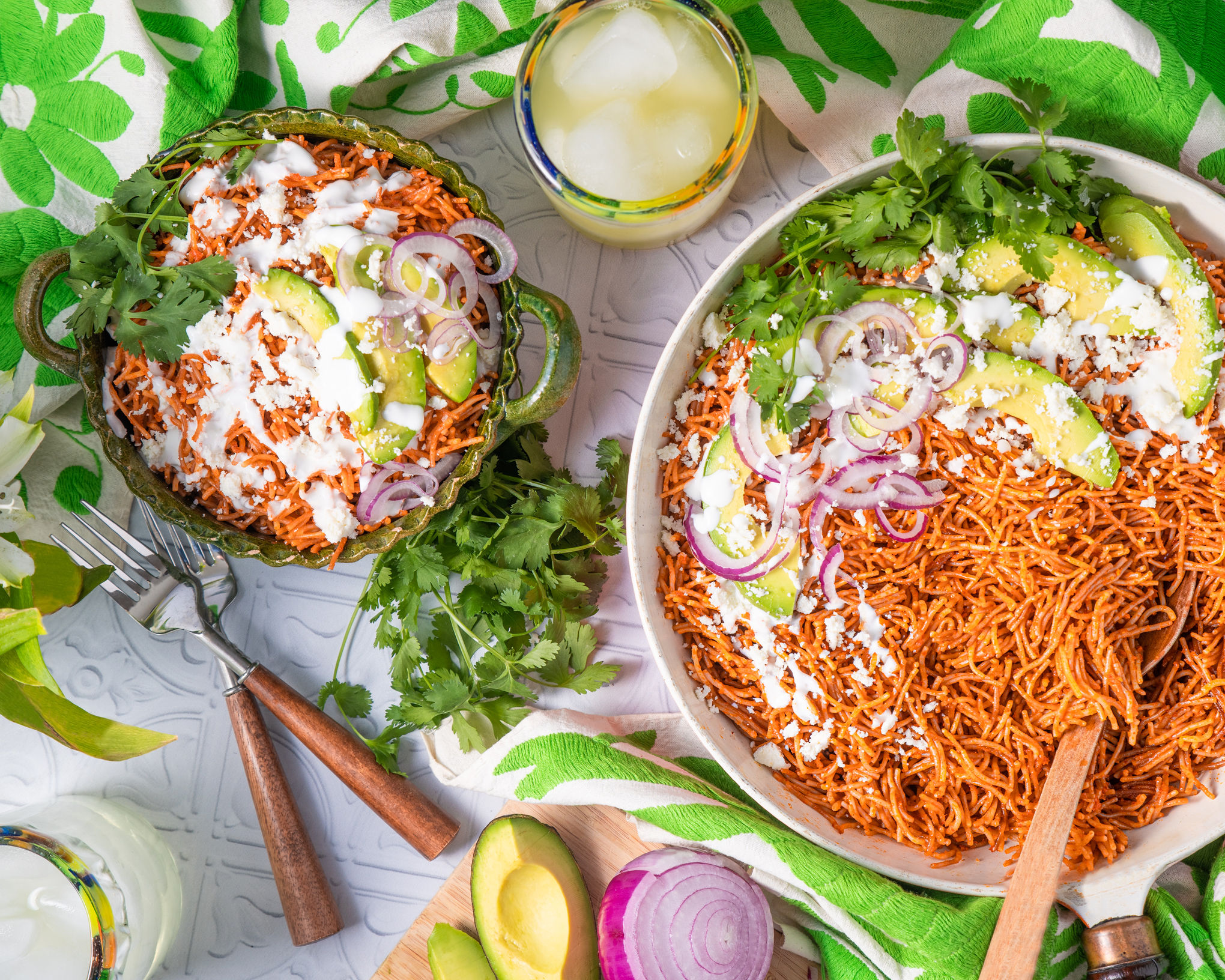 The first time I visited Oaxaca in 2006, it was truly a trip for my tastebuds. Tlayudas, tetelas, and tejate were all new to me. The dish that I dreamed about for over 15 years though, was fideo seco and after much trial and error, I've finally learned how to make fideo seco, al estilo Oaxaca, and have perfected the recipe!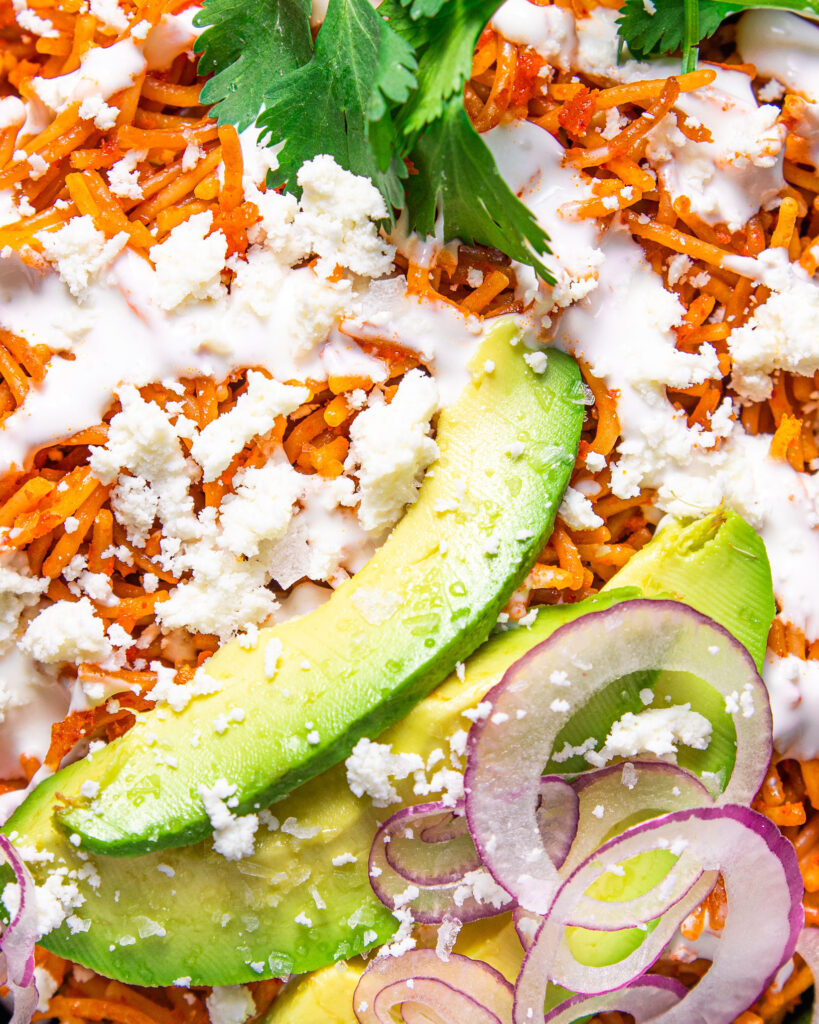 WHY I LOVE THIS RECIPE
Homemade tomato sauce: My Mexican Tomato Sauce is much more flavorful than store-bought options and is my go-to when making this pasta.
Great texture and flavor: Mexican fideo seco is made by simmering fried noodles in a luscious and savory tomato sauce, which then absorb the flavors, creating an amazing texture.
Versatile: This sopa de fideo seco can be dressed up with a variety of garnishes like avocado, crema, queso fresco, and so much more.
Budget-friendly: this easy recipe calls for simple, easy-to-find, and affordable ingredients, including fideo noodles, which typically cost no more than $1 per 7-ounce bag. You can easily make Fideo Seco for a crowd as a main dish or hearty side.
WHAT IS FIDEO SECO?
Not to be confused with sopa de fideo, also known as sopita, which is soupy, this Mexican pasta recipe works well as a side dish or main entree when served with all of the toppings. Traditional fideo seco is prepared similar to Mexican red rice, only this dish uses dry fideo noodles that are first toasted in oil and then simmered with a tomato-based broth until all of the liquid is absorbed.
Just so we're clear, this is not, I repeat, NOT sopa de fideo on day two after it absorbs all of the broth (if this happens to you and you want to know the secret to keeping your sopa de fideo nice and soupy, check out my 5 tips and tricks to the perfect sopa de fideo).
INGREDIENTS
Fideo: For authentic fideo seco, I like to use the thicker Mexican pasta that is simply labeled, "Fideo." I avoid making fideo secowith vermicelli because they are much thinner and burn too easily in this recipe.
Onion and Garlic: These aromatics are sautéed in oil to bring out their amazing flavors.
Roma Tomatoes: Choose ripe, plump tomatoes that are a deep red and are firm but with a slight give under pressure.
Guajillo Chile: The dried chile adds a little kick and is reminiscent of the fiery fideo I loved in Oaxaca.
Oil: Oil is used to sauté the onion and garlic and to toast the fideo noodles.
Broth: You can use chicken broth or use vegetable broth to keep it vegan.
Salt and Pepper
TOOLS, SUPPLIES, AND EQUIPMENT
Knife
Cutting Board
Blender
Medium Pot
Large Heavy Pot (cast iron if possible) with a lid, it can be large but doesn't have to be deep
Silicone or Wooden Spatula
HOW TO MAKE THIS RECIPE
Make a flavorful tomato sauce.

I prefer making mine from scratch, because with such a simple dish, you want to infuse as much flavor as possible into the noodles, which is why I use my Mexican Tomato Sauce recipe. The tomato sauce consists of tomatoes, onion, and garlic. When I'm replicating the flavors from Oaxaca, I also add guajillo or chipotle chile to add a little kick.

Toast the noodles in oil, low and slow.

The noodles should change from golden in color, to a darker brown, without burning them. The trick here is to constantly stir your noodles.

Once your fideo is toasted to perfection, it's time to bring everything together.

Mix in your tomato sauce along with chicken or veggie broth and bring it to a boil before lowering the heat, covering, and simmering until all of the liquid is absorbed.
HOW TO SERVE
Like many Mexican dishes, fideo seco is one that is best served with all of the fun garnishes. A few of my favorites include:
Fresh cilantro
Sliced avocado
Thinly sliced or chopped red onion
Crema Mexicana
Crumbled queso fresco
TIPS, TRICKS, AND SUBSTITUTIONS
There are different ways to make the Homemade Tomato Sauce, and my preferred method is to coarsely chop the ingredients and sauté everything until the mixture looks like a thick jam before blending and jarring it. This brings out each ingredient's full flavor.
Alternatively, you can blend the tomatoes, onion, and garlic and then "fry" the sauce in oil until it changes color (you're looking for a deeper orange color), reduces slightly, and is no longer raw. Either way works and once it's thoroughly cooked, you can use it or jar and freeze it.
For a quick version of my Mexican Tomato Sauce, you can also used diced canned tomatoes instead of fresh ones.
Any type of tomato works well in this recipe. If you don't have access to fresh tomatoes when making this recipe, diced or whole canned tomatoes would also work.
Only fideo noodles create the texture and flavor I like for this recipe. I have seen recipes that recommend using angel hair pasta or thin spaghetti noodles, both of which I have tried and neither of which I recommend. These recipes suggest breaking these pastas into smaller pieces to make them easier to fry. This ends up creating a huge mess and they're never small enough to fry properly. So just do what you need to do to get the Mexican pasta labeled, "fideo"!
Instead of guajillo chiles, use chipotle peppers in adobo sauce.
FREQUENTLY ASKED QUESTIONS
Where can I buy fideo?
Most Mexican grocery stores carry an infinite variety of Mexican pastas, including fideo. You may also be able to find it in the Hispanic food aisle or your local grocery store (I have even found it at my Super Target in the suburbs). It typically costs no more than $1 per 7-ounce bag. Talk about a budget meal!
Are vermicelli and fideo the same thing?
Fideo simply translates to "noodle," and is similar to Italian vermicelli in shape. Both are made out of wheat and water, but video is cut into shorter, 1-inch pieces and sold in small, 7-ounce bags.
Can I use regular canned tomato sauce?
No. It doesn't provide the same flavor necessary to make this dish shine, but like I mentioned above, you can use canned whole or diced tomatoes in place of the fresh tomatoes to make your sauce.
Can I make fideo seco ahead of time?
Yes! You can definitely make it ahead of time and reheat it later. Just store the cooked fideo in the refrigerator for up to 3 days, then reheat it in the microwave or on the stovetop. Avoid garnishing until you are ready to serve.
How do I prevent the noodles from sticking together?
Be sure to stir the noodles frequently while toasting them in the skillet.
HOW TO STORE AND REHEAT
Store in an air-tight container in the refrigerator for up to 5 days.
To reheat in the microwave, place in a glass dish for 1-2 minutes. Otherwise reheat it in a small pot over low heat.
WHAT PAIRS WELL WITH SOPA DE FIDEO SECO?
LOOKING FOR MORE INSPIRATION?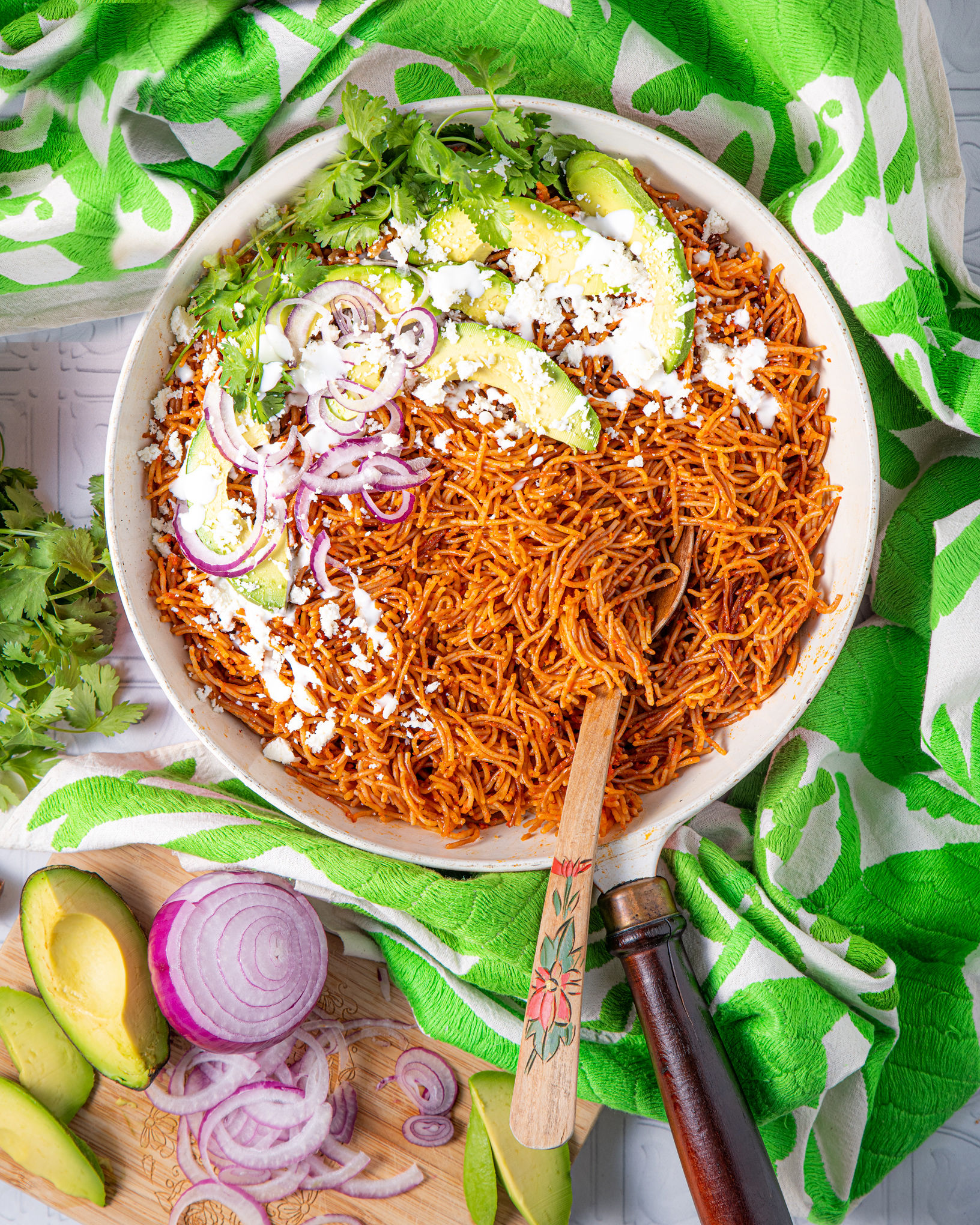 Fideo Seco
If you're looking for the best Fideo Seco recipe, look no further. Fideo Seco is a comforting Mexican pasta dish inspired by my travels to Oaxaca. In this recipe, fideo noodles are toasted in oil to enhance their rich, nutty flavor, then slowly simmered in a luscious tomato broth infused with guajillo peppers.
Equipment
Large heavy pot (cast iron if possible) with lid

Silicone or wooden spatula
Ingredients
1/2

cup

diced white onion, about 1 small onion

3

medium garlic cloves, mashed

1

pound

tomatoes, about 3-4 medium Roma tomatoes, roughly chopped

3

dry guajillo peppers, stems removed and cut into 1-inch pieces

(or 2 chipotle peppers in adobo sauce)

3

tablespoons

oil

3

cups

chicken or vegetable broth

14

ounces

fideo noodles

salt, to taste
OPTIONAL GARNISHES
avocado, sliced or cubed

red onion, sliced or diced

fresh cilantro

crema Mexicana

queso fresco, crumbled
Instructions
First, heat oil in a saucepan over medium heat. Once hot, add onion and separate into smaller pieces until translucent and soft, about 5 minutes. Light browning of onions adds flavor.

Next, add garlic and cook for an additional 2 minutes, or until soft.

Reduce heat to low-medium and add tomatoes, optional guajillo peppers, and salt. Cover and simmer until mixture is jam-like in texture and ingredients are no longer raw, about 30 minutes.

Next, in a separate large pot, add 2 more tablespoons of oil over low-medium heat. Once hot (test with one noodle – it should simmer when added to the oil), add fideo and toast until browned. Using a spatula, stir frequently to avoid burning. If noodles start to turn dark brown in color, remove pot and lower heat before resuming. Noodles should brown slowly and gradually over the course of approximately 6-10 minutes.

Add 3 cups of broth and 1 to 1½ cups of homemade tomato sauce to your noodles and stir. Taste and adjust for salt before stirring one last time. Raise heat to medium-high and bring to a boil. Once you can just begin to see the noodles through the tomatoey broth, lower to lowest heat, cover, and simmer until liquid is fully absorbed, after about 25 minutes. Do not be tempted to open the lid until after your timer has gone off!

Serve hot with as many or as few garnishes and you'd like! I top mine with a drizzle of crema Mexicana, sliced avocado, thinly sliced red onion, a sprig of fresh cilantro, and crumbled queso fresco. I reheat it the next day and top it with a fried egg for breakfast!
A Note from Lola
Only garnish what you're eating: I typically only garnish the entire pot if I'm hosting a crowd and know that it's going to finish, otherwise I just let everyone add what they like so that I can store the leftovers without the fresh garnishes.
If you're pressed for time: feel free to blend the tomato sauce ingredients first, then "fry" the sauce in 2 tablespoons of oil until it reduces slightly and turns deep orange in color. You can make this tomato sauce for this recipe in advance and freeze it!
Nutrition
Serving:
1
cup
Calories:
252
kcal
Carbohydrates:
46
g
Protein:
3
g
Fat:
6
g
Saturated Fat:
1
g
Polyunsaturated Fat:
2
g
Monounsaturated Fat:
3
g
Trans Fat:
0.02
g
Cholesterol:
2
mg
Sodium:
422
mg
Potassium:
209
mg
Fiber:
2
g
Sugar:
3
g
Vitamin A:
822
IU
Vitamin C:
9
mg
Calcium:
23
mg
Iron:
1
mg
252
LOVE THIS RECIPE?
Leave a comment below or tag me on social media @lolascoina
Originally Published: September 8, 2022
Photography + Styling: Cacey McReavy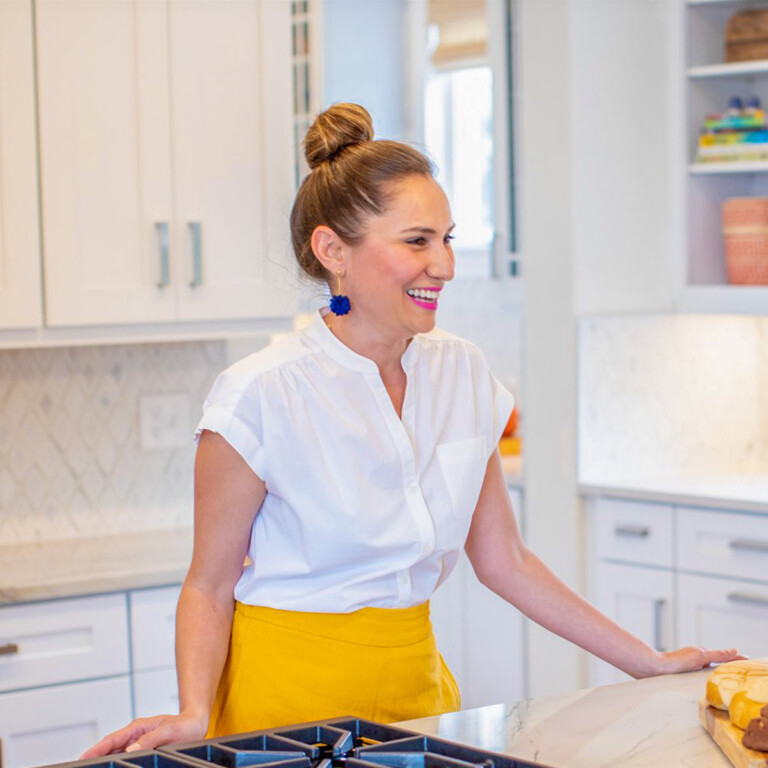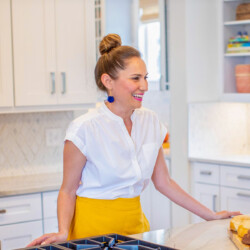 Lola Wiarco Dweck
Lola is a Mexican-American recipe developer, writer, and cooking instructor who loves sharing her culture with the world. Growing up in California and spending summers in Mexico, Lola celebrates her family's Mexican recipes and vibrant culture through Lola's Cocina.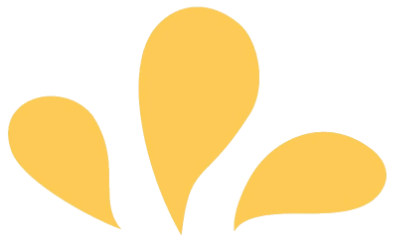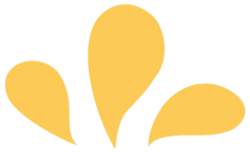 Sign up for ¡Hola de Lola!