I first tasted mole negro during an all-girls' trip to Oaxaca that included my mother, aunt, two cousins, three sisters, and niece. It was an interesting time to visit because tourism was at an all time low due to 2006 teacher protests that called for the removal of Oaxaca's governor.
When I returned in 2012 to conduct thesis research, cooking school instructors informed me that the tourism industry never fully recovered from this event. Despite these challenges, the area's rich culinary culture continues to flourish and I was fortunate to learn this mole negro recipe from one of Oaxaca's great traditional cooks, Reyna Mendoza, owner and instructor at El Sabor Zapoteco.
These were the 25+ ingredients used to make mole negro in Reyna's class.
This recipe is a labor of love and the process can take more than one day to complete. Ingredients, such as the chilhuacle chile pepper, can only be found in Oaxaca or in Latin markets that specialize in Oaxacan products. For these reasons, mole negro is reserved for special days of reverence including Day of the Dead and wedding celebrations.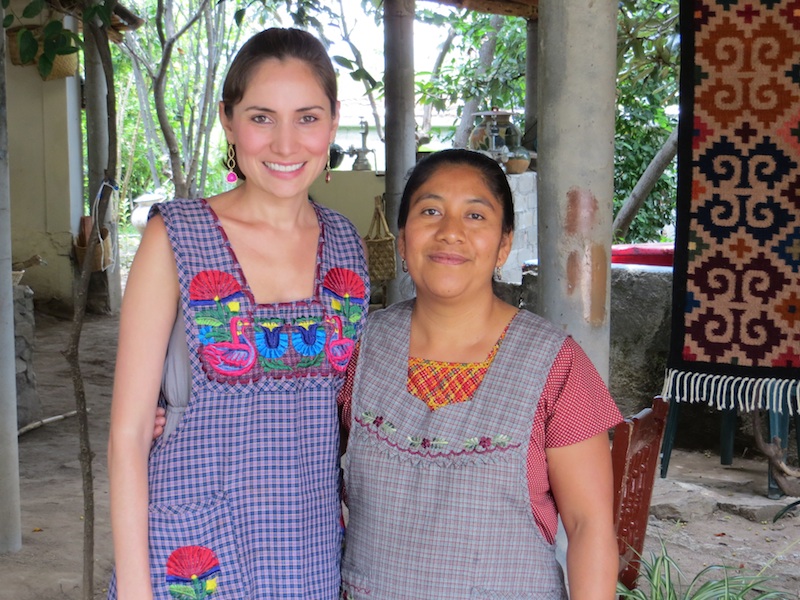 One of my cooking mentors, Reyna Mendoza of El Sabor Zapoteco
INGREDIENTS (MOLE SAUCE)
8 guajillo chiles destemmed and deseeded
4 dry chilhuacle chile peppers destemmed and deseeded
4 mulato chile peppers (or ancho negro) destemmed and deseeded
1/3 cup sesame seeds
1/4 cup raisins
7 almonds
1/4 cup walnuts
1/8 piece whole nutmeg
2 allspice berries
3 whole cloves
1 cinnamon stick
1/2 teaspoon dry ginger
2 teaspoons dry thyme
1 tablespoon dry oregano
2 avocado leaves
2 bay leaves
1/2 onion (unpeeled)
2 whole heads garlic (unpeeled)
1/2 pound tomatoes
1/4 pound tomatillos
3 cups chicken stock divided
3 tablespoons lard (or oil)
2 pieces toasted white bread
1/3 cup sugar
3/4 cup Mexican chocolate
Salt (to taste)
INGREDIENTS (CHICKEN)
6 pieces chicken
12 cloves garlic
1 cup water
Salt (to taste)
PREPARATION (MOLE SAUCE)
Toast all chiles over medium heat on a comal or flat griddle, moving them frequently until they release their aromas and become darker in color. Remove from heat and set aside.
Next, quickly toast sesame seeds until they darken slightly and begin to pop. Remove from heat and set aside.
Then, toast raisins until they begin to darken and swell. Remove from heat and set aside.
Continue to toast the almonds, walnuts, nutmeg, allspice berries, cloves, cinnamon, and ginger, all at once, moving frequently. Remove from heat and set aside once they begin to release their aromas.
For the oregano, thyme, bay leaves, and avocado leaves, quickly toast on the comal just until their aromas are released (about 5 seconds), and then remove from heat.
Toast the onion and garlic until soft and slightly blackened. Remove from heat, then peel once cool enough to handle.
Roast tomatoes and tomatillos until soft.
Finally, toast the chiles until they are completely blackened. Then light them with a match. The flame will go out on its own.
Pour hot water over toasted chiles for 5 minutes, then discard water.
Mix softened chiles with other toasted/roasted ingredients, except for the avocado and bay leaves.
Working in batches, blend ingredients until very smooth. If necessary, add a small amount of chicken broth to get the blender going.
Prepare a large pot over medium-hight heat. Add lard or oil until it becomes very hot.
Add chile mixture to pot and fry, stirring frequently as it thickens for approximately 10 minutes.
Add 2 cups chicken broth, avocado and bay leaves, chocolate, sugar, and salt. Bring to a boil for 5 minutes.
In the meantime, blend toasted bread with a small amount of chicken broth. Add this thickener to pot with chile mixture, and lower to medium heat. Simmer approximately 15 more minutes, stirring occasionally.
Serve over a piece of chicken (see preparation instructions below) with a side of rice.
PREPARATION (CHICKEN)
Grind garlic with salt into fine paste in a molcajete (pestle and mortar) then add just enough water to transfer garlic mixture into large pan. Alternatively, you may blend garlic with salt and water in a blender until smooth. Add mixture to pan and allow to get very hot over medium heat.
Add chicken and simmer until liquid reduces and chicken releases its own oils. Once liquid is almost disoved completely, lower heat and fry chicken in its oils until completely cooked.
Save
Save
Save
Save
Save