Holy Moly! Malteada de Mole
¡Hola! It's been a crazy week in Lola's Cocina since returning from a whirlwind trip to New Orleans where we celebrated my mom's birthday. It seems like we got home, had just enough time to wash our chones, and now we're already packing for another trip to the east coast. With all of this travel, I'm always looking for quick meal ideas and recently I've been on a breakfast smoothie kick.
Today's smoothie recipe is inspired by a recent interview on the Tamarindo Podcast with Karina Jimenez. Karina is the creative genius behind Viva Los Cupcakes, a California-based specialty cupcake company that draws inspiration from Mexican regional foods and desserts to create unique cupcake flavors. Her award-winning tamal con mole flavor is always a fan favorite.
After listening to Karina's interview, I was on a mission to create a little something sweet with Guelaguetza's Mole Negro Oaxaca Black Mole Paste. If she could transform mole into a cupcake, I could take the same idea and apply it to a smoothie, right? Mole negro is the mother of moles and is one of the most labor-intensive of the illustrious sauces to make. It contains over 25 ingredients and is a true representation of the Columbian Exchange, where flavors from the Old World meet the New World.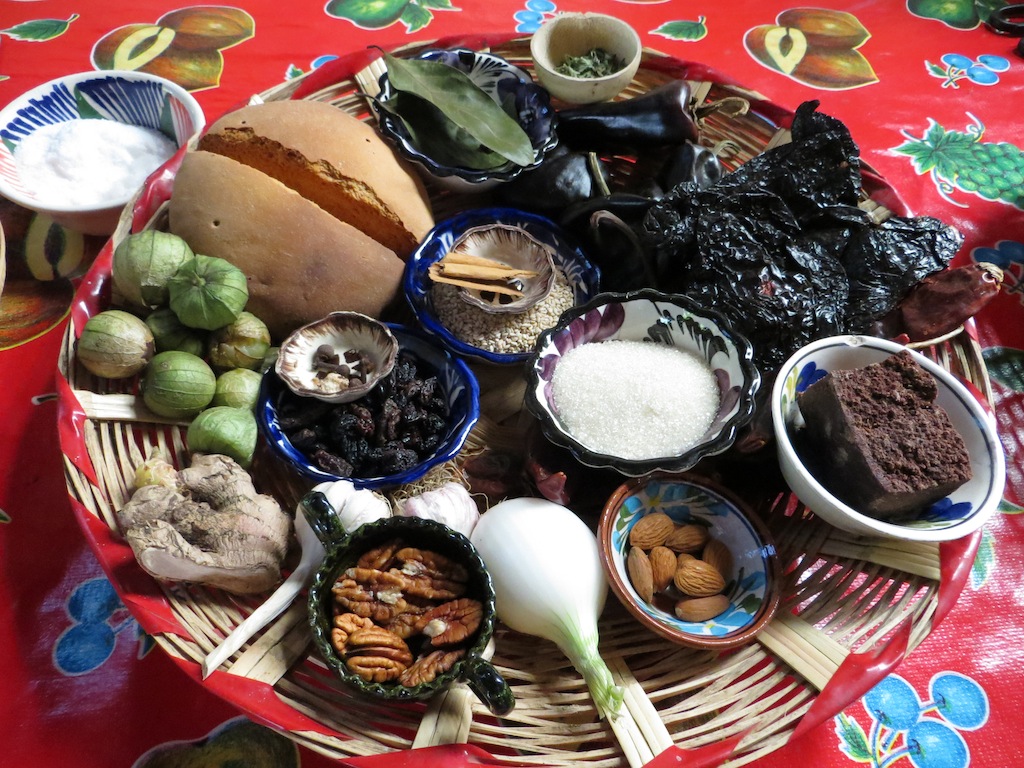 These are the 25+ ingredients we used to make mole negro at El Sabor Zapoteco cooking school.
Now I know what you're thinking: how in the world can savory mole possibly taste good in a smoothie? Well, without adding chicken broth to turn it into a sauce, the basic ingredients in mole are quite sweet. I simply enhanced those flavors to create a mildly sweet smoothie with a hint of chocolate and spice. After all, what would the world be without an open exchange of ideas, ingredients, and flavors?
Ingredients
3 tablespoons Mole Negro Oaxaca Black Mole Paste
2 cups of your favorite milk (whole, almond, rice, or coconut milk work well)
3 tablespoons dry, unsweetened oatmeal
1 tablespoons pecans
1 tablespoon raw almonds
1 inch cinnamon stick (or 1 teaspoon ground cinnamon)
4 pitted dates
2 tablespoons unsweetened cocoa powder
1 ripe banana
Ice, to taste
Optional garnishes
Raw cacao nibs
Sesame seeds
Preparation
Combine mole, milk, oatmeal, pecans, almonds, cinnamon, dates, cocoa powder, banana, and ice and blend for 60 seconds.

Garnish with raw cacao nibs and sesame seeds if desired and enjoy immediately.
Many thanks to La Guelaguetza for sponsoring this post. The recipe and opinions shared are my own. To learn more or purchase Guelaguetza's moles, check out their online store.
Save
Save
Save
Save
Save
Save
Save
Save
Save
Save
Save
Save
Save
Save
Save