Day of the Dead: Passing on Cultural Traditions from One Generation to the Next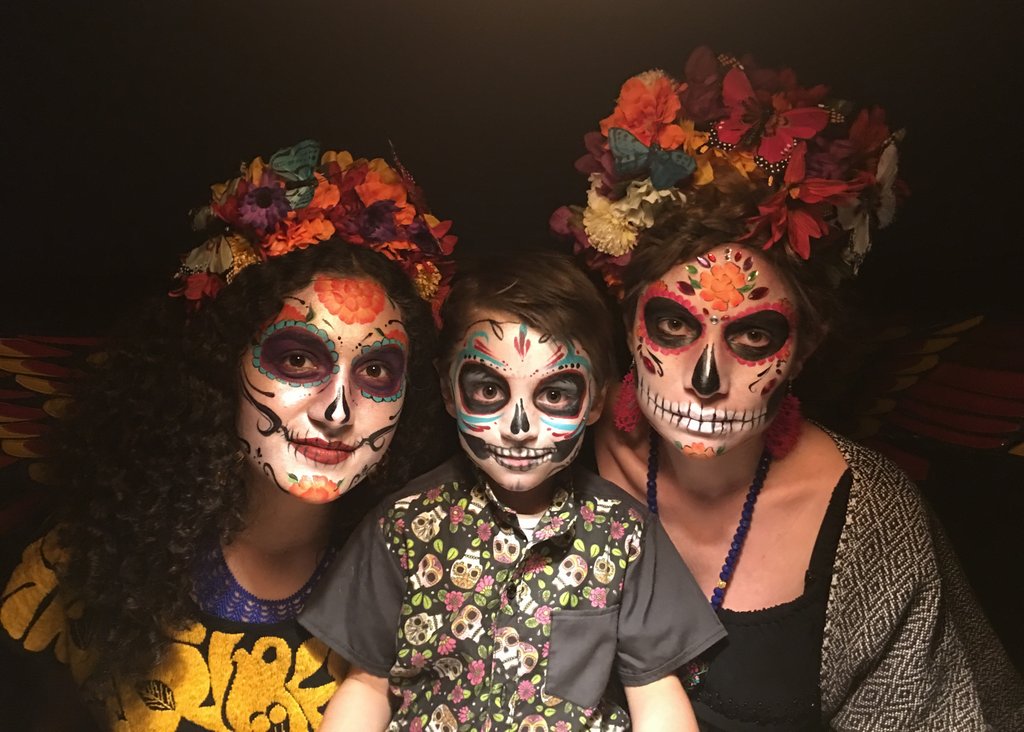 Last weekend I had an impromptu visit from my niece Vanessa who is studying in Boston (she was homesick). I was thrilled to learn that she'd be coming to see me since I had just begun to work on my Day of the Dead altar and I wanted to share the meaning behind it with her. To be honest, I was a little homesick, too.
With the passage of time, cultural traditions die unless there is a concerted effort to keep them alive. I've always been drawn to my Mexican heritage because I was directly exposed to it during our annual summer excursions where we'd visit my father's family. I'd like to think that I keep the flame alive by handing down those traditions from one generation to the next through my nieces and nephews, Amado, and now Valentina. As they grow older, it will be their responsibility to pass the torch on to their loved ones and preserve the light that illuminates our lives through our culture.
Each year, my altar is dedicated to my father who passed away 18 years ago.
Great grandparents Angelina "Angie" and Pedro "Pete"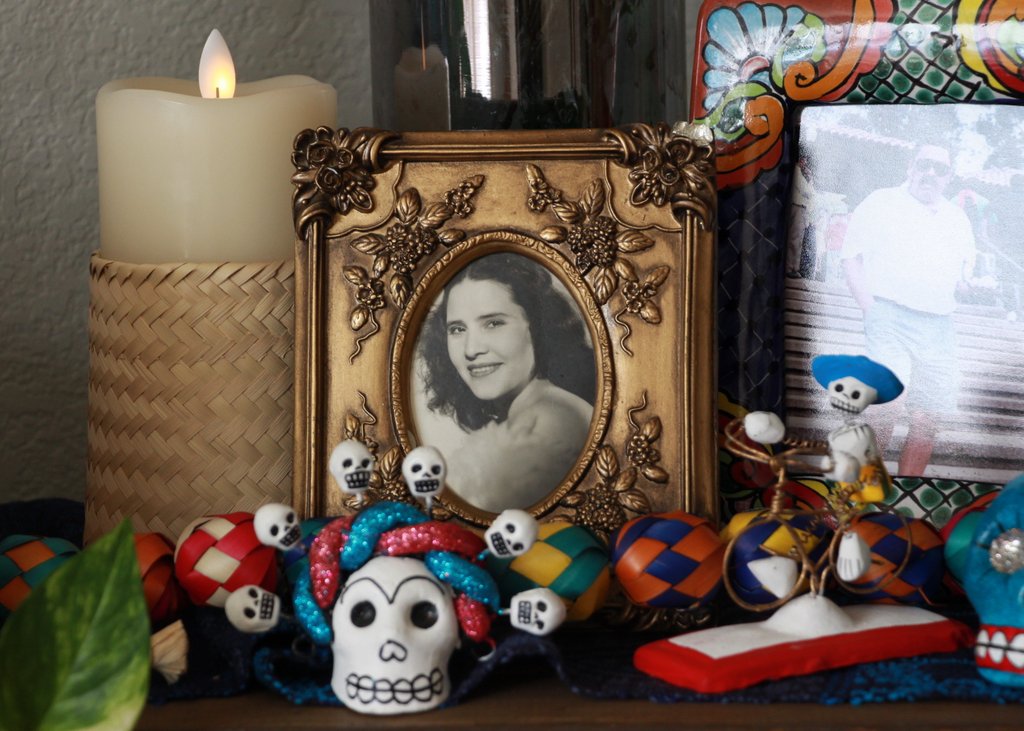 Great grandmother Maclovia known to us as "Grandma Macky"
My altar also honors my grandma Lola, cousins, uncles, and other relatives who have passed away.
This is the first year I've built a mini altar!
One way for me to do this is by passing on the knowledge and traditions associated with Día de los Muertos. Amado has helped me build my altar since he was two. Now he understands the meaning behind it and builds his own little altar. He asks me about the people we are honoring and even says he misses his grandparents – whom he never met – because we've shared so many stories about them. We go pick out pan de muerto and pan dulce together – a few pieces for us, a few pieces for our altars – and enjoy Mexican hot chocolate as we discuss the significance of different foods associated with Day of the Dead.
Pan de muerto, sugar skulls, and salt each have significance on Día de los Muertos altars.
Water and pan dulce do, too.
This year we tried something new and had our faces painted. In some parts of Mexico, people wear skull masks for Day of the Dead and the tradition of painting faces to look like skulls is a variation of this practice. Masks have always been powerful objects in many cultures, ones that allow the wearer to get in touch with their darker, chaotic side. These "masks" allow us to put our fear of death aside for a time and get in touch with our mischievous side, all while celebrating the lives of those who have passed on before us. Here are a few pictures from our photoshoot.
"Antes muerta que sencilla."
Vanessa, also known as "The Mamas" was channelling her inner Oaxacan warrior.
"To live in hearts we leave behind is not to die." — Thomas Campbell, "Hallowed Ground"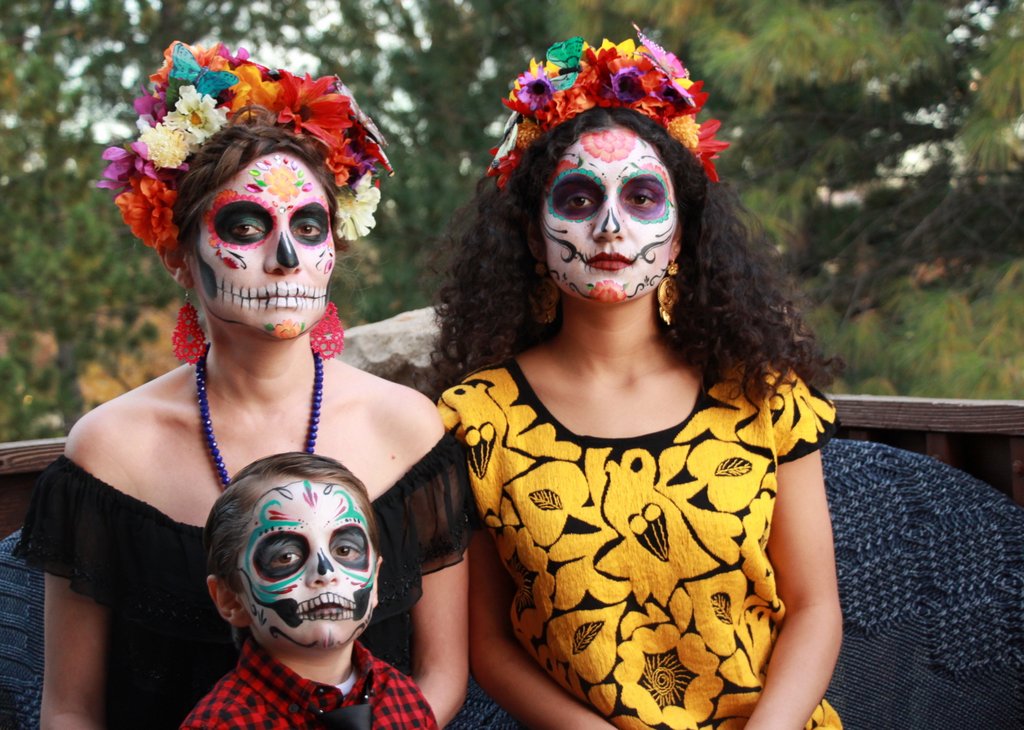 "Cuando te toca, aunque te quites… y cuando no, aunque te pongas."
Vanessa, Amado, and I created these flower head crowns by hot glueing artificial flowers and butterflies onto plastic headbands, all from the Dollar Tree.
I love Amado's little smirk in this picture.
Prom pose gone right.
"Mejor que digan que aquí corrio, que aquí murió."
Keeping our Mexican traditions alive with my children.
"¿Por qué temer la muerte? Si mientras existimos, ella no existe y cuando existe la muerte, entonces, no existimos nosotros."
"En este mundo matraca de morir nadie se escapa."
Many thanks to Stacie of Fun Faces and Beyond (pictured above) for making this day extra special for all of us!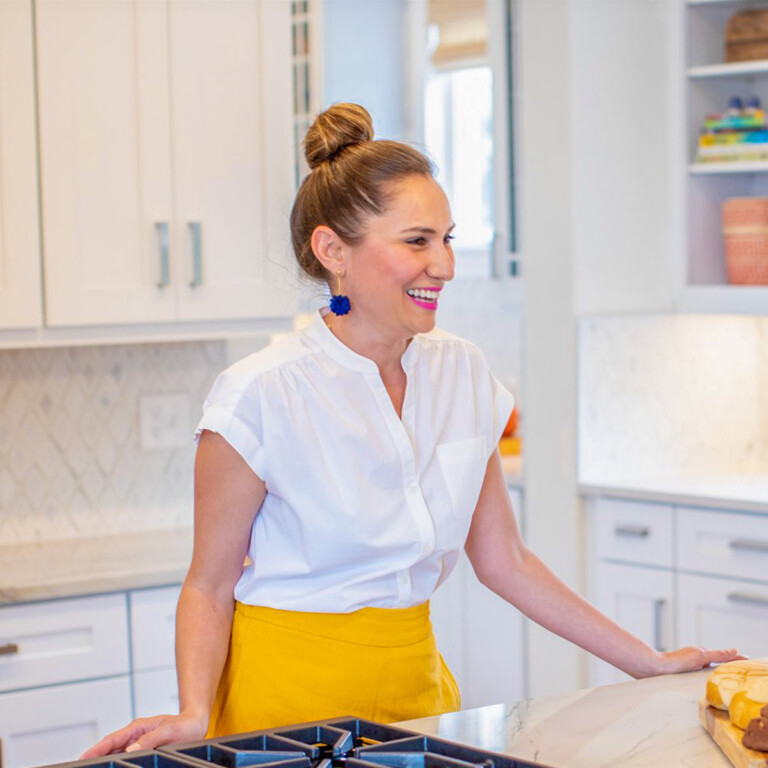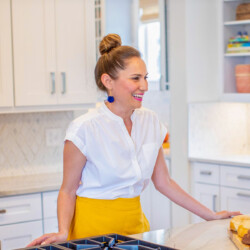 Lola Wiarco Dweck
Lola is a Mexican-American recipe developer, writer, and cooking instructor who loves sharing her culture with the world. Growing up in California and spending summers in Mexico, Lola celebrates her family's Mexican recipes and vibrant culture through Lola's Cocina.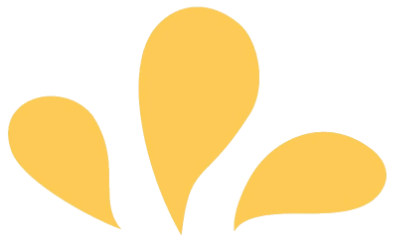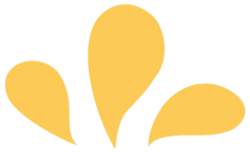 Sign up for ¡Hola de Lola!