Spicy Red Salsa with Chile Japonés | Salsa Roja con Chile Japonés
This classic red salsa is one that several people in my family prepare based on their interpretation of my grandma Lola's original recipe. My sister, Vanessa Wiarco, interviewed our grandmother before her passing and captured the recipe directly from her. Below is the original recipe and some spicy words from Vanessa.
—
As far back as I can remember I've always loved chile. Perhaps it's because I was born with a bit of natural spice myself. My first recollection of the "Grandma Lola chile" was when it was supposed to be used as a form of punishment against me when I was caught sucking my fingers. I vividly recall the red bowl of salsa presented to me, and being the little devil that I was (or am) I bravely stuck my two fingers in the salsa, licked them, and uttered "Mmmm…this is good," to my audience's shock, dismay, and yes, ultimate laughter! I suppose I've enjoyed people's reaction to what I do for the shock value ever since I was two years old.
Needless to say, I have a long history with this salsa. As I grew up and became a familia Wiarco chef, I learned to master the making of one of my favorite salsas, which packs a lot of punch and isn't for the faint of heart. It goes well with just about anything – tacos, huevos, and sandwiches, are just a few things I love to pair with this salsa. And what better way to preserve the memory and legacy of a hot and spicy grandmother than to pass on her recipe from one generation of Wiarco women to the next. And now I happily hand this recipe on to you, but please remember that its bark IS as loud as its bite! – Vanessa Wiarco (my sister)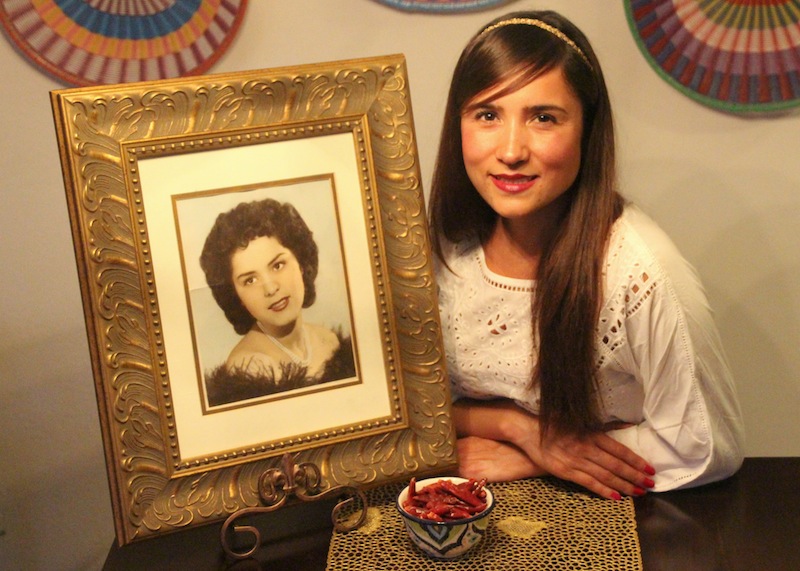 Recipe by Vanessa Wiarco (my sister), original recipe by Dolores (Lola) Drieslein (our grandmother)
Ingredients:
40 dry japones chiles
1½ cup water divided
2 large cloves garlic peeled
1 teaspoon salt (or to taste)
½ 8-ounce (small) can tomato sauce
Preparation:
Lightly toast chiles on a comal or large flat pan over low-medium heat. Move and turn frequently to avoid burning. Once chiles begin to release their aroma and become slightly darker in color, remove from heat.

Blend on medium setting with 1 cup water and garlic until somewhat smooth in texture. You want to still be able to see the seeds, but avoid having chunks of chile or garlic in the salsa.

Transfer chile mixture to a medium jar. Very lightly rinse blender with remaining ½ cup water to obtain remaining chili in blender and add chile-water mixture to jar as well.

Add tomato sauce and salt. Cover and shake jar vigorously until well mixed.

Taste and adjust salt. If necessary, add small amounts of water until salsa reaches desired consistency. This salsa should be light in consistency, but not watery.
Note: Do not, I repeat, do NOT blend tomato sauce with chiles and water to save time. This creates an entirely different texture. Store refrigerated and it can last up to two weeks.
Follow Lola's Cocina
Facebook | Pinterest | Instagram
Recent Posts
Red Spanish Rice
Strawberries and Cream
Strawberry Agua Fresca
Chayote Soup
Tres del Mes: 3 Ways to Prepare Chayotes
Pomegranates with Lime and Chile Salt
Potatoes with Chorizo