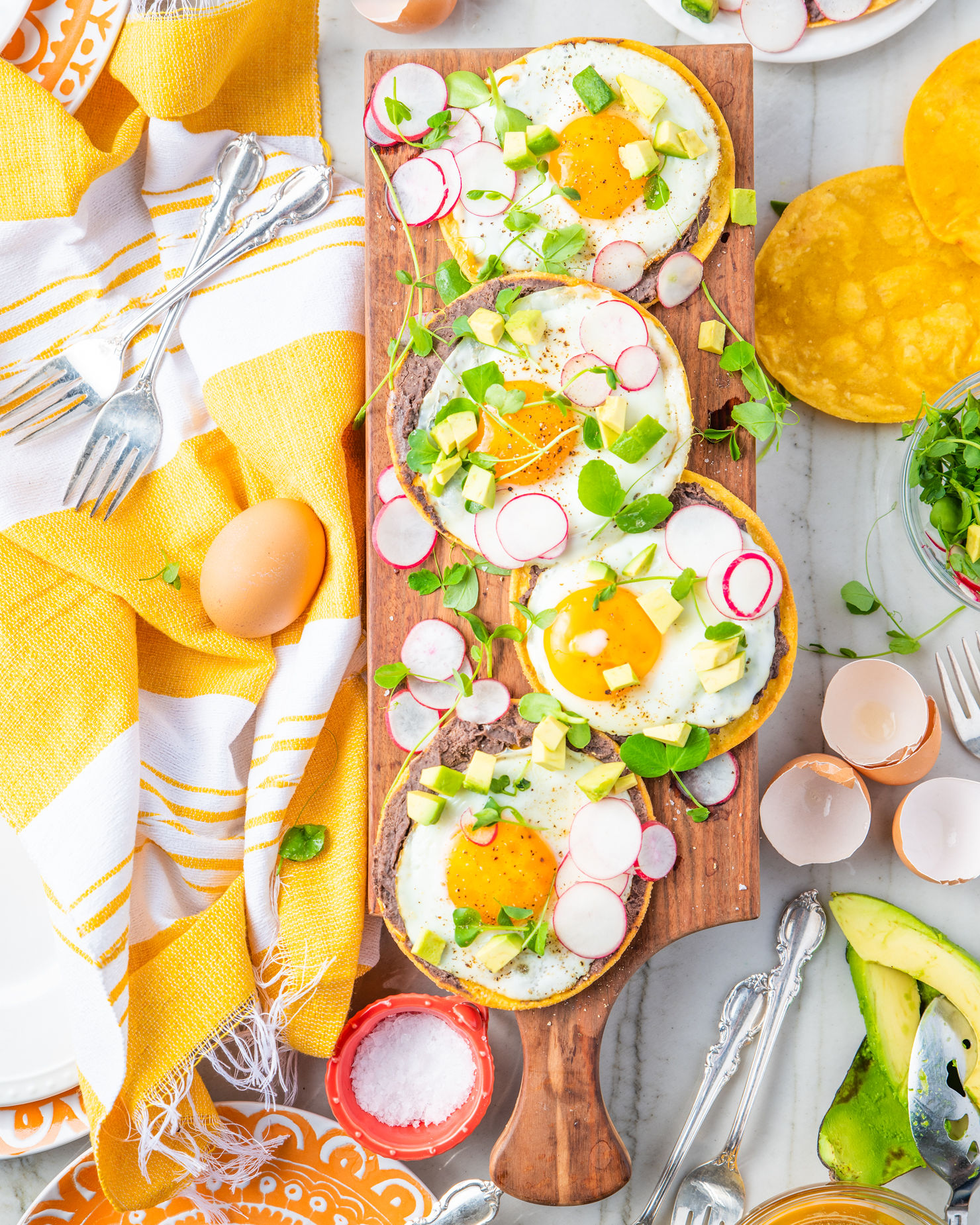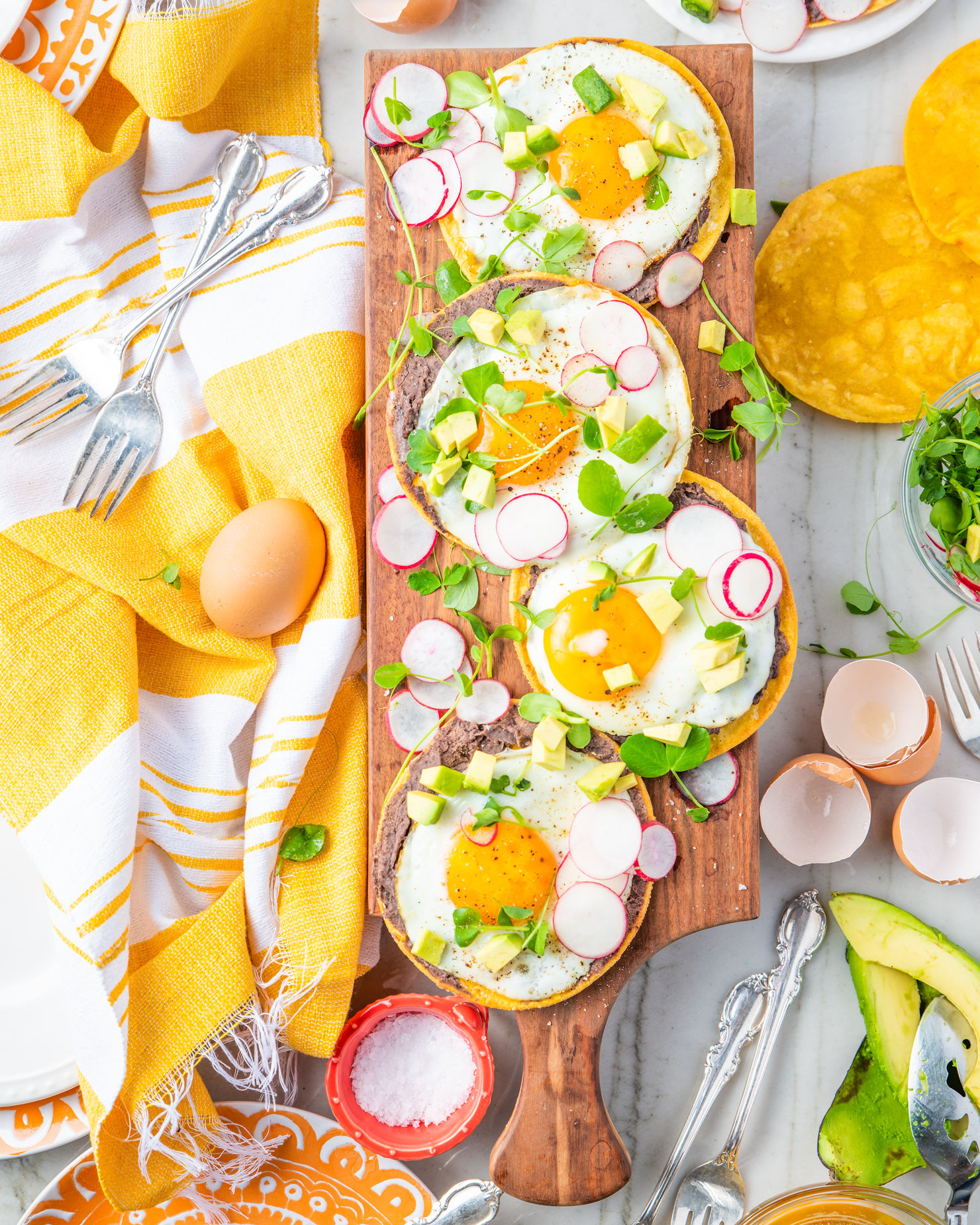 Given the culinary versatility of eggs, they always seem to find a way into my recipes. And when it comes to Mexican breakfast dishes, olvídalo, they steal the show. Therefore it is quite serendipitous (and exciting!) that this year, I've partnered with Nellie's Free Range Eggs to create a variety of flavorful recipes showcasing one of my absolute favorite ingredients: huevos.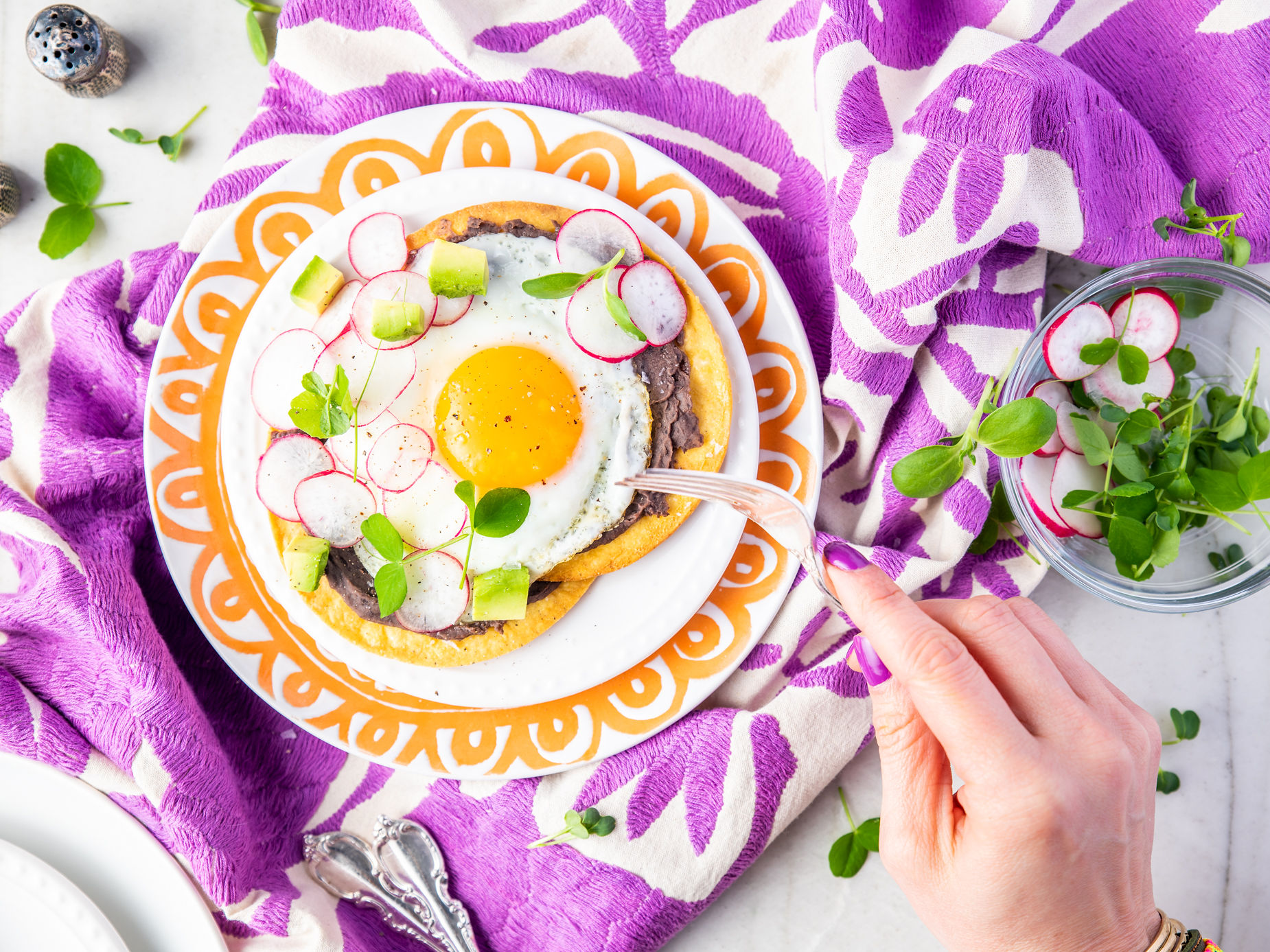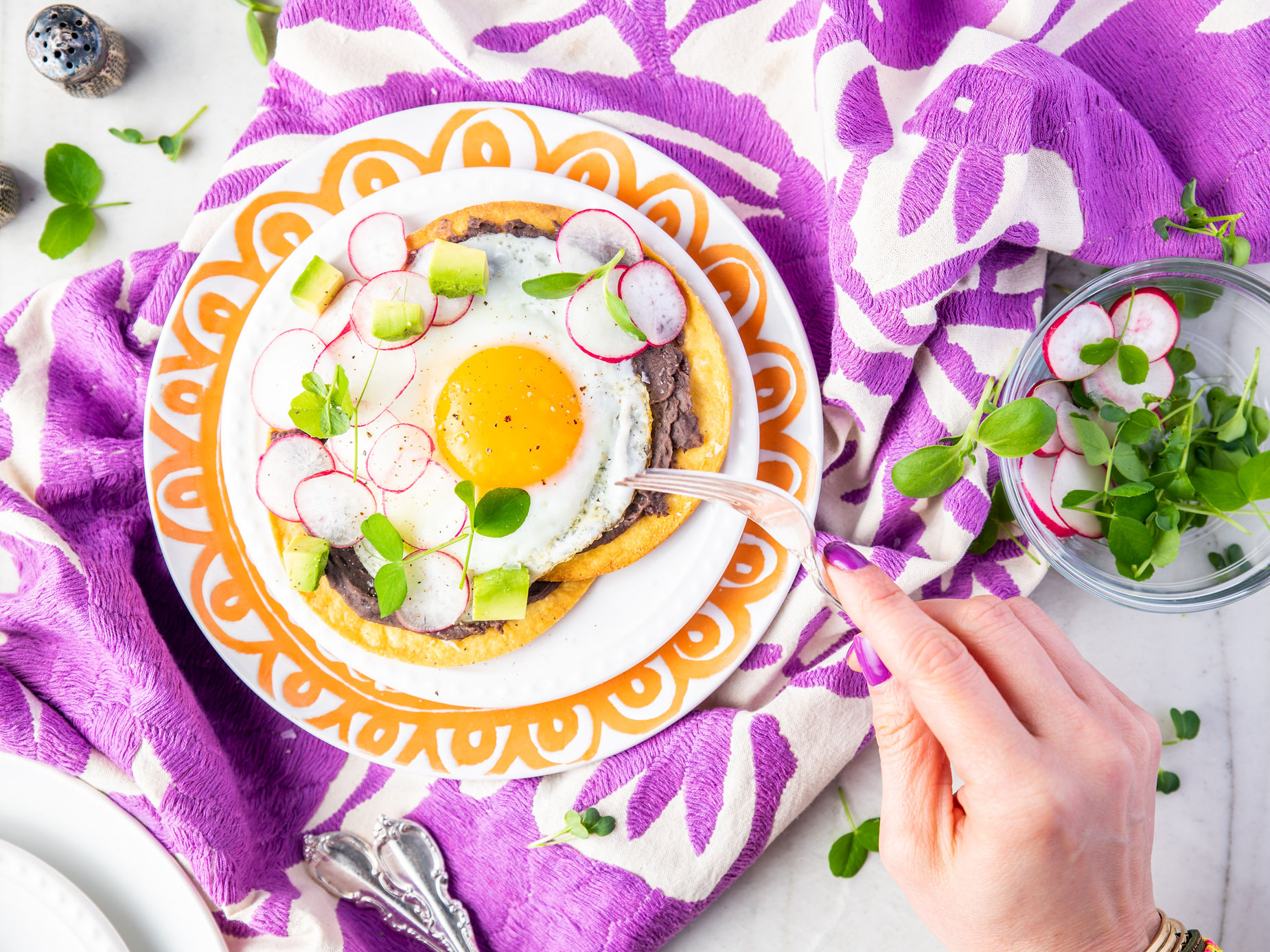 A few weeks ago, Amado and I got the mid-day munchies and were on a mission to make something to curb our cravings. There are several items I always have stocked for precisely these occasions: corn tortillas, beans, and eggs. It dawned on me that with these three simple ingredients, we could create delicious and hearty tostadas. While we typically enjoy tostadas topped with eggs in the morning, they proved to be exactly what we needed to fill our bellies that afternoon.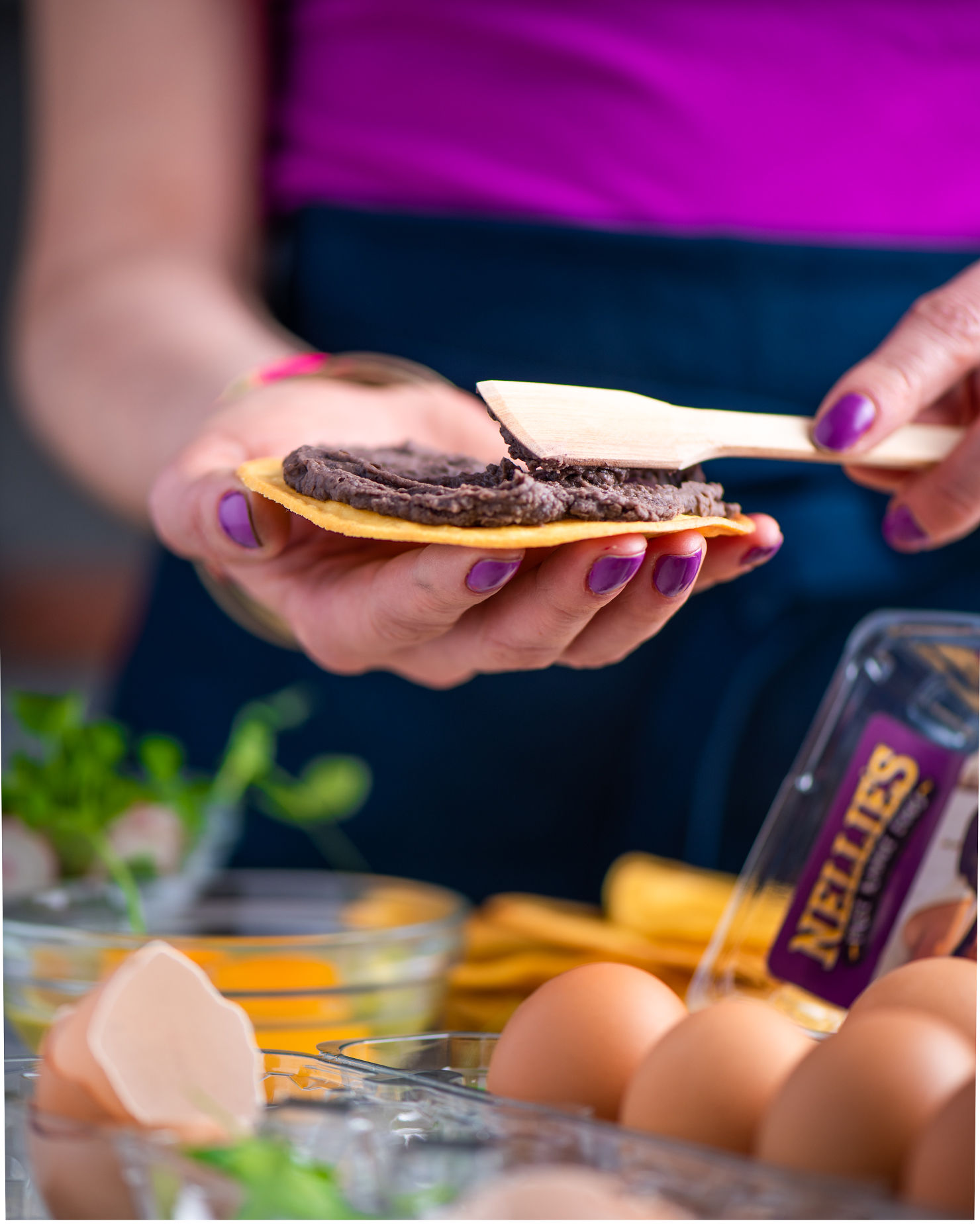 What I enjoyed most was how quickly our little meal came together. I got busy with the refried beans while Amado expressed an interest in frying the tostadas. Working with hot oil can be intimidating, but Amado was a natural under my supervision and made for quite the sous chef. He was on such a roll that he took the liberty to scramble and cook his own eggs to top a few crispy tostadas, too. I prepared mine sunny-side-up and in just about 30 minutes, we had a wonderful protein-packed meal.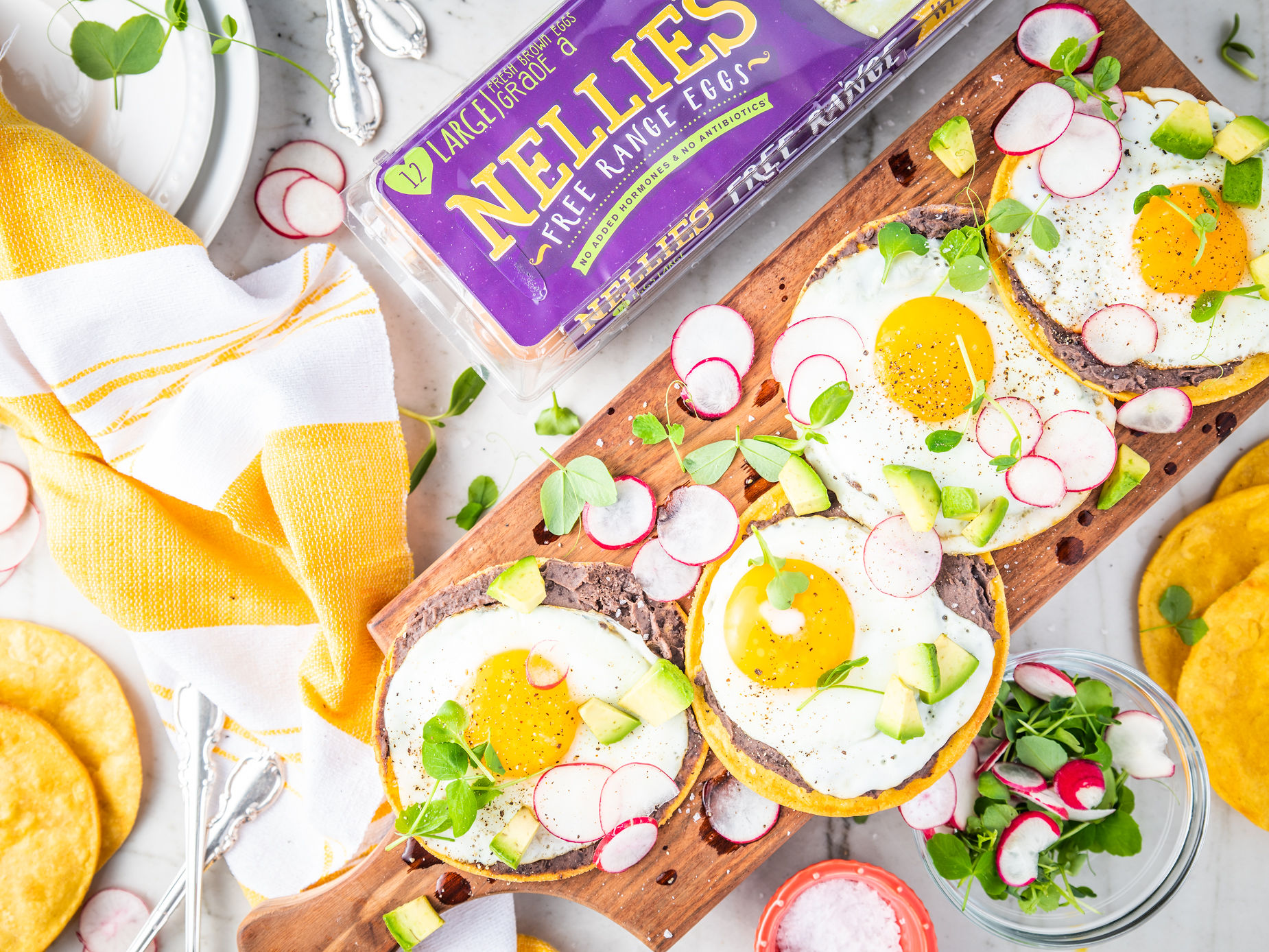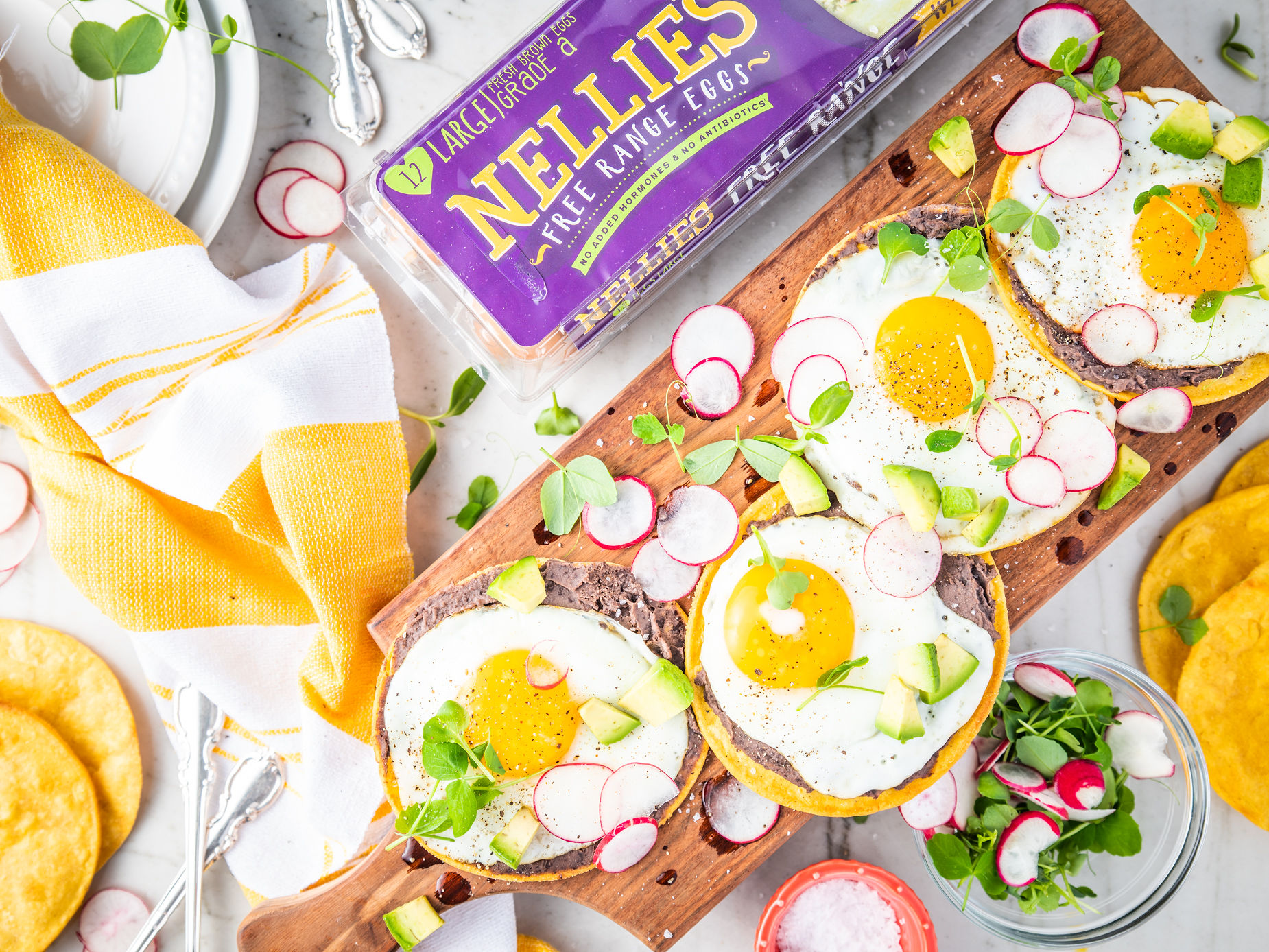 Eggs can be eaten morning, noon, or night and are an important staple in our household. They're perfect in both sweet and savory dishes and this is one of several recipes I'll be sharing this year, showcasing Nellie's Free Range Eggs.
These tostadas are perfect topped with scrambled, over-easy, or sunny-side-up eggs. I love my egg fried, with a perfectly runny yolk. Because Nellie's hens are Certified Humane Free Range, the eggs have beautiful golden yolks, stronger shells, and a rich, full flavor.
You can enjoy your tostadas topped with beans and eggs and keep the garnishes as simple or elaborate as your heart desires. I always love topping mine with salsa and other fresh ingredients.
I invite you to try your hand at this easy breakfast tostada recipe – but don't limit yourself to enjoying these only in the morning. Like most Mexican breakfast dishes, they are perfect to eat any time of day.
INGREDIENTS
1/2 small onion, chopped
4 cups cooked black beans with broth (or 2 15-ounce cans of black beans)
2 chipotle chile peppers in adobo sauce
8 corn tortillas
8 Nellie's Free Range Eggs
4-6 tablespoons coconut oil
Salt and pepper, to taste
OPTIONAL FRESH GARNISHES
Avocado, chopped or sliced
Cabbage, shredded
Radishes, thinly sliced
Microgreens
Edible flowers
Salsa of your choice (this one is my current favorite)
TOOLS, SUPPLIES, AND EQUIPMENT
Blender
8 to 10-inch pan for refried beans
6 to 8-inch pan for frying tostadas
Wooden spatula or large spoon
Tongs
Plate lined with paper towel
Knife and cutting board for fresh garnishes
PREP TIME: 10 minutes, COOK TIME: 20 minutes, YIELD: 8 tostadas
PREPARATION
In a large pan, sauté onion with 2 tablespoons coconut oil until translucent, over low-medium heat for approximately 5 minutes. Once onions become translucent, blend onion, black beans with broth, and chipotle pepper until creamy, about 60 seconds. Add mixture to the pan and sauté until beans are no longer runny on low-medium heat, stirring occasionally, for approximately 15 minutes. Beans will also thicken as they cool.
While the beans cook, prepare another small cast-iron skillet with 4 tablespoons coconut oil and once hot, fry tortillas individually for about 30 seconds on each side, or until golden and crispy. Drain on a plate with a paper towel.
Working in the same pan, add more coconut oil to coat the bottom of the pan, if necessary. Once hot, cook your eggs to your liking. We enjoy them scrambled and sunny-side-up on these tostadas.
TO SERVE
Assemble tostadas with a thick coat of creamy black beans, egg, and your favorite salsa and fresh garnishes.
JUST A TIP
If making your beans from scratch, feel free to use my Easy Slow Cooker Frijoles de la Olla recipe otherwise, two 15-ounce cans of our favorite beans also work in this recipe or you can use your choice of canned refried beans if you're really trying to save time. If you prefer a more traditional refried bean recipe, you might like my Classic Refried Beans recipe.
---
Many thanks to Nellie's Free Range Eggs for sponsoring this post. As always, the recipe and opinions shared about these products are my own.
To view the full lineup of Nellie's Free Range products, egg recipes, or to view a store locator, visit nelliesfreerange.com.
Photography + Styling: Cacey McReavy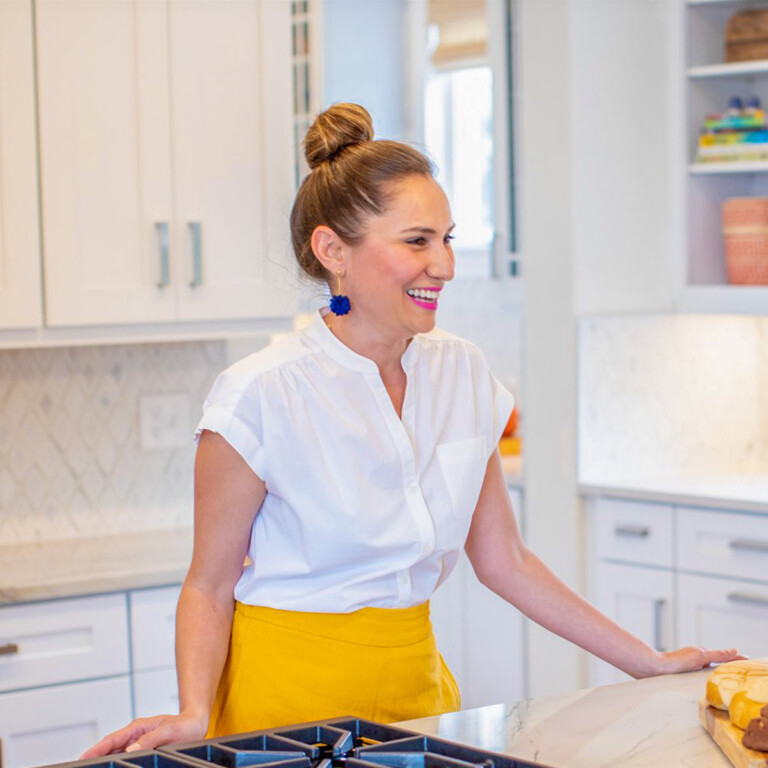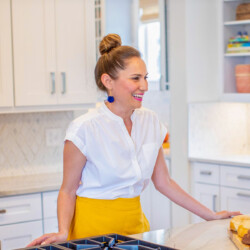 Lola Wiarco Dweck
Lola is a Mexican-American recipe developer, writer, and cooking instructor who loves sharing her culture with the world. Growing up in California and spending summers in Mexico, Lola celebrates her family's Mexican recipes and vibrant culture through Lola's Cocina.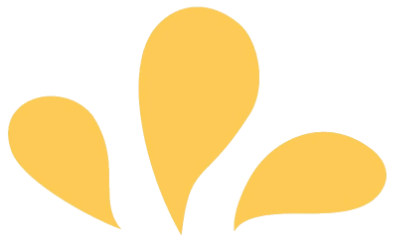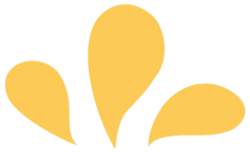 Sign up for ¡Hola de Lola!