Maracuya Drink (Passion Fruit Agua Fresca)
Tropical and refreshing this Maracuya Drink is exactly what you'll want in your ice-filled glass this summer. With only three simple ingredients this drink is the definition of chill.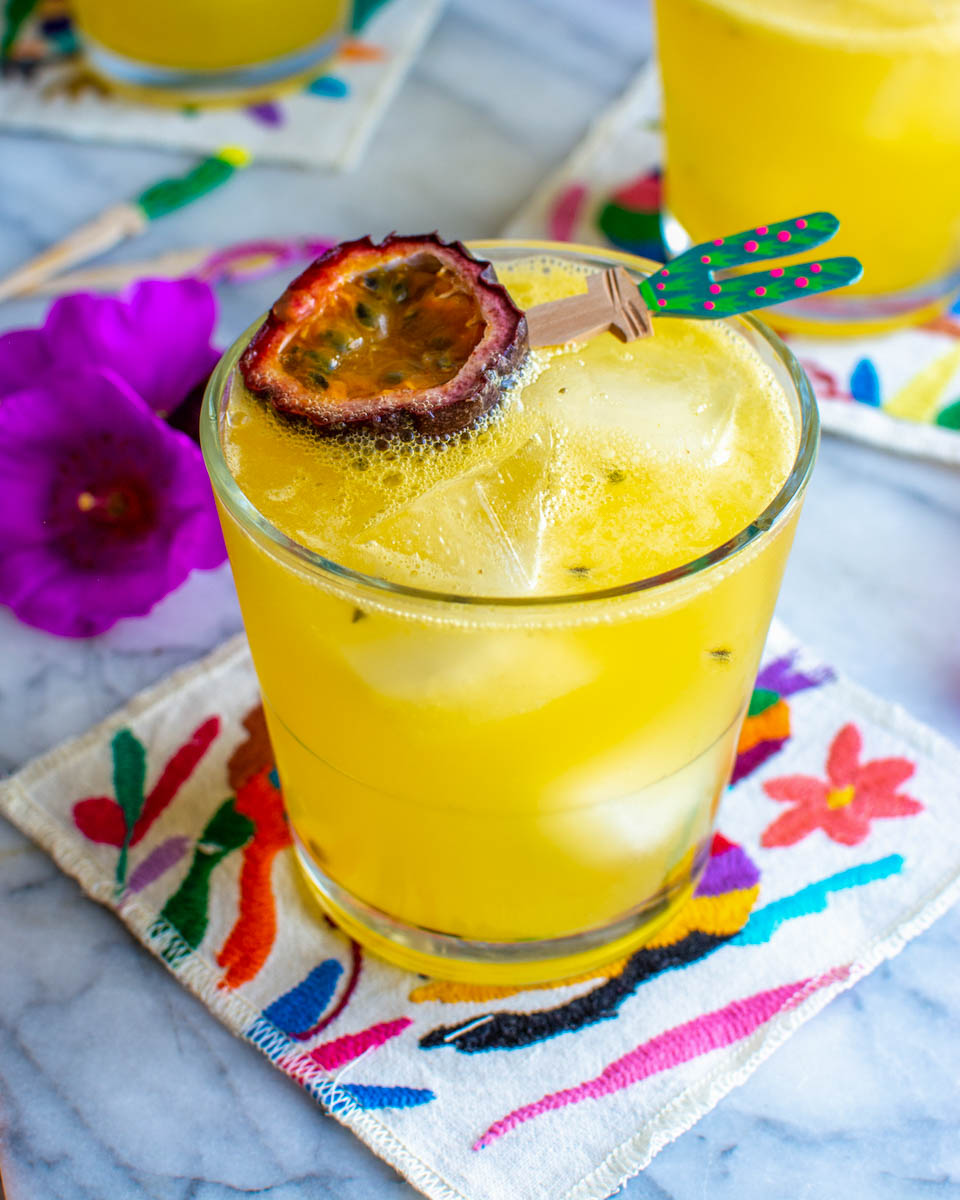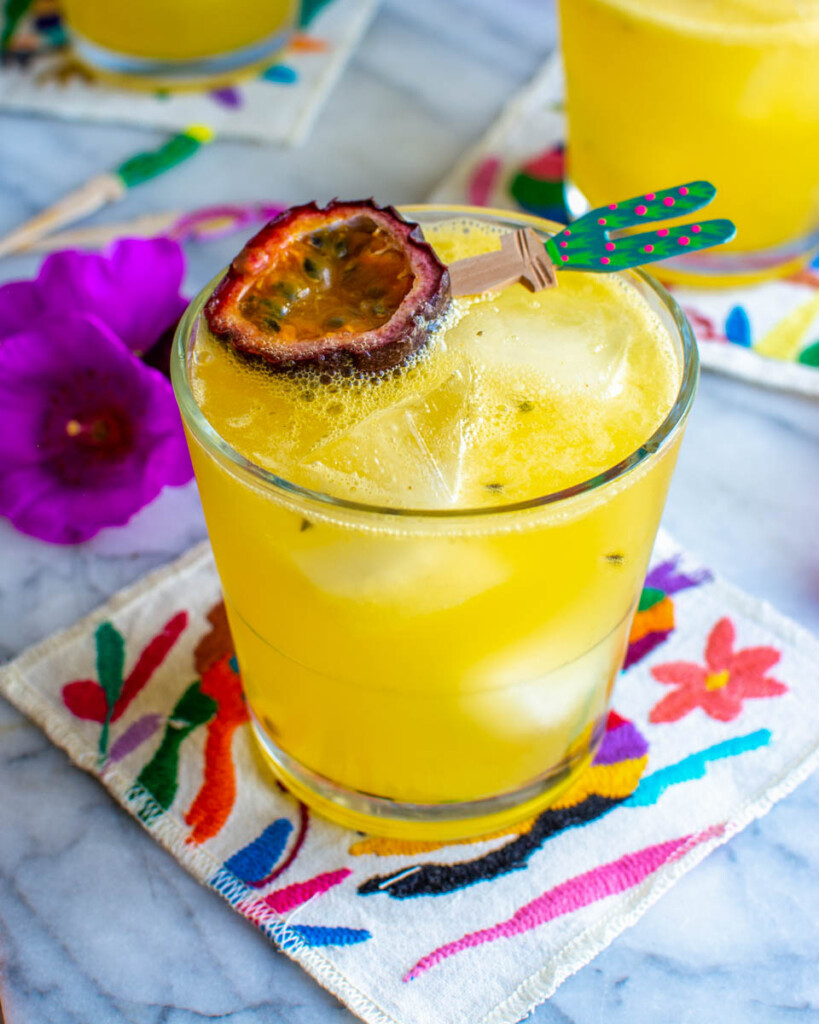 Recently, our days have been filled with sunshine and warm weather. A bit of California sunshine also made its way to Colorado when my friend from San Diego mailed me a box of maracuyás straight off her vines. This certainly brightened my spirits and inspired me to develop several passion fruit recipes including a classic agua de maracuya drink.
Maracuyás, more commonly known as passion fruit, contain a sweet-tart pulp that can be transformed into a fun libation or dessert. Their seeds add fun texture to everything, too. I'm a big fan and love to use them in everything from salsa to sorbet.
While vacationing in Panama, I had agua de maracuyá every morning. It wasn't overly sweet, which I loved and tried to replicate in my recipe.
WHY YOU'LL LOVE THIS RECIPE
Passion fruit has recently gained attention because it is a rich source of powerful antioxidants and contains high levels of vitamin C and A, which are important for skin, vision, and the immune system. They're the perfect tropical addition to this agua fresca, too.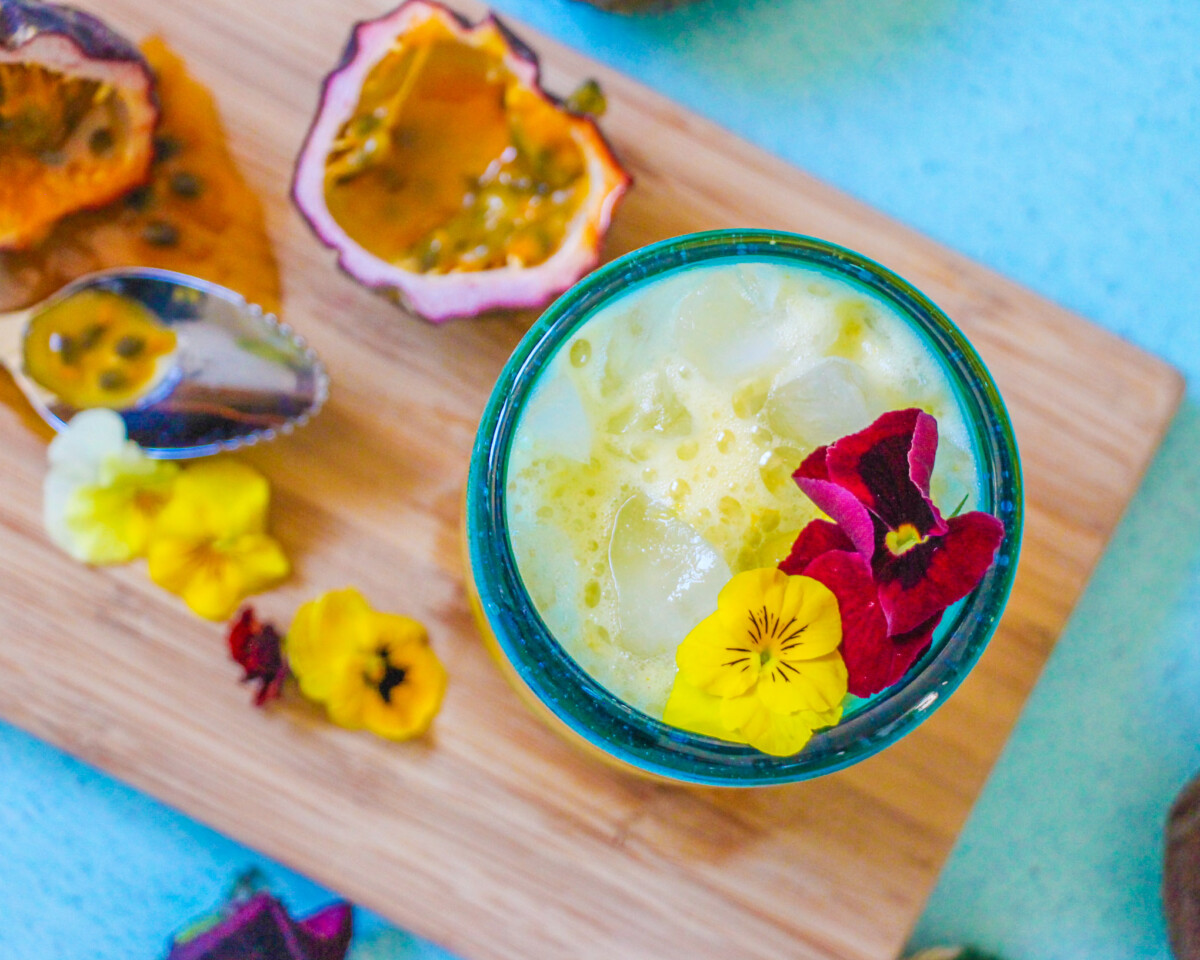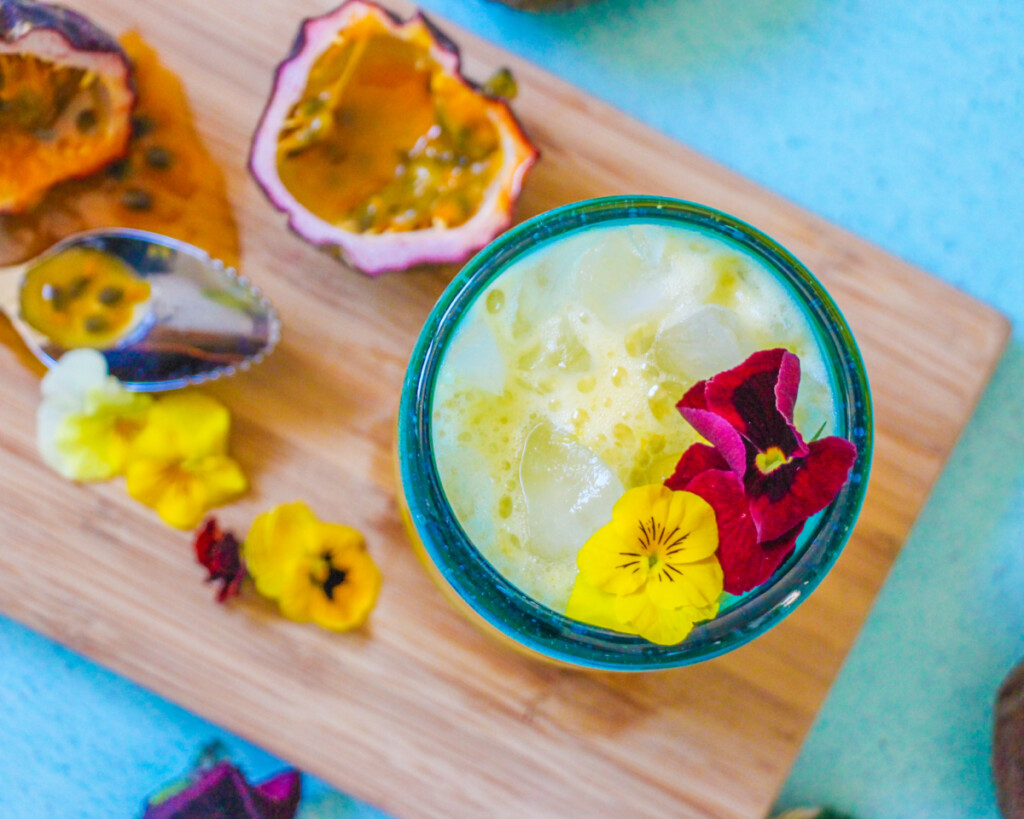 Super easy: 3 ingredients and 2 simple steps makes this a fast, easy drink for hot summer days with almost zero prep time and very little clean up.
Not too sweet: Sometimes passion fruit drinks can have too much sugar to make up for their natural sourness but this one is perfectly balanced.
Wonderful texture: I love the pop of the seeds which makes this drink stand out from other aguas frescas.
WHAT ARE PASSION FRUIT?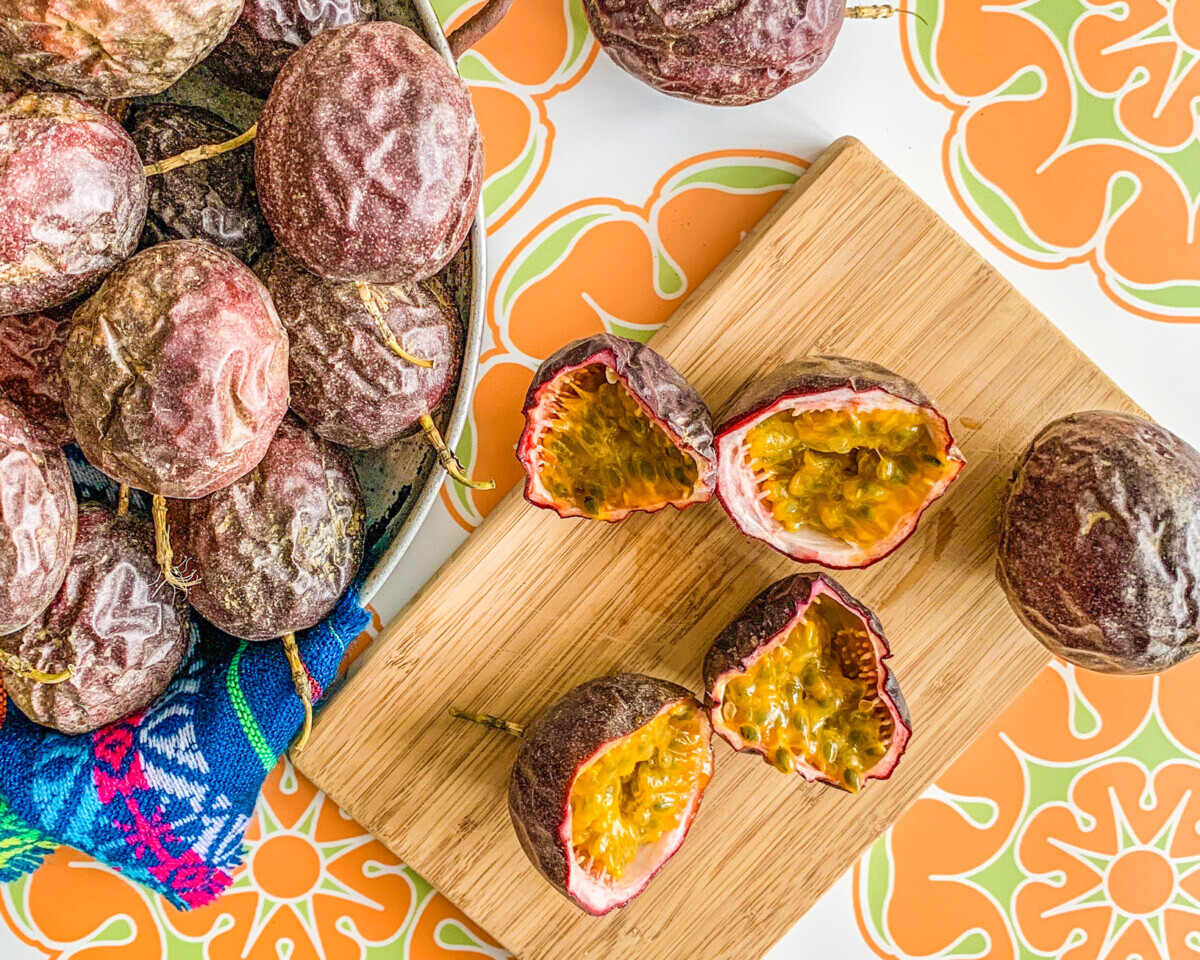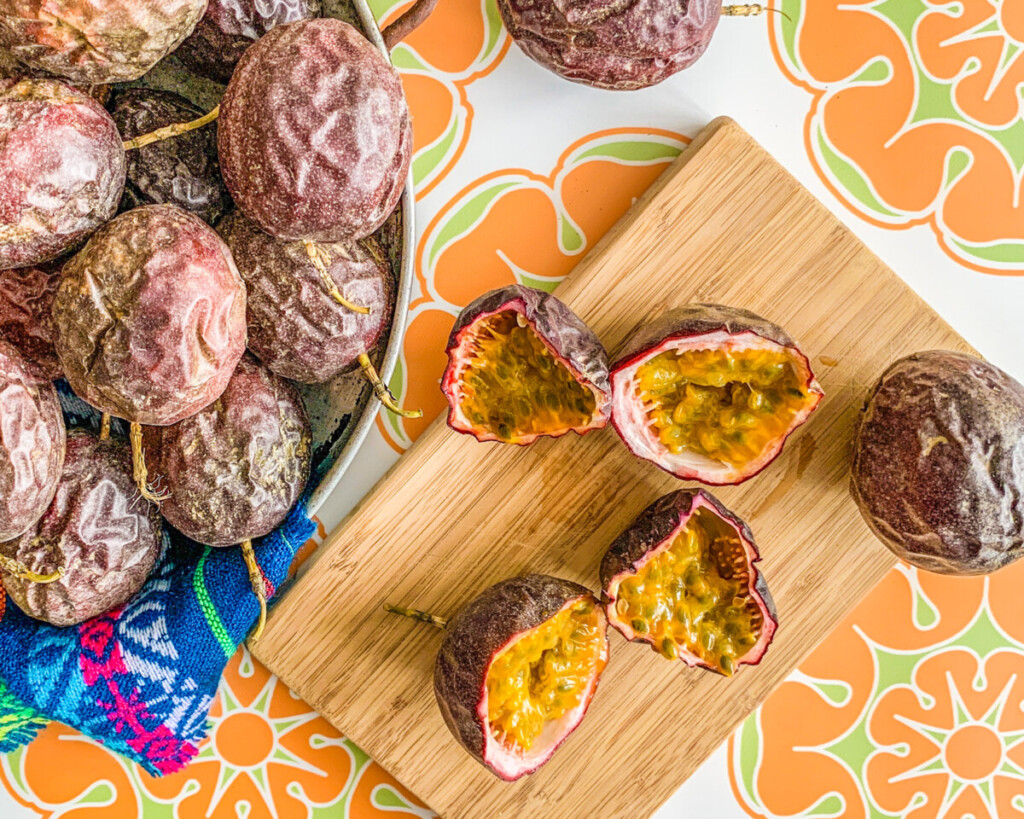 Passion fruit is a tropical fruit that grows on vines in warm climates. They have a tough, inedible skin but once you cut it in half, the fragrant pulp is the sweet and sour treat inside. Scoop out the jelly-like flesh and enjoy, seeds and all.
Healthwise, they are an excellent source of potassium which benefits heart health, among other things, as well as a significant source of fiber when eaten with the seeds. They are rich in minerals like calcium, phosphorus, and iron, excellent for strengthening bones.
If you live in a warm climate you can find passion fruit at your local farmer's market or your neighbor's backyard (once they start growing they never stop). Otherwise, Whole Foods commonly carries passion fruit as well as many Latin markets.
INGREDIENTS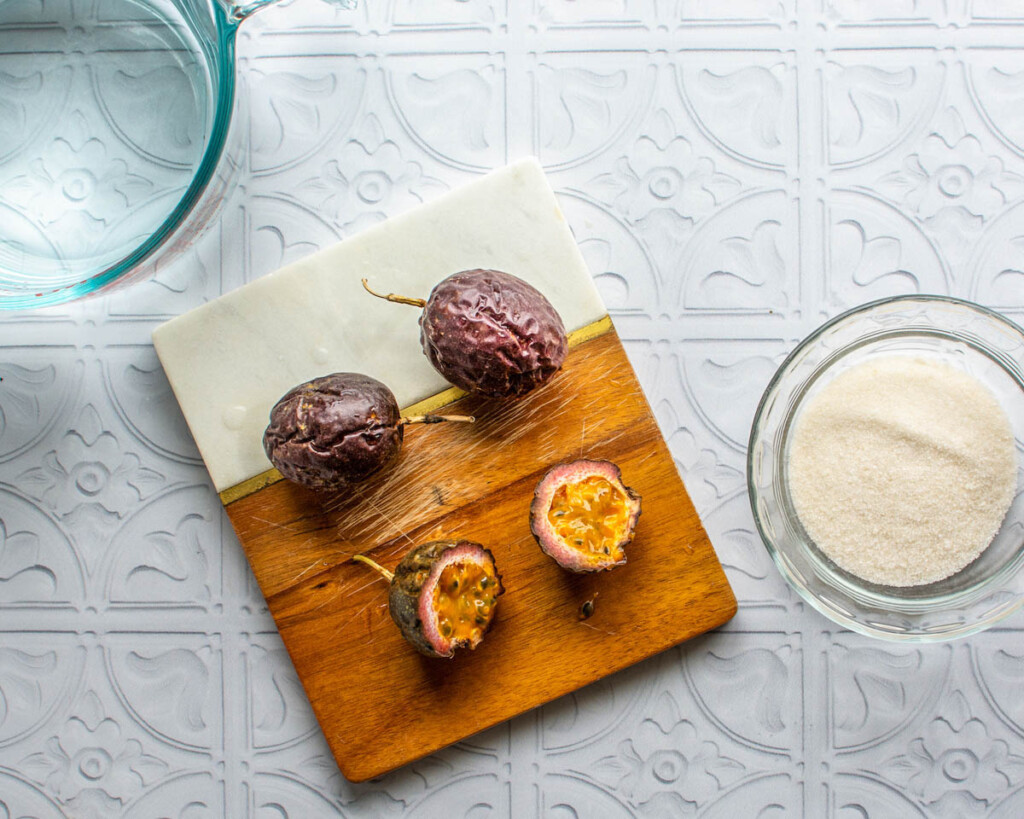 The eye-popping flavor of the passion fruit does the heavy lifting here so there's no need for lots of ingredients.
Water. Regular tap water or filtered water is fine.
Fresh passion fruit. Look for fruit that is heavy for it's size and the skin is wrinkled.
Cane sugar. Or white sugar is great. See FAQ's for other sugar substitutes.
TOOLS, SUPPLIES, AND EQUIPMENT
The one thing you need to make this recipe is a blender. I use a Vitamix Blender but any blender will work. I love the pop of the seeds but if you are against eating them, you will also need a fine mesh strainer to strain them out.
HOW TO MAKE THIS RECIPE
Step 1
Blend. Cut each passion fruit in half horizontally. Scoop the passion fruit pulp out of each half with a spoon into the blender. Combine with the sugar and water and blend on low for 30 seconds. Don't blend on high or you will break up the edible seeds which add nice crunch and texture.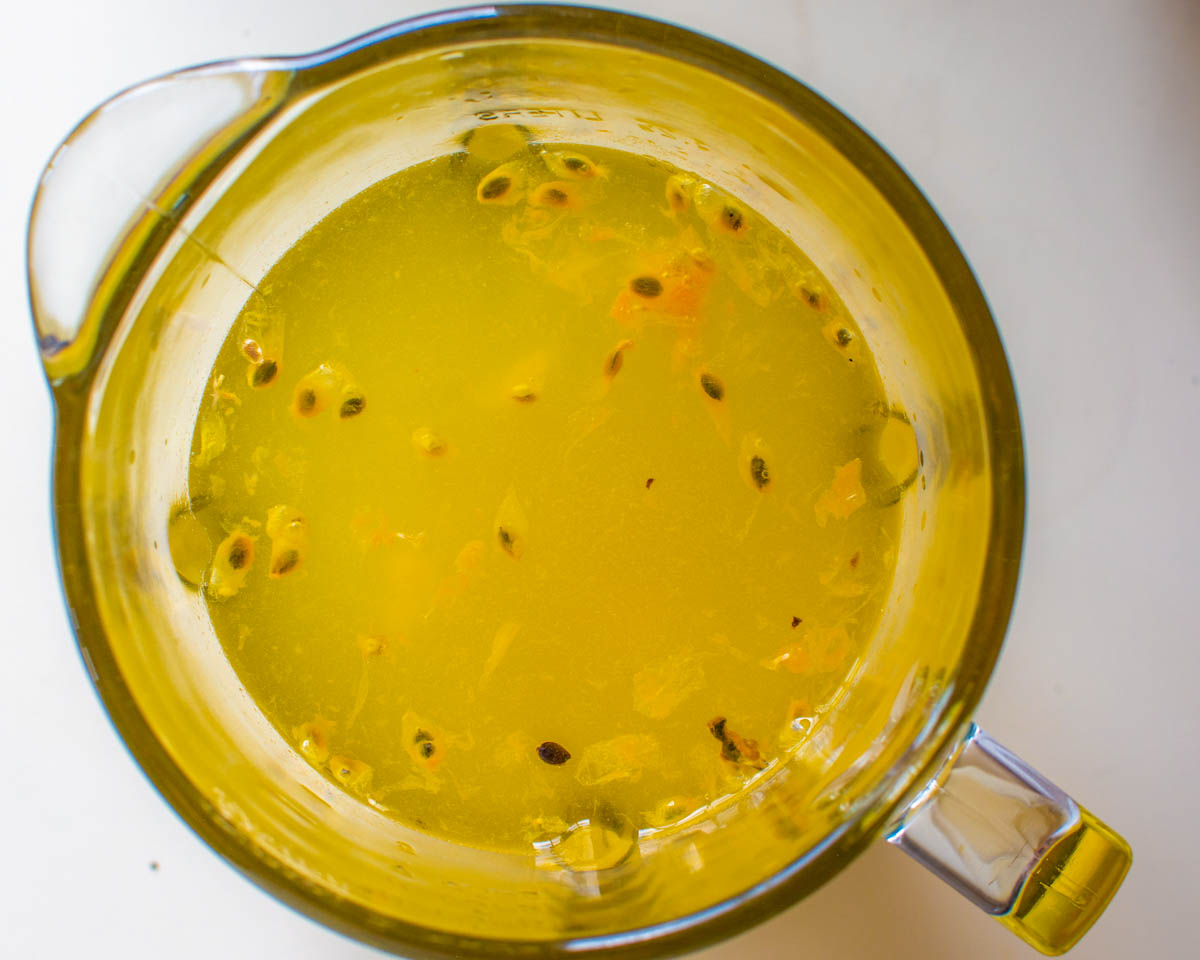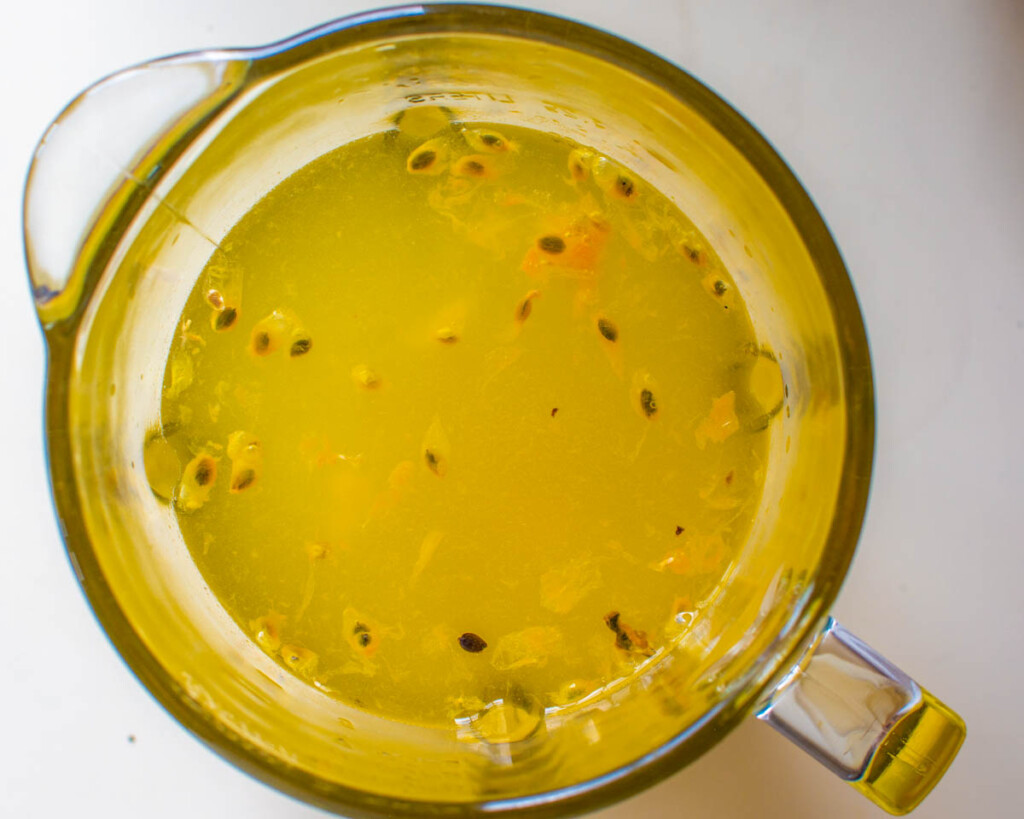 Step 2
Enjoy! Taste and add more sugar if desired. Serve over plenty of ice cubes and garnish with a half of a passion fruit on a fun cocktail pick if you want.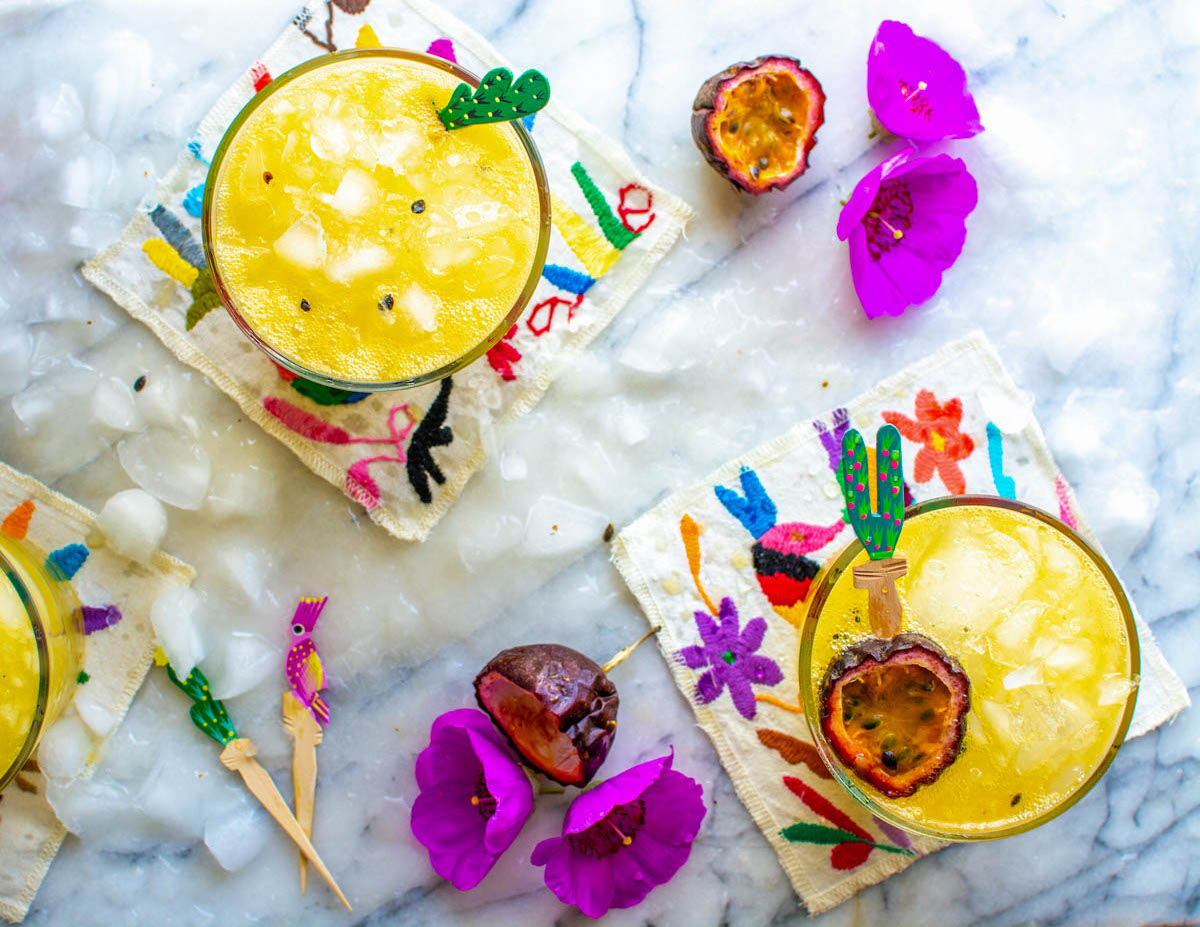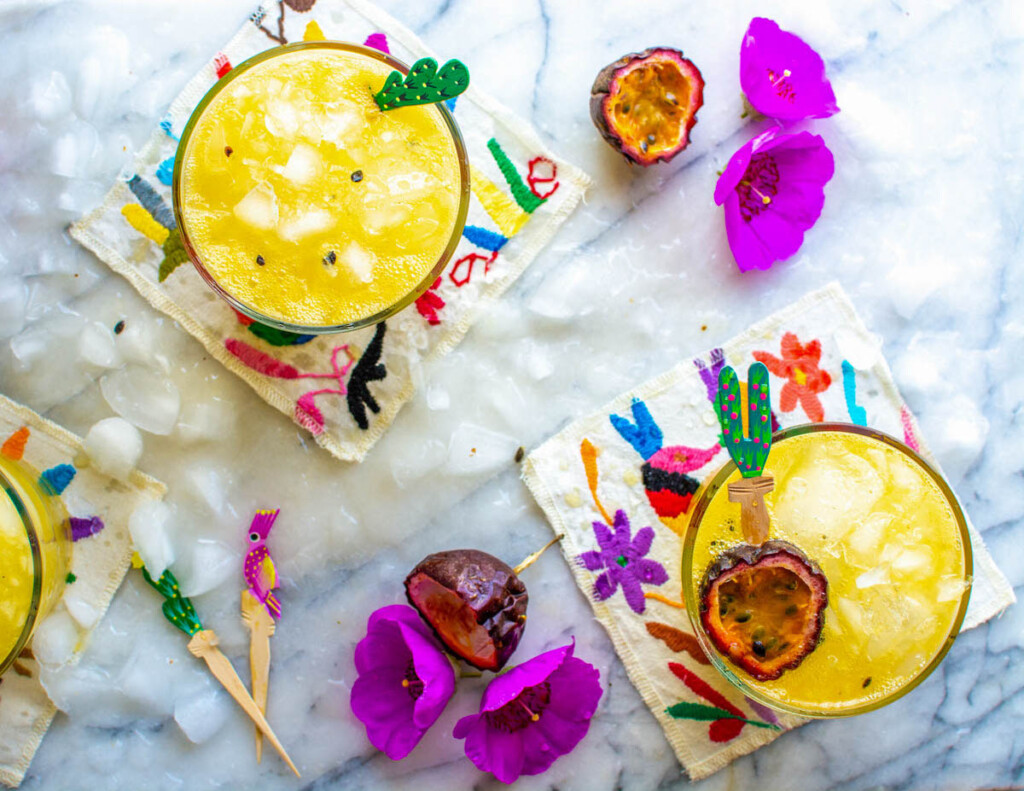 TIPS, TRICKS, AND SUBSTITUTIONS
Seeds or no seeds. Like I've mentioned, I particularly like the snap of the seeds as you sip. Make sure they stay whole but blending the passion fruit juice on low. If the blender is too high it will crush the seeds and you will have to strain them out.
Use ripe passion fruit. Fresh passion fruit juice can be really sour if the fruit is not ripe. Look for medium-sized fruit about the size of a jumbo egg with slightly wrinkled skin and consistent purple color. Passion fruit with smooth skin is not quite ripe yet and can be too tart.
Variations. I love this simple, straightforward Maracuya drink but you can take it in a million different directions. Add a splash of white rum and a few mint leaves for a tropical cocktail. Switch up the flavors by adding fresh pineapple to the blender. Make passionfruit juice lemonade or limeade by adding fresh squeezed lime juice or lemon juice.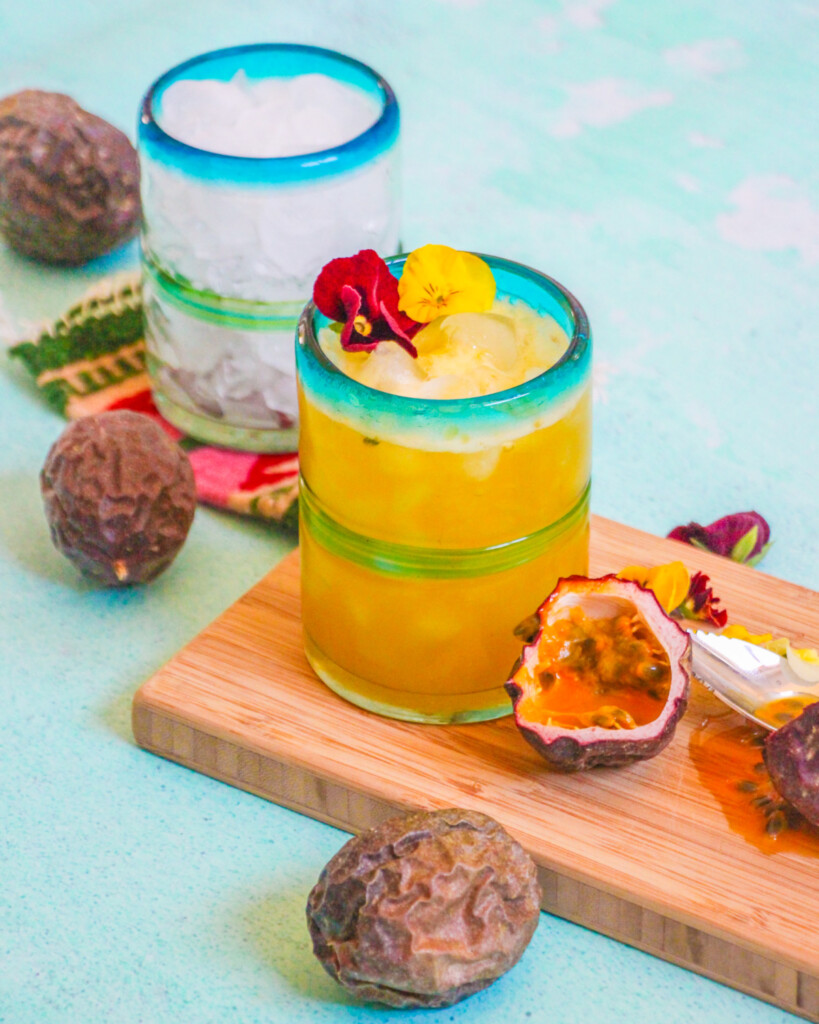 HOW TO STORE
Make this homemade passion fruit juice and keep in a pitcher in the refrigerator for up to 2 days. Give a stir right before serving though because all the seeds will fall to the bottom.
MARACUYÁ DRINK FAQS
Can I substitute a different sweetener?
The sugar blends and dissolves in the blender but if you are worried about it not dissolving completely or settling on the bottom of your glass you can use ¼ cup (or to taste) of simple syrup, agave syrup, or honey.
Would frozen passion fruit puree work?
If you can't find fresh passion fruit you can substitute frozen puree. Look for a puree that still has the seeds in it and let it partially thaw before using. You will need ½ cup of frozen puree.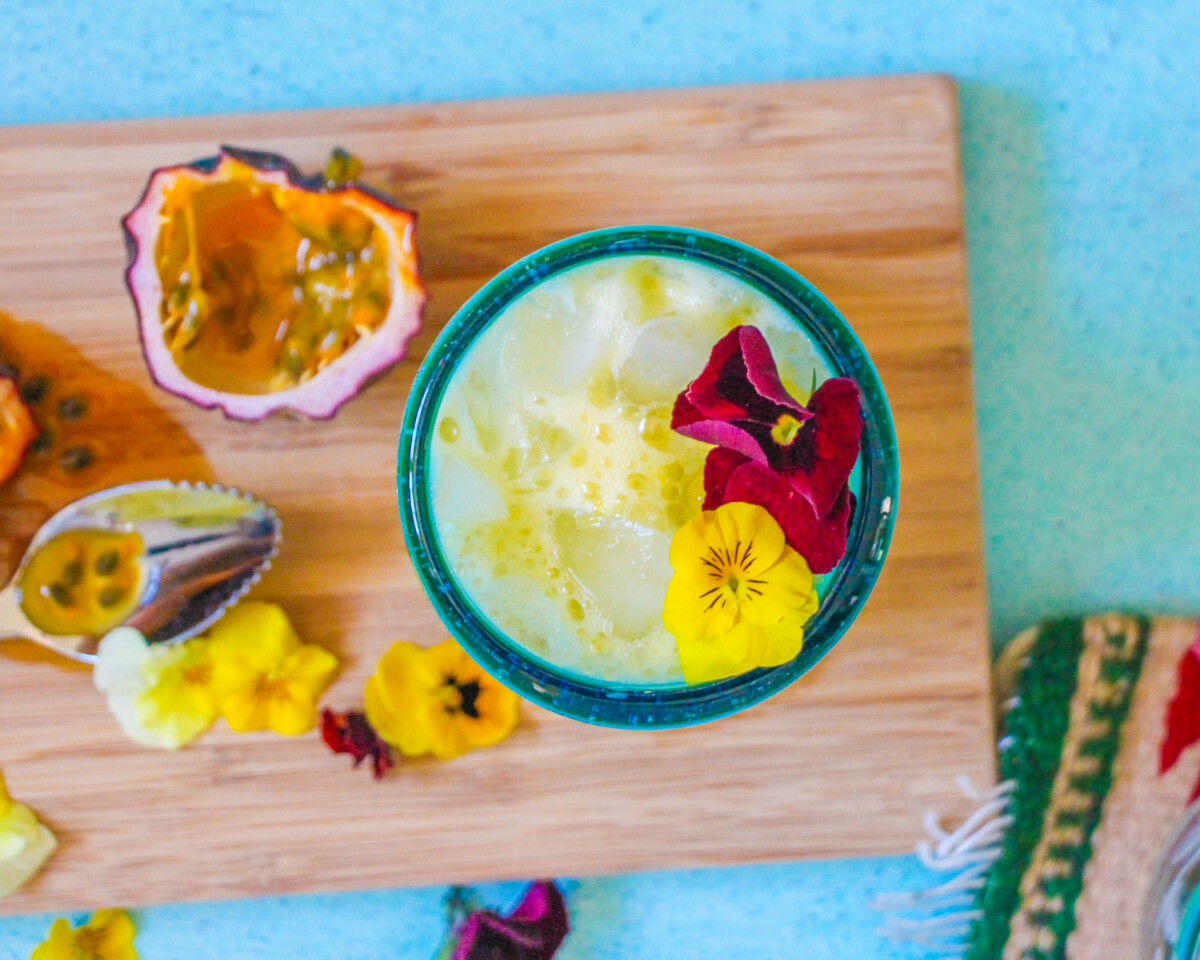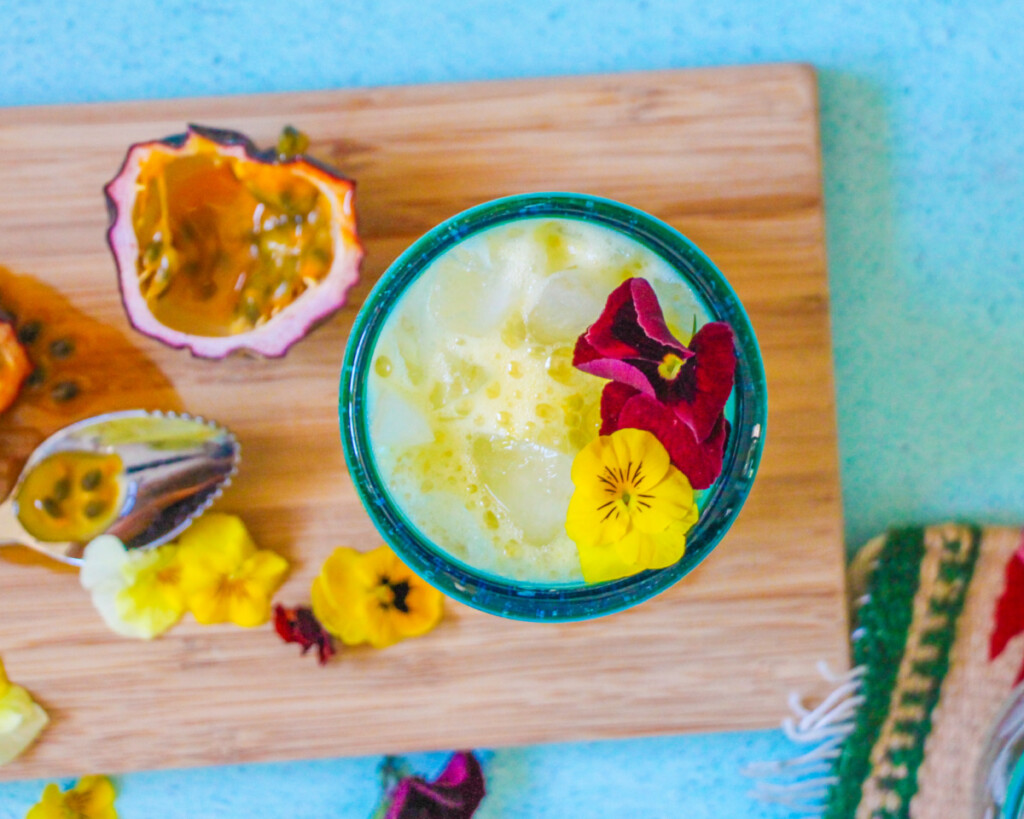 WHAT PAIRS WELL WITH PASSION FRUIT AGUA FRESCA?
This is a delicious refresher any time of day but it makes a great afternoon pick-me-up or (with a splash of rum) a happy hour cocktail with some other nibbles. Try with:
LOOKING FOR MORE INSPIRATION?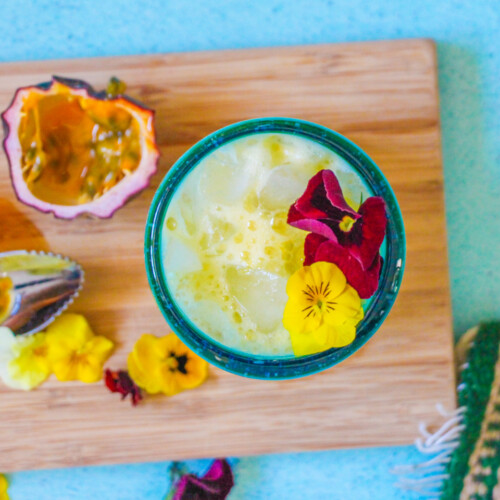 Maracuya Drink Recipe
Tropical and refreshing, this maracuya drink recipe is made with only three simple ingredients.
Ingredients
4

passion fruits

pulp only

3

tablespoons

cane sugar

or to taste

4

cups

water
Instructions
Add ingredients to the blender and process on low for 30 seconds. I like to blend on low to keep seeds intact because they are edible and enjoy their crunchy texture.If you blend on high and break up the seeds, you'll have to strain the mixture with a fine mesh sieve.

Serve over plenty of ice, garnish with half of a passion fruit on a cocktail stick if you'd like and enjoy.
Nutrition
Calories:
117
kcal
Carbohydrates:
29
g
Protein:
2
g
Fat:
1
g
Saturated Fat:
0.1
g
Polyunsaturated Fat:
0.3
g
Monounsaturated Fat:
0.1
g
Sodium:
36
mg
Potassium:
296
mg
Fiber:
9
g
Sugar:
19
g
Vitamin A:
1081
IU
Vitamin C:
26
mg
Calcium:
17
mg
Iron:
1
mg
117
LOVE THIS RECIPE?
Leave a comment below or tag me on social media @lolascoina
In support of this small business, Lola's Cocina earns revenue in a few different ways including sponsored posts that are published throughout the year as well as affiliate commission on the sales of products I link to, some of which are included in this post. I only feature items I genuinely love and personally use on a regular basis. This commission is an arrangement between the retailer and Lola's Cocina (readers never pay more for products). This income allows me to run the site. Thank you for reading!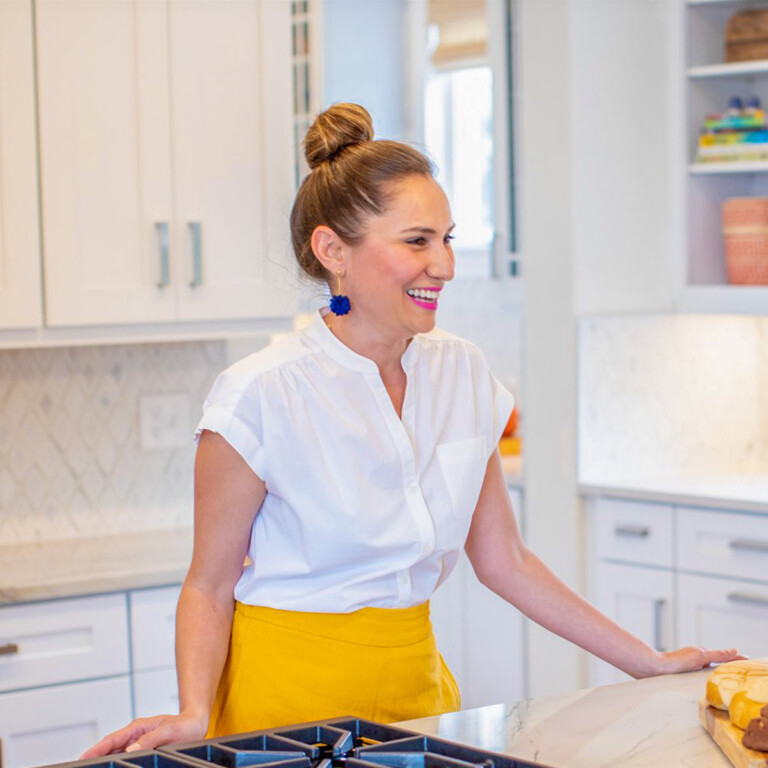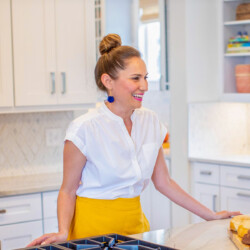 Lola Wiarco Dweck
Lola is a Mexican-American recipe developer, writer, and cooking instructor who loves sharing her culture with the world. Growing up in California and spending summers in Mexico, Lola celebrates her family's Mexican recipes and vibrant culture through Lola's Cocina.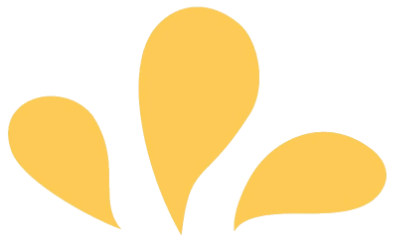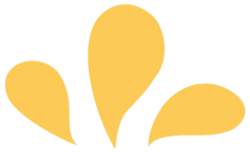 Sign up for ¡Hola de Lola!