Tacos de Huevos a la Mexicana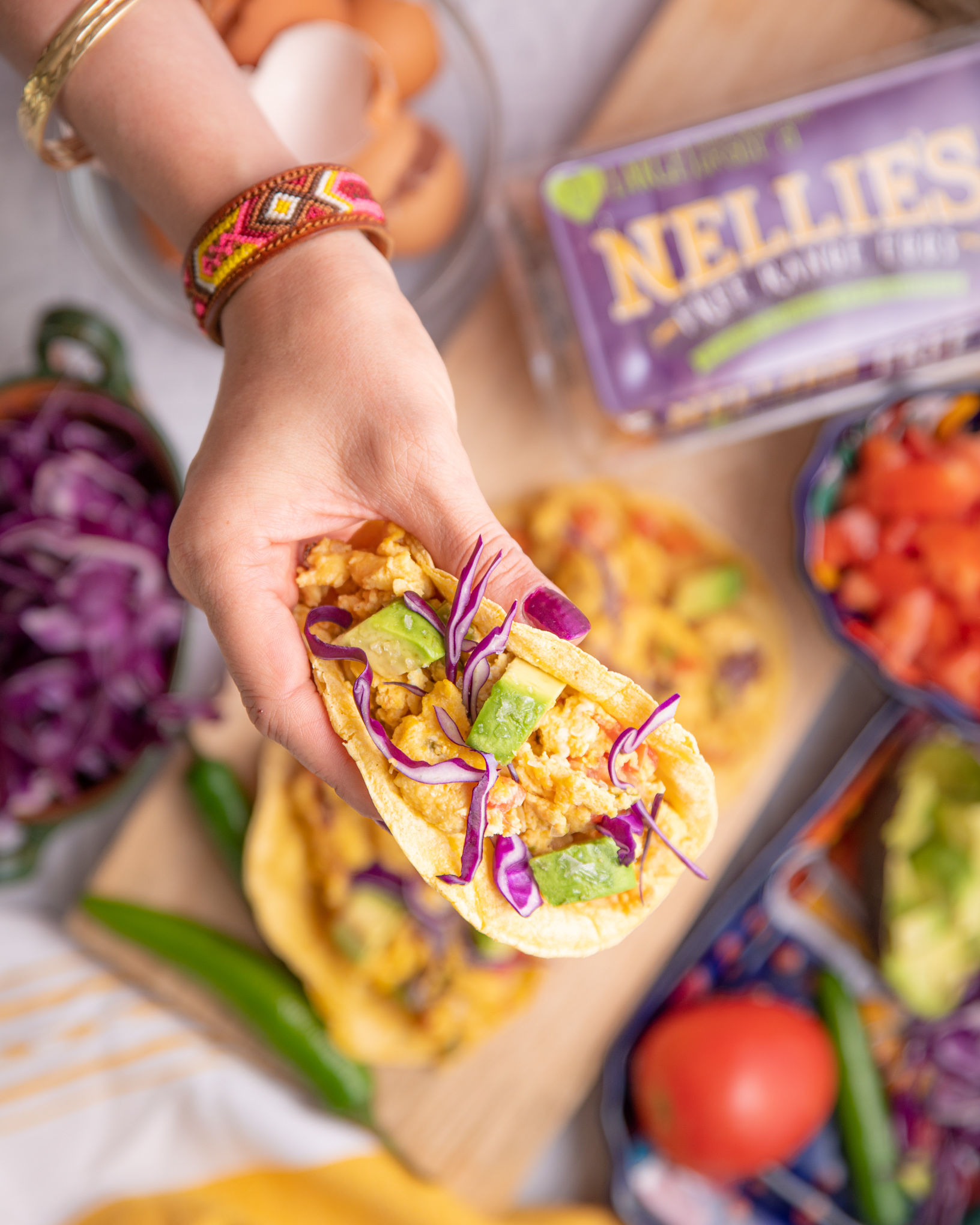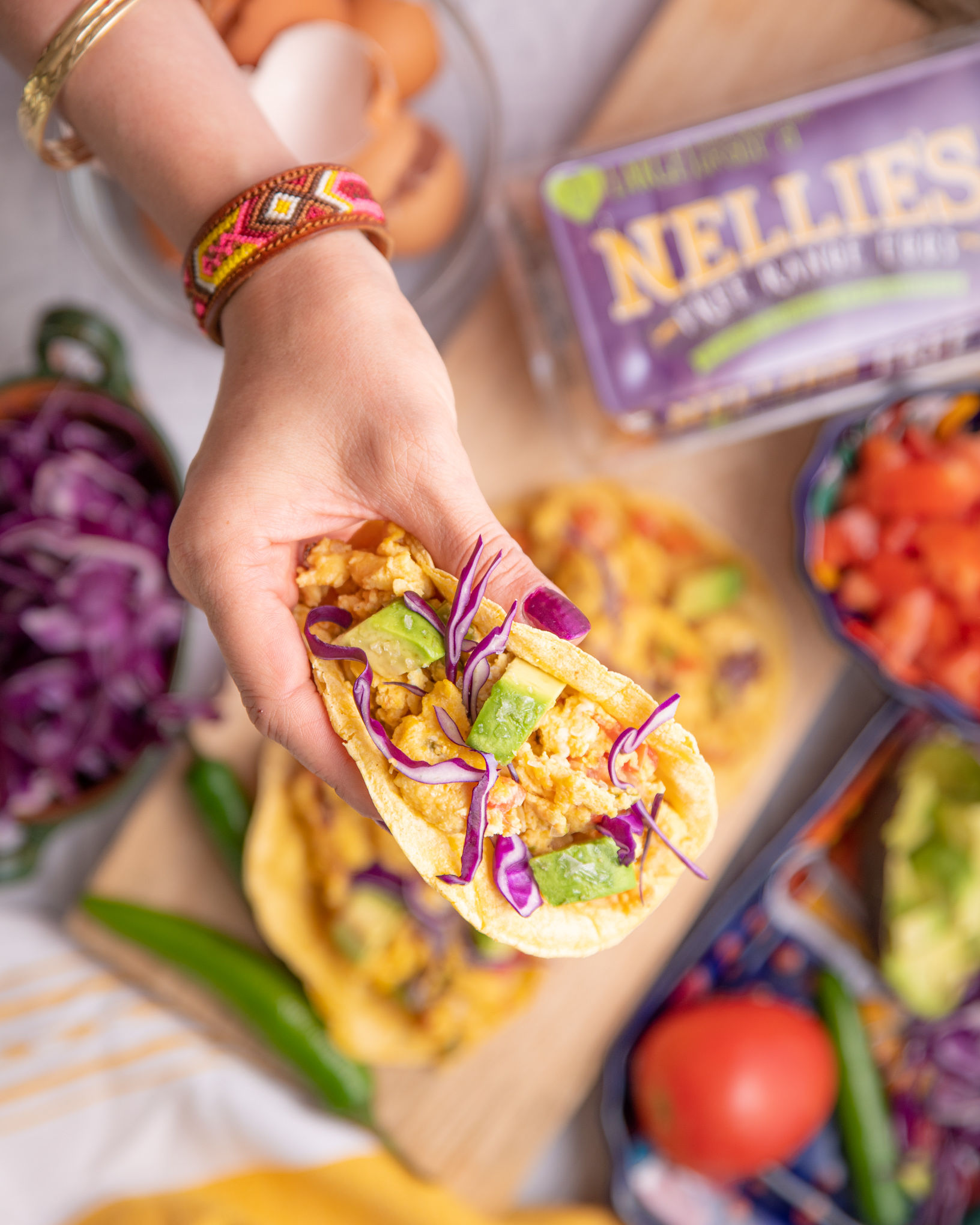 In Mexico, breakfast rarely, if ever, consists of a bowl of cold cereal. While a typical desayuno varies from region to region, you'll find that many breakfast dishes include eggs. Some of my favorites also include ingredients that pay homage to Mexico's flag colors: red (tomato), white (onion), and green (chile) and since Cinco de Mayo is just days away, I thought this recipe for Tacos de Huevos a la Mexicana was perfect to share.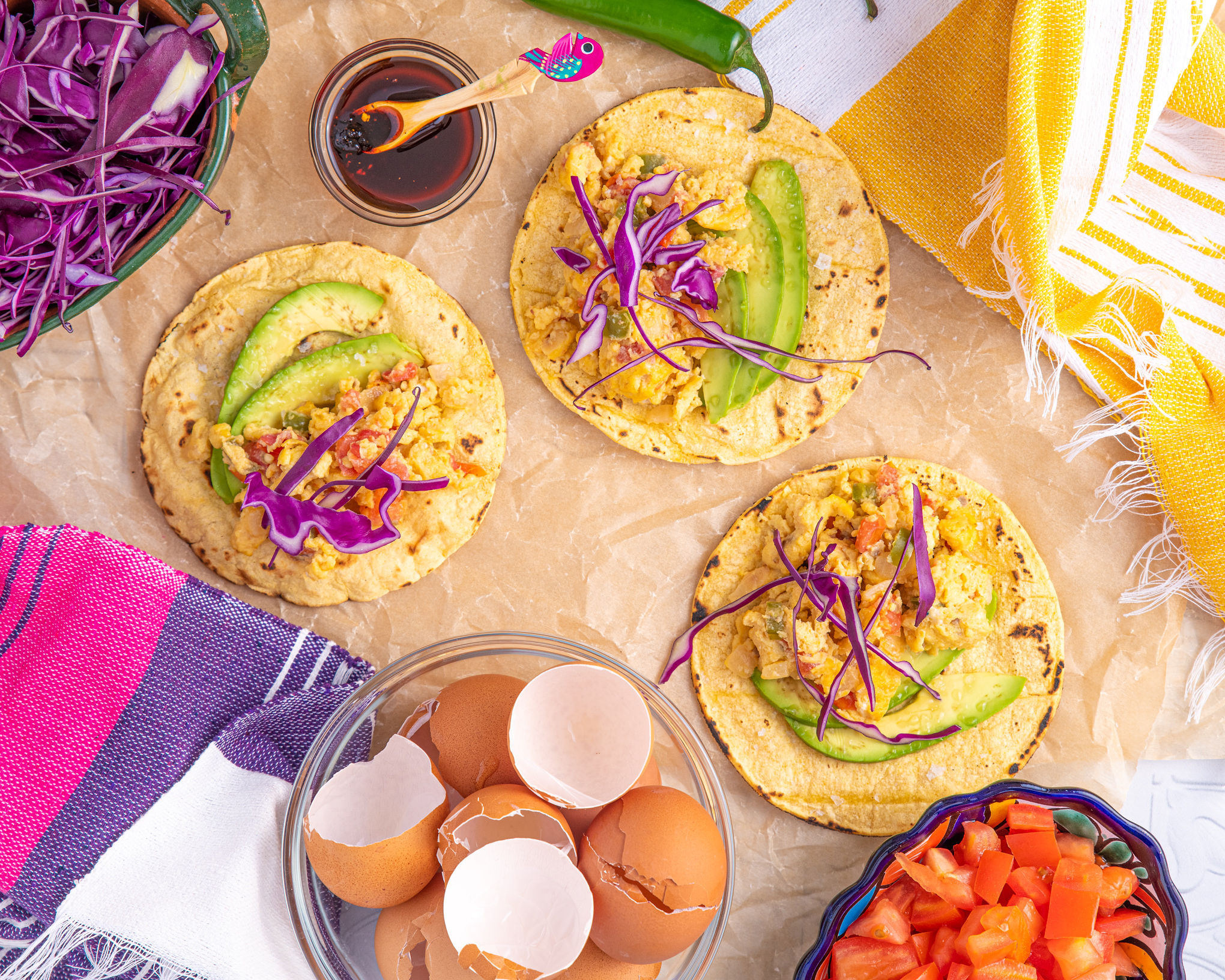 Growing up and visiting my grandparents in Guanajuato each summer, I learned at a young age that it was important to fuel up first thing in the morning, because almuerzo, which is the heaviest meal of the day, is not served until late in the afternoon. Desayuno, or breakfast, is typically served between 7 and 10 a.m., and is a warm, hearty meal.
Huevos a la Mexicana | Mexican – Style Scrambled Eggs
Mexican breakfast can be a multi-course affair. First comes the hot drink and fruit, pan dulce, or other sweet treat, and then the plato fuerte, or main entree. Huevos a la Mexicana, which loosely translates to Mexican-style scrambled eggs, is an iconic dish that graces the tables of both restaurants and homes throughout Mexico. The name derives from its easy-to-find ingredients that are red, white, and green, and emblematic of the Mexican flag.
The mixture of tomatoes, onions, and jalapeños or serranos is simply sauteed to bring out each ingredient's flavor, and then cooked to perfection with scrambled eggs. High-quality eggs are essential in this recipe given that they're the star of the dish. I always reach for Nellie's Free Range Eggs to add a rich flavor and fluffy texture to this dish.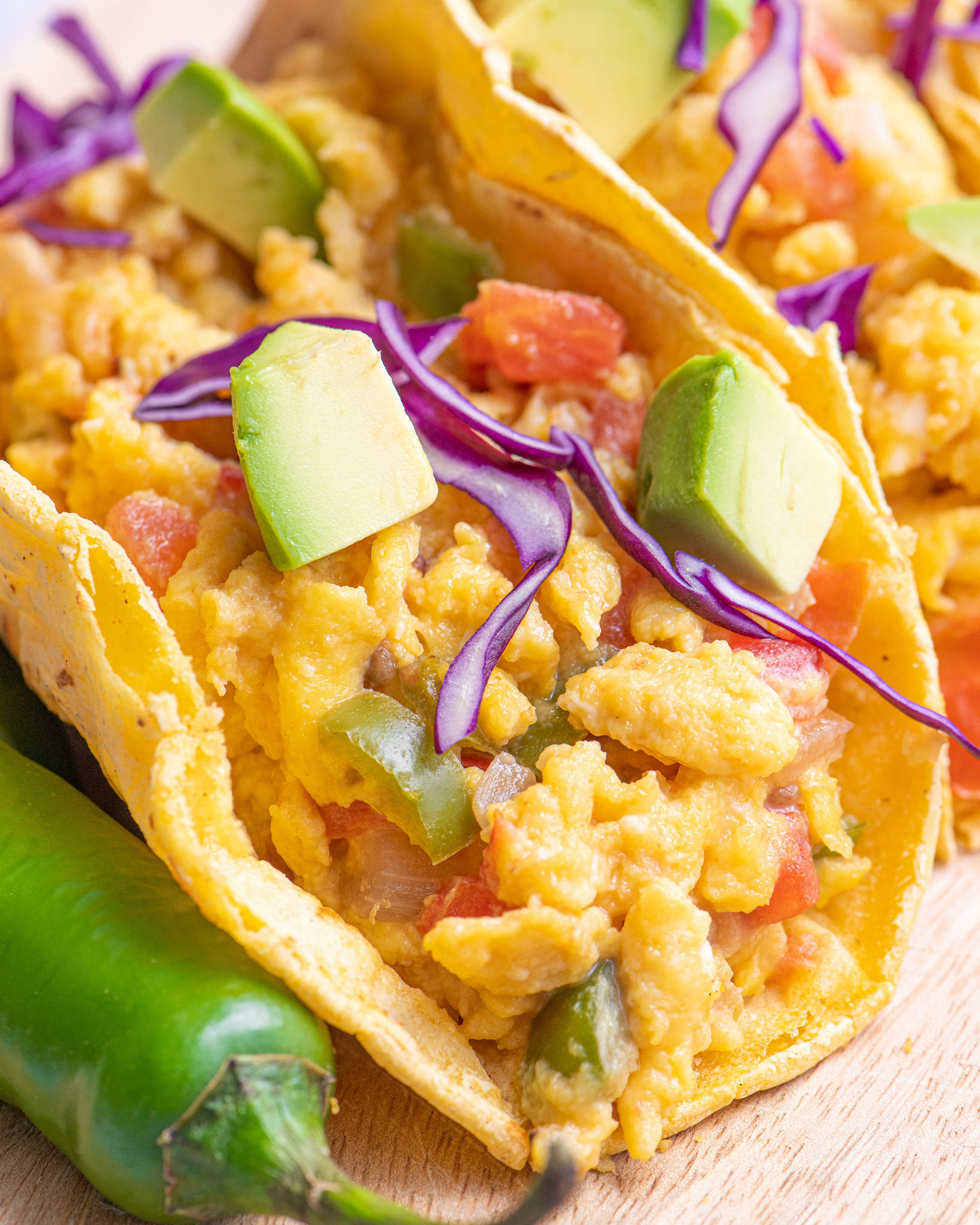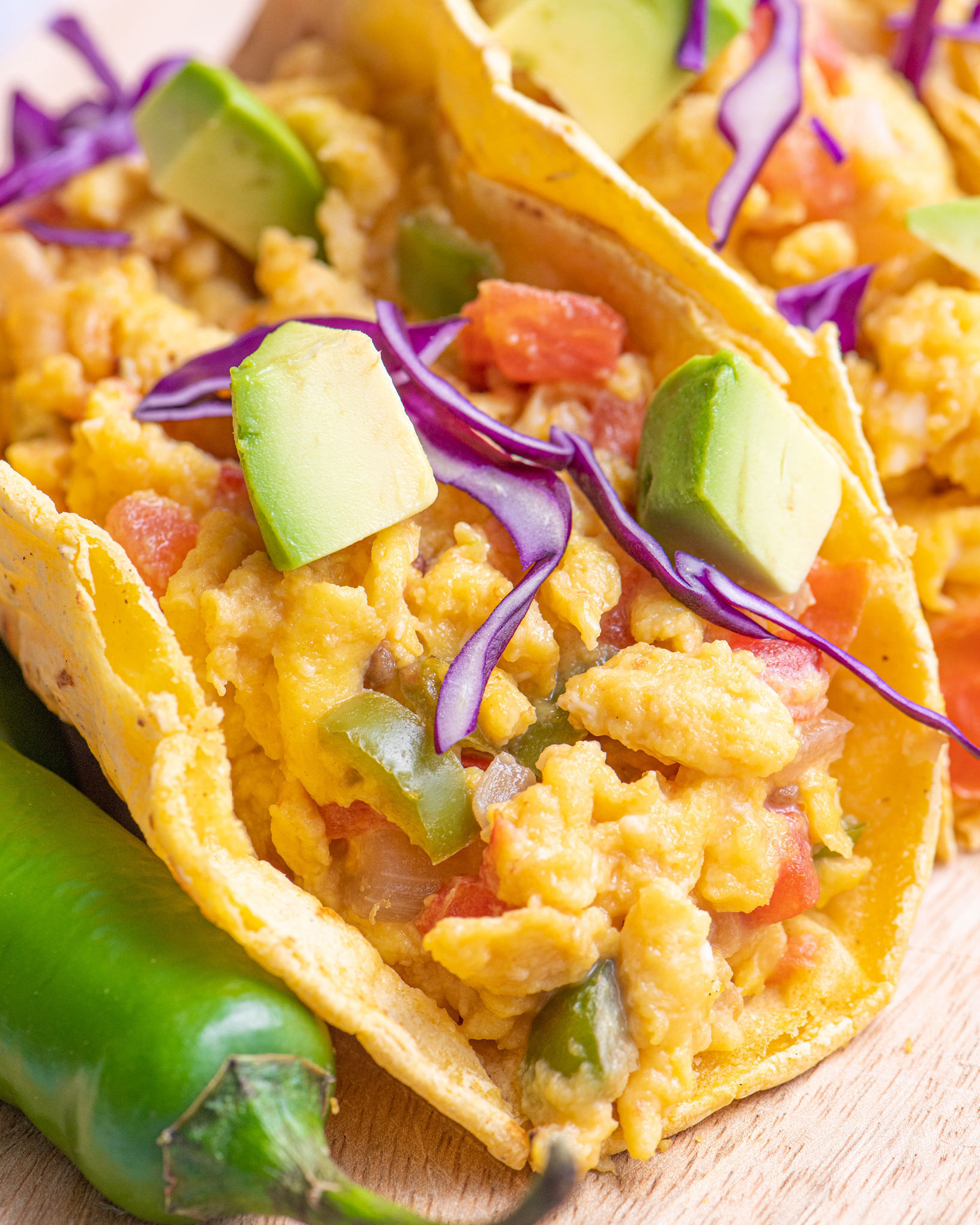 I love the flavor that the onion, tomato, and chile mixture adds to scrambled eggs. Because Nellie's hens are Certified Humane Free Range, the eggs have beautiful golden yolks, stronger shells, and a rich, full flavor.
Jalapeño vs. Serrano Chile Peppers
I tend to reach for serrano peppers for most of my Mexican dishes because jalapeños can be hit or miss. On rare occasions, I'll get a spicy one, but more often than not, they typically taste like bell peppers. I prefer the spice that serrano peppers add, but you can enjoy the full flavor of huevos a la Mexicana, without the heat, by using jalapeños.
How to Serve Huevos a la Mexicana
Huevos a la Mexicana can be served alongside beans, wrapped into a burrito, or on warm corn tortillas. And since I'm always in the mood for tacos, regardless of the time of day, tacos de huevos a la Mexicana make their way onto my menu several times a month. That's the beauty of Mexican breakfast dishes – they are hearty and versatile enough to be enjoyed as a meal morning, noon, and night.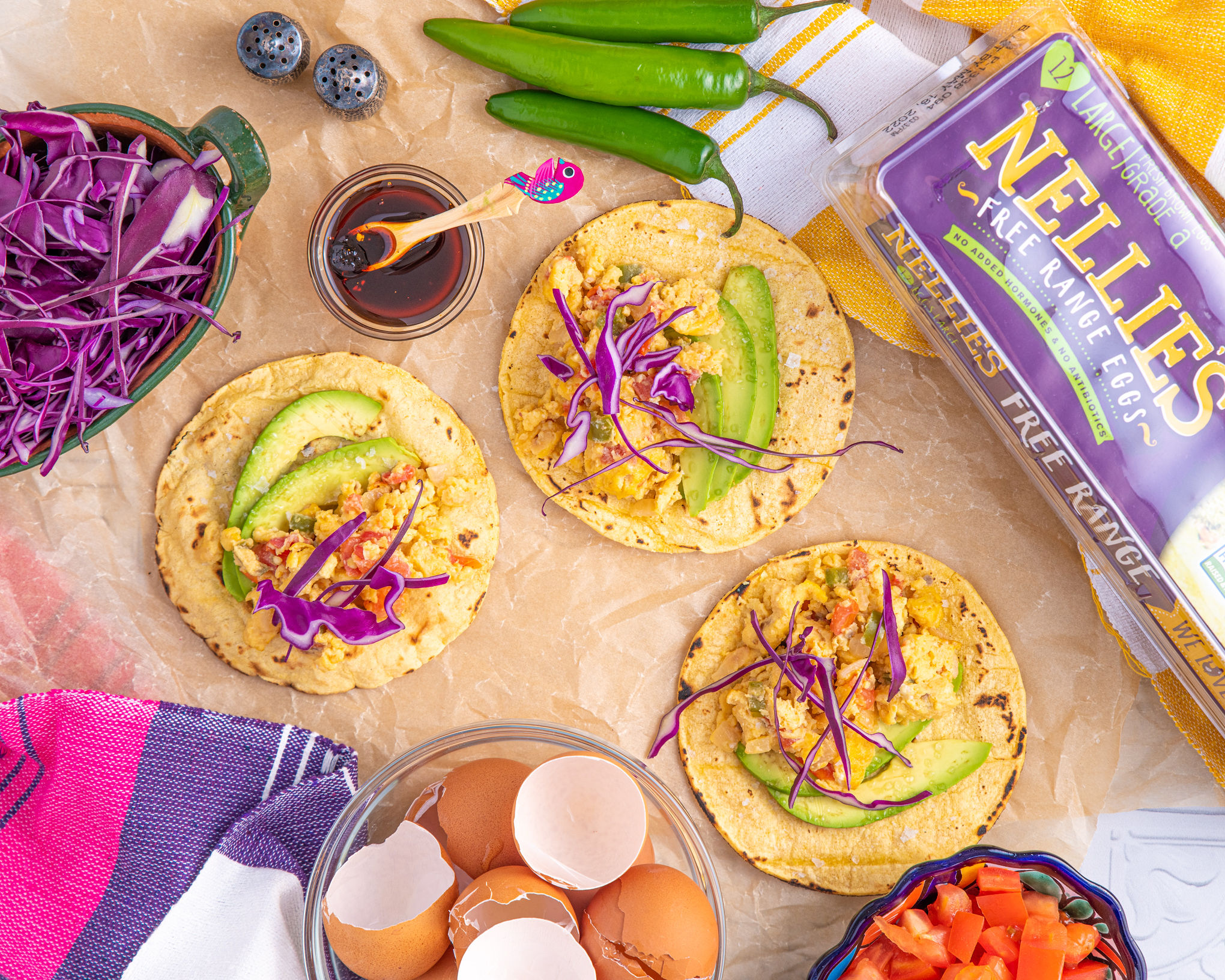 You can enjoy your tacos topped with eggs and keep the garnishes as simple or elaborate as your heart desires. I always love topping mine with salsa and other fresh ingredients.
PREP TIME: 5 minutes, COOK TIME: 15 minutes, SERVINGS: 8 to 10 tacos
INGREDIENTS
2 tablespoons oil
2 Roma tomatoes, diced
½ large onion, diced
2 serrano or jalapeño peppers, diced
1 dozen Nellie's Free Range Eggs
8-10 corn tortillas
Salt, to taste
OPTIONAL GARNISHES
Diced or sliced avocado
Shredded cabbage
Salsa
TOOLS, SUPPLIES, AND EQUIPMENT
Cutting board
Knife
Mixing bowl
Whisk
Spatula or spoon
Large cast-iron pan for preparing eggs
Comal or pan for heating tortillas
PREPARATION INSTRUCTIONS
Heat oil in a large cast-iron pan over medium heat. Add onions and saute until translucent, for about 3 minutes.
Next add chile and cook for an additional 2 minutes.
Add the tomato and cook for an additional 3 to 5 minutes to absorb some of its moisture.
Crack the eggs into a bowl, season with salt, and whisk well. Add the whisked eggs to the pan and mix with the other ingredients, then reduce heat to low and cook until the eggs reach your desired consistency. I like mine cooked through, but not dried out or burned. The entire process can take anywhere from 3 to 10 minutes, depending on how you like them. Remove eggs from heat, especially if you are using a cast-iron pan because they will continue to cook.
To serve, heat tortillas on a comal or flat pan, then prepare each taco with two to three tablespoons of scrambled eggs mixture and top with a sliced avocado, shredded cabbage, and your favorite salsa.
---
Many thanks to Nellie's Free Range Eggs for sponsoring this post. As always, the recipe and opinions shared about these products are my own.
To view the full lineup of Nellie's Free Range products, egg recipes, or to view a store locator, visit nelliesfreerange.com.
Photography + Styling: Cacey McReavy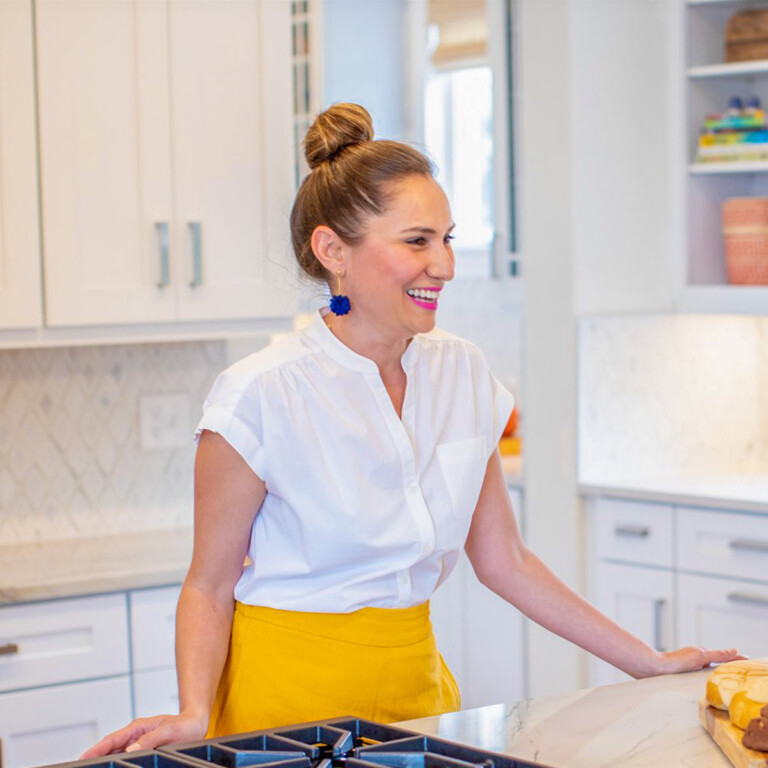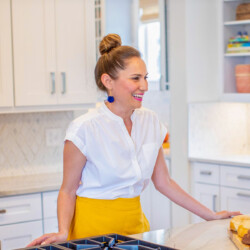 Lola Wiarco Dweck
Lola is a Mexican-American recipe developer, writer, and cooking instructor who loves sharing her culture with the world. Growing up in California and spending summers in Mexico, Lola celebrates her family's Mexican recipes and vibrant culture through Lola's Cocina.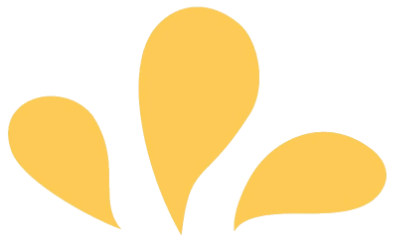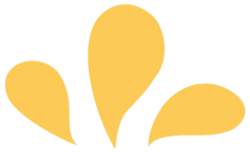 Sign up for ¡Hola de Lola!