One Week in Mexico City: Cooking, Baking, Fiestas, Day Trips, and Family Time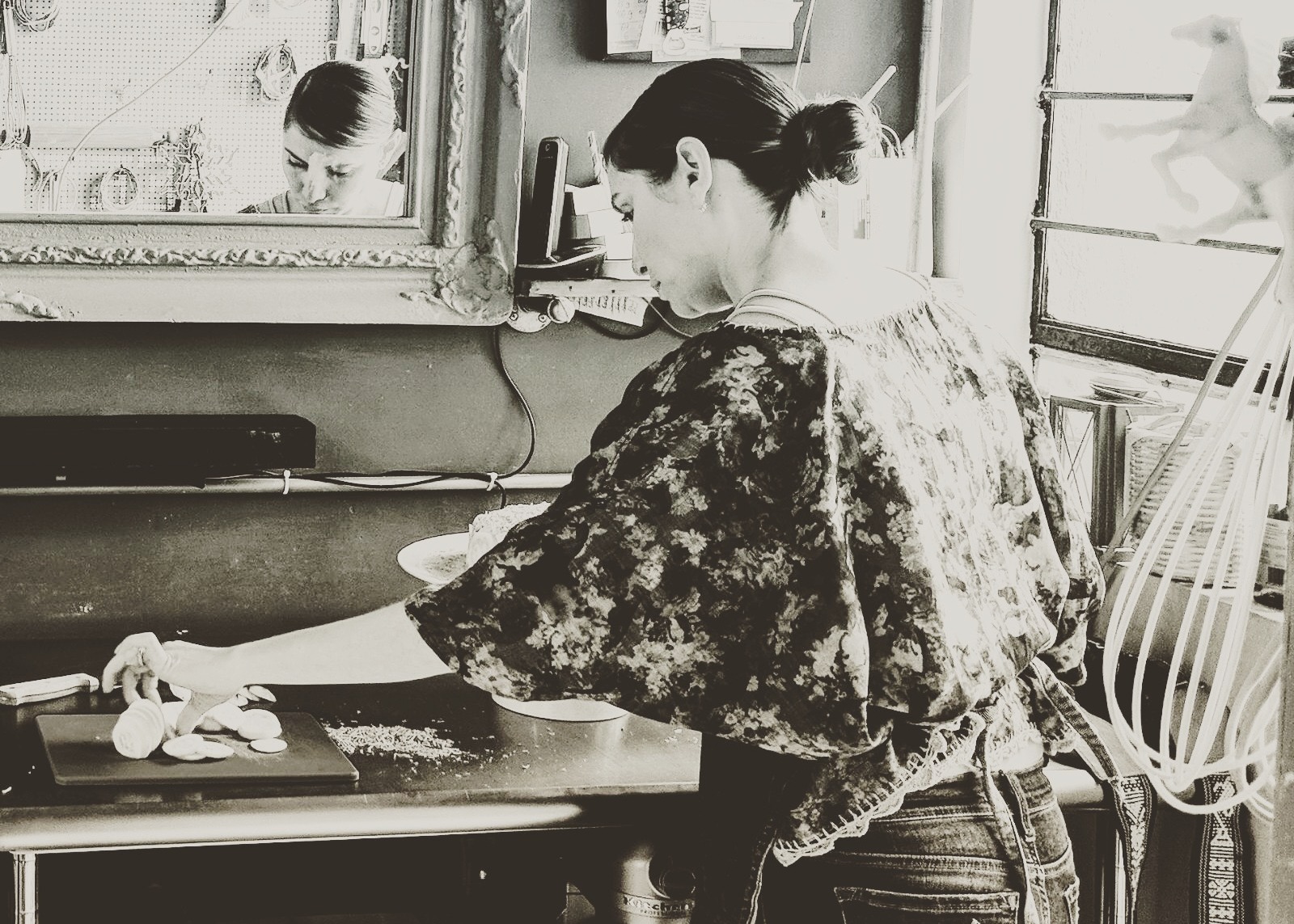 Every time I travel to Mexico, my plan is to take notes and photos throughout the day and write a blog post on what I did while everything is fresh in my head. This never happens, because I tend to get too caught up in the moment.
On my most recent trip to Mexico City, I managed to accomplish quite a bit before heading south to Oaxaca for a quick Lola's Mercadito shopping spree. And while I fell short of capturing every waking moment of my days in CDMX, I did take notes on my phone and captured a few photos and am now able to share my one-week itinerary with you. Well, it's not really an itinerary, it's more of a personal journal to remember this trip, but I do think you'll find it useful when planning your next visit to Mexico.
Keep in mind that I've been coming to Mexico City since I was a child so this itinerary doesn't include any of the tourist activities that most people would want to check out on their first trip. If that's what you're looking for, here are a few of my favorite places to visit:
Pyramids in Teotihuacán

Frida Kahlo's Casa Azul

Xochimilco boat ride

Chapultepec Castle

Museo de Antropología

Palacio de Bellas Artes

Zócalo and Cathedral

Basílica de Santa María de Guadalupe

Museo Gastronómico de Fundación Herdez

Eat Mexico

culinary tour
Now, back to my itinerary…
Tuesday: Tipping Uber Drivers
I arrived in the evening and took an Uber (Lyft hasn't made its way to Mexico yet) to my tía's house, which is a 30-45 minute drive from the airport. Tourists often hear about the dangers of taking taxis in Mexico. Uber is very safe and operates exactly the way it does in the United States but it's about half the price. A ride that would cost you $15 might cost you $3-5 in Mexico. Tipping is not required, but if my driver is extra friendly, which is typically the case, I'll give him (I have yet to have a female driver in Mexico) some extra pesos – usually the equivalent of $2-5 USD – because their pay is nowhere near that of drivers back home and their cars undergo much more wear and tear due to the road conditions.
I only recommend taking public transportation if you have an excellent sense of direction, speak Spanish (just in case you get lost), and are 100% comfortable on very crowded metros and buses. Although the metros are among the most accessible in the world in terms of price, they are very crowded. I've only ridden the metro one other time as part of a guided food tour, during non-peak hours and it was fine. I do not recommend renting a car in Mexico City, but that's mainly because the traffic can be horrendous, rush "hour" lasts about three to four hours, and I'm not familiar with the rules of the road.
Wednesday: Where to Stay + Cooking Up a Storm with Rosie
Oftentimes people ask me where they should stay while in Mexico City and it really depends on your plans. It's always best to look for lodging near the places you plan to visit because the city is huge, the tales you've hard about Mexico City traffic are true, and getting from one side of town to another can take forever. Since I was visiting for only a few days to celebrate my tía Luisa's birthday, I stayed with family because we'd be driving to most of the same places together. I took an Uber if I ventured out on my own.
Wednesday we spent the day relaxing, cooking, and enjoying homemade meals with family. My aunt with whom I stay has someone come once a week and prepare her meals, which meant that I had the opportunity to learn some of Señora Rosie's recipes – she's an excellent cook from Oaxaca. I served as her sous chef and that day we made vegetable soup, red rice, vanilla cake, agua de limón, a Lenten dish she called surimi, and mole with chicken. With a few simple ingredients, Rosie transformed store-bought mole paste into a sauce that I would have thought was 100% made from scratch.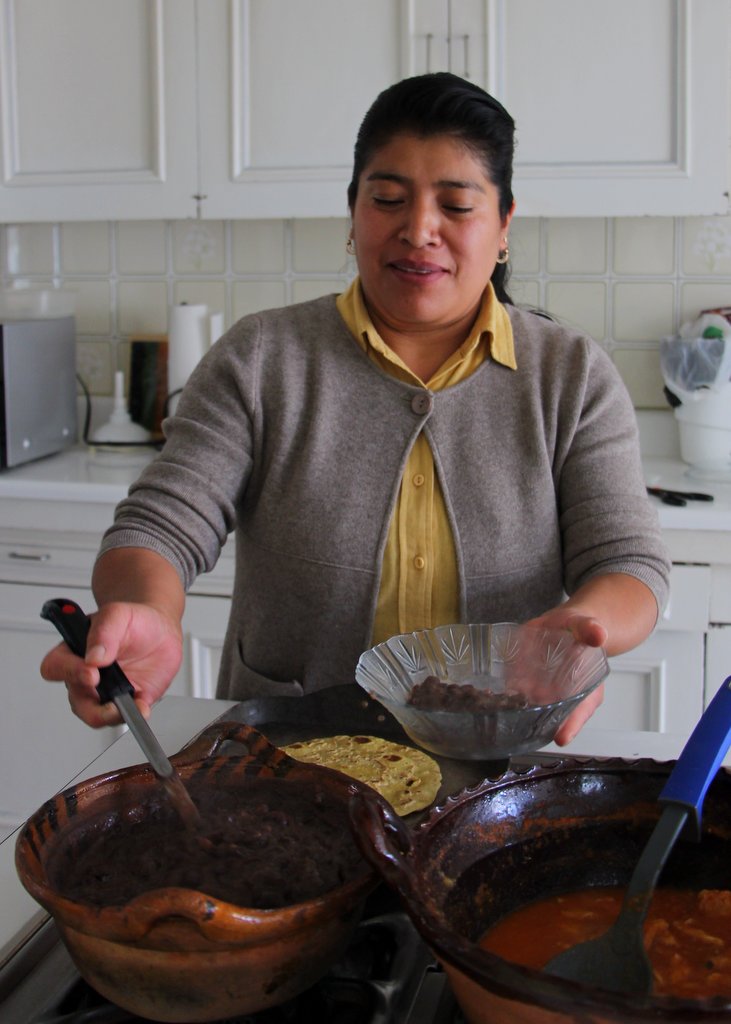 This is Señora Rosie and everything she makes is delicious.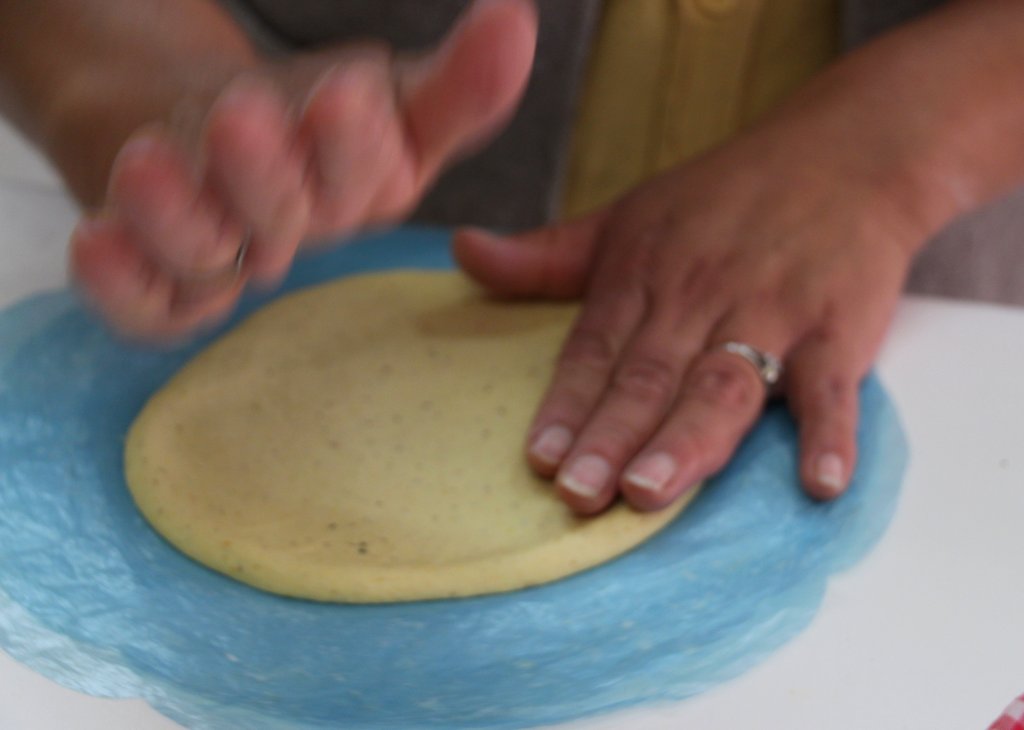 She even prepared perfectly round corn tortillas without using a tortilla press.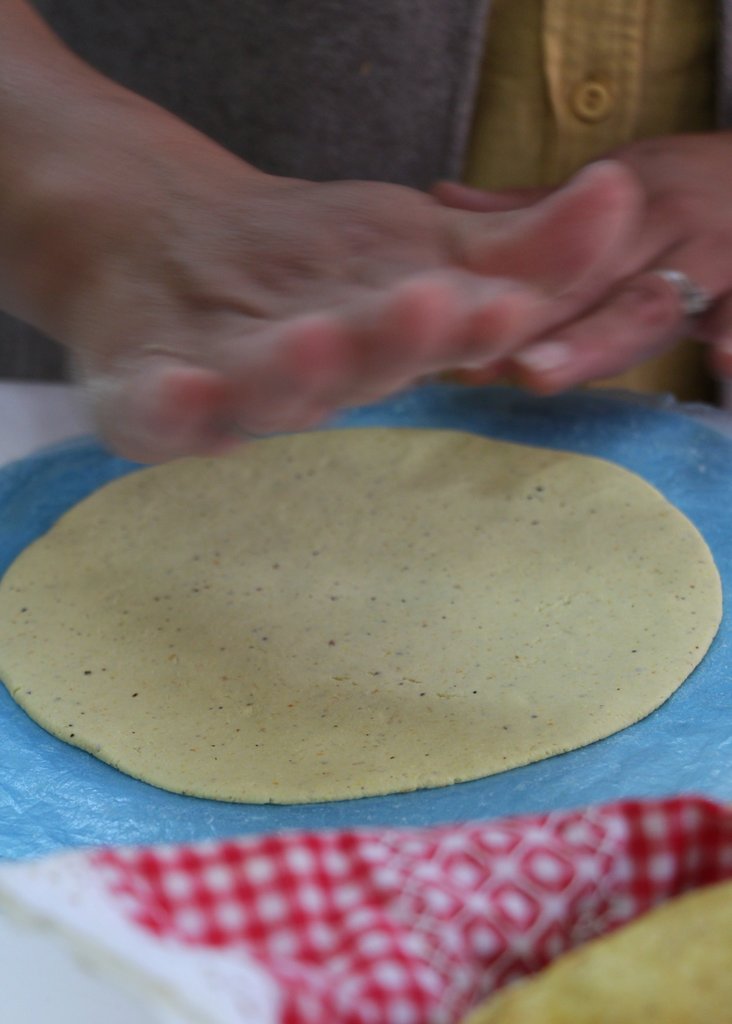 I can't even get mine this round using a tortilla press!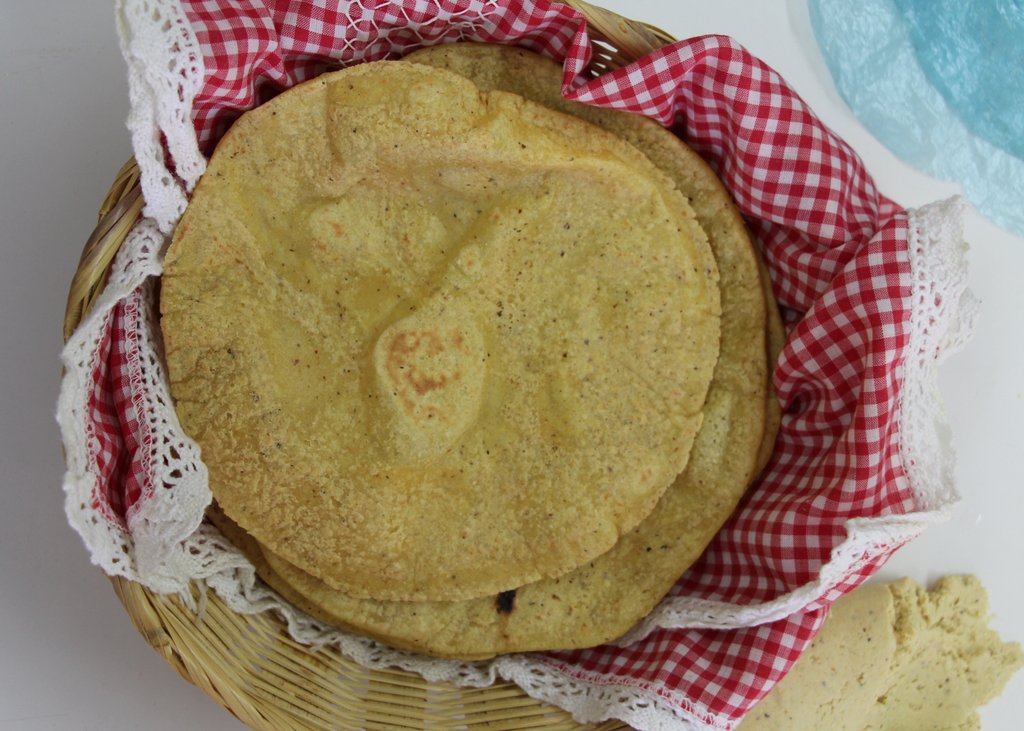 Perfection.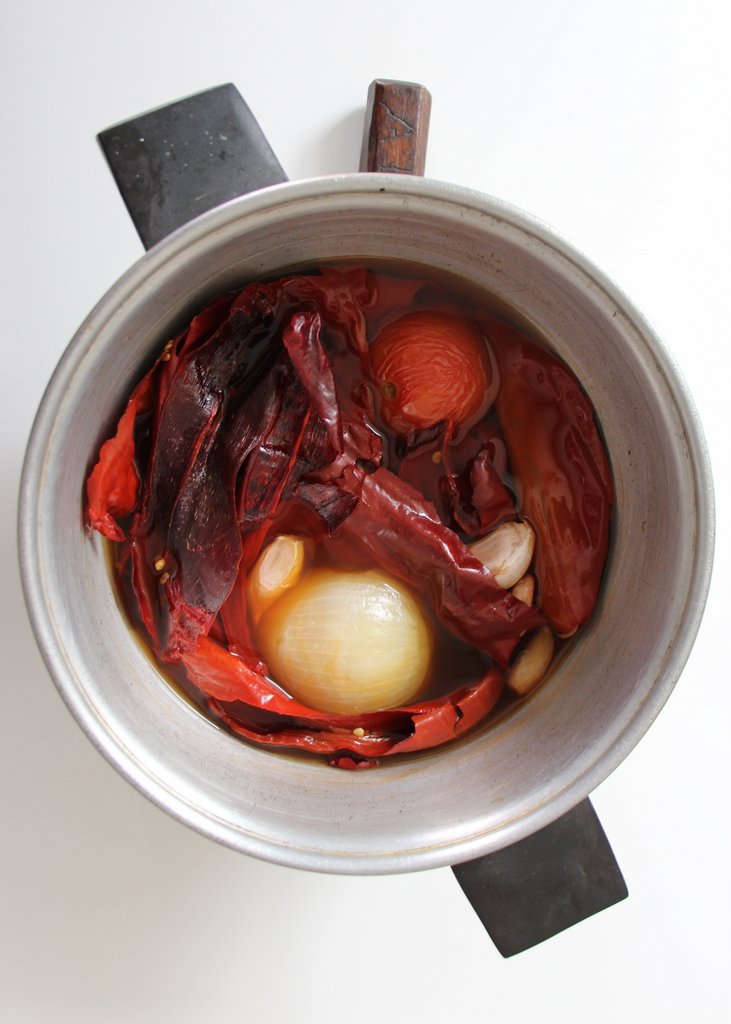 These are the ingredients that transformed store-bought mole paste into…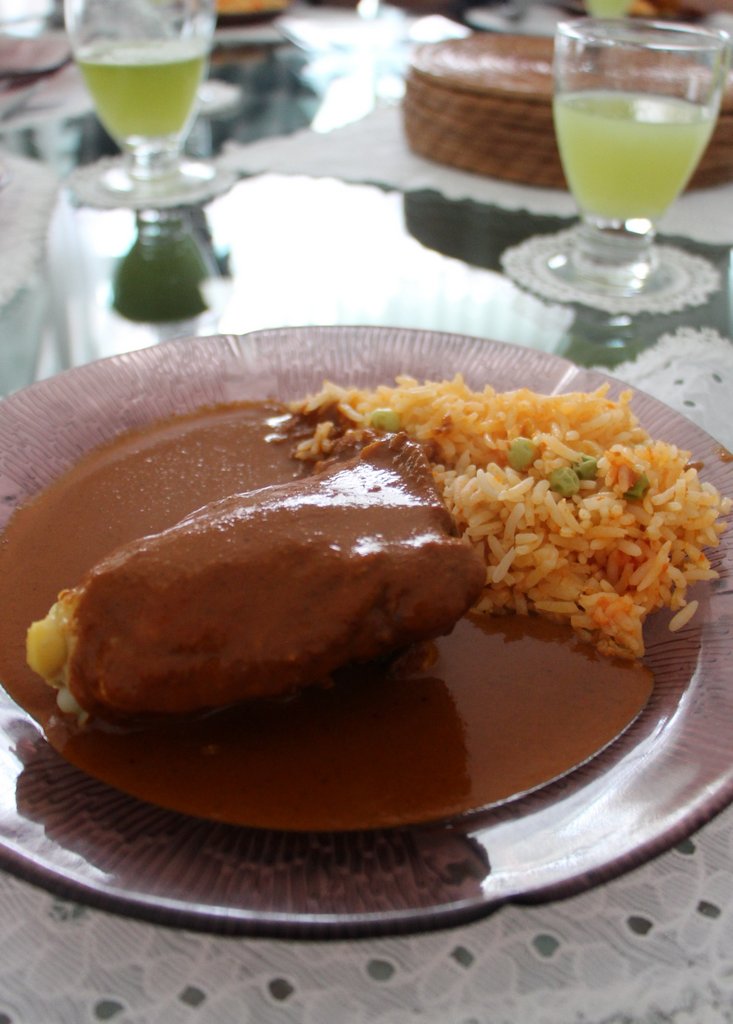 …this delectable mole sauce that we enjoyed over chicken accompanied by a side of rice.
Thursday: Tía Luisa's 100th Birthday Bash
Who's Tía Luisa, you ask? She's my oldest living relative – my great grandfather's first cousin. She's actually the oldest person I've had the honor of meeting and trust me when I say that this lady is sharp. Other than being in a wheelchair, she is in excellent health, loves her wine, has beautiful skin, and dresses impeccably. Thursday, March 9 was tía Luisa's 100th birthday and International Women's Day and I couldn't have thought of a more appropriate way to celebrate the two occasions.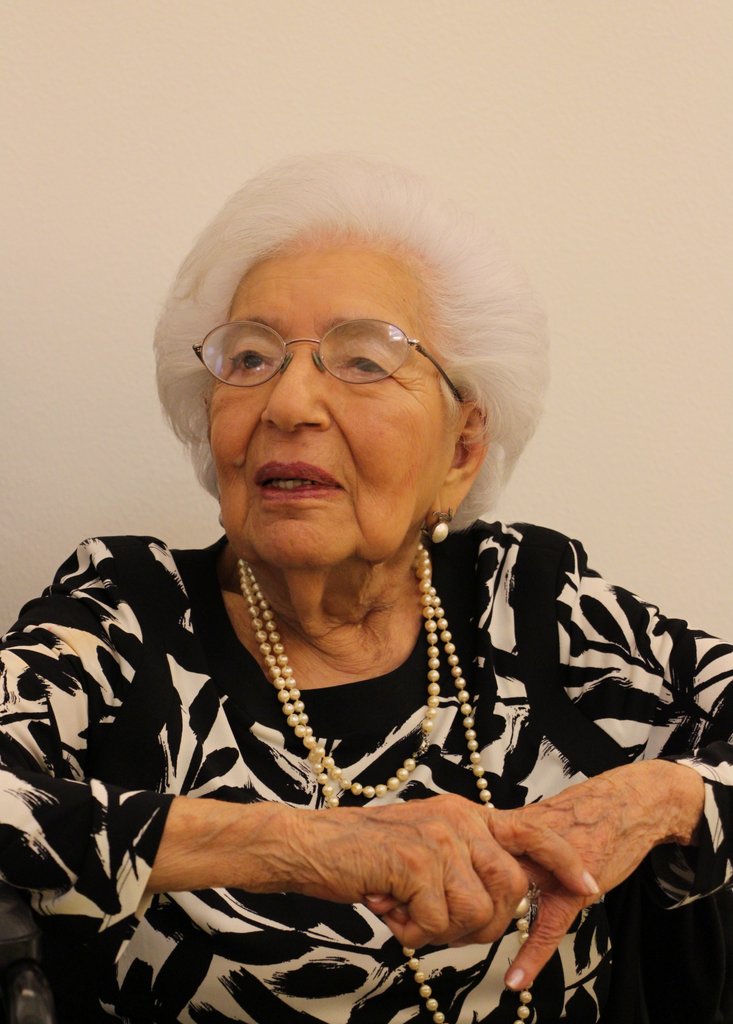 Can you believe this woman is 100?
¡Feliz cumpleaños, Tía Luisa!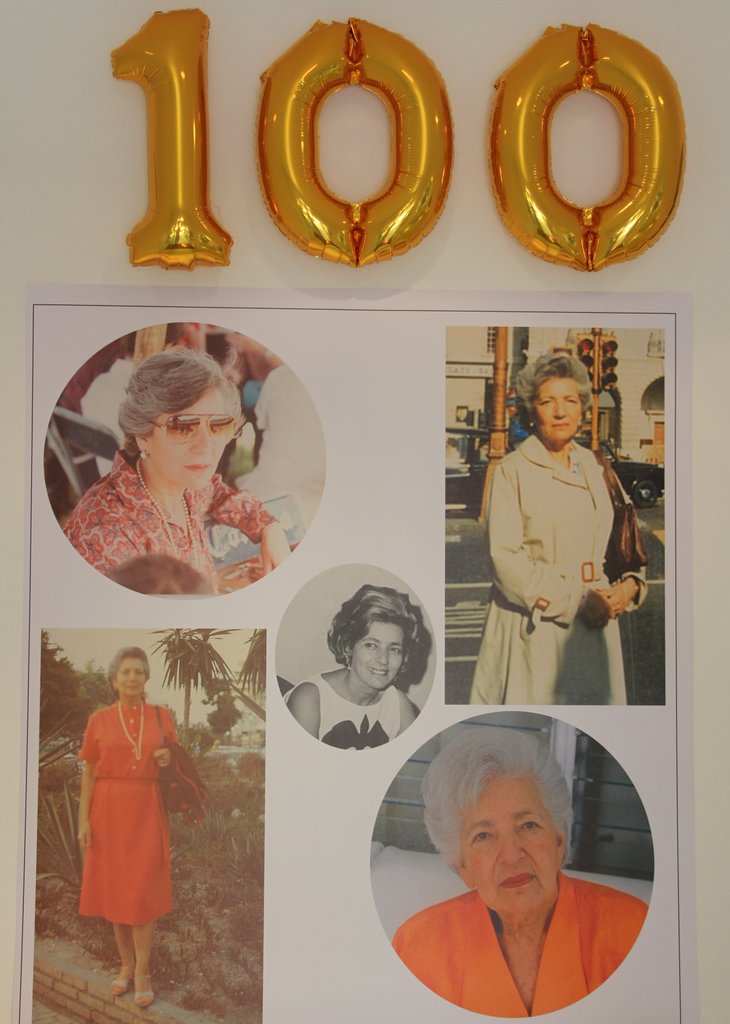 Friday: Baking Conchas in Mexico City
This day was dedicated to learning the art of making one of Mexico's most popular sweet breads with baker extraordinaire, Eliceo Lara. I met Eliceo last July when he first began offering classes and as expected, this was one of the highlights of my time in Mexico. Together with my mother, aunt, and cousin, we baked up a storm and enjoyed the most delectable conchas I've ever tasted. Trust me when I say that a class (any class!) with Eliceo is a must.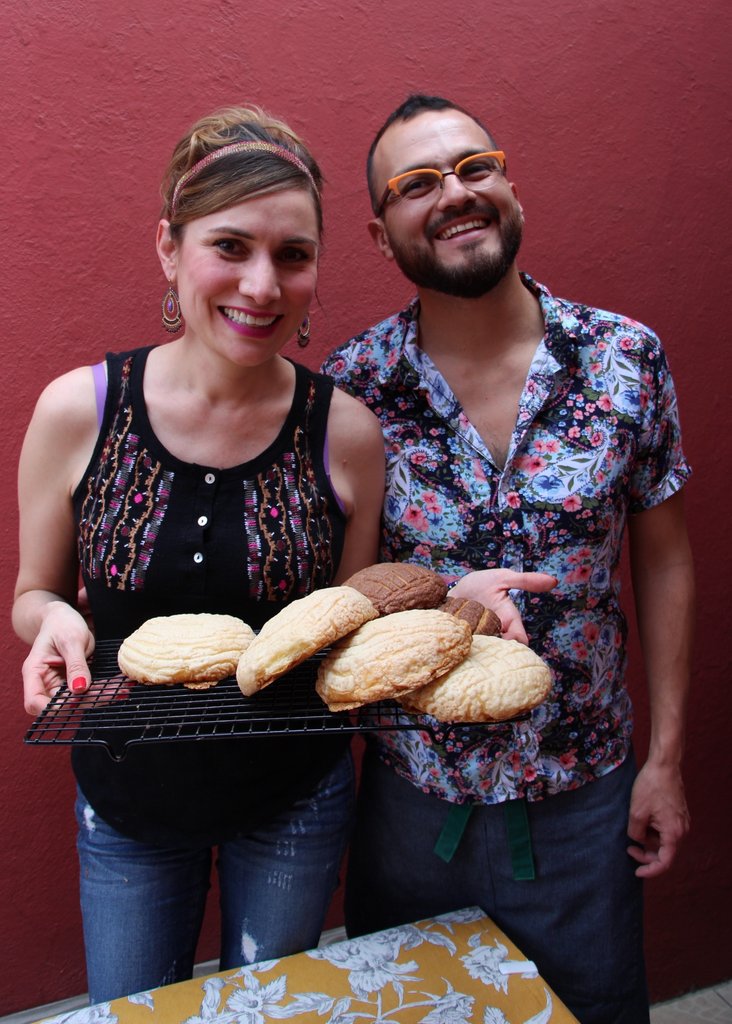 Can you tell how happy I am making conchas?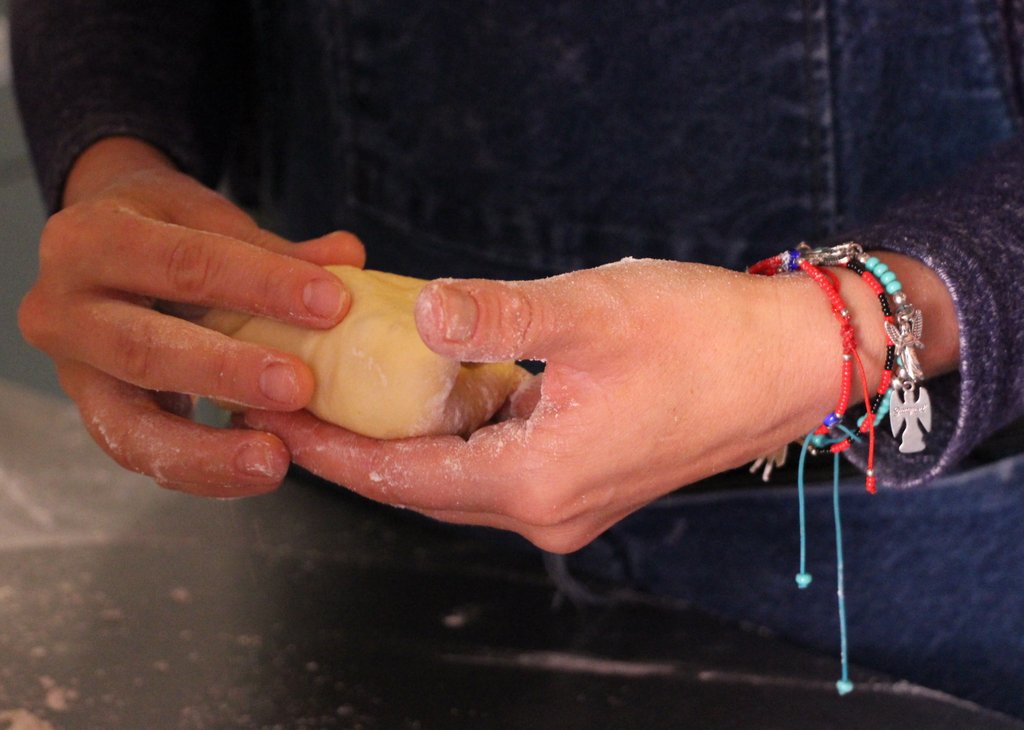 There's definitely an art to making conchas – here we are forming the bolitas, which requires more than just rolling the dough into a ball. They're more like little dumplings.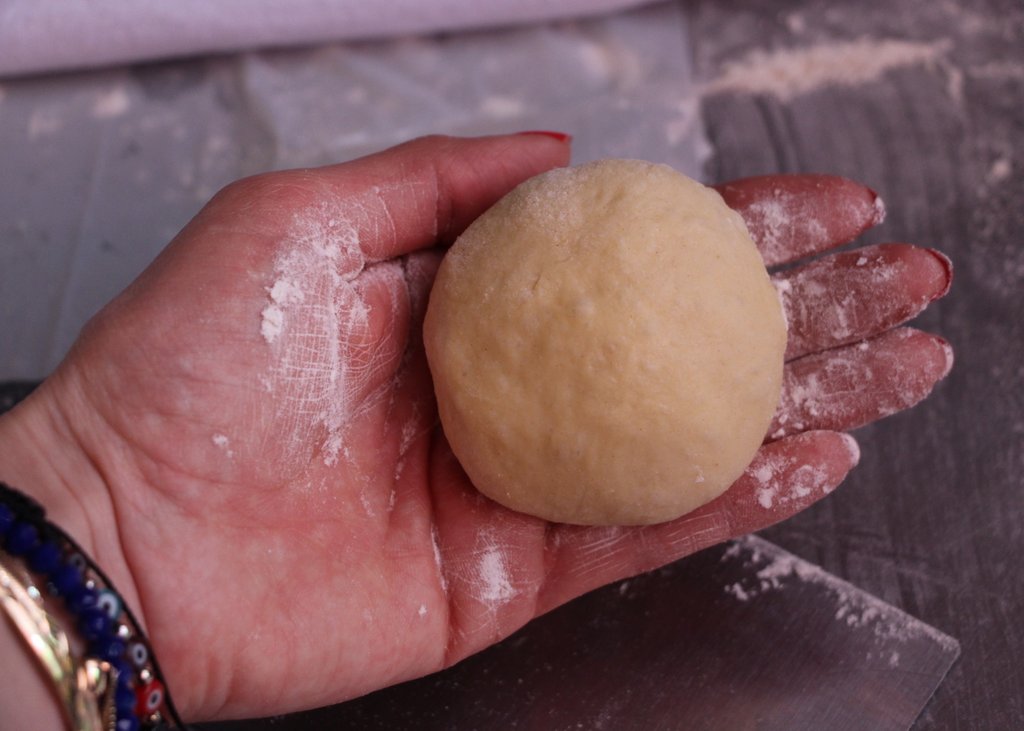 They look like balls though because we bake them with the closures face down.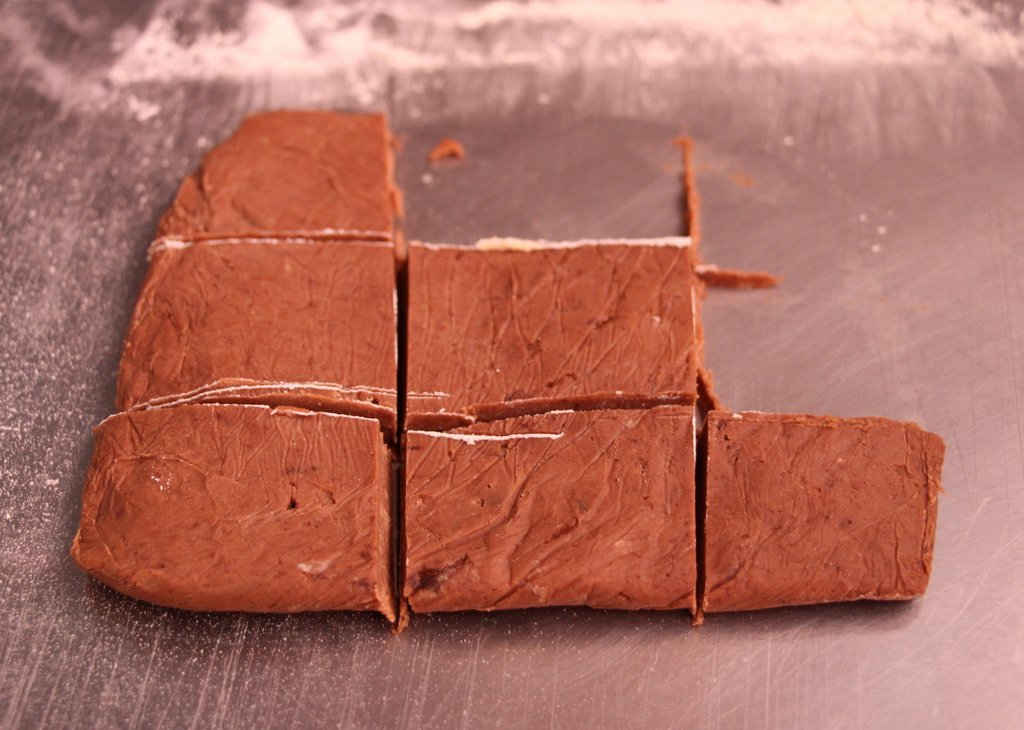 This is the topping for our chocolate conchas. We made everything from scratch. We also made vanilla conchas. Eliceo doesn't make strawberry conchas because he says they're typically colored with artificial ingredients so we are brain storming natural dyes to make some pretty pink ones in the future!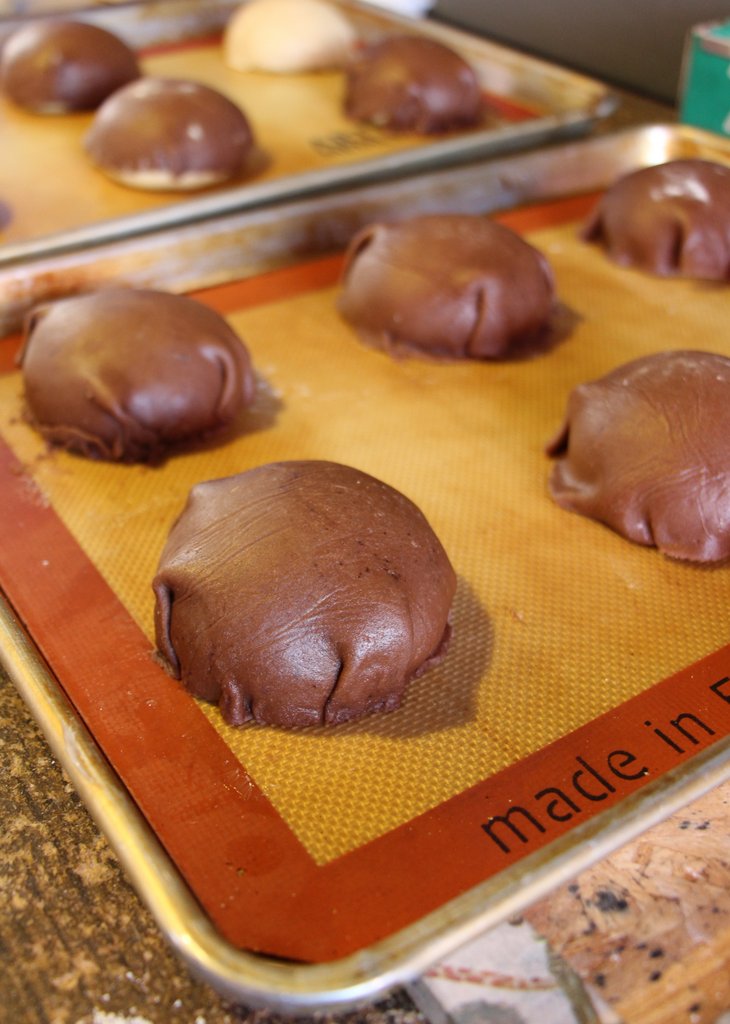 We cover each concha with the topping after pressing and forming it like we would a tortilla.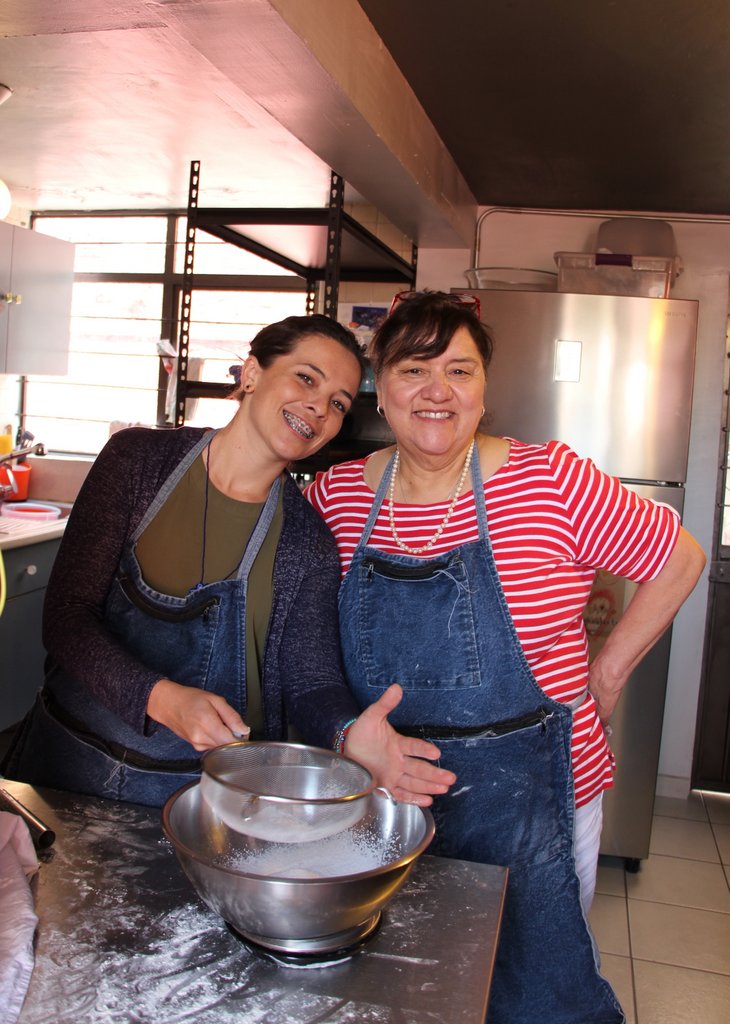 Aunt Teresa and Regina loved the class!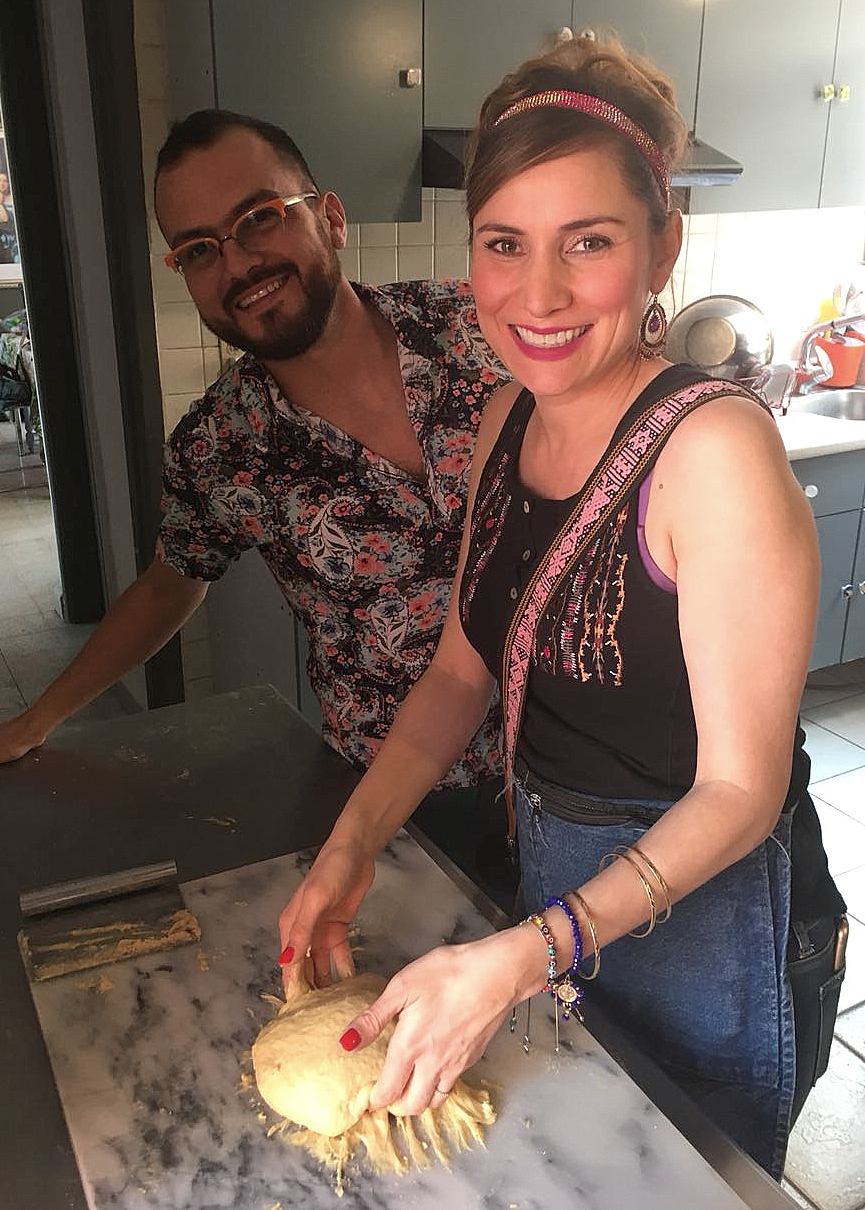 I did, too – just in case you can't tell.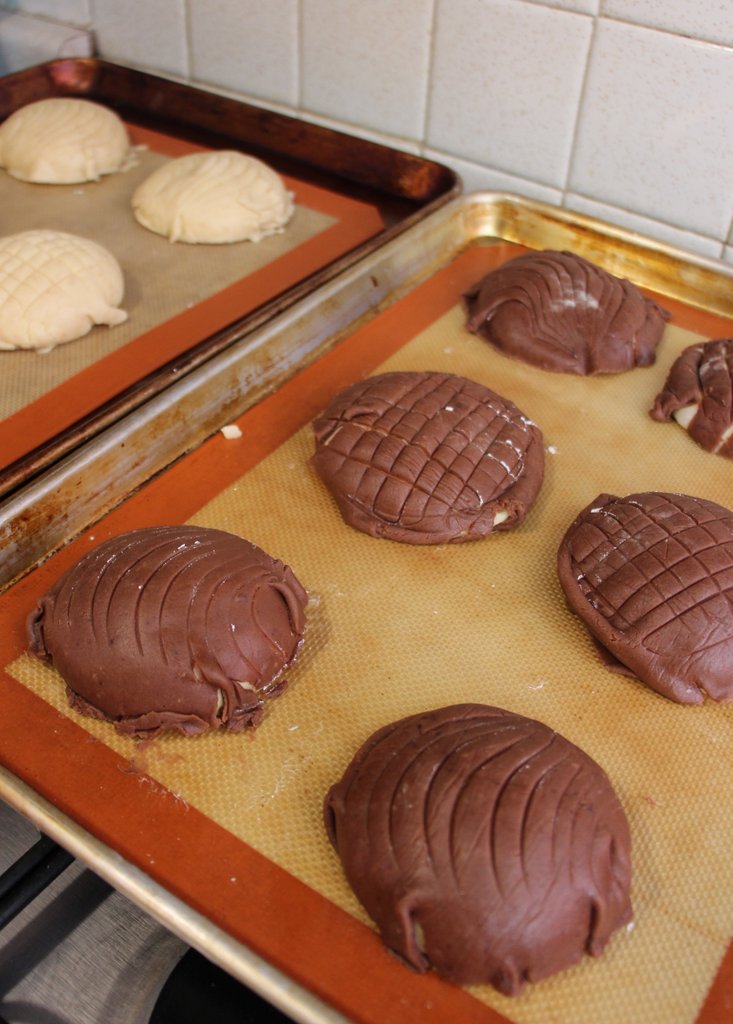 After stamping our conchas, they're ready for the oven.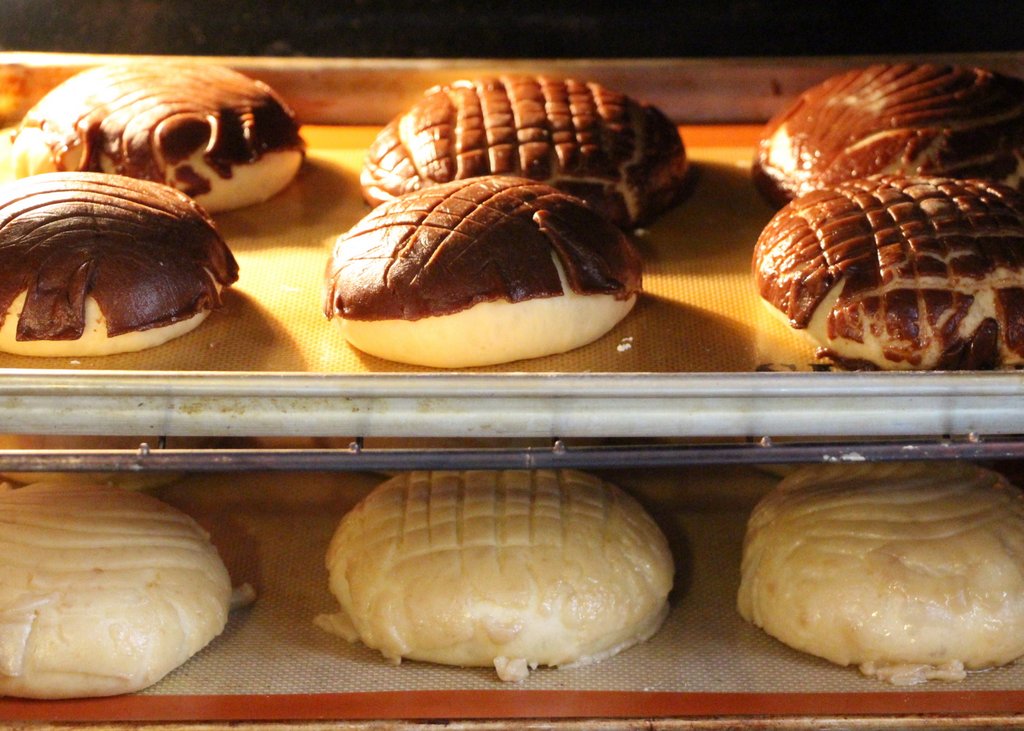 Now we wait.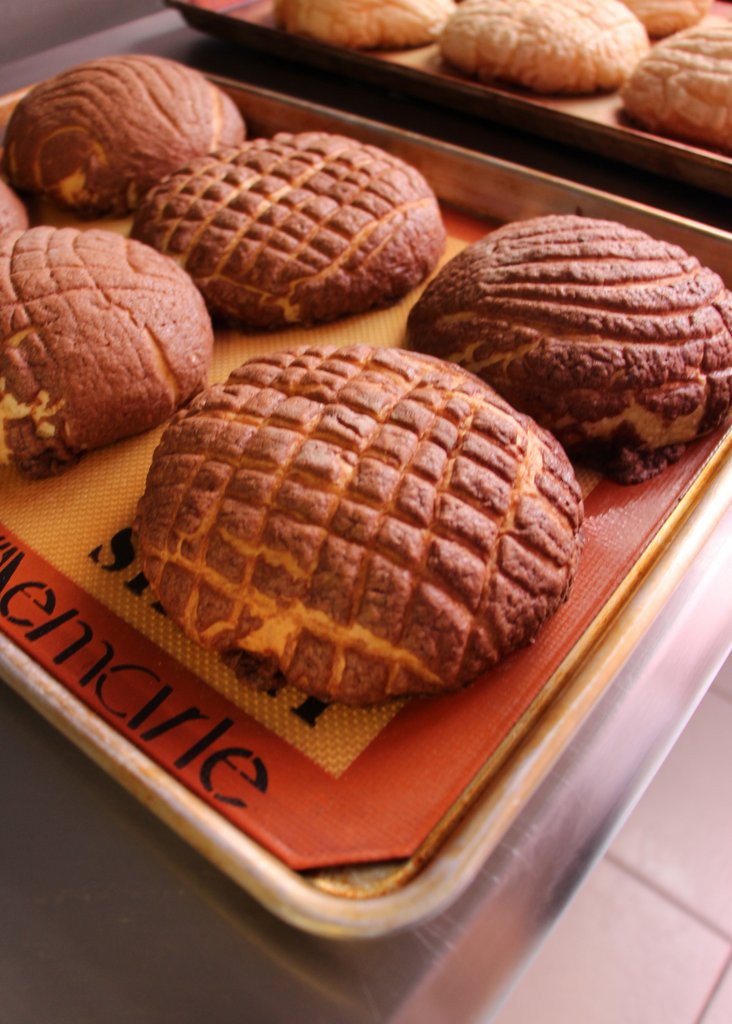 Chocolate concha perfection.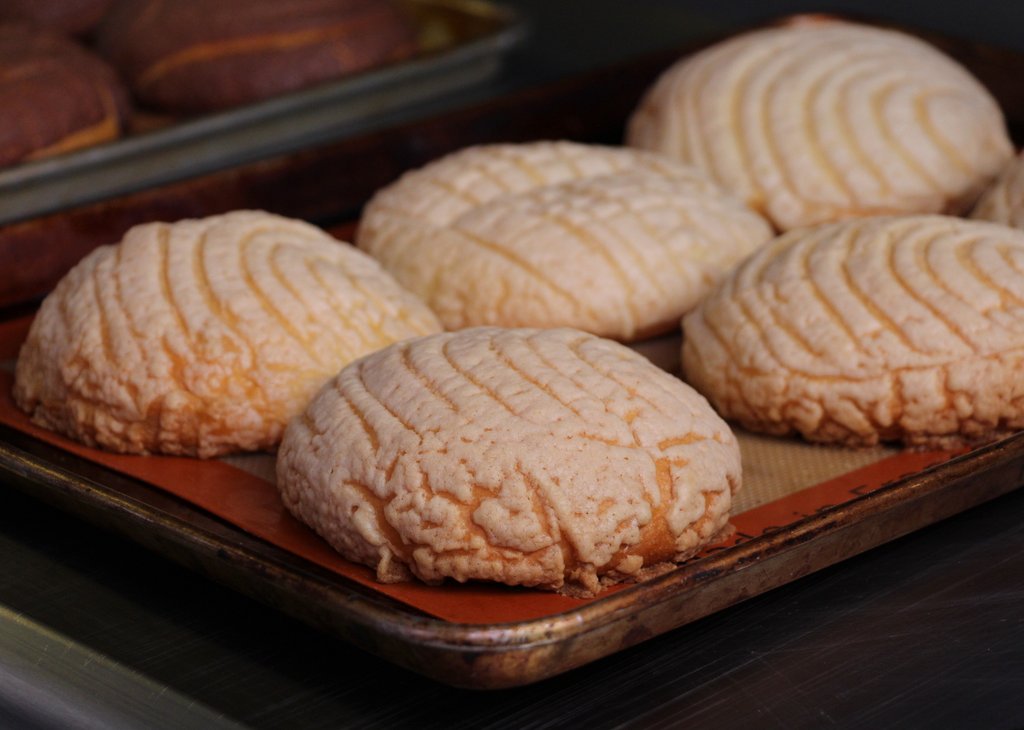 Vanilla concha perfection.
Here's our instructor, Eliceo. You can follow his baking adventures on Instagram at @eliceolara or sign up for one of his classes the next time you're in Mexico City.
¡Provecho! We took this picture with the timer, which is why it's blurry.

After class we met up with more family and ate at Cabesón Taurino in Santa Fe where we enjoyed simple but delicious soups and tacos stuffed with thinly sliced meat and excellent salsas. I couldn't have asked for a better start to the weekend.
Saturday: Day trip to Tepoztlán
This trip was all about celebrating birthdays and we decided to celebrate my Aunt Teresa's birthday in Tepoztlán, which was about an hour drive from Mexico City. As always, eating is the first thing on our agenda so we popped into Los Colorines for a snack. And by snack, I mean a full-blown meal and bebidas. The portions were hearty (my mom and I shared a plate) and the food was excellent – I knew it would be good when I tasted the salsa. There was a huge molcajete near our table that was nearly empty, which the servers used to refill the small salsa bowls on our table so I knew this was a good sign. The décor was also cheerful and included Mexican dishware that I wanted to bring home with me.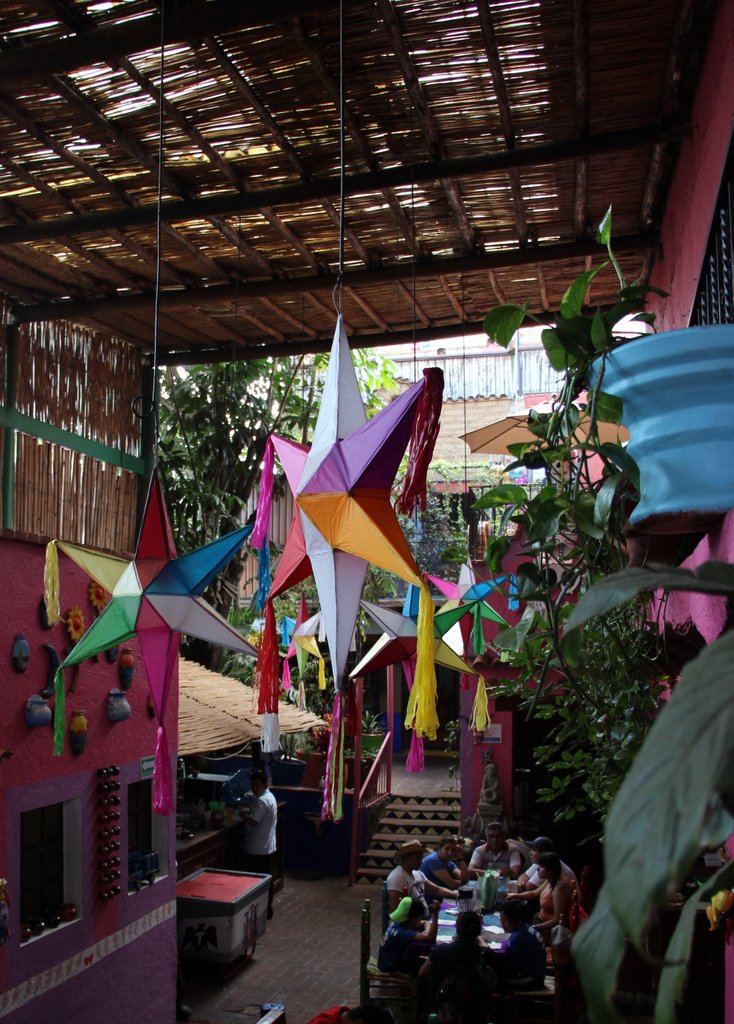 The ambiance in Los Colorines made me happy.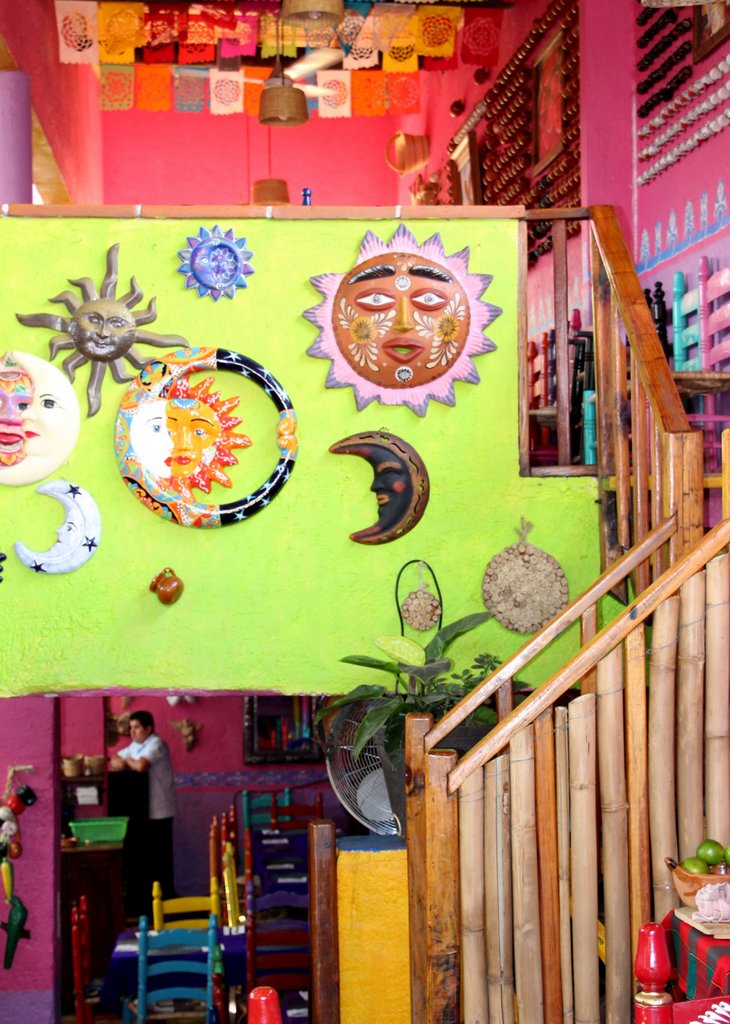 I wanted to bring all of these dishes home with me.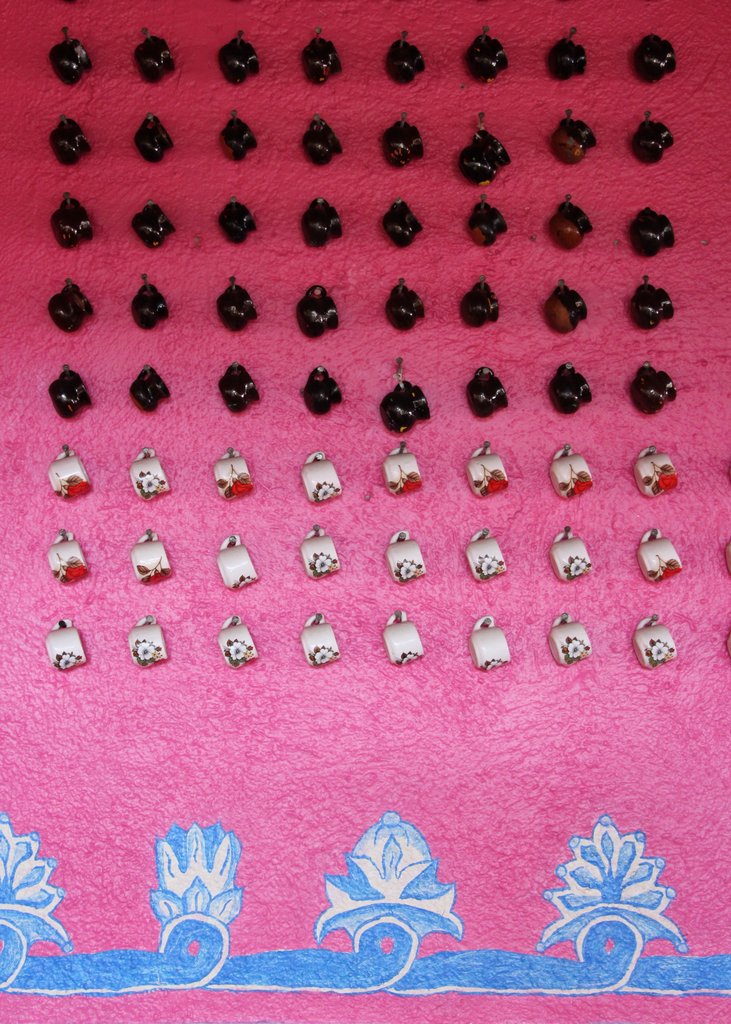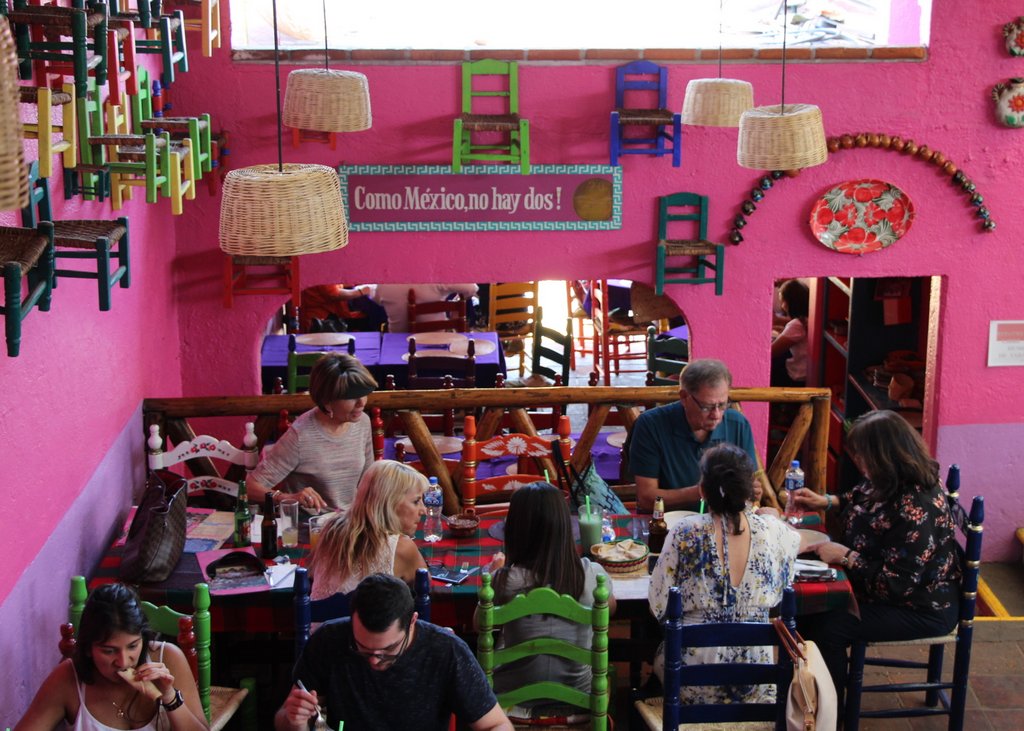 "Como Mexico, no hay dos!"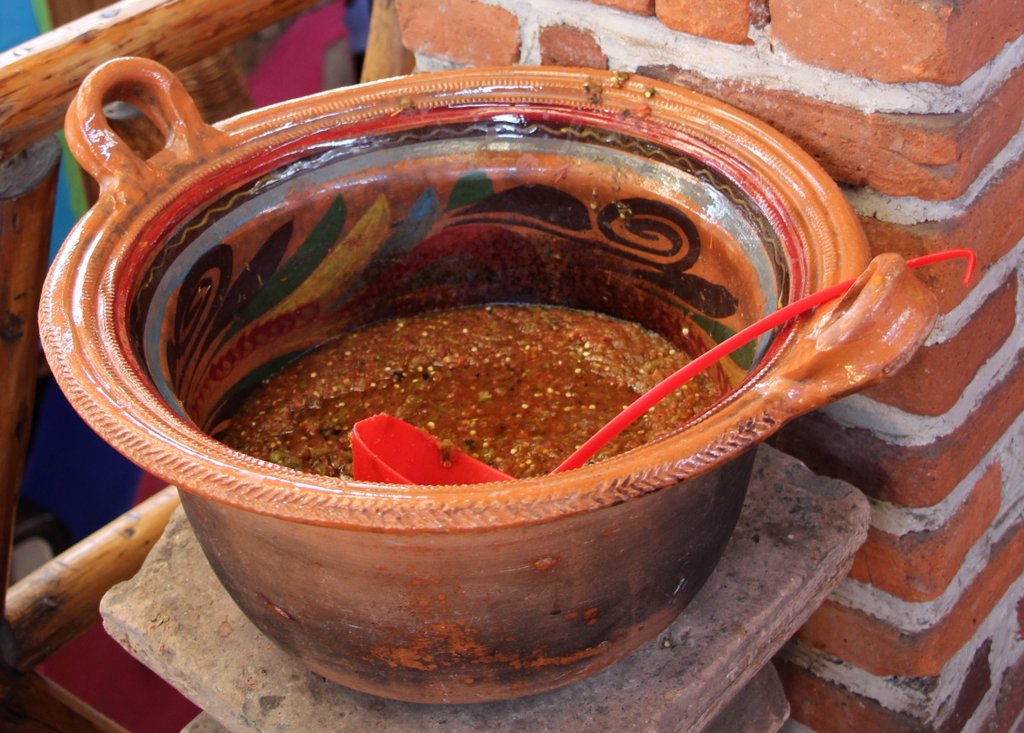 This is the huge salsa bowl I mentioned above. It was so good!
What's your indicator of a good Mexican restaurant? The salsa? The rice?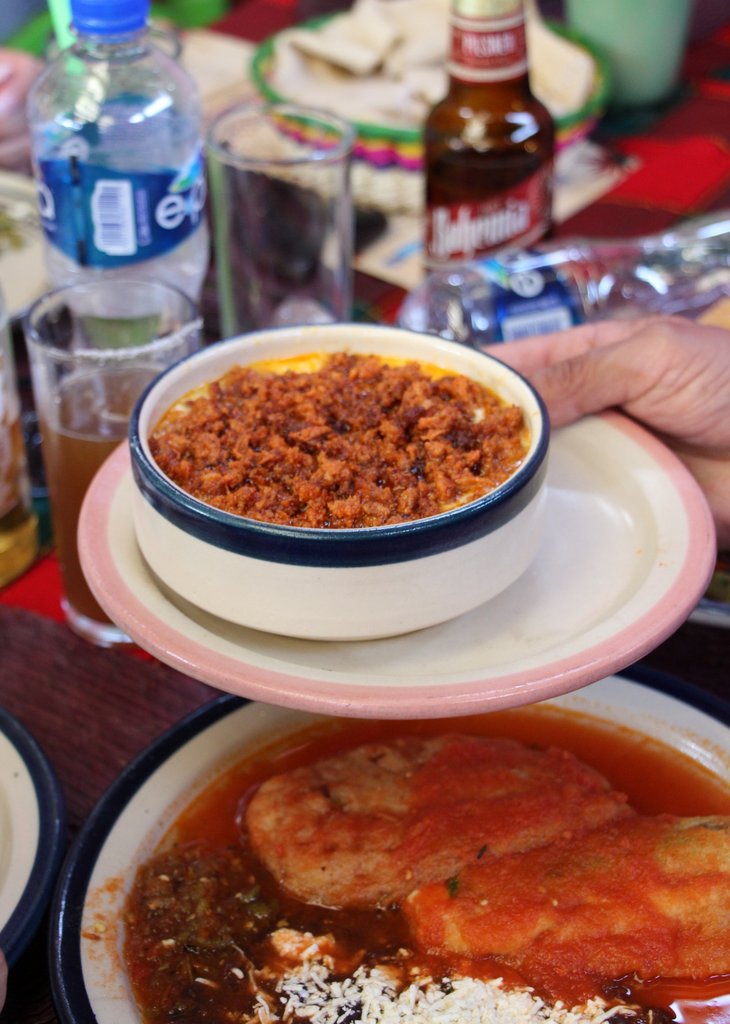 Queso fundido con chorizo.
Taco de nopal – simple perfection.
Our next stop after Los Colorines was Tepoznieves. I've tried the ice creams at the Tepoznieves in Tijuana, but there were infinitely more options here. I tried one of my favorites – queso – with a new flavor – zapote negro (it wasn't my favorite).
Touring the town was fun in and of itself. There were restaurants, michelada and mezcal stands, food and art vendors, as well as small spas, meditation, and massage centers lining the main drag. I can definitely see myself taking a weekend trip here in the future.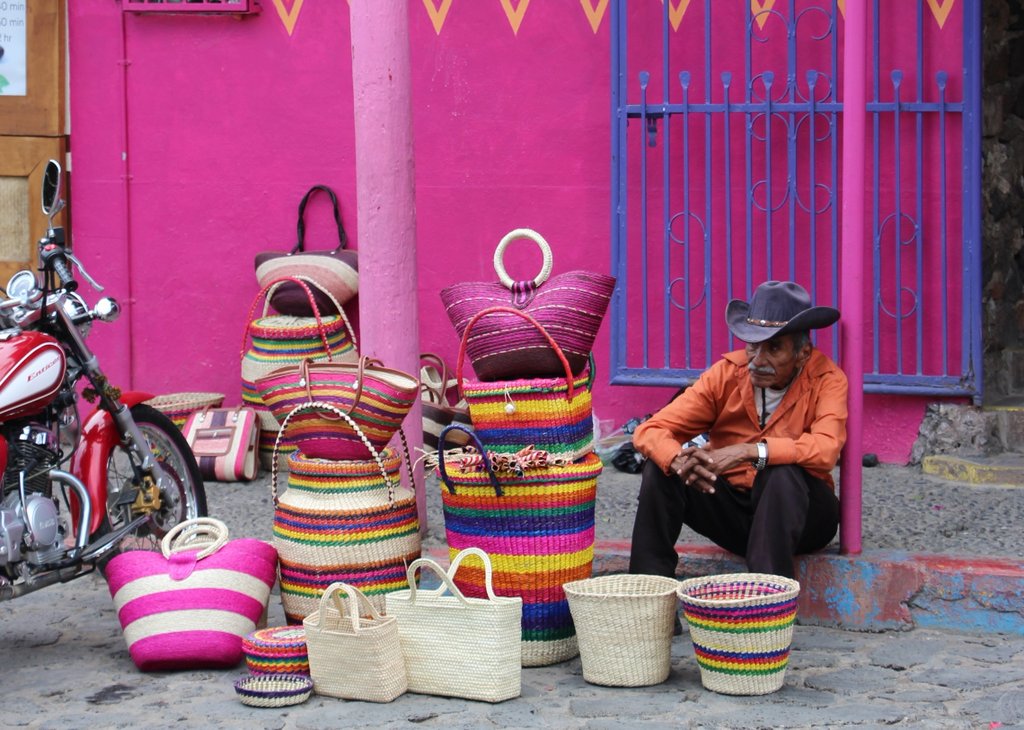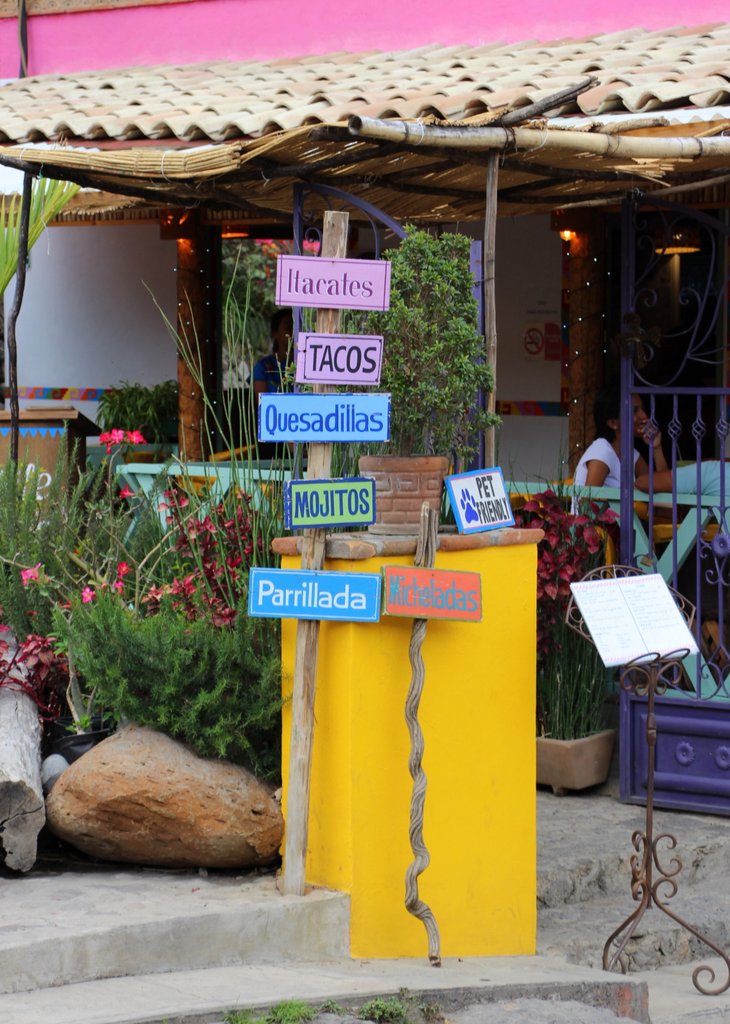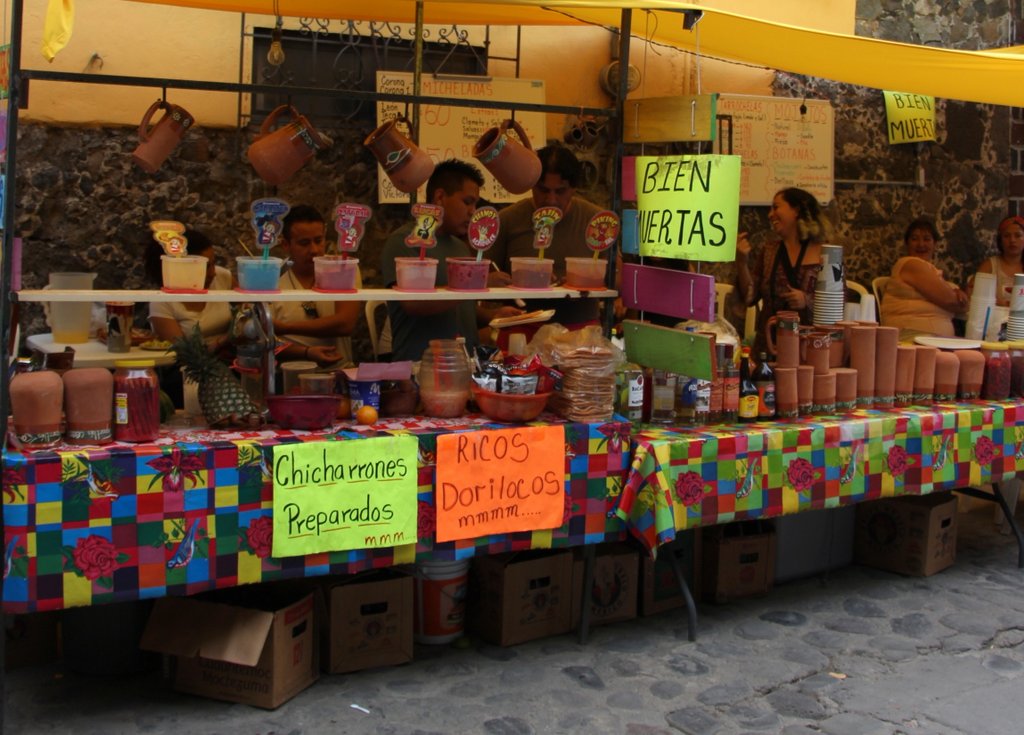 Look at the size of some of those mugs for micheladas and other drinks!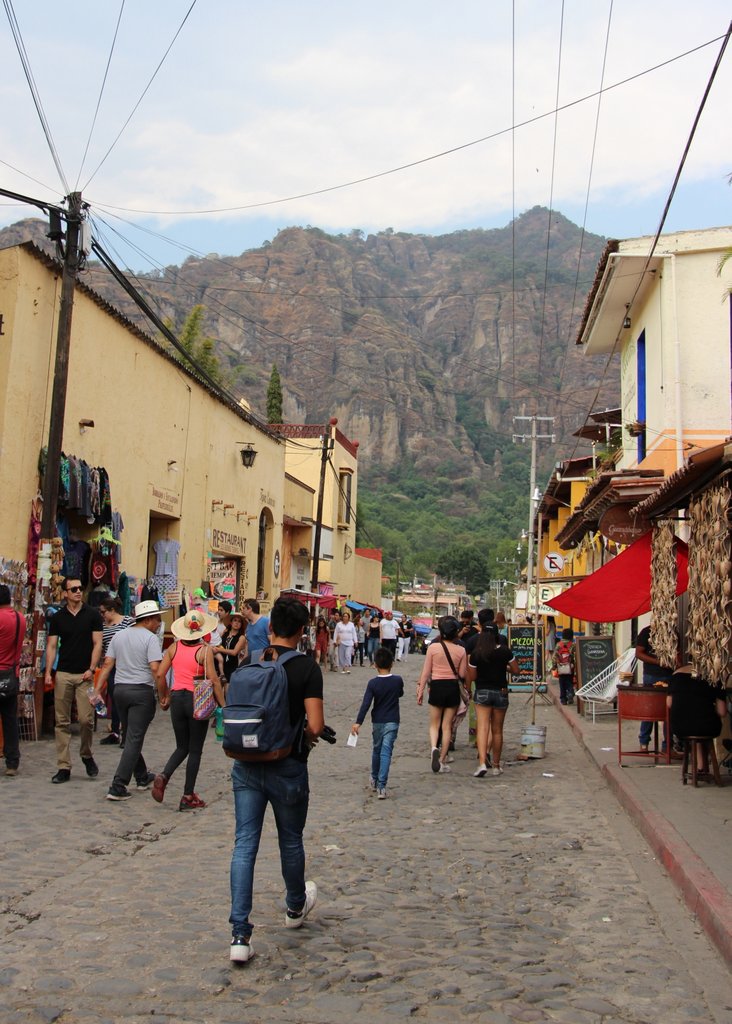 Tepoztlán was buzzing with energy.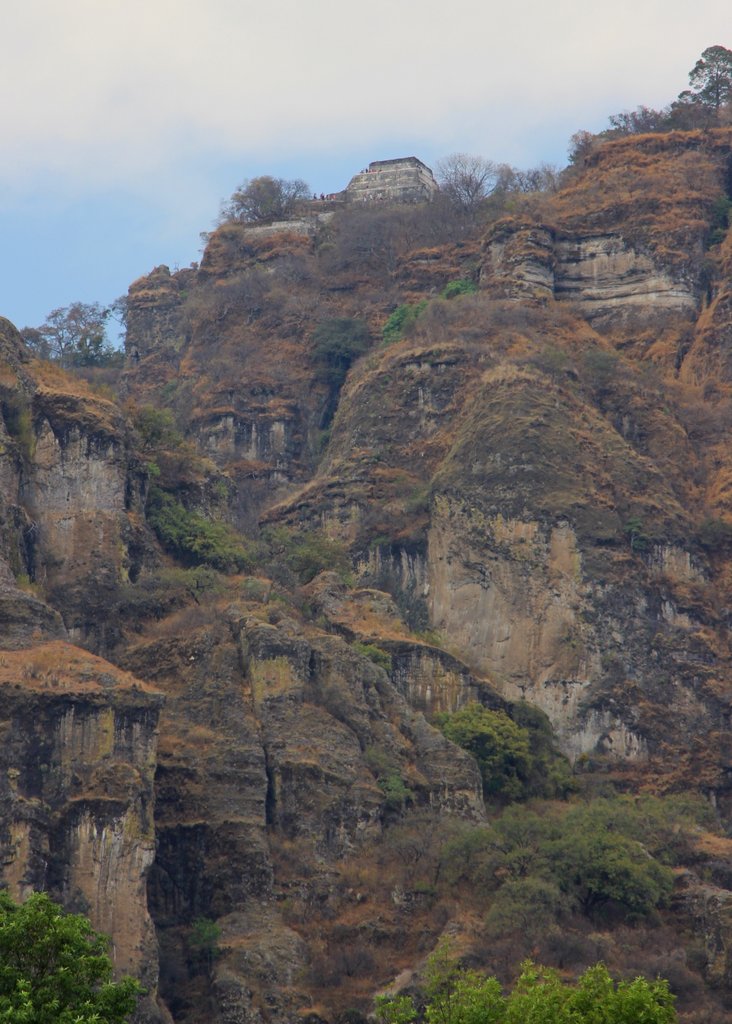 El Tepozteco is an archaeological site in the Mexican state of Morelos in Tepoztlán. It consists of a small temple to Tepoztecatl, the Aztec god of the alcoholic beverage pulque.
Sunday + Monday: A Sweet Ending to My Trip in Mexico City
On Sunday we relaxed and packed – most of the gang was headed home to California while I was preparing for the second leg of my trip. Before leaving to Oaxaca in the early evening on Monday, I managed to fit in one more baking class with Eliceo. This time I learned to make pastel de tres leches. Oh my goodness – just when I thought I had tasted it all! We topped our perfectly moistened cake with a cream cheese frosting, toasted coconut, and fresh guava slices. It was to-die-for. Now I'm dying to return for Eliceo's pan de muerto class!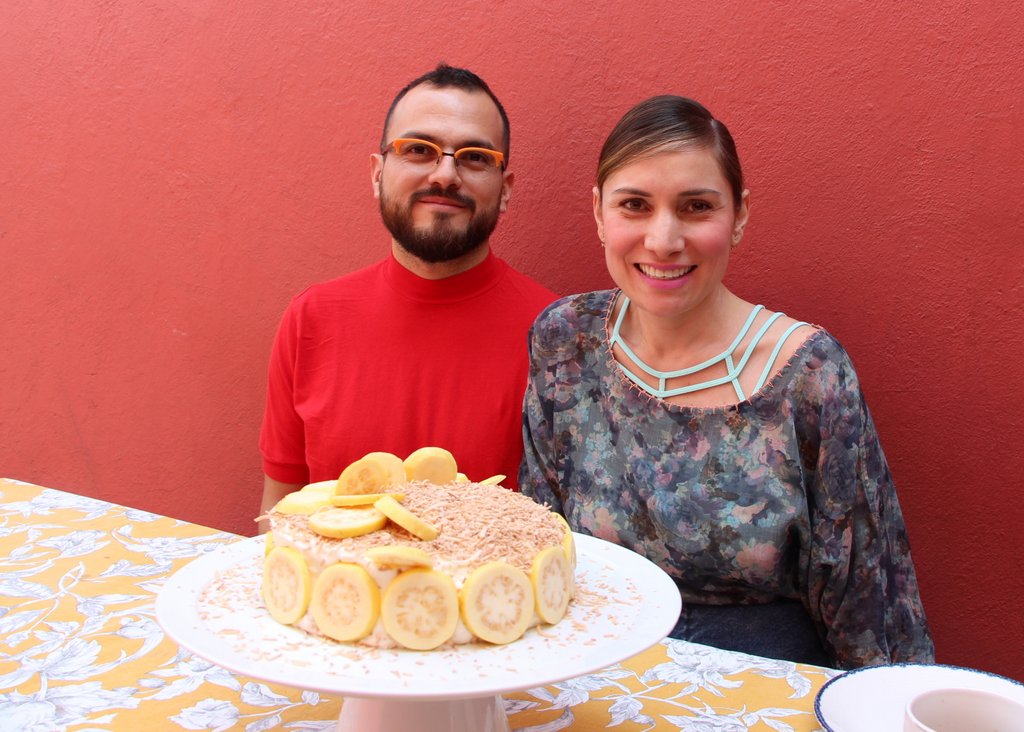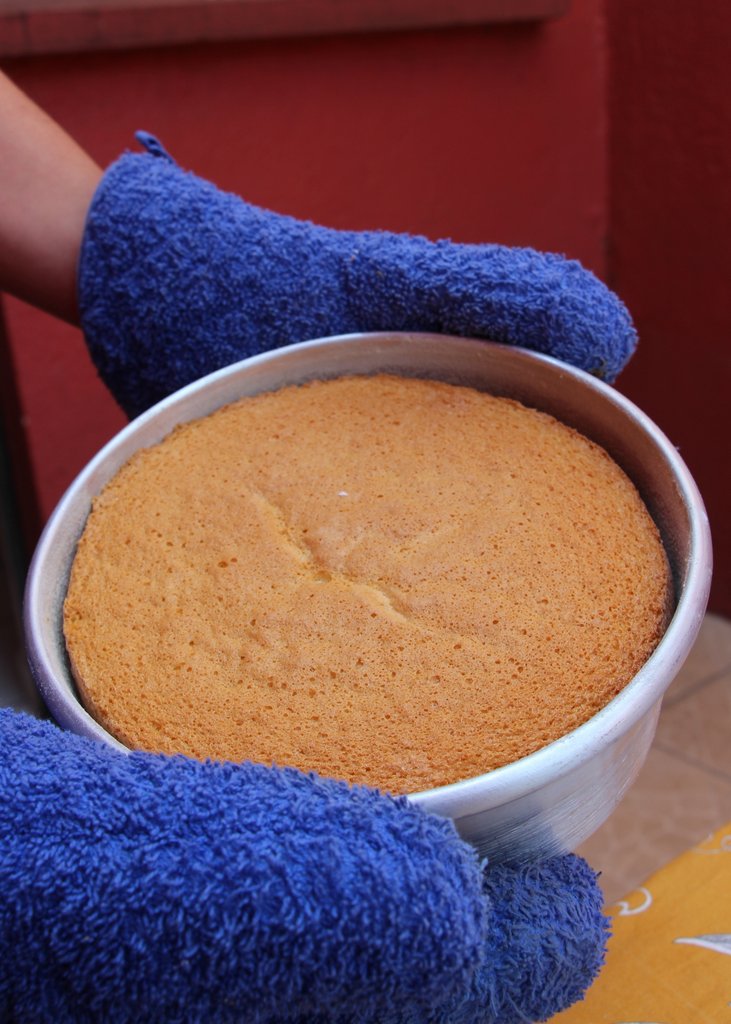 For once, I actually think I can recreate this deliciousness at home!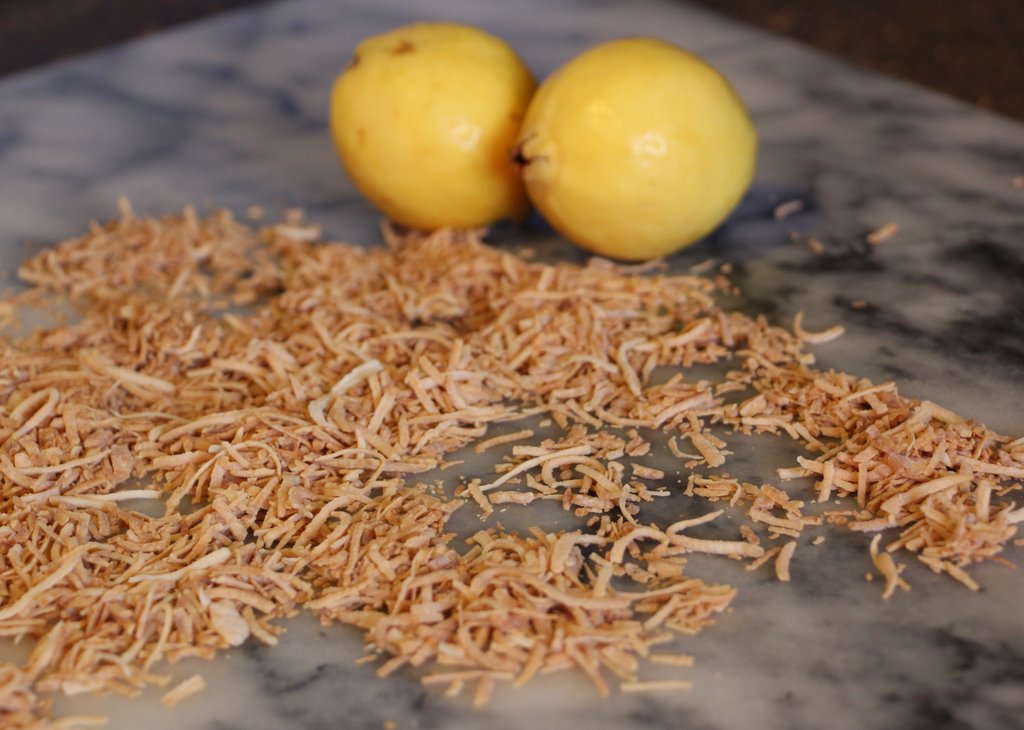 Toasted coconut added a special touch to our pastel de tres leches. We toasted it ourselves, too.
And the guavas added freshness, which paired perfectly with the cream cheese frosting.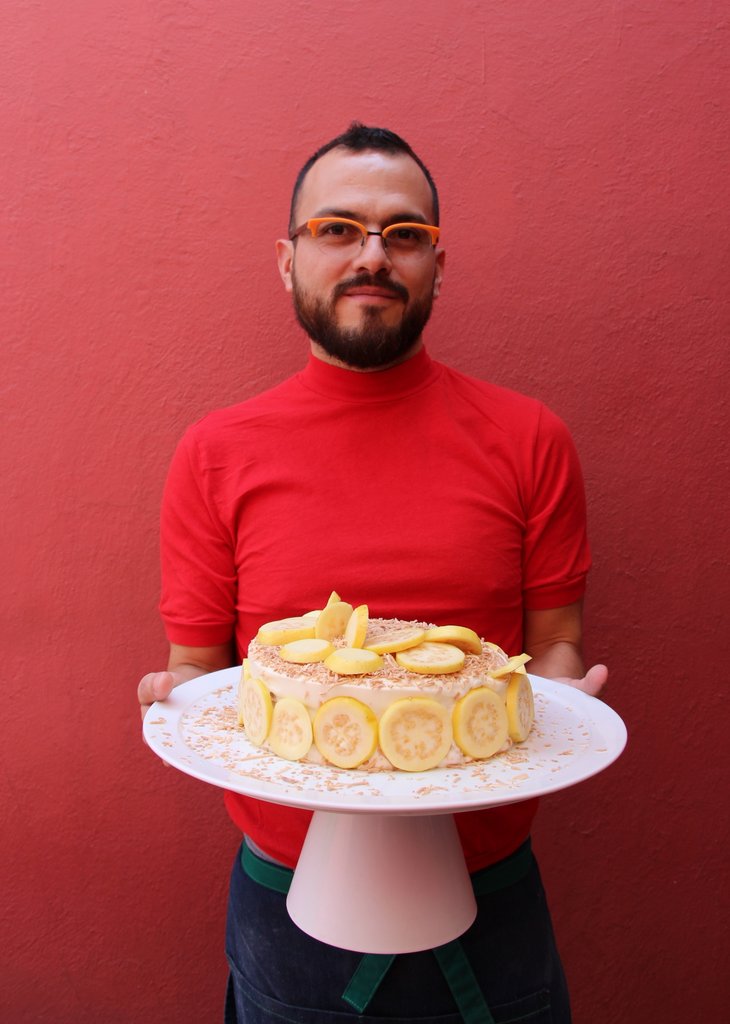 This was the sweetest end to my adventures in Mexico City, which included a perfect mix of cooking, eating, and family time. If you're planning a trip to Mexico City and have questions, feel free to email (lola[at]lolascocina.com) or leave me a comment below.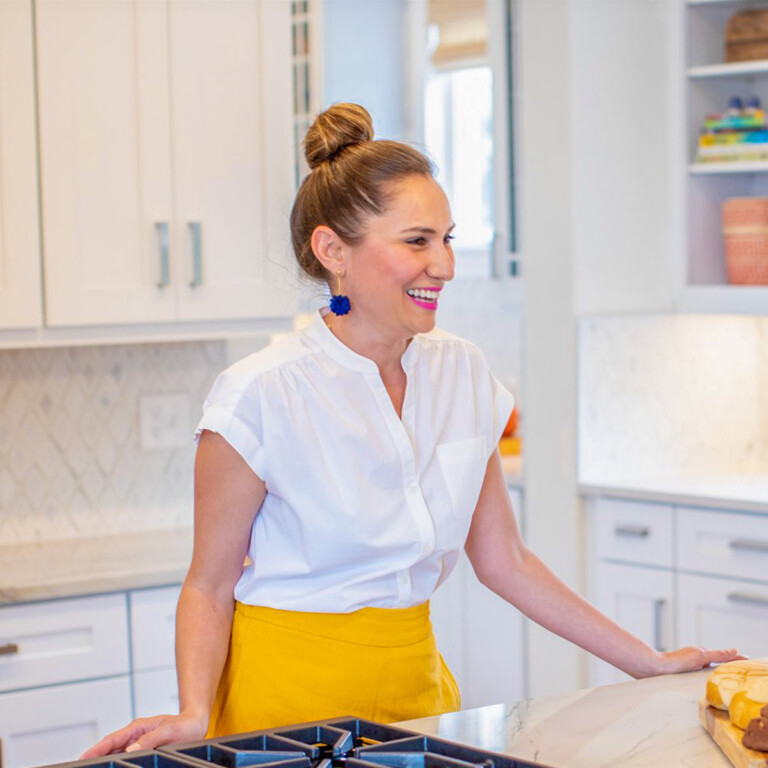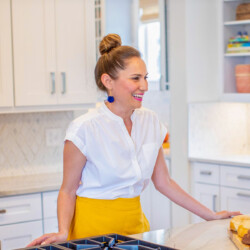 Lola Wiarco Dweck
Lola is a Mexican-American recipe developer, writer, and cooking instructor who loves sharing her culture with the world. Growing up in California and spending summers in Mexico, Lola celebrates her family's Mexican recipes and vibrant culture through Lola's Cocina.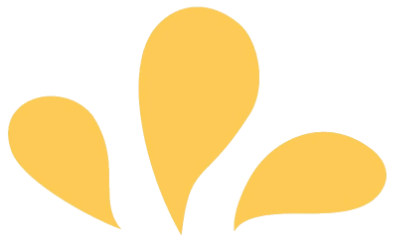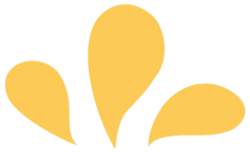 Sign up for ¡Hola de Lola!