Spicy Serrano Latkes and Blending Cultural Traditions
Have you read the children's book Jalapeño Bagels? One of my best friends gave it to me when I was pregnant with Amado, and it tells the story of a little boy named Pablo whose father is Jewish and mother is Mexican. Pablo is faced with the decision to present a food at school that represents his culture for International Day and he is torn. Ultimately he decides to take jalapeño bagels, which represent his culturally rich American family. The story reminded me very much of my Amadito and our little familia. If you'd like to read more about our Jewish-Syrian-Mexican-American cultural traditions, check out this month's isssue of Parent's Latina!
This week the story especially hit close to home. While we are in the midst of preparing to make tamales with all of the mujeres in our family, each night we take a moment to light the menorah candles. We celebrate Christmas and Hanukkah in this family. Amado is completely comfortable in synagogues and churches and is able to connect with both sides of his family in different ways. He loves tacos and atole as much as bagels and Manischewitz (he only takes a sip on Shabbat and on holidays).
When it comes to Christmas food, every year we make my great grandma Macky's red chile pork tamales and introduced a special "kosher" batch with chicken for my husband. I also strive to teach my mom and siblings about our family's Jewish traditions and holiday foods, which inspired today's recipe.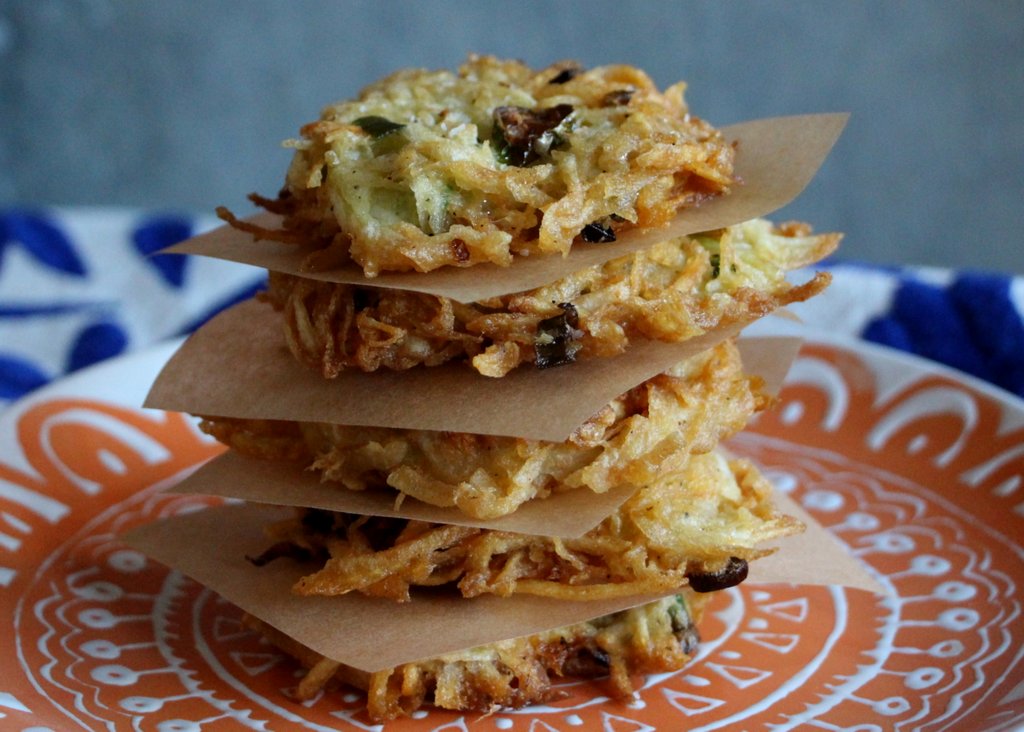 Before flying to California for the holidays this week, I made spicy latkes to enjoy with Amado and his papá. They came out so good that I'll be making a second batch to enjoy with everyone in California. I don't really like to toot my own horn (I'm pretty sure I've said that before!), but these are probably the best latkes I've ever tasted – golden, super crispy, and perfectly spicy.
For anyone who isn't familiar with latkes, they're basically small potato patties that are eaten during the Hanukah, which celebrates the miracle of the oil burning for eight days when it should have only lasted for one. This is why we eat foods fried in oil, like latkes. They're typically served with sour cream and apple sauce, but I serve mine with fresh pico de gallo, apple salsa, or spicy pineapple jam (recipe coming soon). On that note, Feliz Navidad and Happy Hanukkah, amigos!
Ingredients:
3 Russet potatoes, shredded (about 2 cups)
2 medium eggs
Salt and pepper, to taste
2 green onions, thinly sliced into rings
1 serrano chile pepper, thinly sliced into rings
1 tablespoon flour
1/4 teaspoon baking powder
1/2 cup canola oil
Preparation:
Rinse potatoes very well and use a nut milk bag or piece of cheesecloth to squeeze out any excess water. You can shred potatoes in advance and refrigerate them in water to chill the night before.

In a medium bowl, mix eggs, shredded potatoes, serrano pepper, flour, and baking powder. Add shredded potatoes and mix until completely covered in egg.

Prepare oil in a cast iron skillet over medium-high heat. Once hot (test with a small piece of potato and make sure it sizzles), carefully drop the potato mixture into the oil by the tablespoon. Flatten and shape into a round patty with spoon. Fry on each side until golden brown and crispy, about 3 minutes on each side. Remove from heat and drain on a paper towel to remove excess oil. Taste and season with additional salt while hot if necessary. Keep warm until remainder of the patties are fried – this can be in an oven that's set at 275 degrees Fahrenheit.
Some people buy pre-shredded potatoes, but I like to shred my own and soak them in water overnight to chill before frying.
I believe that using a cast-iron skillet was the key to these perfectly golden latkes.
Save
Save
Save
Save
Save
Save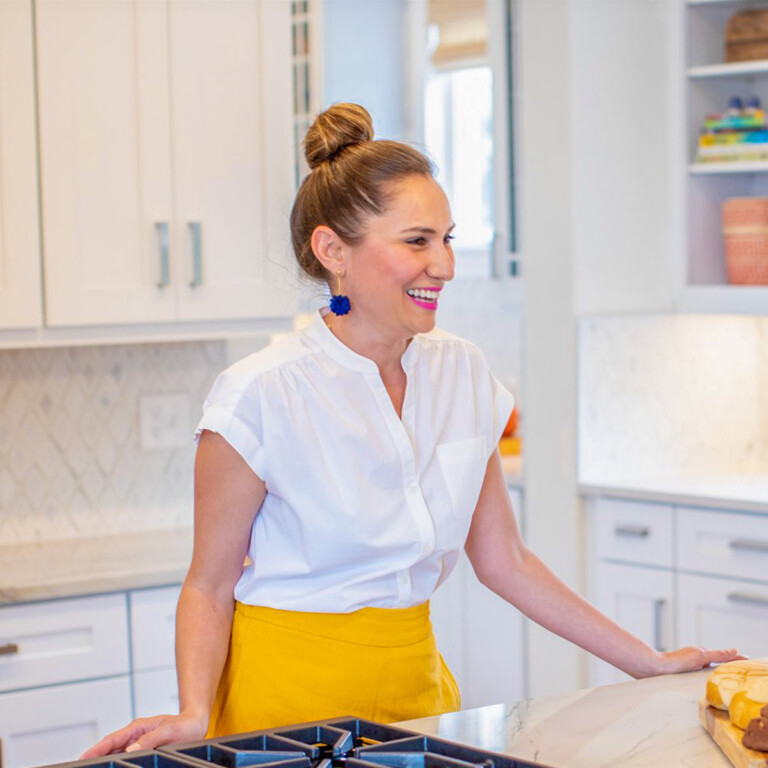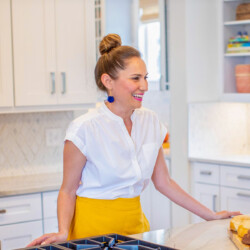 Lola Wiarco Dweck
Lola is a Mexican-American recipe developer, writer, and cooking instructor who loves sharing her culture with the world. Growing up in California and spending summers in Mexico, Lola celebrates her family's Mexican recipes and vibrant culture through Lola's Cocina.