What the Health + Delicious Hibiscus Tostadas Recipe
It seems like recently everybody I know is talking about the Netflix documentary What the Health. The film sets out to examine the link between diet and disease and has quite a few people considering going vegan. Even one of my favorite chefs, Marcela Valladolid, began sharing plant-based recipes and talking about how much better she feels since cutting out animal products from her diet.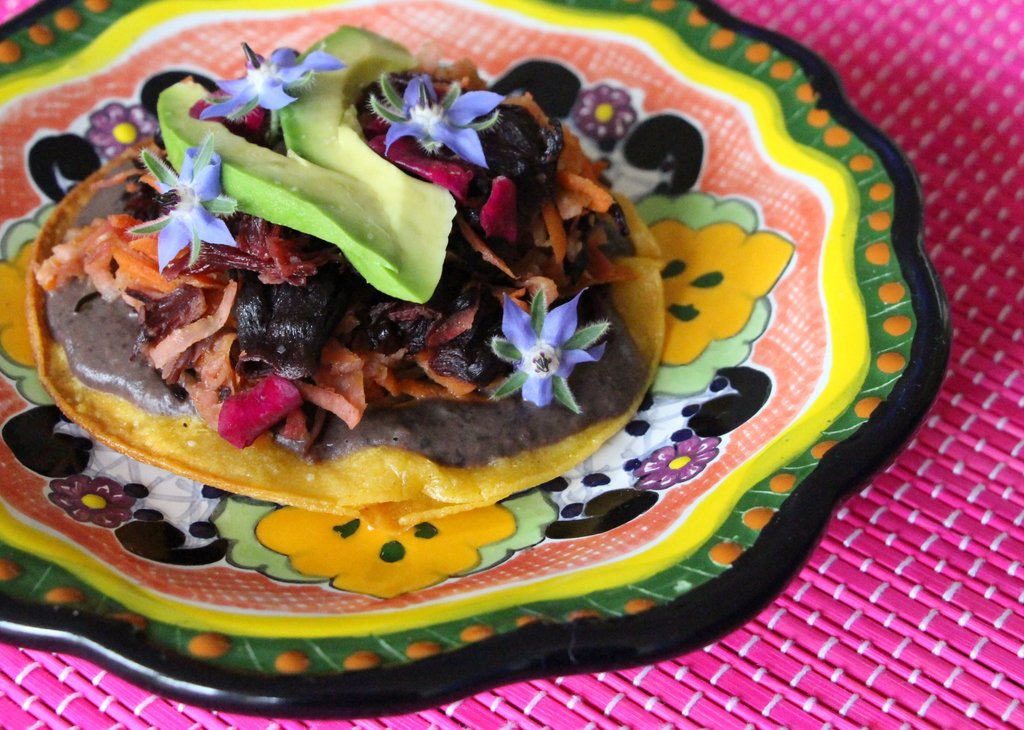 While the vast majority of Americans don't eat enough fruits and vegetables and could stand to reduce their meat and dairy intake, I found the film to be misleading with its claims that eating an egg a day is equivalent to smoking five cigarettes, or drinking milk causes cancer. Most nutrition-based research can show links between certain foods and diseases, but not that eating one food causes a particular disease. So if you plan to watch the film, go into it with an open mind and know that some of the claims require more research or are simply exaggerations of the truth.
While all of this vegan talk stresses me out a little, it's also challenged me to get creative in the cocina. You see, my husband has always suffered from indigestion and scaled back on his meat and dairy consumption nearly two months ago (after watching the documentary). He claims to feel better than ever and I've noticed that he's less bloated and uh, pretty regular now, if you catch my drift. So I figured, what the hell(th) – it's not going to kill me to step outside of my comfort zone and experiment with a few Mexican plant-based recipes.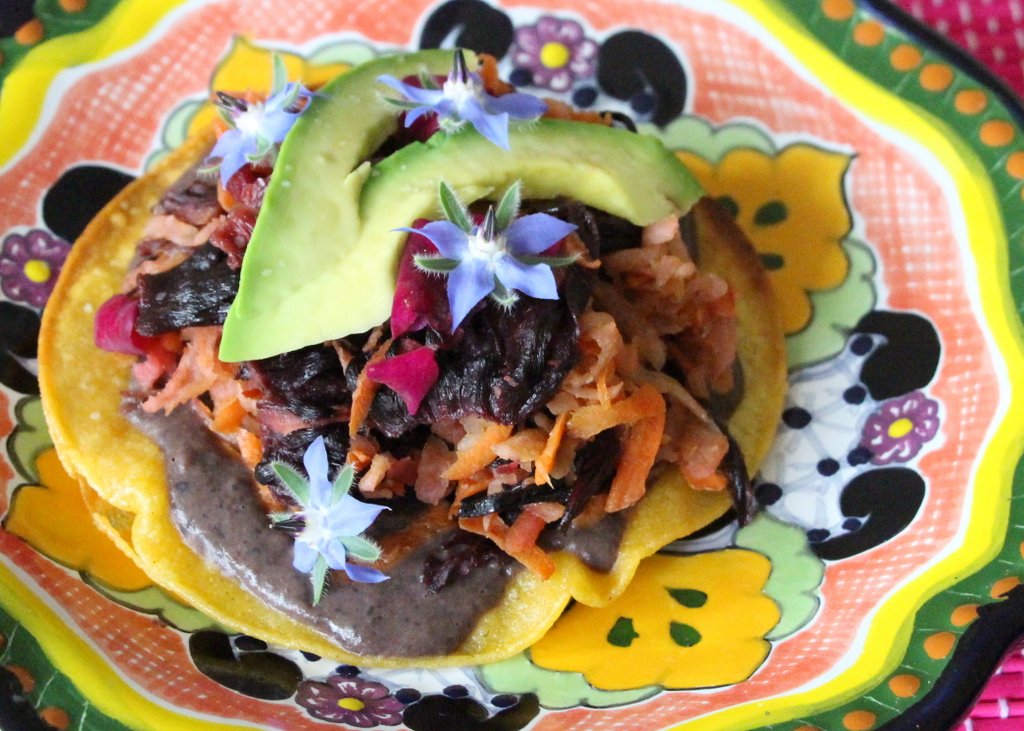 This first one is an ode to one of my favorite Mexican ingredients: flor de jamaica. These tostadas are colorful, delicioso, and yes, they're even filling!
Ingredients:
1 large onion, chopped
1 small jicama (about 1 pound), peeled and shredded
3 large carrots, shredded
2.5 cups rehydrated hibiscus flowers (from tea)
2 teaspoons salt (or to taste)
1 teaspoon sugar (or to taste)
2 tablespoons apple cider vinegar
4 cups cooked black beans in juice
¼ large onion, chopped
1 chipotle chile in adobo sauce
4 tablespoons coconut oil
8 corn tortillas
1 avocado, sliced + edible flowers for garnish (optional)
Preparation:
In a large pan, sauté sliced onion until translucent over low-medium heat. Set aside about two tablespoons of onions for the bean mixture.

Add shredded jicama, carrots, hibiscus flowers, salt, sugar, and vinegar to the remaining onion. Mix well and sauté an additional 10 minutes. Taste and adjust salt if necessary.

In the meantime, blend two tablespoons of onion, black beans, and chipotle pepper until creamy, about 60 seconds. Coat a separate pan with 1 tablespoons of coconut oil over medium heat. Once hot, add beans and stir frequently to avoid burning or sticking.

While beans and hibiscus mixtures are cooking, heat remaining 3 tablespoons of coconut oil in another pan and once hot, fry tortillas individually for about 60 seconds on each side, or until golden and crispy. Drain on a paper towel.

To assemble, spread a layer of black bean mixture, hibiscus mixture, and top with avocado and edible flowers.
Note: This recipe was inspired by my summer 2016 trip to Oaxaca and my experience cooking alongside Chef Alan Sanz.
Save
Save
Save
Save
Save
Save
Save
Save
Save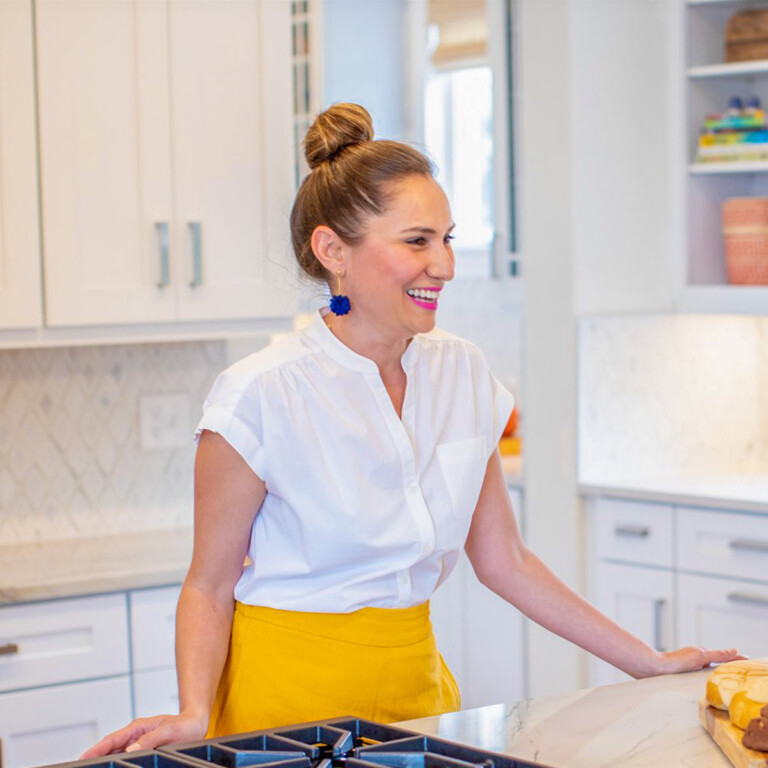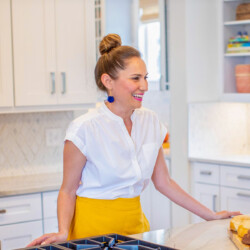 Lola Wiarco Dweck
Lola is a Mexican-American recipe developer, writer, and cooking instructor who loves sharing her culture with the world. Growing up in California and spending summers in Mexico, Lola celebrates her family's Mexican recipes and vibrant culture through Lola's Cocina.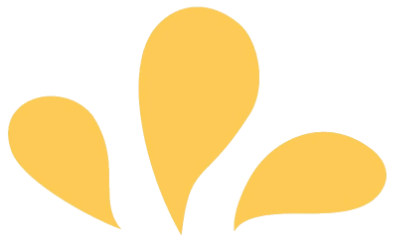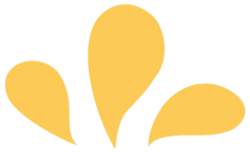 Sign up for ¡Hola de Lola!