How to Make Mexican Vanilla Extract
For those of you who thought that vodka could only be used to make cocktails, think again. Bakers and cooks use it too! Vodka and Mexican vanilla beans are the two key ingredients I use to make this homemade Mexican Vanilla Extract.
Mexican vanilla is a rich marriage of sweet and woody notes with deep, spicy character. Its clove and nutmeg-like qualities provide a flavorful culinary twist to all of your favorite recipes. I have used it to spice up desserts such as my homemade carrot cake and paletas, and to enhance the flavor of aguas frescas and fresh fruit. A little goes a long way too – one tablespoon of extract is equivalent to one vanilla bean.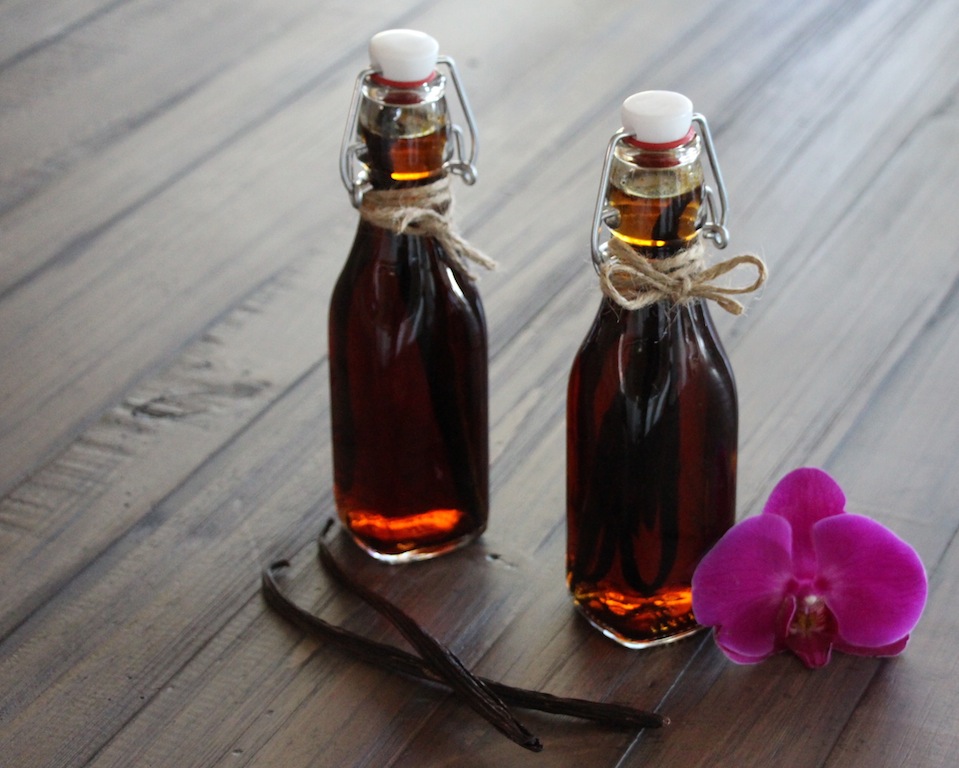 If you're on the market for a high quality vanilla extract, be prepared to pay a premium. Otherwise, I recommend stretching your dollar by making it at home. Unlike store-bought vanilla extracts that oftentimes infuse artificial flavors, coloring, and additives, this extract is pure and robust in flavor. Once you make your own vanilla extract, you will realize that there is absolutely no substitute.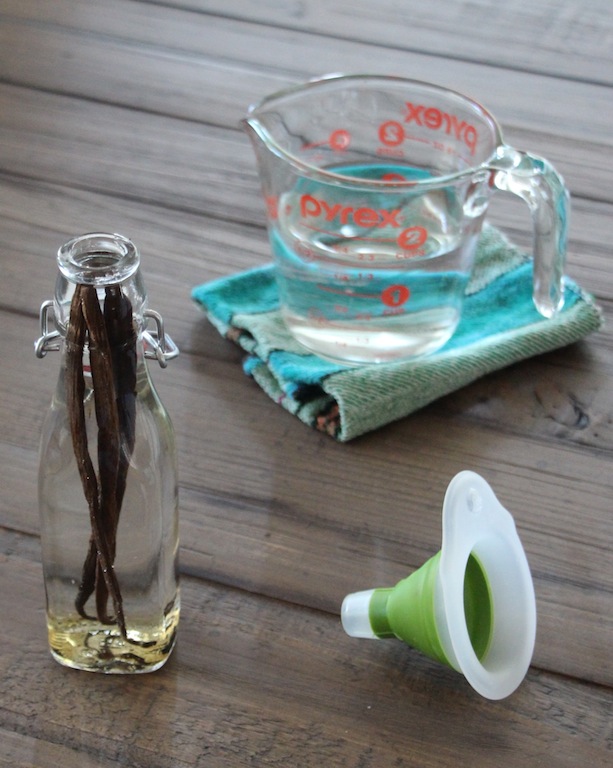 Now, before we get started, here are a few fun facts about Mexican vanilla beans:
Vanilla is the only edible fruit of the orchid flower

The Totonacs of Veracruz, Mexico are credited as its first cultivators

The most rich and authentic vanilla grows in the state of Veracruz, Mexico, near the Gulf of Mexico

Vanilla is the second most expensive spice (after saffron) due to the extensive labor required to grow, harvest, and cure the vanilla beans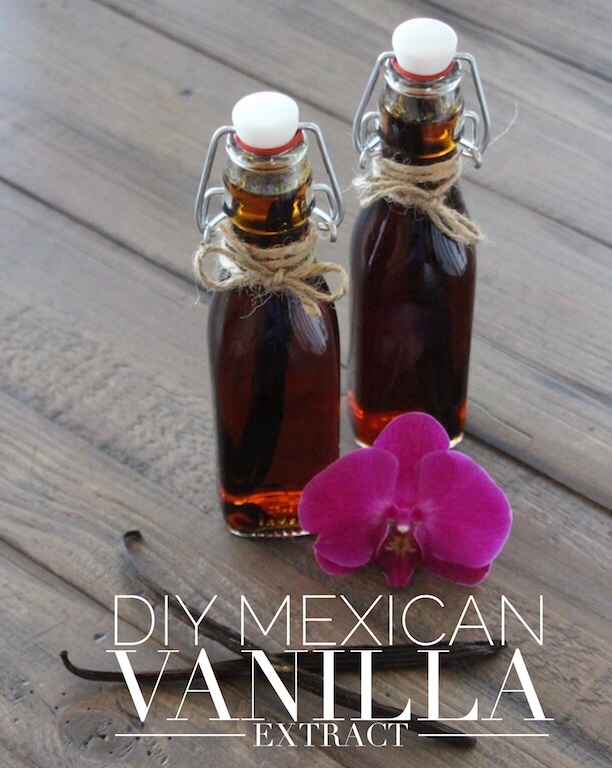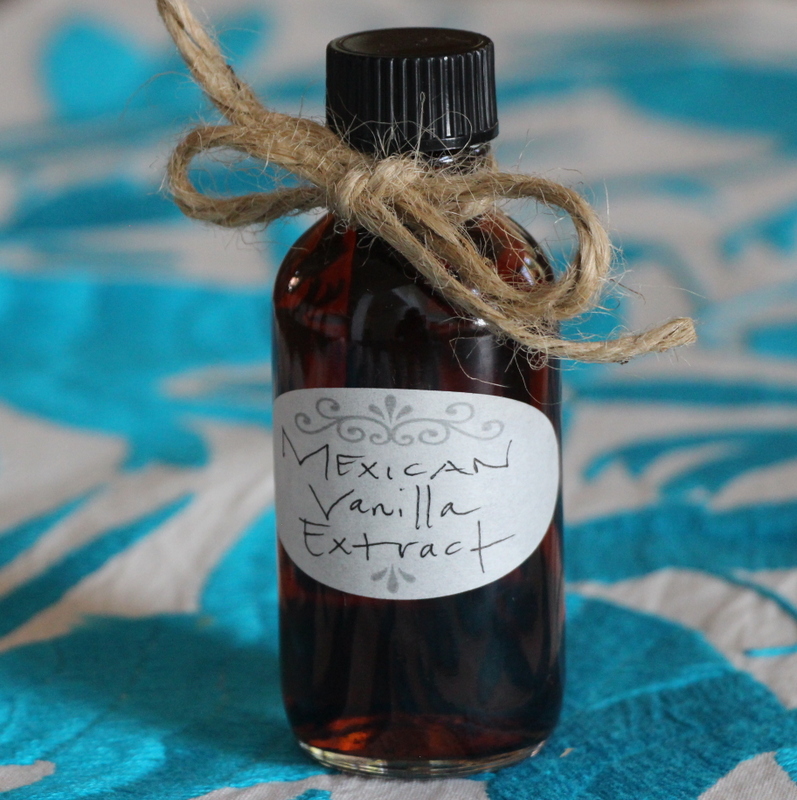 Ingredients & Supplies:
3 Mexican vanilla beans
8 ounces vodka (I used a mid-tier vodka that was 80 proof/40% alcohol)
1 8-ounce glass bottle or jar with a lid
Funnel
Jute twine (optional)
I use about one vanilla bean per every three ounces of vodka. If you plan to make more than one batch, multiply accordingly. You can always use more vanilla beans per ounce, but I have found that as long as you're using good quality beans, they will impart rich flavor in two to three months.
Preparation:
Split the vanilla beans in half, lengthwise. Do not cut them all the way through to the end though.

Place the vanilla beans in a glass bottle and add enough vodka to cover the beans completely.

Cover the bottle and shake well. Store in a dark cool dark area and shake once a week. Liquid will begin to turn golden brown in color within one week, but its full flavor will develop in 4 to 8 weeks. The longer it matures, the more flavor it develops. Alcohol helps preserve your vanilla extract and maintain a long shelf life.

Decorate bottle with jute twine or a cute label – this is a great gift for people who love cooking and baking. 
Notes:
If you plan on giving a bottle of homemade Mexican vanilla extract as a gift, be sure to allow enough time for its full flavor to develop or include a "ready to use by" date on the bottle. You may also experiment with other alcohols such as bourbon, rum, or brandy to make homemade vanilla extract, but I prefer vodka due to its neutral flavor. If you cannot find Mexican vanilla beans, Tahitian and Madagascar beans are fine substitutes although I have tested different types of beans, and Mexican vanilla beans — even ones that I purchased two years ago — are the most fragrant and impart complex flavor that makes this extract unique. I also like to divide my vanilla extract into small 3-ounce glass bottles when giving them as a gift and I include half of a vanilla bean in each bottle so that the flavor continues to infuse!

If you are looking for an alcohol substitute to make an alcohol-free version of this recipe you may use food-grade glycerin (or glycerol), which is derived from plants.