How to Build a DIY Breakfast Tostada Bar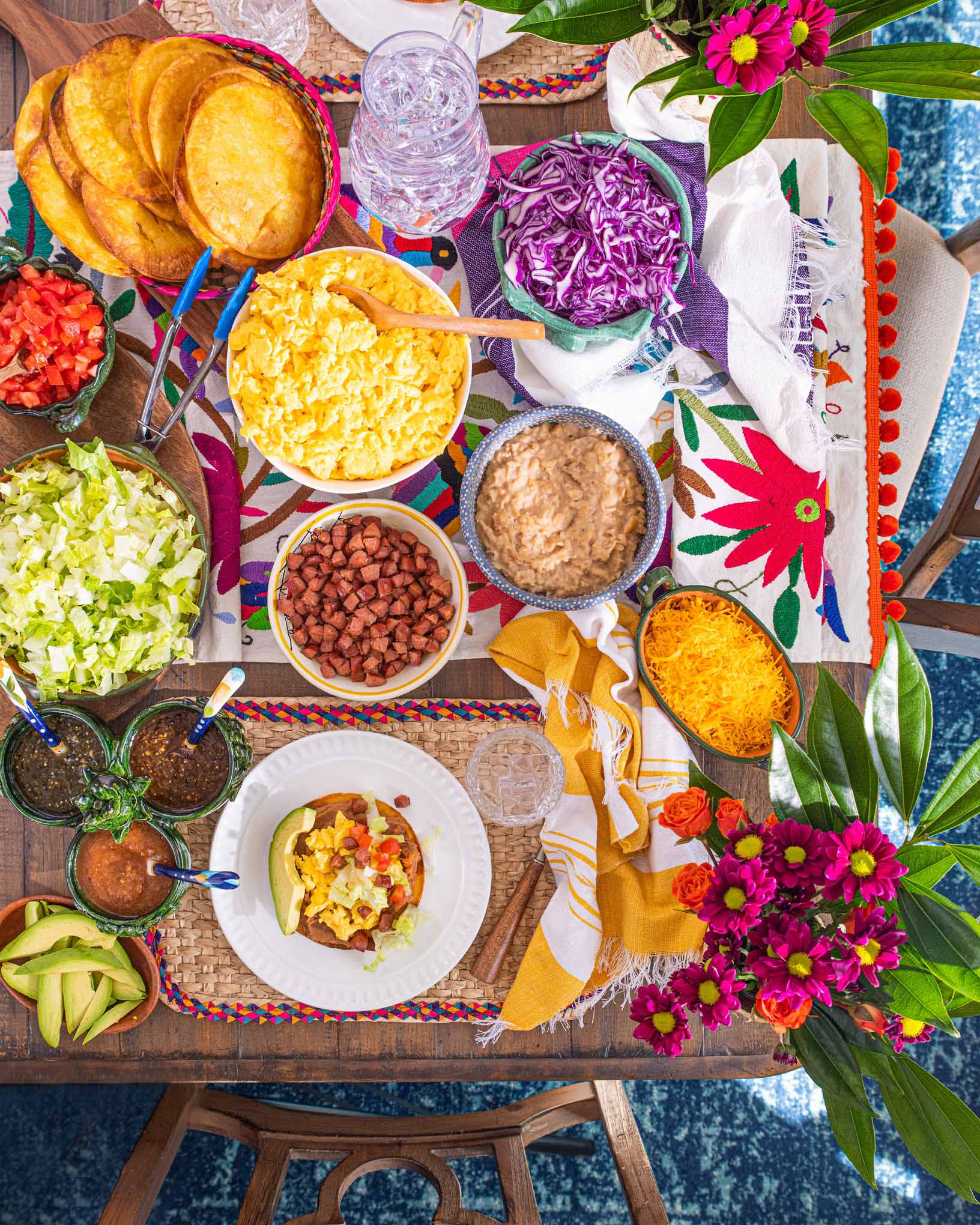 Breakfast tostadas are always a hit in my family when feeding a large group because most of the work takes place in advance and guests can serve themselves, which means I'm actually able to enjoy myself.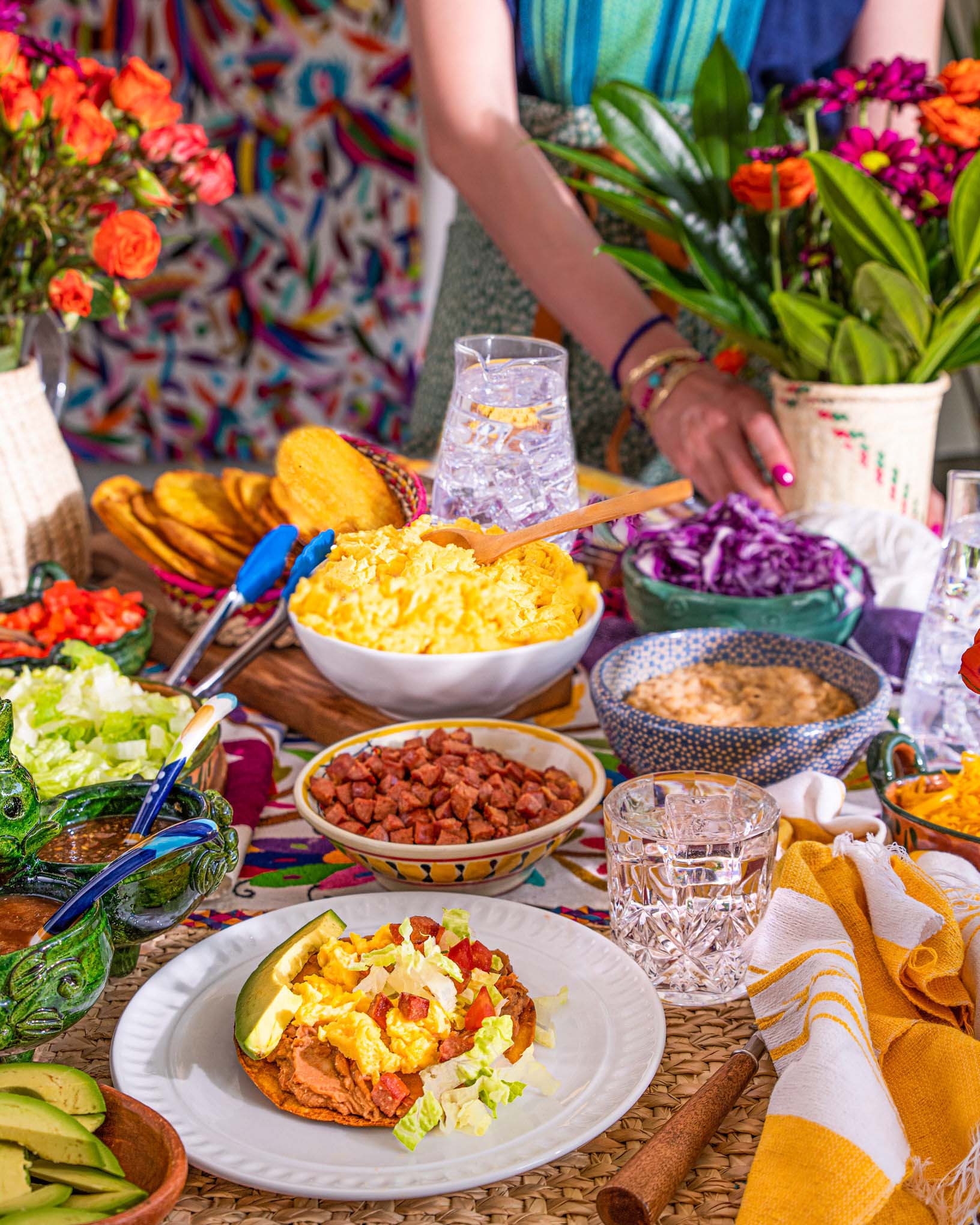 I love using mismatched serving bowls and utensils to create a fun, festive, and not-so-formal vibe when putting together my tostada bar. Fresh flowers always make their way onto my table, too.
While I love tacos and taquitos, I tend to make these when hosting smaller groups because both are best when freshly fried and crispy. For groups larger than five, my recommendation would be to make tostadas because many of the ingredients can be prepared in advance and guests can help themselves to all of the fun toppings. With a tostada bar, there's something for everyone.
I never realized how stressful it could be for some people to host because it's something I enjoy. Not everyone feels the same though and I was eager to shed some light on how to build a breakfast tostada bar when friends and family (even my own sister!) started asking for menu ideas and guidance on estimating how much food they need when hosting.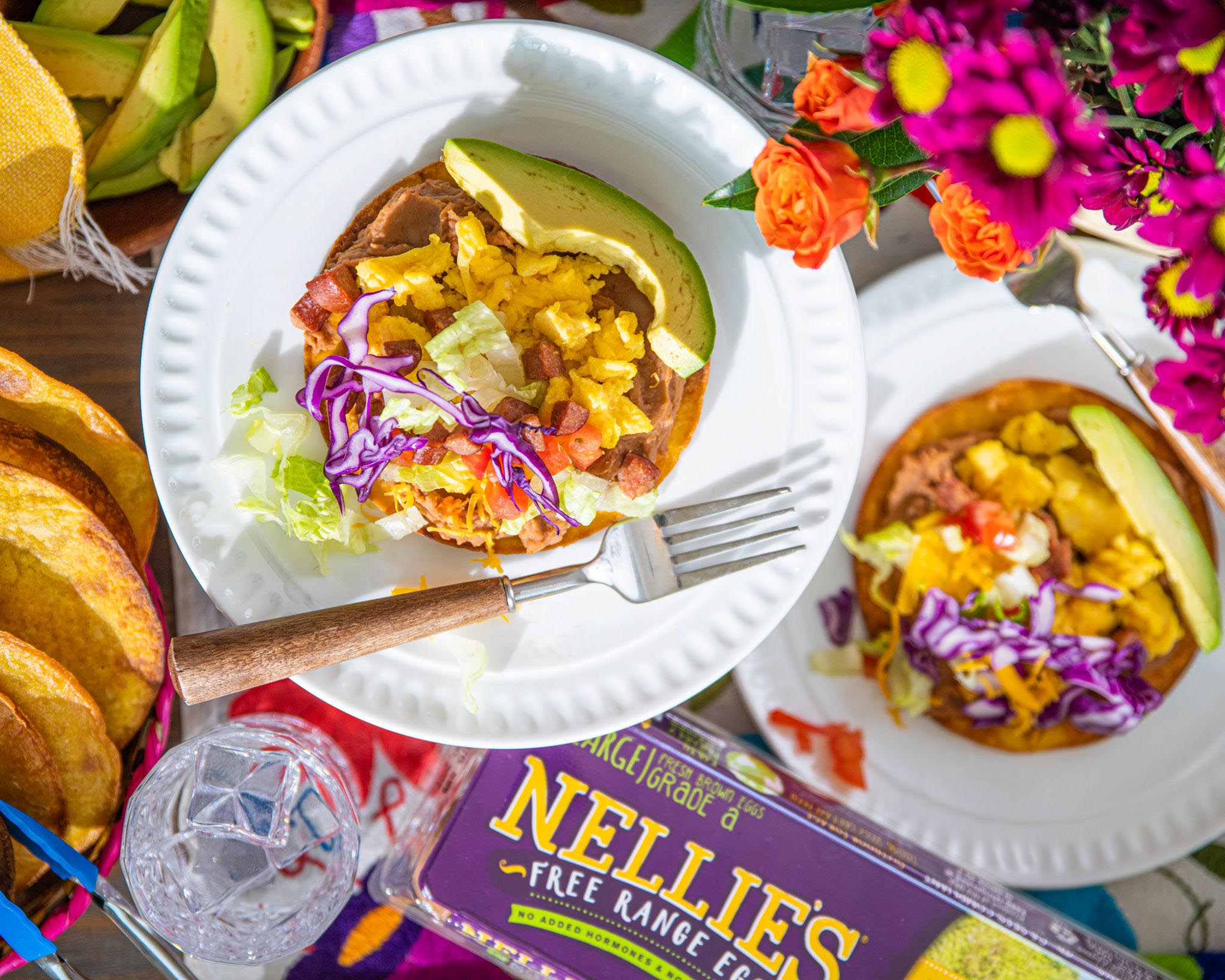 Allowing guests to customize their own tostadas frees up time for me to enjoy myself.
What Is a Breakfast Tostada?
A tostada is essentially a crispy corn tortilla that's kept in its original shape: flat and round. Most tostadas are made by shallow-frying corn tortillas until golden and crispy, however they can also be baked. In Oaxaca, oftentimes corn tortillas are crisped up by heating them on a clay or metal comal (smooth, flat griddle) over low heat.
My tostada bar draws inspiration from a breakfast tostada my aunt Elena introduced me to many years ago. Mounded on crisp-fried tortillas, she layers beans, eggs, and a variety of toppings for a hearty meal that works for breakfast, lunch, or dinner.
Simple Breakfast Tostada Ingredients for a DIY Tostada Bar, for 8 to 10 Adults
How much food do I need to host a tostada party?!? I've learned that determining how much food to make can be stressful for newbie hosts. For this DIY tostada bar, I estimated what you would need to serve about 8 to 10 adults, so you can adjust the amounts of each ingredient accordingly.
The best part about a DIY breakfast tostada bar is that most ingredients can be prepared in advance, perfect for stress-free entertaining. Here's what you'll need for a group of 8 to 10 adults, estimating that each person will eat 2-3 tostada:
24 tostadas
12 Nellie's Free Range Eggs, whisked
16 ounces refried beans, about 4 cups
1 head of romaine lettuce, chopped
3 Roma tomatoes, diced
5 ounces sausage, hot dogs, or ham, chopped
1 large avocado, thinly sliced
8 ounces cheese, grated or crumbled (I like sharp cheddar)
8 ounces salsa
You can prepare some items the night before, others a few hours before, and then cook or heat the ingredients that should be hot just before guests arrive or when they begin arriving since these require only a few minutes.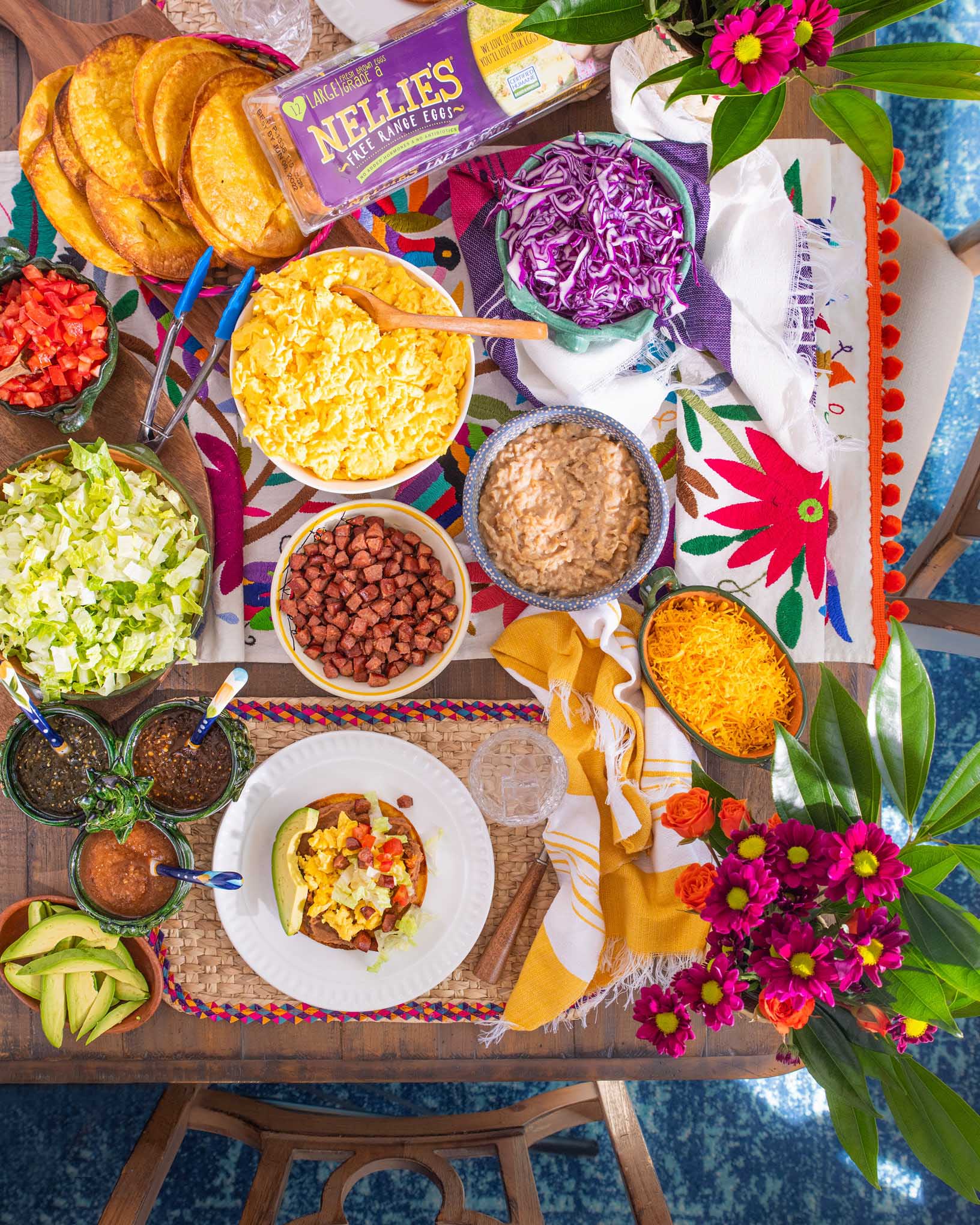 Prepare the Night Before
Tostadas
Refried beans
Salsa
You can fry corn tortillas and prepare your refried beans and favorite salsa the night before or buy them already made to save you some time in the kitchen. I also recommend setting out all of the serving platters, plates, glassware, and utensils you'll be using.
Prepare a Few Hours Before Guests Arrive
Lettuce, chopped
Tomato, diced
Cheese, grated (this can be store-bought, too)
Sausage, hotdog, or sliced ham, chopped
I like everything to look and taste fresh when guests arrive and as long as you keep your ingredients covered and refrigerated until it's game time, they'll be just fine. Lettuce, tomatoes, and cheese can all be chopped, diced, or grated a few hours before guests arrive. I also recommend chopping your protein and cooking it in advance and then reheating it if necessary, to avoid having a sink full of dirty dishes.
Prepare 1 Hour Before Guests Arrive
First and foremost, make sure you're showered and looking fabulous so that you can focus on setting the mood. Nobody likes a stressed out host! Now is the time to light your candles, select and queue your favorite playlist, and make sure your tostada ingredients and drinks look pretty. Set out all of your ingredients in individual plates, platters, and bowls.
Prepare When Guests Arrive
Refried Beans, heated
Nellie's Free Range Eggs, whisked
Avocado, sliced
Sausage, hotdog, or chopped ham, heated
Since these ingredients require only a few minutes to cook or heat, you can leave them for just before guests are scheduled to arrive or as they begin arriving. Heat your beans, slice or dice your avocado, and prepare your scrambled Nellie's Free Range Eggs to your desired consistency. It's important to use high quality eggs here, since they're one of the stars of this breakfast dish! Your guests will thank you for choosing a Certified Humane option when they taste the rich flavor that Nellie's Free Range Eggs bring to the table. I like to keep my beans and eggs warm in a chafing dish, but this isn't at all necessary.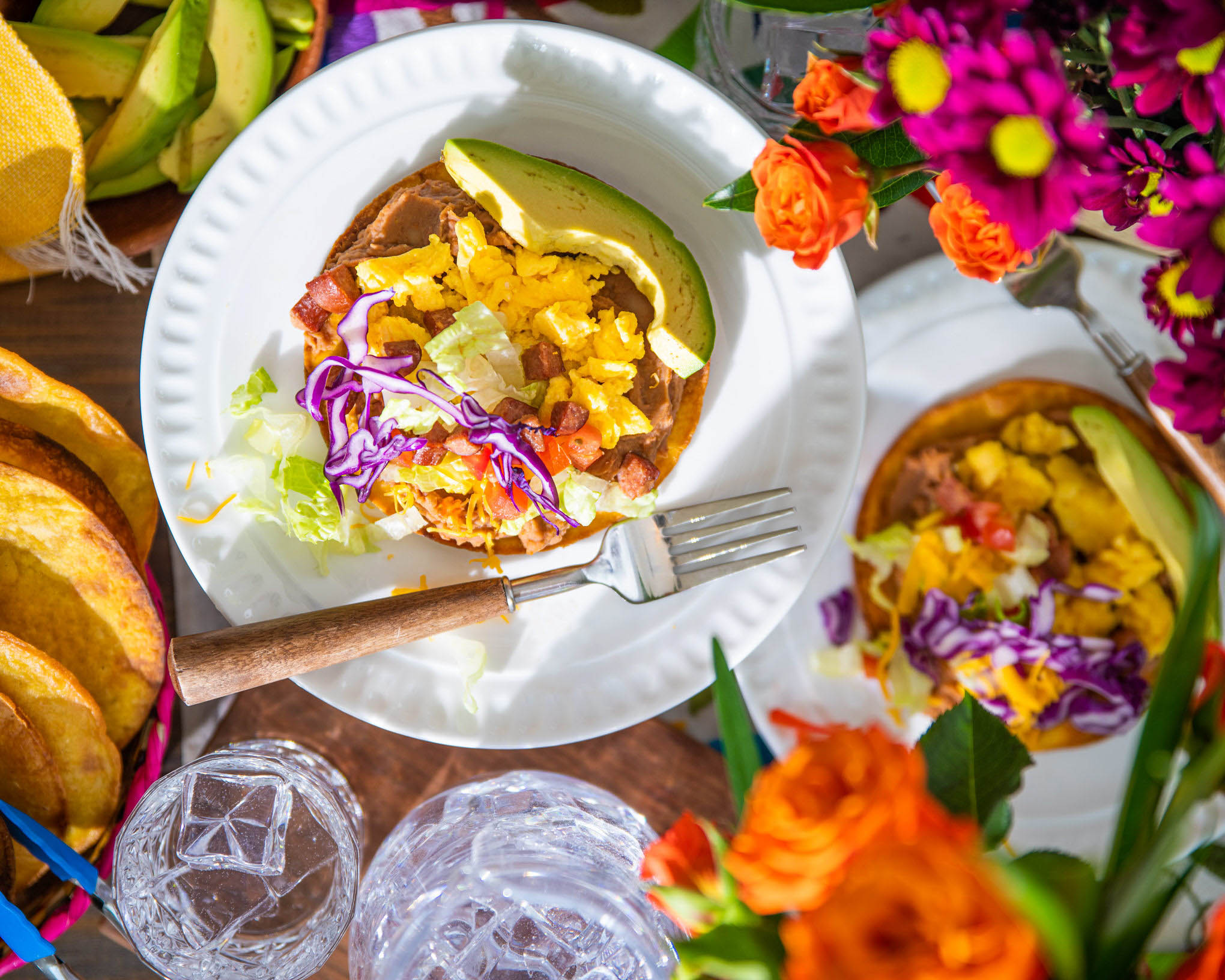 How to Serve Breakfast Tostadas
Guests should help themselves and build their own tostadas. While there's no right or wrong way to layer ingredients, I suggest starting with the beans, which work as a binder for the next layer of ingredients. I like to follow with the egg, then the lettuce, tomato, meat, avocado, and then the cheese and salsa.
¡Provecho!
---
Many thanks to Nellie's Free Range Eggs for sponsoring this post. As always, the recipe and opinions shared about these products are my own.
To view the full lineup of Nellie's Free Range products, egg recipes, or to view a store locator, visit nelliesfreerange.com.
Photography + Styling: Cacey McReavy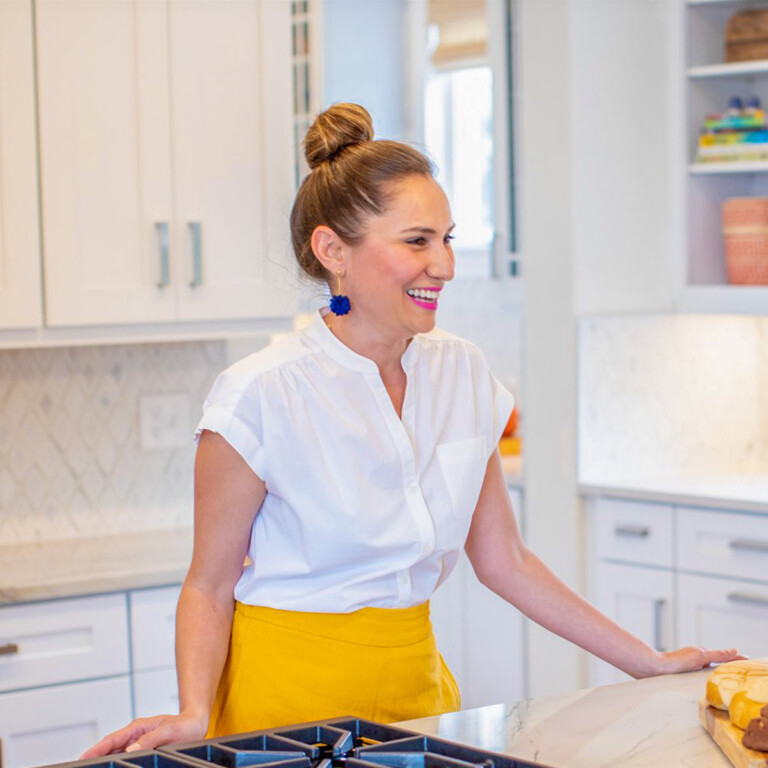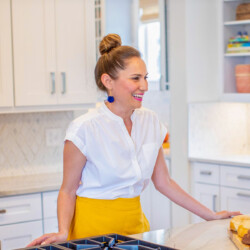 Lola Wiarco Dweck
Lola is a Mexican-American recipe developer, writer, and cooking instructor who loves sharing her culture with the world. Growing up in California and spending summers in Mexico, Lola celebrates her family's Mexican recipes and vibrant culture through Lola's Cocina.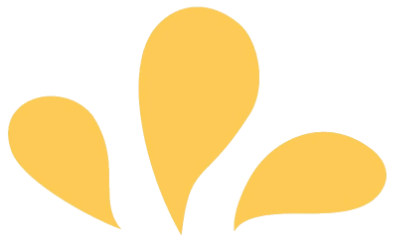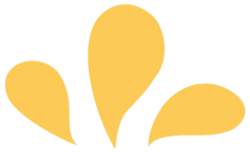 Sign up for ¡Hola de Lola!