Chive Blossom Vinegar Pickled Eggs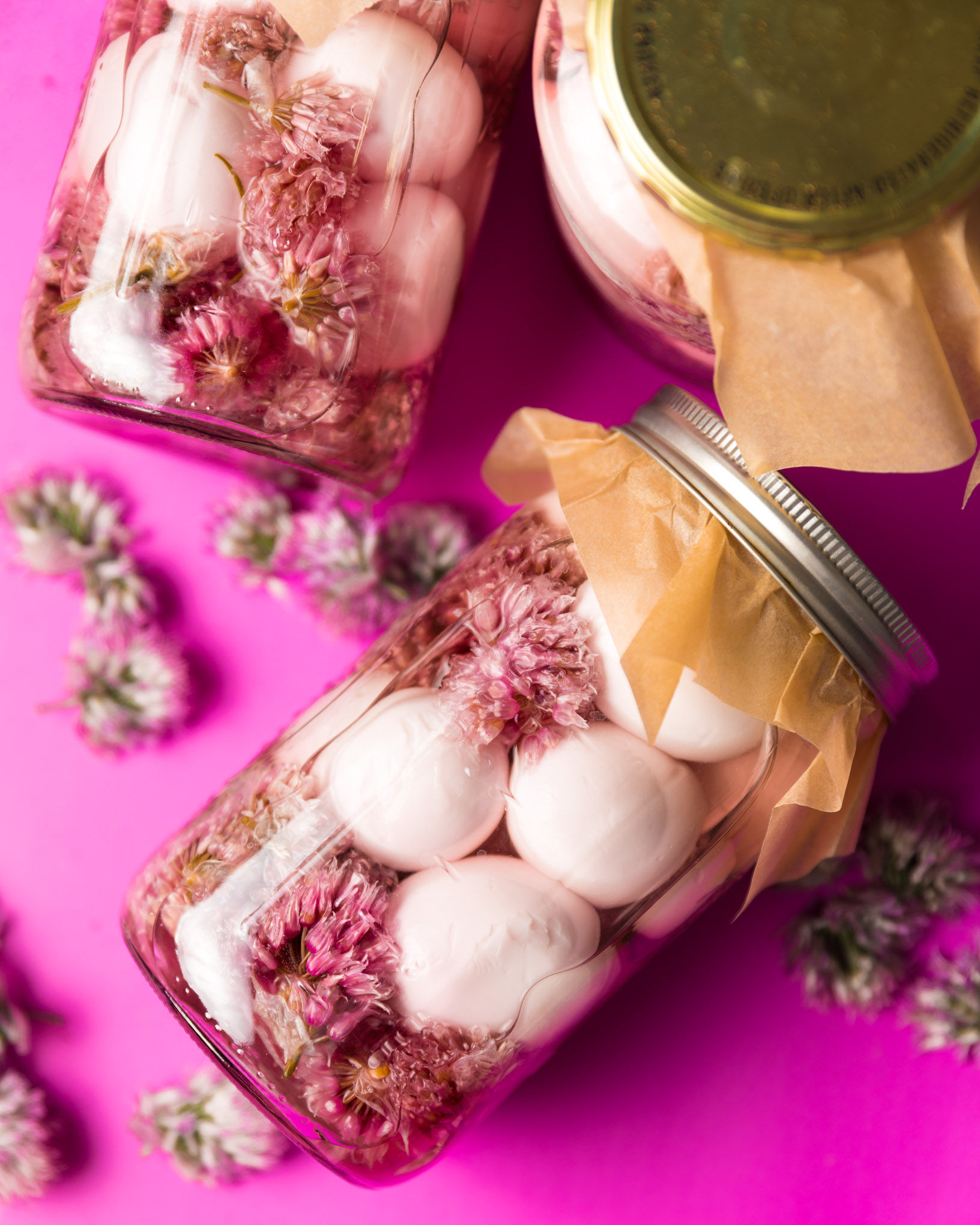 ¡Hola, hola! While summer is officially here, in Colorado, spring chive blossoms are still in full bloom and have spread like wildfire throughout my garden. When I discovered this edible flower, it was love at first bite and since they are just begging to be used, I'm sharing a few of my favorite ways to incorporate these beautiful blossoms into some of your favorite recipes.
If you've never heard of chive blossoms, here's a little chive blossom 101 for you . . .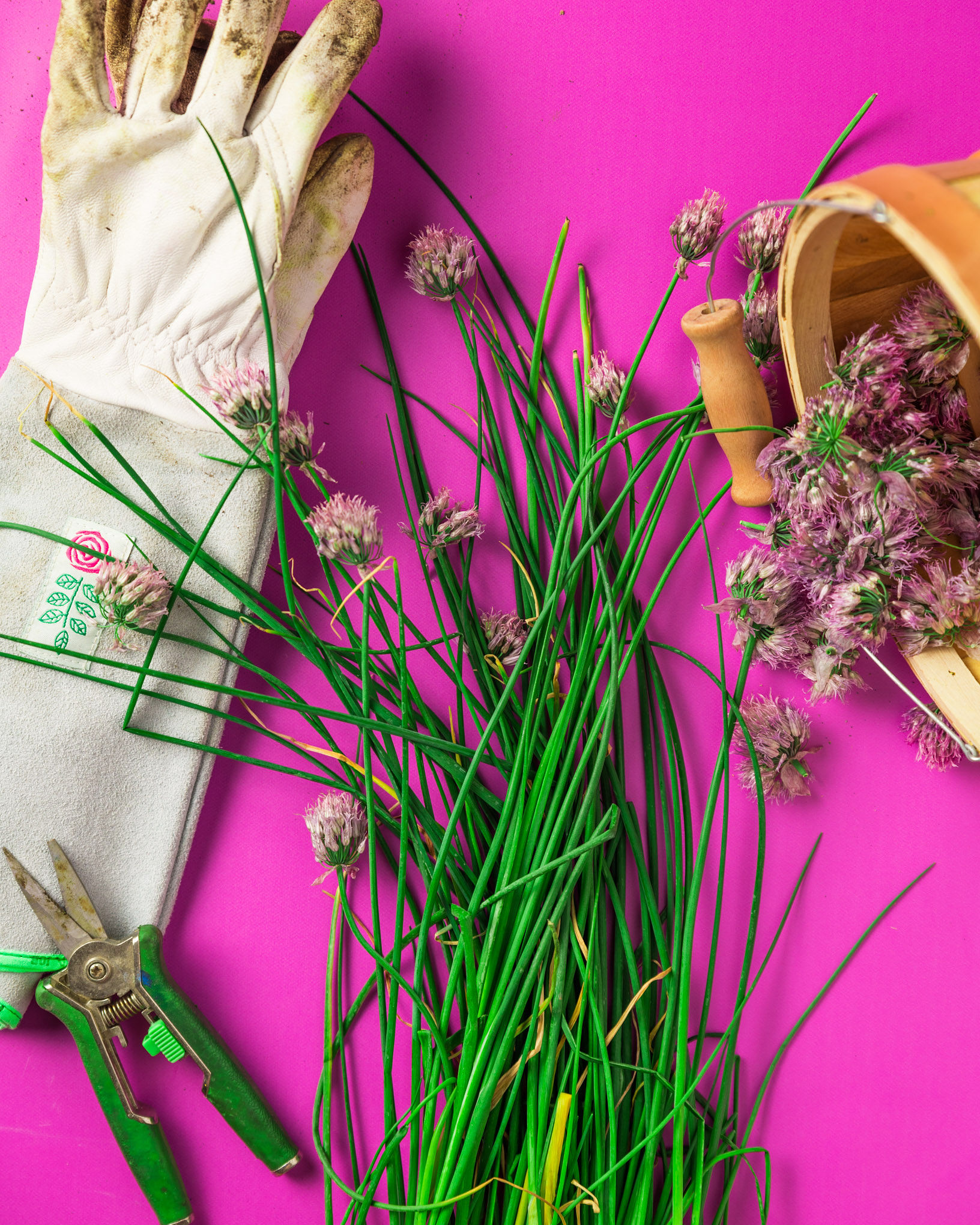 What are chive blossoms?
Chive blossoms are the lavender colored flowers that appear at the end of chive stalks in late springtime. I love their fun pompom shape! If you don't already have these beautiful blossoms in your garden, they're among the easiest to grow from seed, so pick up a pack of chive seeds and get ready to use both the blossom and the stems sometime next year. The best part is that the chive flowers produce tiny black seeds that spread, so with one season's sowing, you'll have the gift that keeps on giving.
For anyone who is interested in growing chives at home, I really like (and have had luck with) the Botanical Interest heirloom organic chive seeds (FYI: this is completely unsponsored).
"Chives are super easy to grow, require little maintenance, tolerate drought, and come back year after year. Edible flowers are loved by bees, make a tasty chive vinegar, look and taste great in salads, and dry well for arrangements; foliage and/or flowers add a subtle onion flavor to many dishes. Great for containers; grow indoors for year-round harvest." – Botanical Interests
What do chive blossoms taste like?
Chive flowers have a mild onion flavor, which makes them the perfect complement to your favorite savory dishes.
How can I use chive blossoms?
Unlike other edible flowers that are so mild in flavor that they can be used to decorate cakes and are oftentimes incorporated into a number of desserts, chive blossoms are best used to add a hint of onion flavor to your favorite savory dishes.
Here are a few of my favorite ways to use chive blossoms in recipes:
Infuse distilled white vinegar to make chive blossom vinegar. In a glass mason jar or bottle with a wide opening, add one cup of fresh or dry chive blossoms and three garlic cloves, to four cups of white distilled vinegar. In just a few days, the liquid will transform into the most beautiful pink hue. You can strain out the blossoms and garlic after two weeks, but I typically keep mine in the vinegar year-round. Just remember to store your chive vinegar in a cool dark place.
Bonus: this chive flower vinegar makes a lovely edible gift and can be paired with a nice bottle of olive oil for friends who enjoy the finer things in life, like making their own salad dressings and vinaigrettes.
Use fresh chive blossoms as an edible garnish and to dress up your favorite salads. I have used chive flowers to bedazzle refried beans, veggie spring rolls, soups, and salads. Remember that they pack a punch, so use sparingly unless you want a flavor bomb of onion in your mouth.
Saute chive blossoms until crispy and fry with eggs. This is one of my favorite ways to eat chive blossoms! Simply add a splash of olive oil to a pan, saute about five chive blossoms until crispy, and crack a couple of eggs over them and season with salt and pepper. I serve my fried chive blossom eggs alongside toast, corn tortillas, beans, or over a bowl of rice.
Just a tip: I like using chive blossoms when they're fresh, but you can also dry and store them in a glass jar to use in vinegar or with fried eggs. You'll notice that once they dry, tiny black seeds will fall to the bottom of your jar. These can be planted if you want more chives!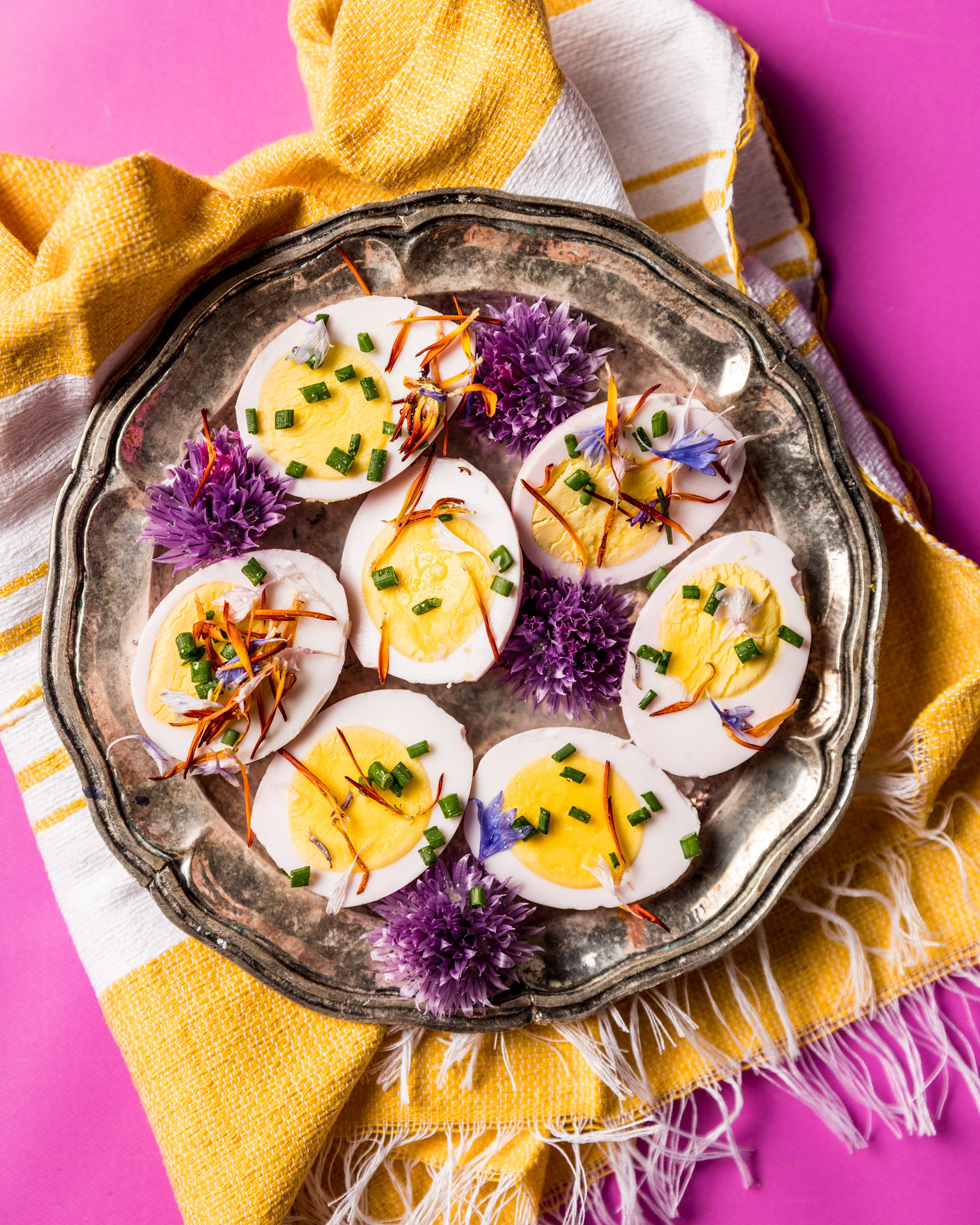 Now onto my chive blossom pickled eggs . . . I absolutely love my eggs (any style!) with vinegar-based salsas or chiles, so this combination of hard-boiled eggs with vinegar and chive blossoms is a winning combo.
How do I eat pickled eggs, you ask? I enjoy them the way I would any hard-boiled egg: alongside toast for breakfast, as an easy on-the-go snack, on charcuterie boards (they're a hit on my charcuterie boards and I've also used tiny chive blossom pickled quail eggs for extra cuteness), and my kids especially enjoy them in ramen and chicken soup.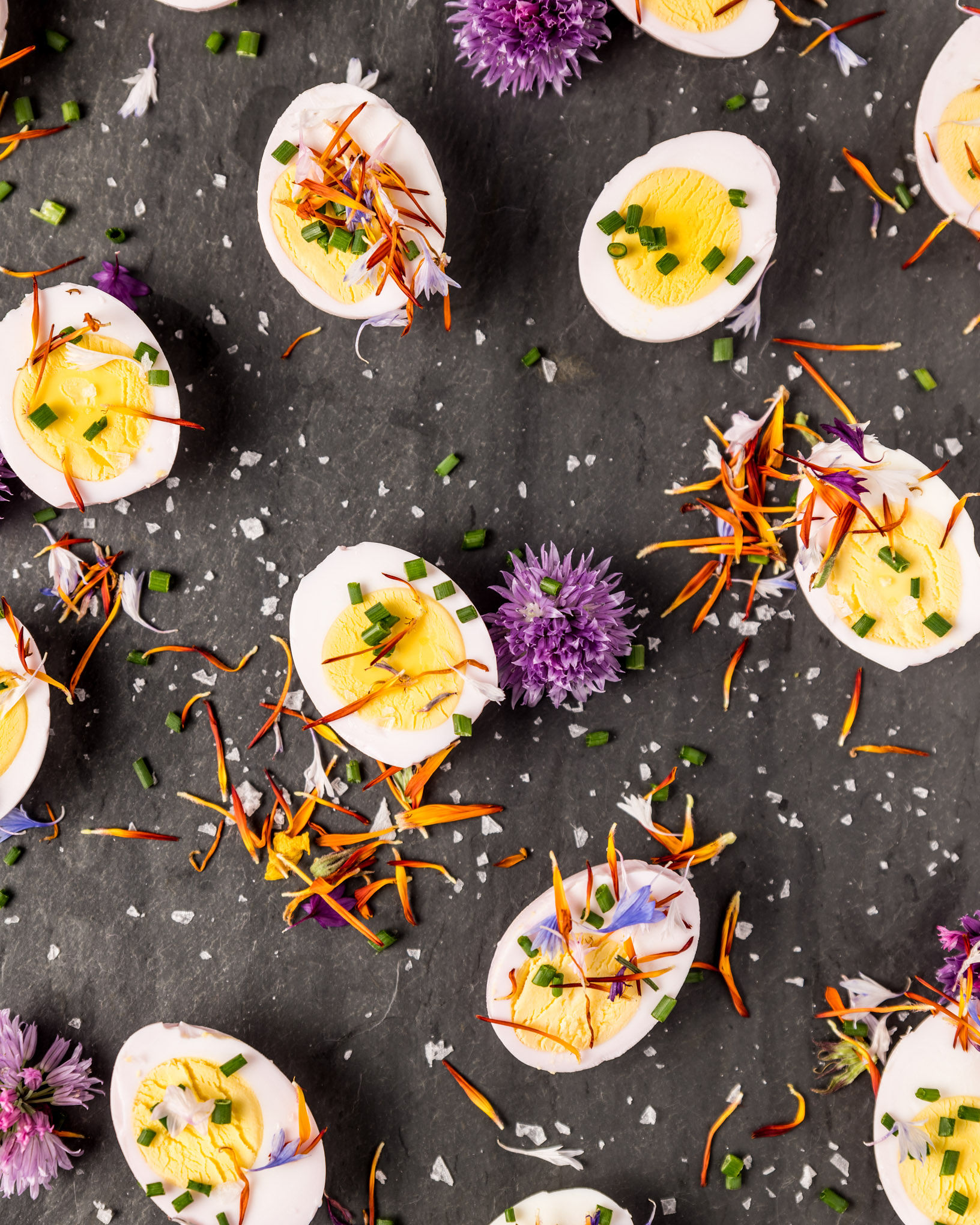 Ingredients
Equal parts white distilled vinegar and water (start with two cups of each)
1 tablespoons kosher salt
1 bay leaf
2 garlic cloves, smashed
5 peppercorns
1 cup fresh chive blossoms (avoid using faded blossoms or ones that have gone to seed)
12 hard-boiled eggs, peeled
Tools, Supplies, and Equipment
1 medium pot
Large mason jars with lids
Preparation
Bring water, vinegar, salt, and spices to a boil in a medium pot over high heat. Once boiling, and salt has dissolved, lower and simmer for an additional five minutes. Remove from heat and set aside.
In the meantime, fill your jars with chive blossoms and peeled eggs. Once brine has cooled slightly, pour over eggs and seal jars. For a more robust flavor, store in a cool, dark place for at least two weeks before enjoying.
Alternatively, if you happened to make jars and jars of the chive blossom vinegar I mentioned at the beginning of this post, you can simply pour it over hard-boiled eggs and seal in a glass jar for an easy, no-cook method.
---
Photography + Styling: Cacey McReavy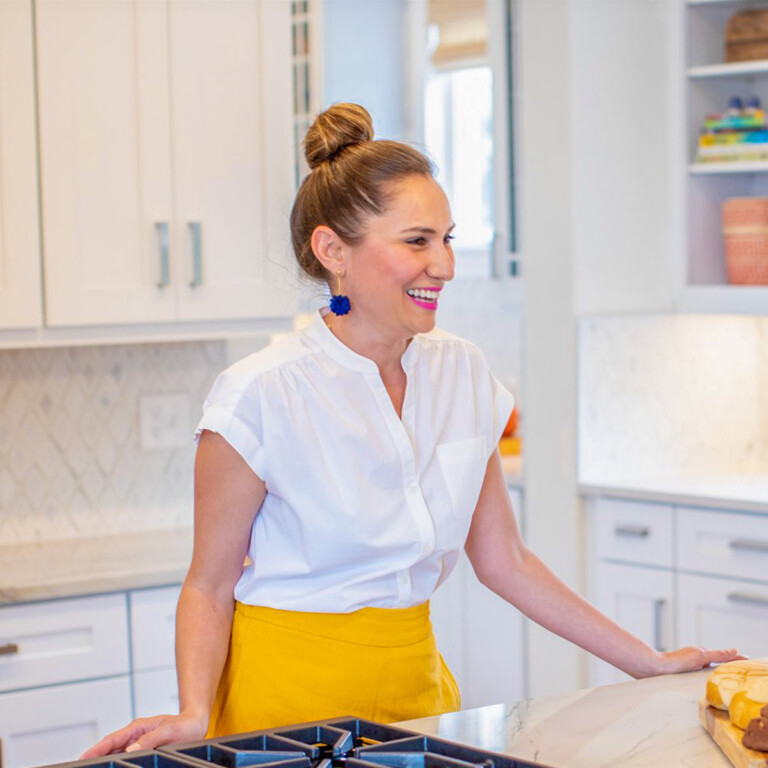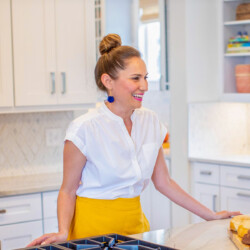 Lola Wiarco Dweck
Lola is a Mexican-American recipe developer, writer, and cooking instructor who loves sharing her culture with the world. Growing up in California and spending summers in Mexico, Lola celebrates her family's Mexican recipes and vibrant culture through Lola's Cocina.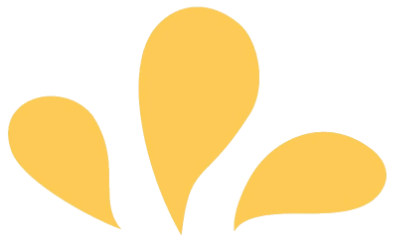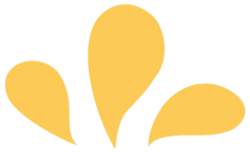 Sign up for ¡Hola de Lola!