How to Decorate Brown Eggs for Easter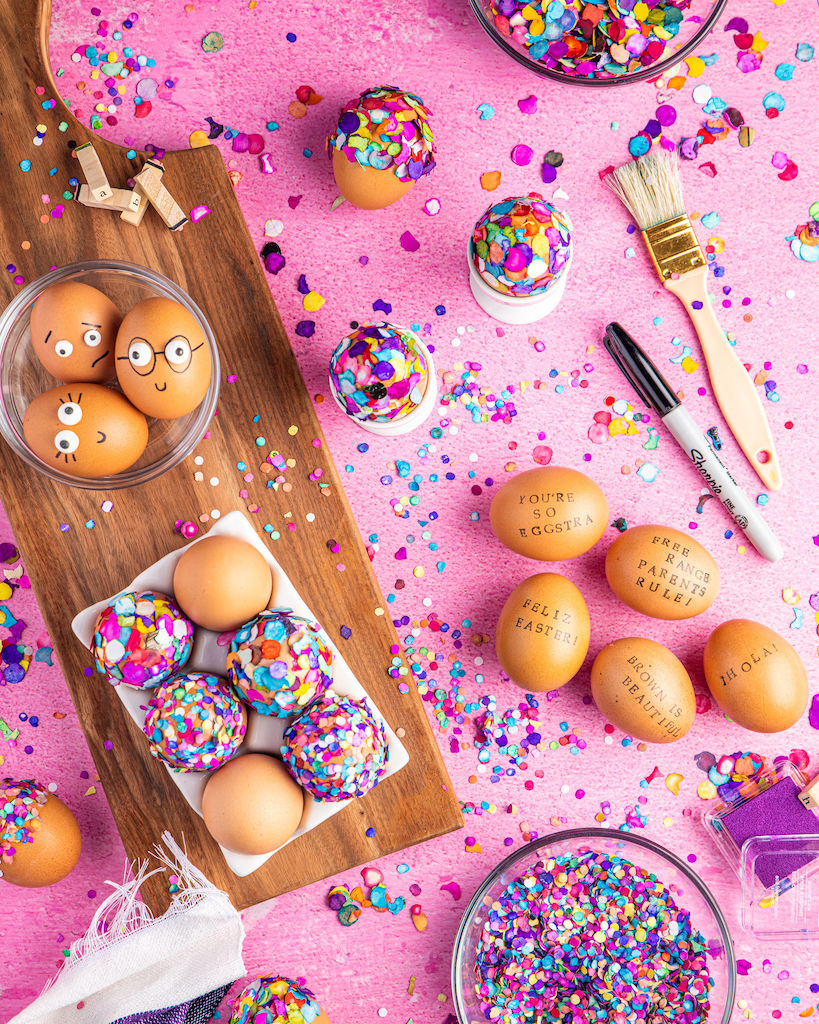 Can you color brown eggs? In the midst of a recent spring blizzard, I started eggsperimenting and came up with a few DIY ideas for decorating brown Easter eggs that I absolutely love. Whether you're looking for tips on how to dye brown eggs or inspiration on how to decorate Easter eggs with a Mexican twist, here you'll find ideas that are family and budget-friendly.
CAN YOU DYE BROWN EGGS?
Yes, you can dye brown Easter eggs, although the resulting colors may be different than those achieved with white eggs. To get more vibrant colors, you may need to use brighter or darker food coloring or soak the eggs for a longer time. The great thing about brown eggs is that they're already naturally pigmented, so if you opt to keep them natural, all you have to do is boil them and they're ready to be hidden for an egg hunt!
WHAT ARE THE BEST NATURAL DYES FOR BROWN EGGS?
If you're looking for the best natural dyes for coloring brown eggs, there are several options to consider. Here are a few natural dyes that work well for coloring brown eggs:
Turmeric: Turmeric is a bright yellow spice that can create a vibrant yellow color on eggs.
Red cabbage: Boiling red cabbage in water creates a blue dye that can be used to color eggs. To get a more purple hue, add vinegar to the dye.
Onion skins: Boiling onion skins in water creates a brown dye that can be used to color eggs. The longer you boil the onion skins, the darker the color will be.
Coffee: Soaking eggs in coffee or coffee grounds can create a light brown or tan color.
Black tea: Soaking eggs in black tea can create a light to medium brown color.
When using natural dyes to color eggs, it's important to remember that the color intensity will vary based on the length of time the eggs are soaked in the dye, the concentration of the dye, and the natural color of the eggs. Experiment with different dyes and soaking times to achieve your desired color.
DECORATING BROWN EGGS FOR EASTER
Just to give you a brief overview, these unique Easter egg decorations include: cute little brown egg faces inspired by the children's books, The Good Egg and The Great Eggscape, festive confetti eggs that remind me of Mexican cascarones, and stamped eggs with personal messages. I invite you and your familia to choose one (or all!) of the eggstra cute options below and get crackin' . . . I mean, crafting.
EASTER EGGS INSPIRED BY THE CHILDREN'S BOOK, THE GOOD EGG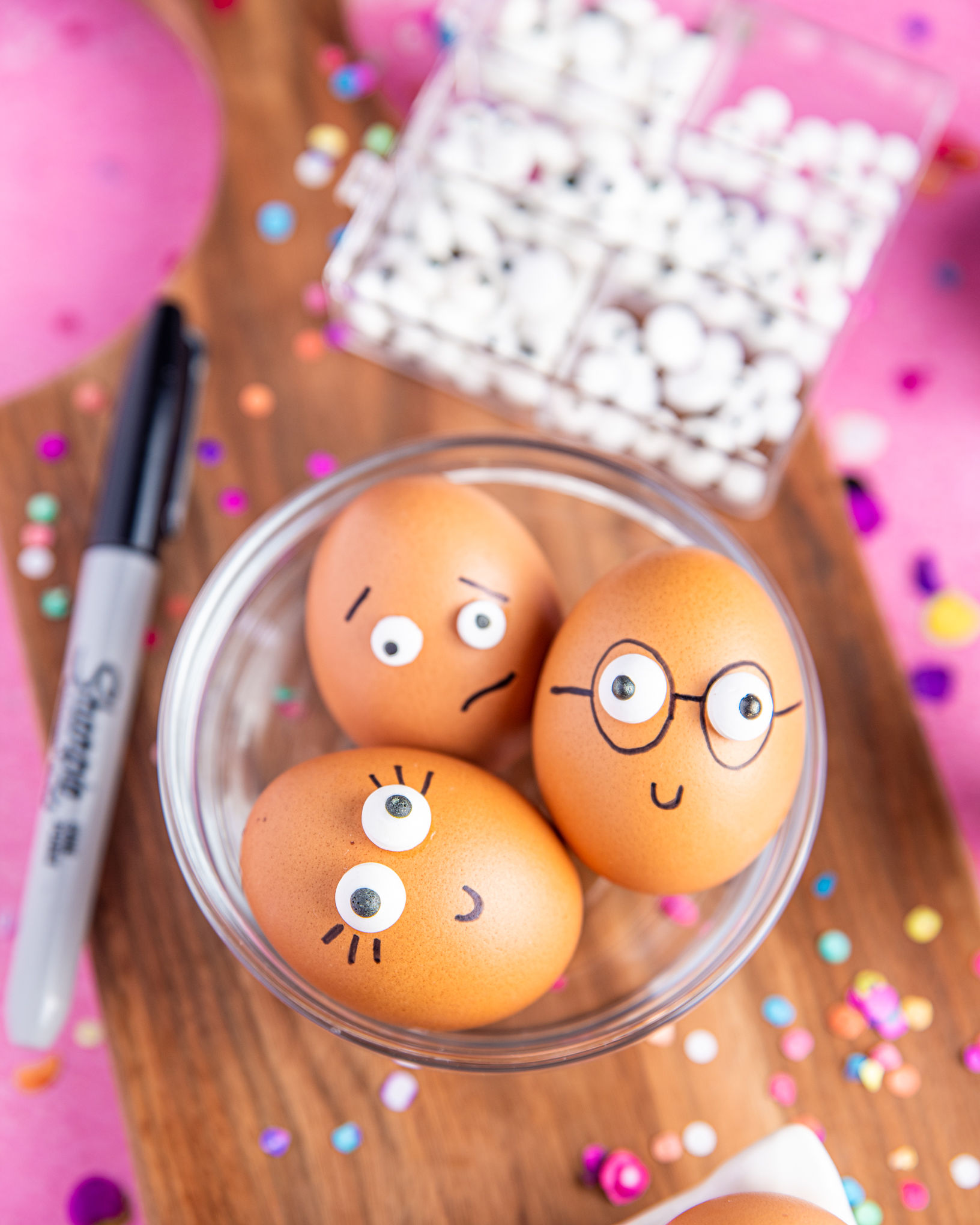 The kids and I loved decorating Easter eggs inspired by The Good Egg book!
BROWN EASTER EGGS WITH FUNNY FACES
I got a little eggcited about these eggs because they turned out so cute! They were inspired by The Good Egg and The Great Eggscape children's books, which Amado and Valentina both love. The kids picked out their favorite characters and we decorated their eggs based on that character.
SUPPLIES
Farm Fresh Easter eggs, hard-boiled
Black permanent marker
Candy eyeballs or self-adhesive googly eyes (white paint or a white chalk marker would also work to draw the eyes)
Glue
HOW-TO
Simply glue eyes and draw individual facial expressions onto each egg using a black marker. Allow to dry completely before hiding or refrigerating.
JUST A TIP
If you happen to purchase the book, The Great Eggscape, before Easter, it comes with a variety of stickers with facial expressions you can use to decorate your eggs, but the DIY version is just as cute.
EASTER EGGS INSPIRED BY MEXICAN CASCARONES (COLORFUL CONFETTI FILLED EGGS)
With just a handful of supplies, you can make unique Easter decorations that will have guests gasping at brunch!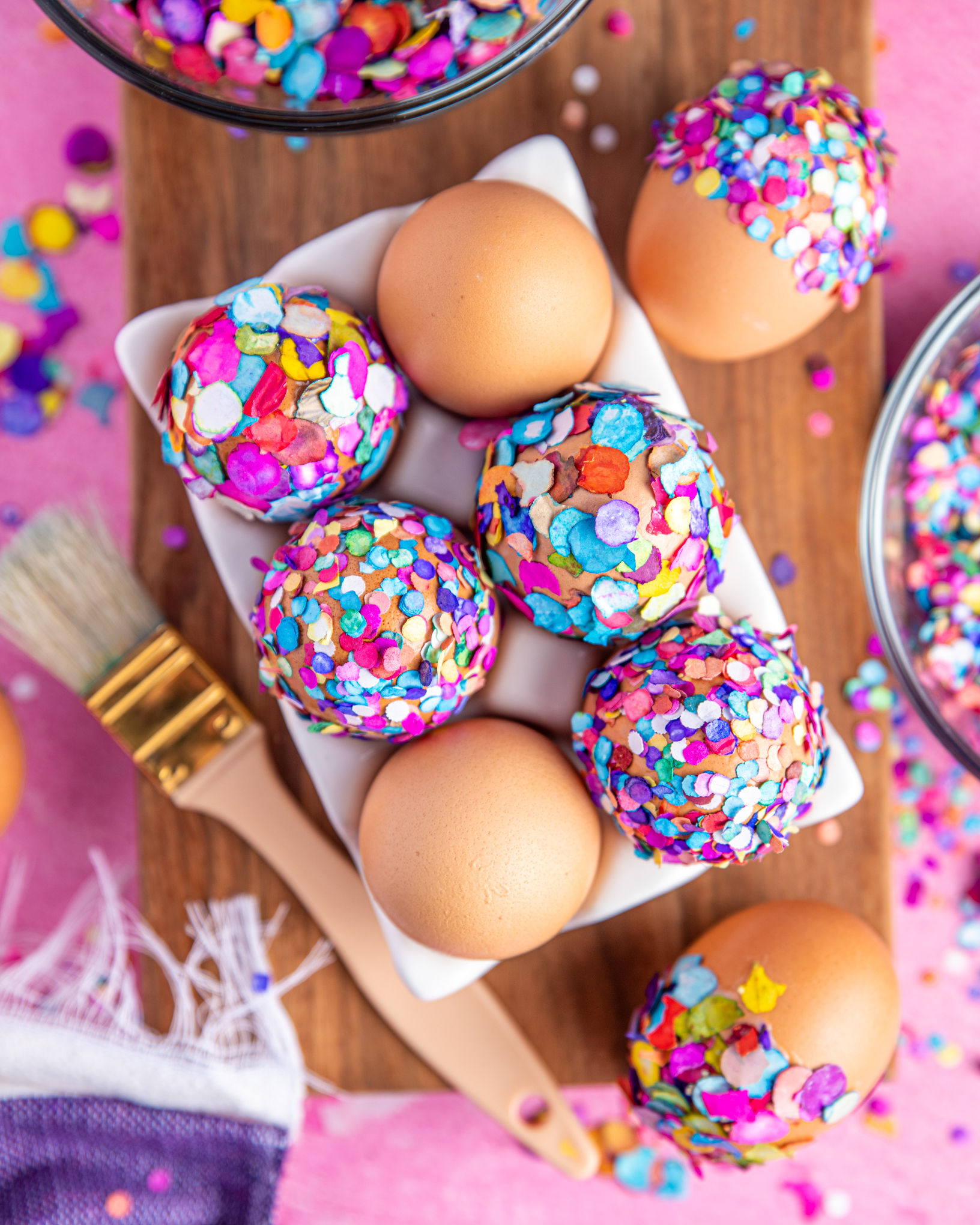 Traditional DIY cascarones can be a little tricky to make because they require hallowing out and storing egg shells before dying and filling them with confetti. I put an easy spin on a fun tradition!
COLORFUL MEXICAN EASTER EGGS
Some of you may be familiar with colorful cascarones, or Mexican confetti eggs. They are thought to bring good luck when broken over someone's head during Easter festivities in Mexico. Inspired by the colors and traditions associated with colorful cascarones, I created an easy and edible version and they turned out so pretty! Unlike Easter cascarones, which are hollowed out and filled with confetti, I simply decorated hard-boiled eggs with colorful confetti so that after an Easter egg hunt, they can still be peeled and eaten or transformed into an egg salad. The beauty in these eggs really shines when only half of the egg is covered in confetti, and the other brown half of the egg is exposed.
SUPPLIES
Brown eggs, hard-boiled
Modge podge or glue
Small paint brush
Biodegradable Mexican confetti, in small bowl
HOW-TO
Using a paint brush, cover half of each egg with modge podge or glue and dip the covered area into confetti. If any of the egg is still exposed, simply dab on more glue and re-dip into the confetti. Allow to dry completely before hiding or refrigerating.
JUST A TIP
If you don't have confetti on hand, you can always make your own using colorful tissue or construction paper and a hole punch.
STAMPED EASTER EGGS INSPIRED BY SELF-EGGSPRESSION AND FUNNY EGG PUNS
Which is your favorite egg pun?
These personalized Easter eggs were so much fun to create and they make fun and unique Easter egg decorations – they can even be used in place of name cards.
HAND STAMPED EGGS WITH PERSONALIZED MESSAGES AND PHRASES
Okay, I got a little eggstra with these DIY stamped Easter eggs, and stamping is more time consuming than simply writing a personalized message, but it's totally worth the effort. Personalized Easter eggs make such a statement, especially when gifted or found during an egg hunt! Easter egg stamping can be so much fun when enjoyed by the entire family, too.
SUPPLIES
Brown eggs, hard-boiled
Small letter stamp set
Ink pad (pigment ink pads work best)
Paper towel dipped in coconut or vegetable oil
HOW-TO MAKE PERSONALIZED EASTER EGGS
Press stamps into ink pad and stamp eggs with personalized messages, phrases, or names. Allow to dry completely before hiding or refrigerating.
I've included a few fun stamped egg ideas and phrases you can use to stamp your eggs – I love all of the double entendre here:
BROWN IS BEAUTIFUL
¡FELIZ EASTER!
YOU'RE SO EGGSTRA
¡HOLA!
I WAS ONLY YOLKING
WHAT THE CLUCK?
FREE RANGE PARENTS RULE
WHAT'S CRACKING?
YOLK'S ON YOU
SO EGGCITED
LITTLE EGGSPLORER
YOU'RE EGGSTRAORDINARY
JUST GOT LAID
EGGDUCATED LATINA
SHELL SHOCK
JUST A TIP
Longer messages work best when eggs are horizontal. If you happen to accidentally smudge the wet ink, you can always "erase" it using a paper towel that has been dipped into coconut or vegetable oil and start over. If you don't have letter stamps and an ink pad, you can always write your messages in black permanent marker!
A NOTE FROM LOLA
How to Make Perfect Hard-Boiled Eggs: Gently place eggs in a pot with enough water to completely cover eggs. Bring to a boil over medium-high heat, and once water comes to a strong boil, set a timer for five minutes. After five minutes, remove from heat, discard hot water, and cover eggs with a fresh batch of cold water. Allow to cool completely before draining water and refrigerating.
To Remove Dull White Film from Eggs: After eggs have boiled, they tend to have a dull white film on them. To remove this, you can either wash them in warm water and mild dish soap, or gently rub eggs with a dish towel dipped and coconut or vegetable oil to remove the film. This creates a somewhat shiny coat on the eggs. Be sure to clean off any excess oil before decorating because it may cause smearing – especially with the stamps.
HOW TO STORE DECORATED EASTER EGGS
Store eggs in the refrigerator within two hours of cooking them. Eggs left out for longer than two hours (while decorating or during an Easter egg hunt) should not be eaten.

Keep hard-boiled eggs in the refrigerator until you are ready to use them. After use, they should be put back in the refrigerator.

Eat hard-boiled easter eggs within one week.
FAQS
Is it safe to color eggs with a Sharpie? Eggs can be decorated with dyes, markers, glitter, and even sequins. If you're looking to consume your Easter eggs, it is not recommended to use Sharpie markers to color eggs, as Sharpie markers are not intended for use on food items and may contain chemicals that are not safe for consumption. In addition, the ink from the markers can potentially seep through the porous eggshell and into the egg, which could be harmful if consumed.
If you want to decorate or color eggs and eat them, it's best to use natural dyes or food safe markers (also known as edible color markers).
Is it better to dye Easter eggs hot or cold? Both hot and cold methods can be used to dye Easter eggs, and which method is better depends on personal preference and the type of dye being used. Here are some factors to consider:
Hot dyeing typically involves boiling the eggs with the dye solution for a few minutes, which can result in more vibrant colors (although sometimes uneven) and deeper penetration of the dye into the eggshell.

Cold dyeing is a longer, but gentler process and involves soaking the eggs in a dye solution for several hours or overnight, which can result in more even, pastel-like colors.
How long do dyed eggs last? Dyed eggs, like all boiled eggs, can be stored for up to a week in the refrigerator,
Can you eat leftover Easter eggs? Yes, leftover Easter eggs are safe to eat as long as they were colored with food-safe dyes and food coloring and stored properly, according to the American Egg Board.
How long are boiled Easter eggs good to eat? If stored properly, eggs can be consumed a week after being boiled if stored in the refrigerator.
LOOKING FOR MORE INSPIRATION?
Fiesta and Fun: Bedazzling Your Easter Huevos
How to Make Perfect Hard-Boiled Eggs
Chive Blossom Vinegar Pickled Eggs
Huevos-to-Go: Lunch Ideas for the Entire Family
DID YOU MAKE MY BROWN EASTER EGGS?
Leave a comment below and tag @lolascocina on social media!
---
Originally Published on March 31, 2021
Photography + Styling: Cacey McReavy
Lola's Cocina is a participant in the Amazon Services LLC Associates Program, an affiliate advertising program designed to provide a means for sites to earn advertising fees by advertising and linking to amazon.com, at no additional cost to you.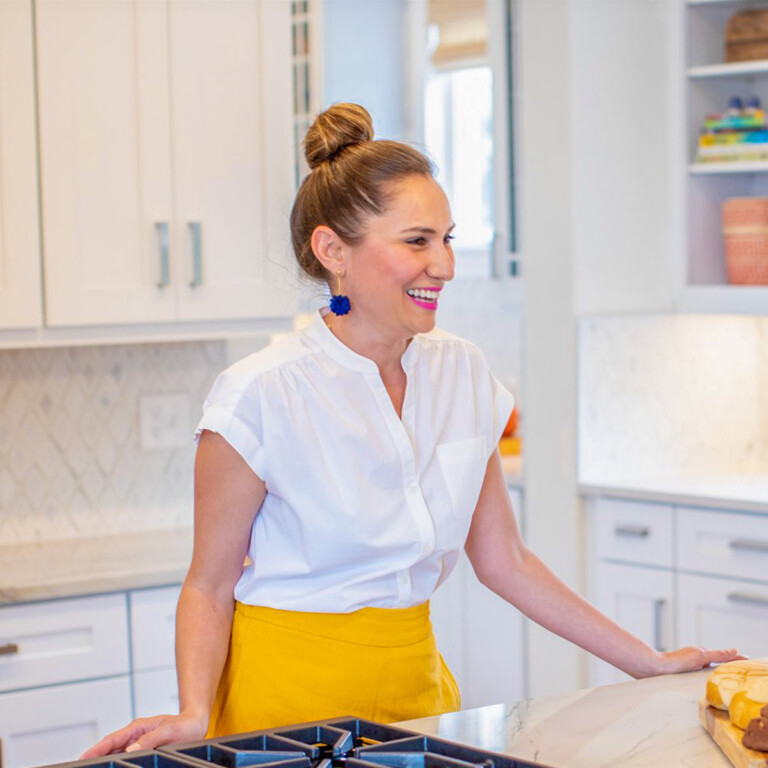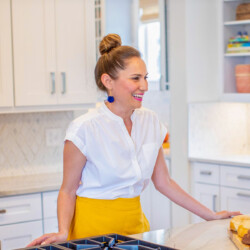 Lola Wiarco Dweck
Lola is a Mexican-American recipe developer, writer, and cooking instructor who loves sharing her culture with the world. Growing up in California and spending summers in Mexico, Lola celebrates her family's Mexican recipes and vibrant culture through Lola's Cocina.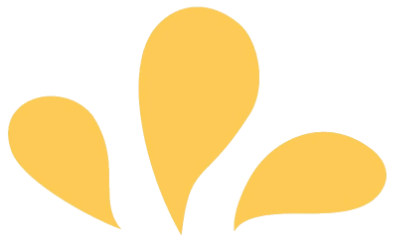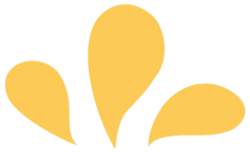 Sign up for ¡Hola de Lola!