Lola's Holiday Flan de Rompope (Eggnog and Rum Flan)
Once I begin to see eggnog and rompope pop up in grocery stores, I know it's a sign that the holidays are quickly approaching. You may have read in one of my recent Instagram posts that just the way I grew up embracing both my Mexican and American heritages, I've also been sipping on eggnog AND rompope since childhood. It reminds me of how every Christmas we pair tamales with potato salad, where blending both cultures comes naturally – especially when it relates to holiday cooking. This flan recipe is no exception and was inspired by ingredients and flavors I've loved ever since I was a child.
My festive rompope flan incorporates Nellie's Free Range Eggnog and Eggs, which combined, provide an extra rich and creamy texture as well as flavors I love this time of year.
What's the difference between eggnog and rompope?
Eggnog dates back to 13th-century Europe where medieval monks were believed to enjoy a warm ale punch known as posset, with eggs and figs. It eventually became one of the variations of milk and wine punches served at social gatherings.
Rompope, which has been referred to as the Mexican version of eggnog, is one of the many sweet treats believed to have been introduced to Mexico by nuns in the Santa Clara convent in Puebla.
Both drinks highlight eggs as the key ingredient, but some of the most popular rompope brands are made with alcohol and are more reminiscent of a thick, creamy liqueur.
So this flan recipe is essentially an ode to both eggnog and rompope!
Nellie's Free Range Eggnog is the perfect ingredient to add to this flan because it's as creamy and rich as they come, all thanks to Nellie's Certified Humane Free Range Eggs.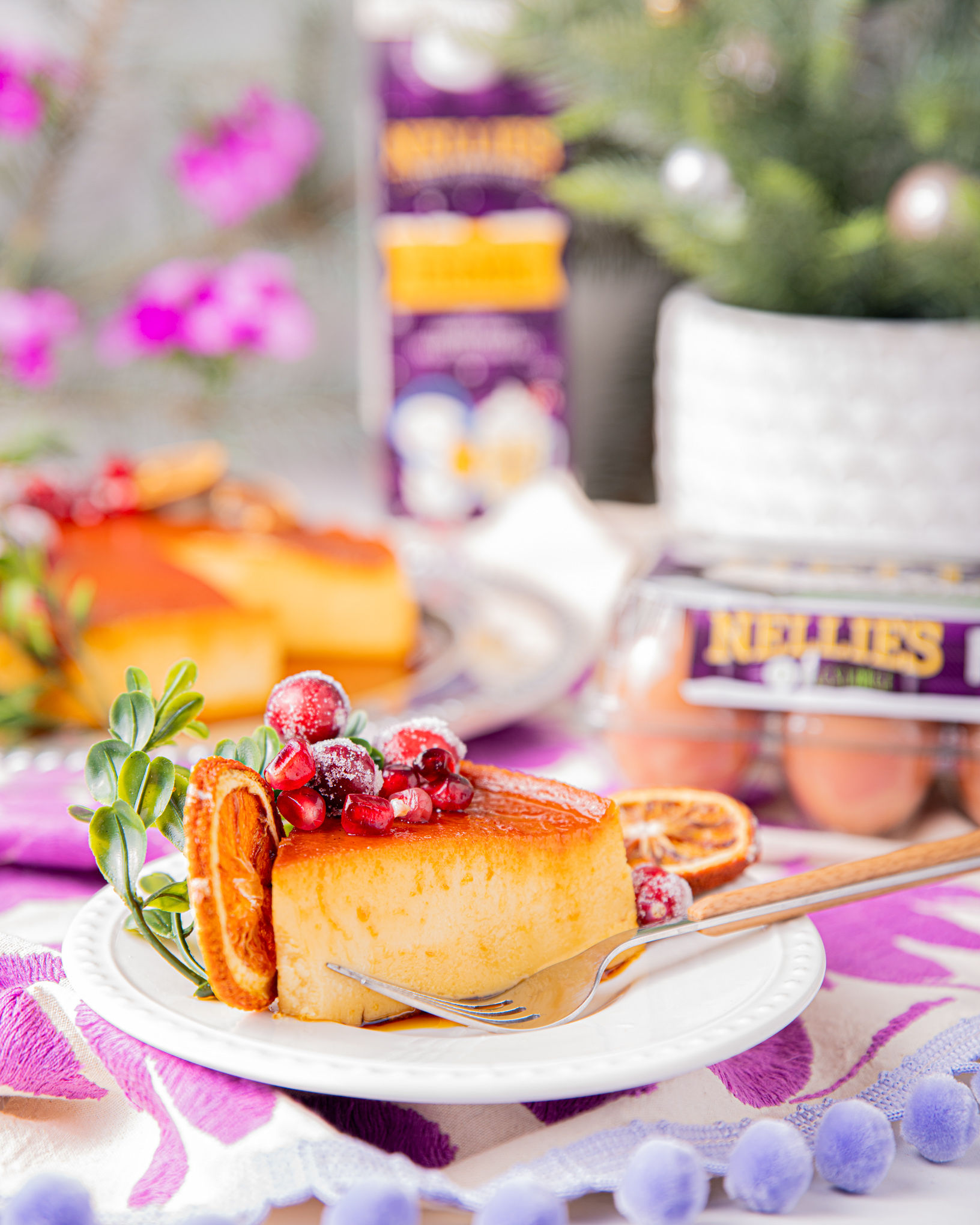 The garnishes on this flan make it extra festive, but it's equally delicious and beautiful served with fresh berries, edible flowers, or left as-is showcasing it's lovely amber color!
INGREDIENTS
1½ cups granulated sugar
8 ounces Nellie's Free Range Eggnog
1 12-ounce can evaporated milk
1 14-ounce can condensed milk
4 ounces cream cheese
¼ teaspoon ground cinnamon
1 tablespoon pure Mexican vanilla extract
2 tablespoons dark rum, optional
5 Nellie's Free Range Eggs, at room temperature
Dried orange slices, optional garnish
Sugared cranberries, optional garnish
PREPARATION
Heat oven to 350 degrees Fahrenheit.
Prepare caramel by dissolving sugar in a 9" heavy-bottom cake pan over low-medium heat. Once sugar comes to a boil, stir it frequently with a wooden spatula until smooth. Once sugar is completely dissolved and turns light amber in color, remove from heat and swirl to coat the bottom and sides of your pan. Do not touch or attempt to taste the caramel – it is extremely hot!
Combine Nellie's Free Range Eggnog, evaporated and condensed milks, cream cheese, cinnamon, vanilla extract, and rum and blend until smooth, about 30 seconds. Add Nellie's Free Range Eggs and blend another 10 seconds just until incorporated.
Pour mixture into cake pan.
Prepare baño María (aka: water bath or bain Marie) by arranging the flan pan into a larger baking pan, a large roasting pan, or pot (I like to use a large cast-iron pot). Carefully add enough hot water into the larger baking pan to come halfway up the sides of the flan pan. Place in the oven.
Bake for approximately 60 minutes (depends on oven), or until the center of the flan is set. Insert a thin-bladed knife into the center to check, it should come out clean. It is okay if the knife comes out slightly wet because the flan will continue to cook as it cools and sets.
Remove from the oven and let water cool before removing the flan pan from the water bath.
Refrigerate until ready to serve.
To de-mold flan, run a knife carefully around the edges of the flan. Invert flan onto a serving dish, allowing the caramel to drizzle onto the plate.
When ready to serve, garnish with dry orange slices and sugared cranberries, optional.
---
Many thanks to Nellie's Free Range Eggs for sponsoring this post. As always, the recipe and opinions shared about these products are my own.
To view the full lineup of Nellie's Free Range products, egg recipes, or to view a store locator, visit nelliesfreerange.com.
Photography + Styling: Cacey McReavy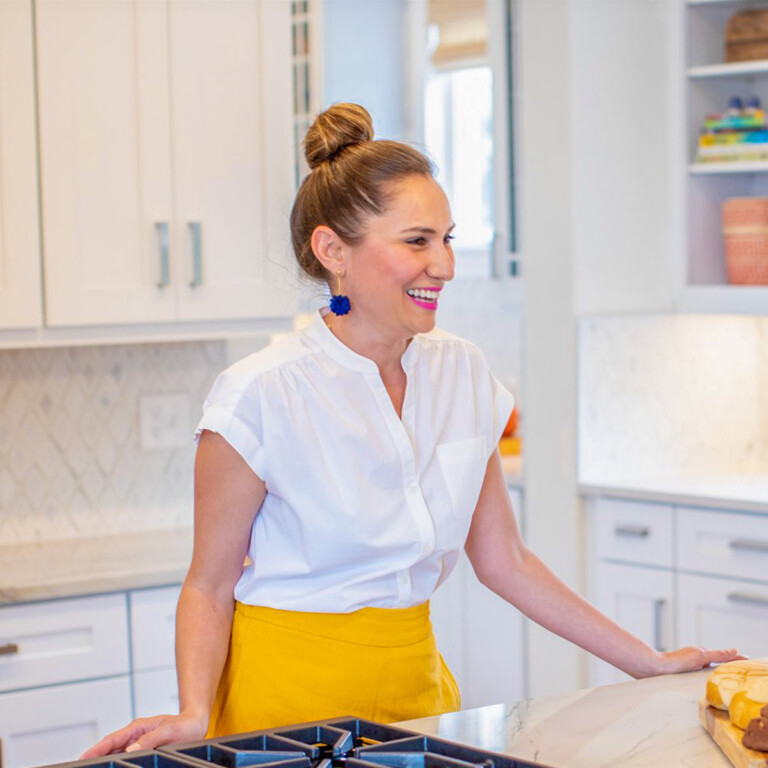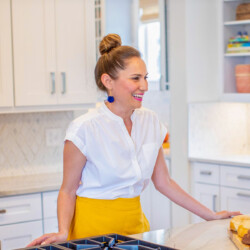 Lola Wiarco Dweck
Lola is a Mexican-American recipe developer, writer, and cooking instructor who loves sharing her culture with the world. Growing up in California and spending summers in Mexico, Lola celebrates her family's Mexican recipes and vibrant culture through Lola's Cocina.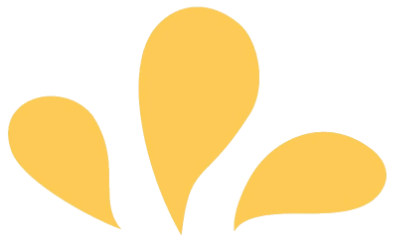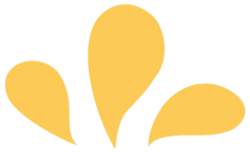 Sign up for ¡Hola de Lola!