Alma de Mi Tierra, Nora Valencia
Alma de Mi Tierra's cooking classes are $75 and promote "authentic dishes of Oaxaca" and recipes passed down from Nora's grandmother as well as some of her own creations. They begin at 9:30 a.m. and end by 3:00 p.m., for a total of approximately six hours. Classes are hands-on, taught in English or Spanish in her quaint home kitchen, and include printed recipes, a local market tour, a mescal tasting, and a four-course sit-down meal. Menus typically consist of a salsa, an appetizer, a soup, a main entrée, a fresh fruit-flavored drink, and a dessert.
Highlights:
Nora's friendly nature, bubbly personality, and anthropological insights allow students to learn about Mexican food, mercados (markets), and the origins of various ingredients in a fun and interesting way

Cozy Mexican-style home kitchen offers an intimate experience for small groups

Family recipes (green mole) and Nora's own creations (Khalua gelatin dessert) are an absolute treat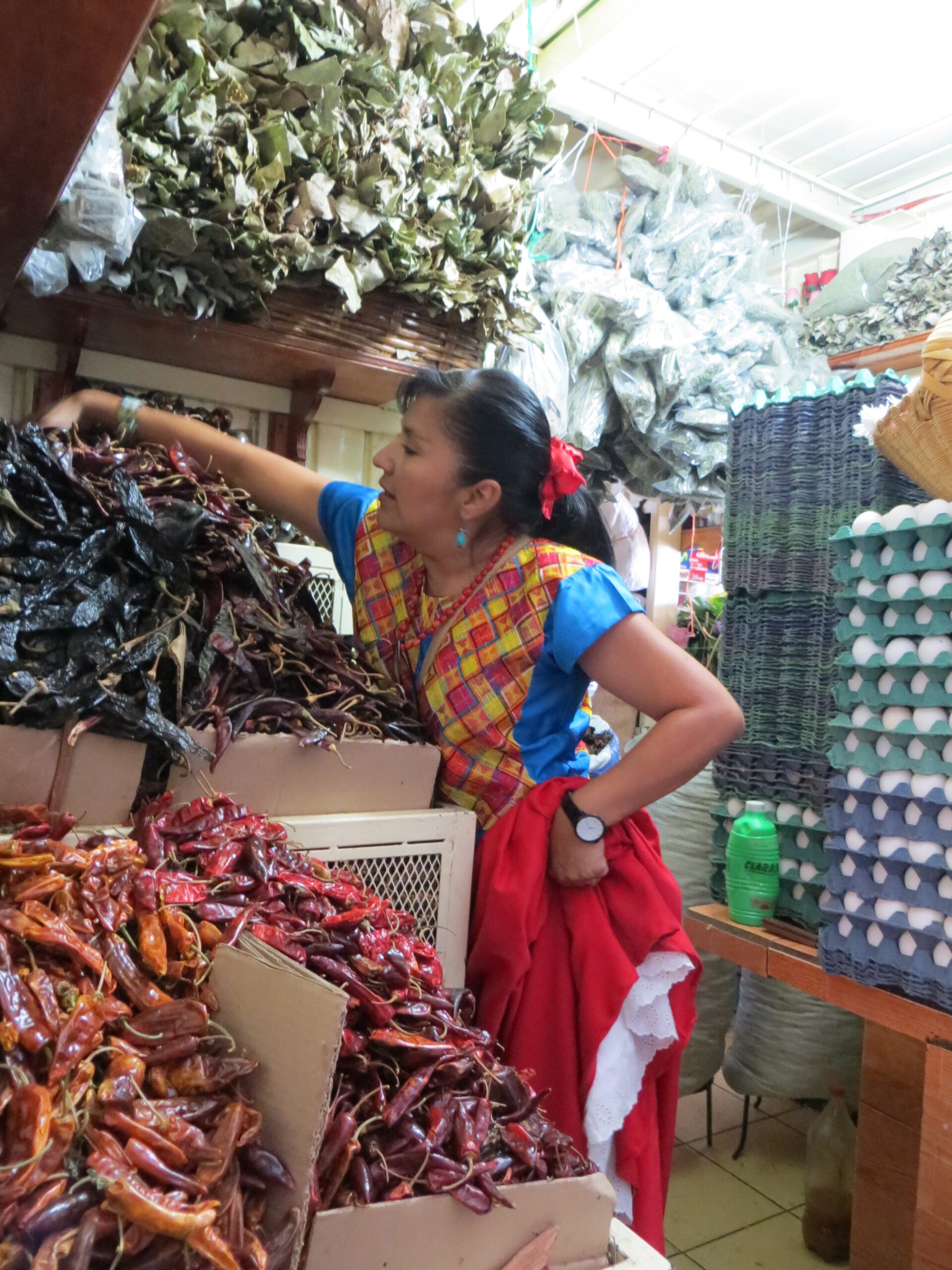 Casa Crespo, Oscar Carrizosa
Classes at Casa Crespo are $65 and take place Tuesday through Saturday at 10:00 a.m. and on Sundays at 11:00 a.m., and last approximately four hours. There is no minimum class size. Oscar focuses on ingredients and techniques from Oaxaca's eight regions, with an emphasis on easy replication of dishes at home. Students receive morning coffee, a tour of the Sanchez Pascuas organic market, recipes (emailed after class), beer or mescal, and a group meal.
Highlights:
Oscar provides great explanations of different ingredients during the market tour, providing insight into the ceremonial uses of herbs and products

Students prepare a variety of dishes in a relatively short amount of time and still have time for other afternoon activities

The variety of salsas and other menu items made during class is expansive and typically includes several appetizers, at least four salsas, a main entrée, homemade ice cream, and agua fresca
Casa de los Sabores, Pilar Cabrera
Casa de los Sabores group classes are $75 and take place from approximately 9:30 a.m. to 3:00 p.m. They are led by chef and La Olla restaurant owner, Pilar Cabrera, and offer a hands-on opportunity to learn secret family recipes and traditional Oaxacan dishes. They include all materials, a tour of Mercado de la Merced, hands-on instruction, a mescal tasting, and a five-course meal – an appetizer, salsa or guacamole, soup or rice, mole, dessert, and agua fresca.
Highlights:
Pilar offers a different perspective given her background as a food scientist-turned chef – plus she's a master when it comes to squash blossom soup and desserts!

While the menus are set and based on different moles, Pilar emphasizes the importance of improvisation depending on fresh and seasonal ingredients found during the market tour

The class includes an intimate and educational mescal tasting and explanation led by Pilar before the meal
El Sabor Zapoteco, Reyna Mendoza
El Sabor Zapoteco focuses on traditional Zapotec dishes and culture, and the six-hour cooking classes are $75, which are available on Tuesdays and Fridays from 9:00 a.m. to 3:00 p.m. or on other days when requested with advance notice. Classes include roundtrip transportation to and from Teotitlán del Valle (students are picked up at their hotels), a local market tour, homemade hot chocolate and sweet bread, a hands-on cooking class in Reyna's outdoor home kitchen, recipes, and a sit-down group meal that includes appetizers, entrees, dessert, drinks and mescal.
Highlights:
Reyna's calm demeanor can put anyone at ease in the kitchen and it is wonderful to learn from someone who grew up with the unique culinary customs found in her Zapotec community

The market tour in Teotitlán del Valle is unique and offers insights into Zapotec village life

The outdoor kitchen is great – students use traditional tools such as a clay comal (flat griddle used to roast ingredients), a metate (large stone tool used to grind maize, chocolate, or mole ingredients), and a molcajete (stone pestle and mortar) to make salsa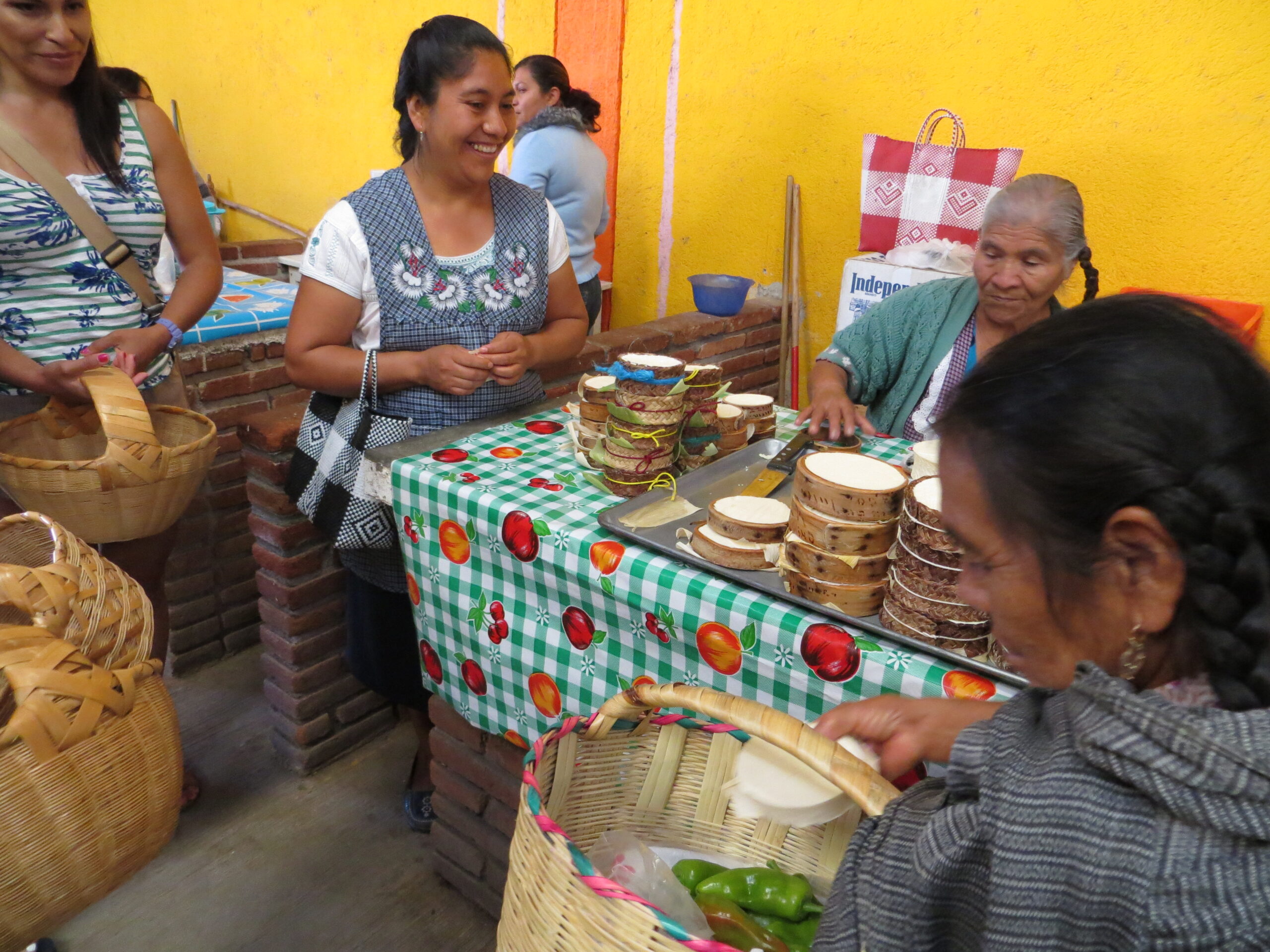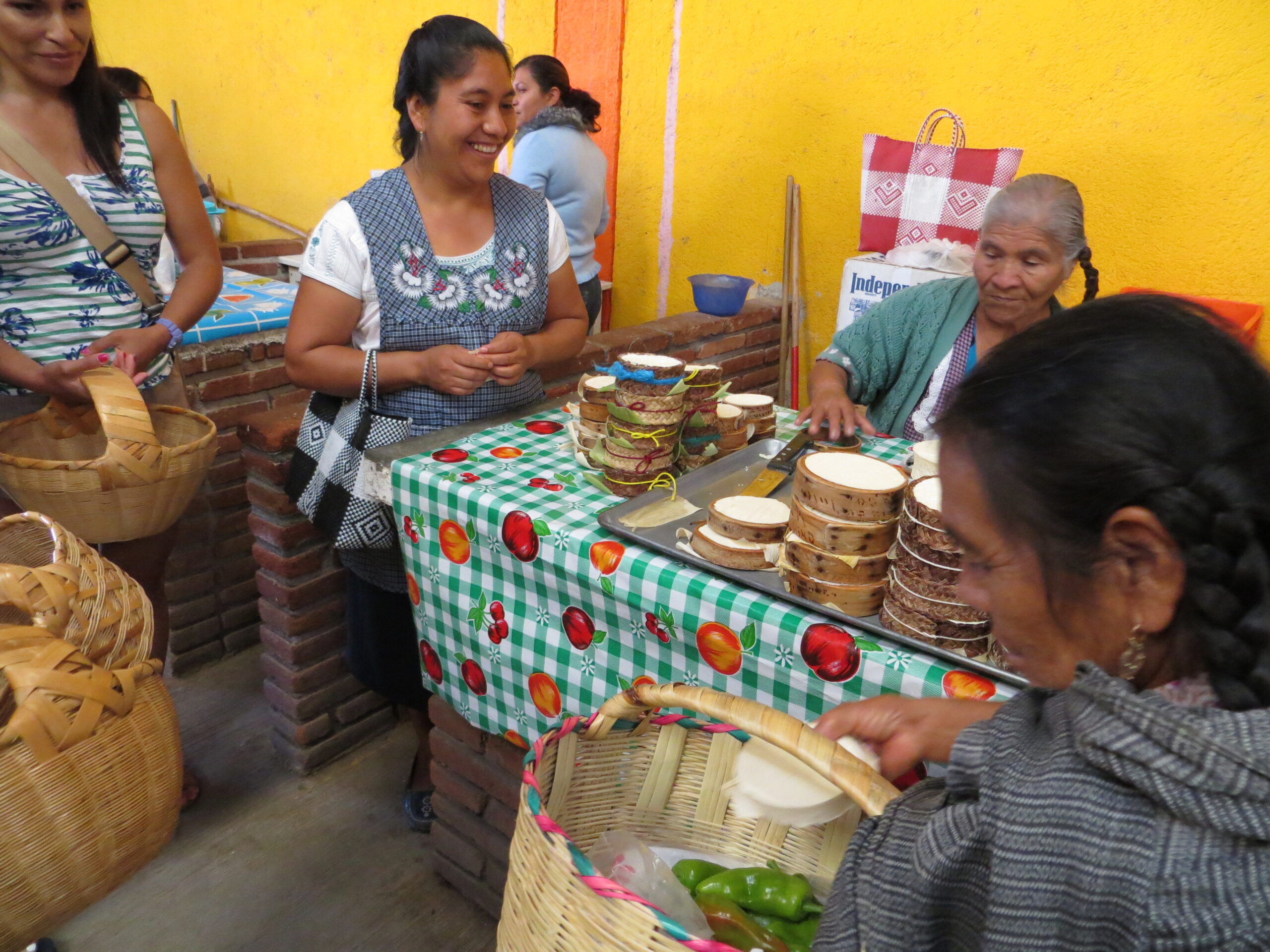 Seasons of My Heart, Susana Trilling
Seasons of My Heart's regular classes are $85 and take place on Wednesdays from 9:00 a.m. to approximately 6:00 p.m. They include roundtrip transportation from a designated pick-up location in downtown Oaxaca, a tasting tour and light lunch at the Wednesday Etla market, a lecture on Oaxacan cuisine by Chef Susana Trilling, and hands-on preparation and consumption of a five-course meal.
Highlights:
Susana's approachable personality and larger group classes offer opportunities to socialize and meet new people interested in cooking

This beautiful and spacious cooking school is located in the open countryside and has a good mix of modern and traditional cooking tools and appliances

Etla market tour is incredible – students taste various regional foods such as nicuatole (pre-Hispanic corn and sugar dessert), egg bread, hot chocolate, and various tamales, ice creams and desserts
Sabores de Soledad, Soledad Ramirez Haras
Soledad Ramirez teaches classes out of her home kitchen for approximately $40 (or $500 MXN). Once a class is reserved, Soledad solicits requests for dishes or sets the menu if there are none. Students meet her in the front of the cathedral in Oaxaca's main square where they then head to a nearby market to purchase ingredients for class. Then they take a bus to her home where she serves cups of hot chocolate made with her homemade chocolate recipe and they begin class, which typically consists of one to two main entrees, including a mole.
Highlights:
Soledad is friendly, welcoming, and extremely knowledgeable when it comes to Oaxacan cuisine – she makes you feel as if you were learning age-old recipes from your own grandmother

Classes are focused on one to two main entrees, therefore nobody feels rushed to move on to the next dish due to time constraints

Tour to the local chocolate mill, then making homemade chocolate is a wonderful experience